Who doesn't like to eat often and well over the festive season? Well, if it's your family in Sydney, friends in Adelaide, customers in Brisbane or staff in Canberra – in fact for anyone and anywhere across Australia – they will be spoilt for choice when they receive one of our stunning gourmet Christmas food hampers as a token of your love, friendship or thanks. You may choose our Christmas Foodie Hamper to send to someone special in Perth or a Luxury Gourmet Xmas Hamper for true mates in Melbourne. These are just a couple of the sensational range of Christmas hampers we'll deliver free as we help you celebrate the festive season in style right throughout the land.
Imagine how fondly they'll think of you as they feast on the best of Australian foods, carefully packed into the highest standard of hamper gift boxes, and delivered direct to their door. We'll always add a free greeting card containing the personalised message you want to send. Take this opportunity to order several of these superb Christmas gift baskets and hampers and enjoy our 10% bulk order discount. Every order is also covered by our no hassle return and refund policy.
Christmas is always a special time of year and our stylish collection of quality hampers is perfect to thank and reward those who are important to you. You can simply order online or you can contact our friendly team at Australian Gourmet Gifts at your convenience.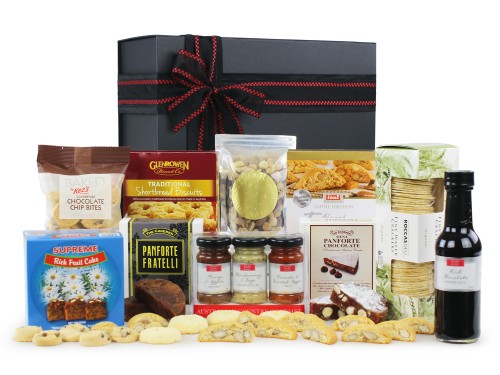 Quick View
For Bulk Orders: $62.96 (Inclusive of GST and FREE Delivery) Here's a terrific way to send special greetings or a big thank you to your family members or good friends, those important clients or hard-working staff colleagues. They can enjoy great food tastes as they celebrate a special season such as Christmas, a birthday or an anniversary – in fact any reason will do!