Superior Bordeaux Red Wine Hamper
There's a certain elegance to red wine gifts.  A superior red wine is best enjoyed by a connoisseur who understands the subtleties and delights of a perfectly crafted drop.  When you give our Bordeaux red wine hamper, you're sending a delightful experience, rich blend of earthy red fruit flavours and a smooth clean finish.  You send the message that your loved one has a refined palate, impeccable taste and deserving of the very best.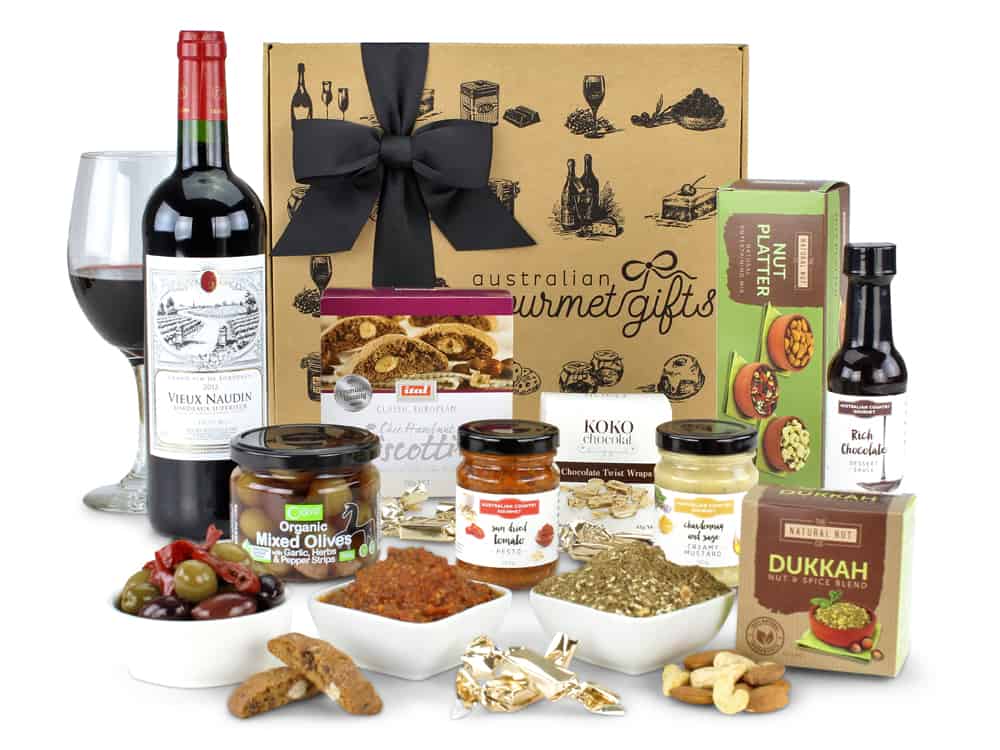 Your Superior Bordeaux Red Wine Hamper contains:
Vieux Naudin Bordeaux Supérieur Rouge 750ml – Bordeaux, France. This is a superior red made in the renowned French region of Bordeaux from Merlot , Cabernet Sauvignon, and Cabernet Franc varieties. It is seriously delicious and very elegant! Perfumed dried herb, almost like lavender, red fruits, earthiness with a smooth and clean finish, characterise this amazing wine.
Australian Country Gourmet – Sun Dried Tomato Pesto 150gm.  Paired for it's tang and fresh flavours.
Australian Country Gourmet – Chardonnay & Sage Creamy Mustard 150gm. Smooth mustard and subtle wine flavour, ideal for enjoying with chilled meats.
Absolute Organic – Antipasto Organic Mixed Olives 330ml. Garlic, spice and red wine vinegar infused green olives, Kalamata olives and capsicum strips. Hand selected to compliment a superior wine.
Koko Chocolat – Milk Chocolate Twist Wraps 45g. Australian made for swiss creaminess.  The perfectly rich accompaniment to this bold wine.
The Natural Nut Company – Dukkah 50g. Hazlenuts, herbs and deliciously exotic spices, pair this dukkah with olive oil on a little sour dough or use it to give an exotic edge to a rich roast lamb.
Italian Chocolate Hazelnut Biscotti 100g. Crisp hazelnuts and rich chocolate put a delectable new spin on this dessert classic.
Australian Country Gourmet – Rich Chocolate Sauce 150ml. From a fresh fruit dip to a family favourite sundae, this devilishly rich chocolate sauce makes the perfect end to any meal (or cheeky midnight snack!)
The Natural Nut Company – Entertaining Nut Platter 150g.  Natural almonds and cashews, pistachios, goji berris and cacao nibs… we've redesiged the humble nut platter for the gourmet palate.
Beautifully presented red wine gifts delivered Australian wide
Feast with your eyes!  Our Bordeaux red wine hamper is presented in our gourmet inspired hamper gift box with grosgrain ribbon, including an elegant greeting card and kraft envelope.  Personalise your message with your best wishes and we'll deliver fast and FREE, Australia wide. Send a red wine hamper to Melbourne, Sydney, Adelaide and Canberra in as little as 1-3 days.  Brisbane, Perth, Hobart, Darwin and regional deliveries are fast to arrive, and overnight delivery can be arranged for a small fee.
Christmas shopping?
Shopping for Christmas presents?  Why not treat your whole family to delicious gourmet Christmas baskets.  We've got the perfect combination for every good boy and girl on your list!  See our full Christmas range here.
Corporate gifting? Take a look at exactly why Australian business loves our corporate hampers at Christmas time!