Customer Reviews
I highly recommend Australian Gourmet Gifts. We had to purchase a large number of hampers at late notice and Theo provided me with a fantastic level of customer service and with his assistance we were able to get the hampers ordered and delivered with plenty of notice. We will definitely be using Australian Gourmet Gifts again!
CAITLYN BARNETT - SASH (NSW)
I first contacted Theo last year when settlement was due for our latest development. We were sending baskets to each of the 65 owners who had purchased off the plan and were about to settle. As they were settling on different days Theo suggested I sent through a spread sheet which her would work off as I let him know when and to whom the baskets were to be sent.
MARIE - PRIME GROUP AUSTRALASIA (QLD)
CATHY WILLIAMS - LEWIS PRIOR (WA)
I would just like to take this opportunity to thank you for the hampers which we purchased from you for our clients at Christmas time.
The ordering was easy and you help with delivering our hampers to various offices around Australia made the whole process very smooth and stress free.
MICHELLE - FRANKLYN SCHOLAR (VIC)
We would recommend Australian Gourmet Gifts to all. We cannot advertise Australian Gourmet Gifts enough! Theo was extremely helpful and went above and beyond expectations, delivering beautifully presented hampers, full of divine products. Theo was wonderful to deal with and I am sure we will order again in the future.
SHARON - ENI AUSTRALIA LIMITED (WA)
Just a brief note to say a big thank you for the fantastic Xmas hamper we received today. It is without doubt the best we have ever received.
We are all very appreciative and as you would imagine the girls have already started eating the chocolates.
Thanks again
HEATHER - PROSPER WEALTH SOLUTIONS (NSW)
Just a short note to say thank you to you and the team at Australian Gourmet Gifts for the professional hampers you provide to our firm at Christmas. In previous years we have looked to provide a hamper to our valued clients and this has usually meant someone from our office having the task of shopping and putting together an appropriate gift…
BRUCE - PWA FINANCIAL GROUP (QLD)
We were looking online for a Hamper Company and came across Australian Gourmet Gifts. I liked the variety of the different hampers they had on offer and so I contacted them. From the moment of contact, I couldn't have asked for better service, Theo made everything so easy and was able to accommodate what we wanted for the three hundred hampers...
NIMALI - E2O PTY LTD (SA)
Welcome Them in Style with Our Housewarming Hampers!
When someone you know moves to a new home, we know that you'll want to provide a terrific housewarming gift to help them celebrate the exciting new chapter in their lives. Our range of housewarming hampers allow the new arrivals to drink a toast to their future with premium wine, beer or champagne.
Added to each of our housewarming gift hampers is a carefully selected collection of premium Australian gourmet food that go perfectly with the accompanying beverages. Looking for several housewarming gifts? Real Estate Agents usually do. We offer bulk hampers to make buying for multiple recipients fast and easy. We also deliver free Australia-wide – direct to their brand-new front door!
The Perfect Housewarming Gifts For New Homeowners
A housewarming hamper is one package new homeowners will be keen to unwrap. Whether you're welcoming a new neighbour or celebrating a friend's first step on the property ladder, a new home hamper filled with premium wine and luxury treats is guaranteed to help them settle into their new home faster.
Finding a housewarming gift is easy with Australian Gourmet Gifts. Simply choose one of our divine hampers, tell us which message you want on the card, pay via credit card or Afterpay, and leave the rest to us.
Housewarming Gift Ideas
When someone moves into a new home, you'll want to congratulate them with a housewarming gift to celebrate the occasion. But what do you give them? From bathmats and blenders to plates and pillows – the list is long and can get overwhelming fast. While a bottle of wine may be the most common housewarming gift, we think the occasion calls for something a little more special.
A housewarming gift box overflowing with gourmet wines and goodies is the perfect way to kickstart their brand new chapter. Not only is it an outrageously delicious gift, it's also a thoughtful one that takes the stress out of filling up empty cupboards while unpacking endless boxes.
We've got plenty of pantry staples to get them started, including gourmet oils and chutneys, jams, and pure honey. We also have all of the wines, champagnes, and beer they need to toast the event, as well as gourmet delicacies like smoked olives, melting moments, wafer crackers, handmade cookies, and much more.
Bestselling Housewarming Gift Hampers
We've got the most exciting range of gift hampers available in Australia and they're packed full of local gourmet products by your favourite artisanal brands. Many of them are even award-winning. With such an amazing selection, the hardest part for you will be choosing one! To get you started, check out this list of some of our bestselling housewarming hampers to welcome the new homeowners to the block:
Moet Champagne Hamper
Gourmet Sensations Hamper
Maggie Beer Sparkling Ruby Hamper
James Squire Beer Hamper
Gourmet Connoisseur Hamper
7 Star Executive Luxury Hamper
Gifts for a New Home
Why wait for a housewarming invite before you buy your friends or new neighbours a housewarming gift? Moving is tough. The new homeowners will likely be battling through boxes and commiserating over an empty pantry. A new home gift hamper will be a thoughtful surprise and perfect excuse for the new homeowners to take time out from unpacking.
Help them toast their new home with a premium red or white and an impressive selection of chocolates, jam, crackers, olives, and more. Add a personal message to their beautifully packaged housewarming hamper and you're guaranteed to rise to best friend status!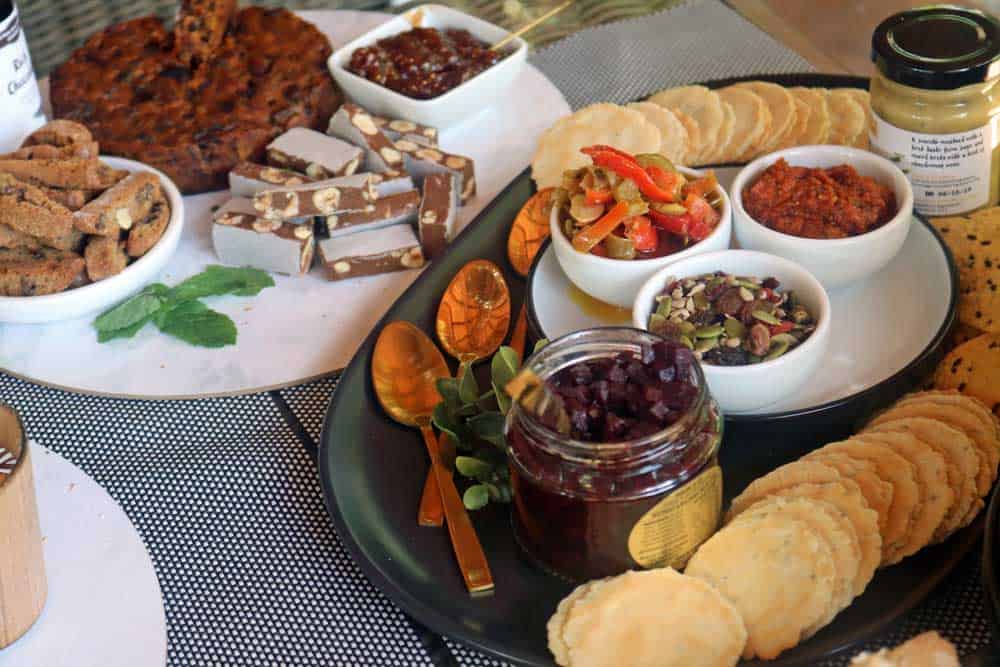 Gourmet Gift Baskets Perfect for a Housewarming Present
We don't just fill our housewarming gift baskets with any old products. The fantastic Australian Gourmet Gift team search high and low for the most scrumptious gourmet treats to include in each hamper that are certified delicious and guaranteed to impress. Whether the new homeowners are a sweet or savoury fan, they're bounds to find something that tantalises their tastebuds in our range of housewarming gift baskets.
Welcome them to the neighbourhood with an elegant bottle of Charles Pelletier Blanc de Blancs from Burgundy or raise a glass of multi-award winning Schild Estate Barossa Valley Shiraz. Make it a moment to remember with some Charlie's Cookies & Cream Mini Melting Moments, Kangaroo Island Smoked Kalamata Olives, OB Finest Wafer Crackers, and Australian Country Gourmet Fig & Cinnamon Jam.
Luxury Gift Hampers Available
For the ultimate housewarming gift, pick up a pamper hamper full of deluxe sweet and savoury goodies and premium wines. Impress that special someone with impeccable taste with our stunning luxury gift hampers by award-winning brands. No name embodies elegance quite like Moët. Dazzle the newcomers with a Penfolds Baby Grange and Moët Hamper complete with Moët & Chandon Champagne Brut Imperial and Penfolds Bin 389 Cabernet Shiraz paired with a selection of divine treats.
On a budget? We make affordable luxury more than possible with our gorgeous luxury gift baskets under $100. Show off with a wine hamper such as the Wine Indulgence Hamper or Luxury French Sparkling Hamper. Both are excellent choices that combine premium red and white wines with a handpicked variety of moreish delicacies to snack on.
For the ultimate foodie, delight their senses with the Gourmet Sensations Hamper full of award-winning artisanal food. Or satisfy non-drinkers with the Maggie Beer Sparkling Ruby Hamper with a bottle of non-alcoholic bubbly crafted from Cabernet grapes with notes of rose petals, crushed strawberries, and citrus.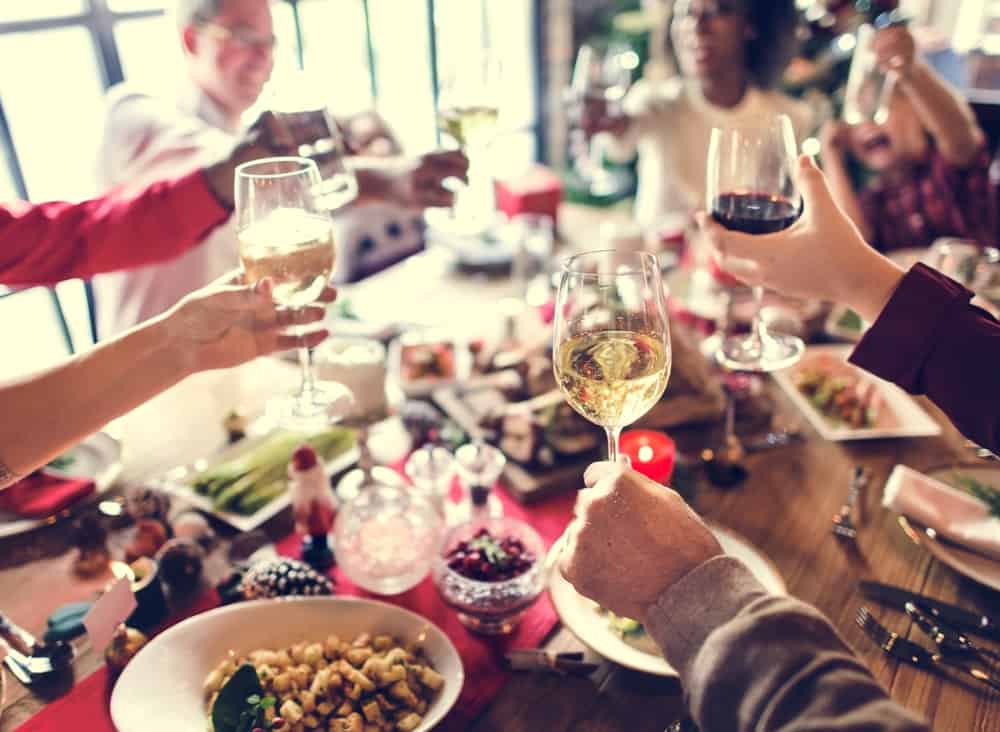 Celebration Hampers with Australian Products
We're proud to fill our gourmet hampers with Australian-made, award-winning wines and treats handcrafted by much-loved local brands. With the exception of our French wine, all of the goodies you'll find in our hampers are made right here in Australia from local produce. Even our gift boxes are made entirely from locally-sourced sustainable materials! Check out some of our most prized products:
James Squire Craft Beer
​Kangaroo Island Smoked Kalamata Olives
The Natural Nut Company Elite Fruit & Nuts Mix
Australian Country Gourmet Extra Virgin Olive Oil
Charlie's Traditional Australian Choc Chip Bites
Plus, our gourmet hampers aren't just for housewarming celebrations. They make the perfect present for any special event from birthdays, Christmas gifts, Mother's Day and Father's Day gifts to welcoming a new baby into the family.
Real Estate Gift Hampers
As a Real Estate Agent, you're looking for new home gifts that will enhance your brand and customer referrals. However, finding the perfect housewarming present can be tricky if you don't know their personal style or how many serving platters they have hidden away.
A box of chocolates and bottle of wine is fine, but the purchase of a new house deserves celebrating in style. Be the favourite guest with a housewarming hamper laden with premium wine and award-winning gourmet treats. The new homeowners won't need an excuse to put their feet up as they indulge in a carefully selected basket of fine foods. Importantly, your clients will never forget this gesture of generosity.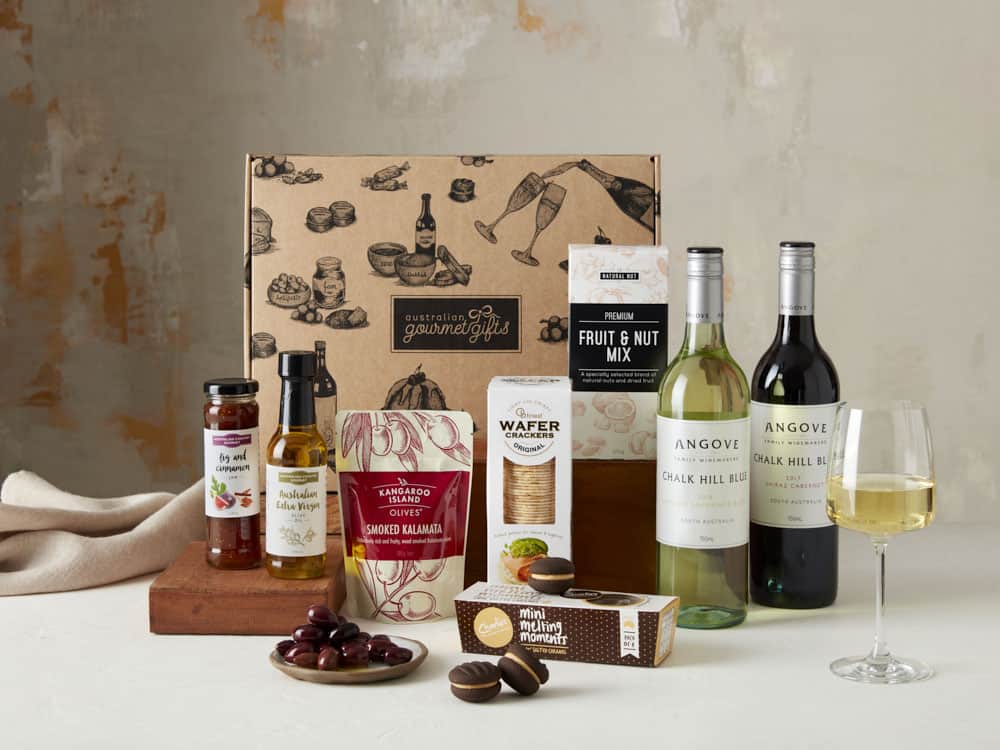 Personalised Settlement Gifts for Corporate
Sending out corporate gifts to your clients is an excellent way to leave a lasting impression and foster return business. Show your appreciation with a basket full of wine, champagne, or beer and a selection of gourmet nibbles. Go big with a luxury hamper like the 7 Star Executive Luxury Hamper and Glenmorangie Whisky Hamper or send a subtle yet stylish gift with the Barossa Shiraz Hamper and Penfolds Cab Sauv Hamper. Multiple settlement gifts is easy – just fill out the bulk order form with the client details and we'll handle the rest!
Housewarming Gifts for That Special Someone
It's one of those pivotal moments in your loved one's life. It's a big, scary step. It's a lifelong commitment. They've been through a stressful time, and it's finally paid off – that's worth celebrating!
After months of stressful negotiation, a few disappointments, and some major commitments, your loved one has taken the leap into home ownership (or traded up for their dream home). That's worth a glass of bubbles and a few mouth-watering treats. After all, their cookware is still in boxes – somewhere. The ultimate gift starts with a beautiful housewarming hamper!
Housewarming Hamper Free Delivery Australia-Wide
Whether they're moving from NSW to QLD or WA to VIC, our free delivery ensures their housewarming basket will find its way to their new door safe and sound. Check out our delivery information page for full details. We send to major cities and everywhere in between, including:
Brisbane
Sydney
Melbourne
Perth
Adelaide
FAQs About Housewarming Gift Hampers
What Should Be Included in a Housewarming Gift Hamper?
When it comes to a housewarming gift hamper, you can't go wrong with a selection of gourmet pantry staples, nibbles, and a bottle of wine to toast the event. From luxury hampers to hampers under $100, we've got you covered with these must-haves:
Wine, champagne, or beer
Olives
Wafer crackers
Sweet treats
Jams and relishes
Fruit and nuts
What do You Give for a Housewarming Gift?
We believe the best gift of all for new homeowners is a selection of locally-produced gourmet food paired with a premium glass of bubbly to fill up those empty cupboards. Australian Gourmet Gifts specialise in gourmet hampers to celebrate any special occasion. We have:
​Birthday hampers
Corporate hampers
Luxury hampers
Wine gift hampers
​What Should be in a New House Hamper?
A new house hamper should welcome the newcomers to the neighbourhood with all of the items they'll need to celebrate in style. We put a lot of thought into what goes into our hampers, from our luxury hampers to our gift hampers are under $100. Here's a sneak peek:
Charlie's Raspberry Bliss Mini Melting Moments
James Squire Craft Beer
Moët & Chandon Champagne
OB Finest Wafer Crackers
Ogilvie Fine Foods Roast beetroot & Balsamic Relish
Should Housewarming Gifts be Wrapped?
At Australian Gourmet Gifts, we think so! It's wonderful to receive a gift but it's even more exciting when you need to unwrap it to see what's inside. Our hampers come in a beautiful Australian-made gift box crafted from locally sourced materials with a ribbon and personalised greeting card. Whether you need a housewarming gift hamper, birthday gift, or something else – the recipient is sure to feel loved and appreciated with our special hampers.