Customer Reviews
I highly recommend Australian Gourmet Gifts. We had to purchase a large number of hampers at late notice and Theo provided me with a fantastic level of customer service and with his assistance we were able to get the hampers ordered and delivered with plenty of notice. We will definitely be using Australian Gourmet Gifts again!
CAITLYN BARNETT - SASH (NSW)
I first contacted Theo last year when settlement was due for our latest development. We were sending baskets to each of the 65 owners who had purchased off the plan and were about to settle. As they were settling on different days Theo suggested I sent through a spread sheet which her would work off as I let him know when and to whom the baskets were to be sent.
MARIE - PRIME GROUP AUSTRALASIA (QLD)
CATHY WILLIAMS - LEWIS PRIOR (WA)
I would just like to take this opportunity to thank you for the hampers which we purchased from you for our clients at Christmas time.
The ordering was easy and you help with delivering our hampers to various offices around Australia made the whole process very smooth and stress free.
MICHELLE - FRANKLYN SCHOLAR (VIC)
We would recommend Australian Gourmet Gifts to all. We cannot advertise Australian Gourmet Gifts enough! Theo was extremely helpful and went above and beyond expectations, delivering beautifully presented hampers, full of divine products. Theo was wonderful to deal with and I am sure we will order again in the future.
SHARON - ENI AUSTRALIA LIMITED (WA)
Just a brief note to say a big thank you for the fantastic Xmas hamper we received today. It is without doubt the best we have ever received.
We are all very appreciative and as you would imagine the girls have already started eating the chocolates.
Thanks again
HEATHER - PROSPER WEALTH SOLUTIONS (NSW)
Just a short note to say thank you to you and the team at Australian Gourmet Gifts for the professional hampers you provide to our firm at Christmas. In previous years we have looked to provide a hamper to our valued clients and this has usually meant someone from our office having the task of shopping and putting together an appropriate gift…
BRUCE - PWA FINANCIAL GROUP (QLD)
We were looking online for a Hamper Company and came across Australian Gourmet Gifts. I liked the variety of the different hampers they had on offer and so I contacted them. From the moment of contact, I couldn't have asked for better service, Theo made everything so easy and was able to accommodate what we wanted for the three hundred hampers...
NIMALI - E2O PTY LTD (SA)
Make Memories with Our Gourmet Food and Wine Gift Hampers 
Give them a gift they'll love to receive! Packed with Australian-made artisan treats and top-shelf wines, our gourmet gift hampers are perfect for all occasions and celebrations. You'll find prices and styles to suit every budget, from unbeatable value and quality to superior luxury. Shop our range of Gourmet and Christmas Hampers online with secure payment options, including AfterPay. Want more great news? Our gift hampers are delivered free to Melbourne, Sydney, Perth, Gold Coast, and all other major cities at no charge!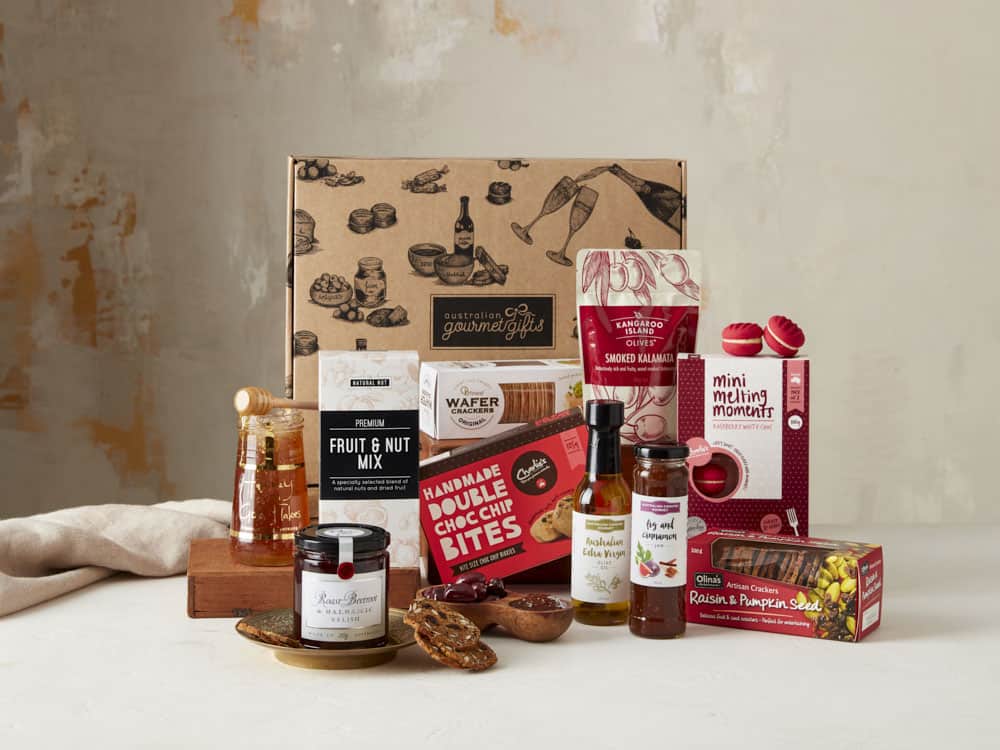 Perfect Hamper Gift for Every Occasion
When you need a special gift to celebrate a special occasion, our food and wine hampers are the ultimate fail-proof way to go. We have the perfect baby gift hampers to celebrate a new baby, luxury hampers to spoil her on Mother's Day, and birthday hampers to raise a toast to the birthday boy or girl. Here's just some of our favourite gift hampers:
James Squire Beer Hamper
Premium Gourmet Christmas Hamper
Gourmet Connoisseur Hamper
Moet & Chandon Champagne Hamper
Premium Beer and Wine Hamper
​Gourmet Vegan & Gluten-Free Sensations Hamper
Corporate Hampers Available for Staff and Clients
When you want to thank hard-working employees, celebrate a new business partnership, or simply show your appreciation to clients, our corporate gourmet gift hampers can do the job. The Gourmet Sensations and Wine Indulgence Hamper is a popular choice under $100, while the 7 Star Executive Luxury Hamper is an absolute showstopper for when you need to really impress. Send our Christmas hampers out to as many clients and staff as you need – just fill in the online Bulk Order Form with all of the recipient's details and we'll make sure they receive it with your heartfelt appreciation!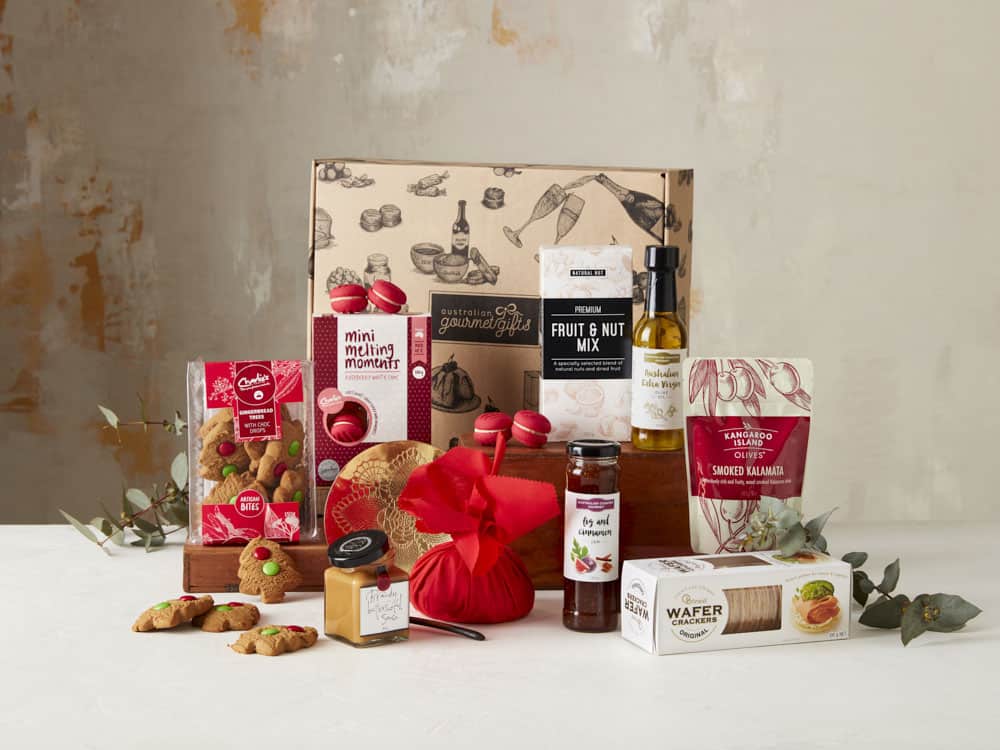 Personalise Your Christmas Hampers
Give a Christmas gift that will go down a treat this year. We have the Premium Gourmet Christmas Hamper and Premium Wine Christmas Hamper stuffed with old favourites like gingerbread, brandy sauce, and cloth-wrapped steamed pudding. The Penfolds 28 & French Sparkling Christmas Hamper will add a touch of elegance to your Christmas table with the finest French Champagne and Penfolds Shiraz. Add your special touch to each hamper with a gift card that has a personalised message on it. Simply fill in the required fields during checkout so that your recipients can read your message before opening your gift.
​Hamper Gifts Delivered to Your Door
Whether you're stuck in lockdown or halfway across the country, our gift hampers are the best way to say you care when you can't be there. From QLD to NSW, we offer free gift delivery to the recipient's doorstep so that they can celebrate the occasion no matter where they're located. If you plan on presenting the gift yourself, we can send the hamper to your address instead for personal delivery.
Luxurious Gift Baskets
Give the ultimate pamper gift to your loved one on Valentine's Day, spoil them on their birthday, or celebrate anniversaries together. We have luxury hampers under $100 with gourmet treats to impress, including a bottle of Charles Pelletier Blanc de Blancs, Charlie's Melting Moments, and Kangaroo Island Smoked Kalamata Olives. Our Moet Champagne Hamper just oozes elegance, while the Gourmet Extravagance Hamper is a foodie's dream with award-winning products by leading brands like Maggie Beer, Random Harvest, and Charlie's Cookies.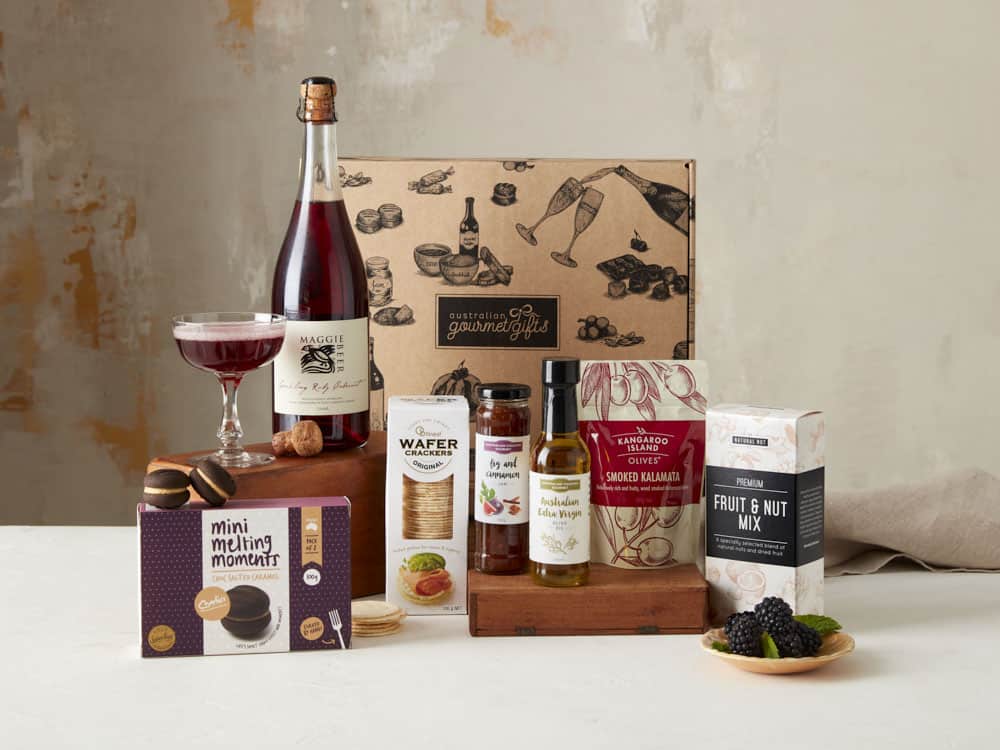 Settlement and Housewarming Gifts Available
Buying a home is a significant event in anyone's life. Our housewarming hampers are the perfect way to mark the occasion and fill their empty cupboards! Give them a break from unpacking with the Penfolds Cab Sauv Hamper, Maggie Beer Sparkling Ruby Hamper, Luxury French Sparkling Hamper, or the Premium Beer and Wine Hamper. Housewarming hampers also make wonderful settlement gifts for real estate agents who want to celebrate their client's purchase, encourage return business, and leave a lasting impression.
Hampers for Men
Show him how well you know him with a gift hamper tailored to his tastes and preferences. We've got James Squire Beer Hampers with 5 x premium craft beers to serve chilled with a platter of Kangaroo Island Smoked Olives, OB Finest Wafer Crackers, and Australian Gourmet Fig and Cinnamon Jam. Indulge him with the Glenmorangie Whisky Hamper with World Champion Craft Distilled Scottish Whisky or give him the best of both worlds with the Premium Beer and Wine Hamper from our gift hampers for men range.
Wide Range of Unique Gift Ideas
We've got a glorious range of hampers to delight foodies and wine lovers alike. Never run out of gift ideas again with our selection of gourmet food and wine hampers to mark any occasion with loved ones, friends, and workmates. We've got baby hampers to celebrate the arrival of a baby boy or baby girl, hampers to send your heartfelt condolences, corporate hampers to thank employees, and Christmas hampers to add an extra touch of magic this Christmas.
​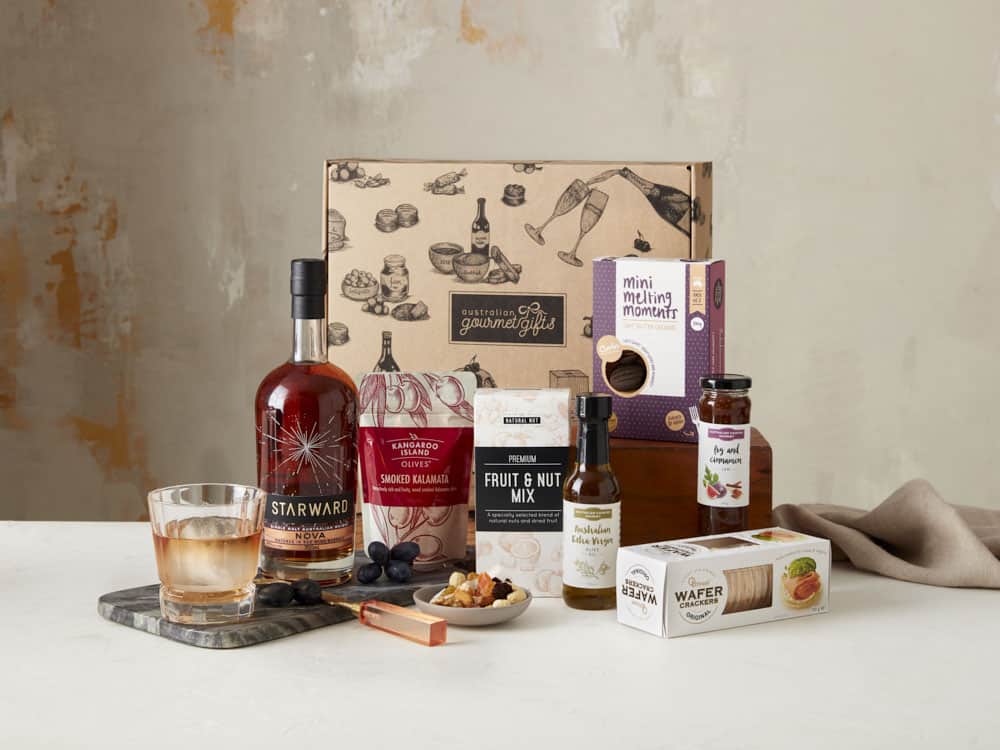 Bestselling Gift Hampers full of Australian-Made Products
We have the gift hampers Australia loves with brands they know and trust. You can find sweet and savoury goodies, top-shelf wine and premium beer from award-winning local brands like Maggie Beer, Penfolds, Charlie's Cookies, Kangaroo Island, and more.
Wine and Beer Hampers for Those Who Love a Drop or Two
We've got exquisite wine gifts to impress even the pickiest of wine critics! Discover bold red wines and fresh and fruity white wines by luxurious local brands like Penfolds and Angove. The Barossa Red & White Wine Hamper features multi-award-winning Shiraz and Chardonnay with a delightful assortment of sweet and savoury nibbles, including melting moments, smoked olives, and wafer crackers. Beer lovers will appreciate our James Squire Beer Hamper with 5 premium craft brews and a handpicked selection of nuts, dried fruit, jam, and more.
Hampers to Celebrate Birthdays
Looking for a birthday gift that's unique and special? Our birthday hampers will make an already special day more memorable and are an excellent choice for celebrating milestone birthdays, from 21st to 60th and beyond! Is the birthday boy or girl a major sweet tooth? We have chocolate gifts to satisfy with Chocolatier Australia individually wrapped chocolates, Serious Food Co Popcorn with dark chocolate drizzle, and Charlie's Cookies and Cream Melting Moments.
Gift Hampers for Mother's Day and Father's Day
Our hampers are great gifts for all occasions. Whether it is to surprise your Dad with a Father's Day Hamper or thank Mum on Mother's Day for everything she does with a pamper hamper, we have a superb collection of gift hampers online for you to choose from. Forgotten a big occasion? We also offer express delivery of gift hampers across Australia for a small fee.
​Hampers Under $100
Gifting someone a gorgeous food and wine hamper doesn't need to come with a big price tag. In fact, we make it so easy for anyone to spoil that special someone with our gift hampers under $100. Find a beautiful selection of wine hampers full of local and award-winning products, including James Squire beer, Pen Folds Cab Sauv, French Champagne, and Angove drops. We also have affordable foodie hampers with artisanal crackers, biscuits, and other cheeseboard favourites starting with the Gourmet Sensations Hamper from just $79.95.
Hampers Under $200
Pull out all the stops with our magnificent gift hampers under $200. Whether it's a milestone birthday, a special anniversary, or an important business event – these extravagant hampers are guaranteed to impress. Pick up the Penfolds Cab Sauv & French Sparkling Hamper for $109.95, the Moet Champagne Hamper for $149.95, or the Gourmet Extravagance Hamper for $199.95 with gold-flaked honey, non-alcoholic wine, and a Random Harvest Cheeseboard Pack to get the party started!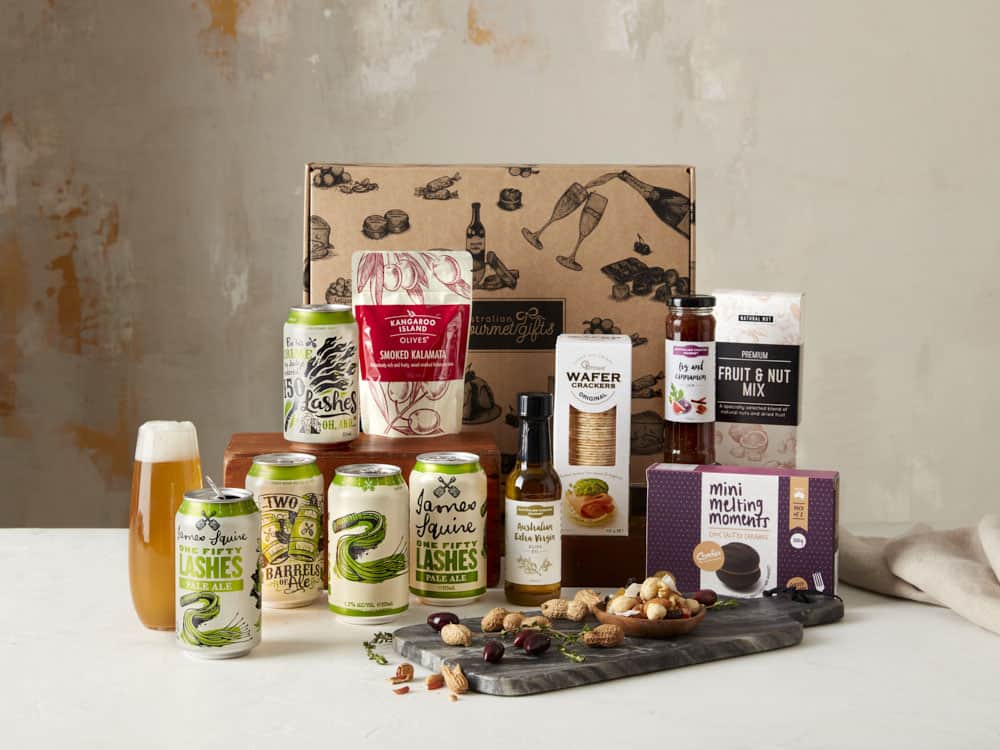 Choose Australian Gourmet Gifts for Unbeatable Value and Quality
All our products are 100% guaranteed to be of the highest quality. We hand select every item from premium gourmet food brands like Australian Country Gourmet and Ogilvie Fine Foods to deliver you the very best Australia has to offer. Our wines and bubbles are from award-winners like Moet and Penfolds. We believe that a luxury gift hamper should be personalised and carefully selected for the recipient's palate, so we give you only the best to choose from, and we'll include a message from you.
We handpick Australian gourmet products so you can feel confident they'll love every sip and every bite. You can also feel confident with our secure payment options including Afterpay and Zippay.
Free Delivery Australia-Wide
All our gourmet gift baskets come with free standard delivery to most destinations across Australia. We also guarantee fast dispatch of your gourmet package, usually the same day or next working day! If you need a next day delivery service, you can upgrade to Premium Express or Express Courier where most orders will arrive within 1-2 business days. We deliver to all major cities and beyond, including:
Melbourne
Sydney
Perth
FAQs About Gift Hampers
What Should be Included in a Gift Hamper?
When putting together a gift hamper for a special occasion, such as Christmas or a birthday, you need a good balance of sweet and savoury treats with a beverage that ties it all together. We've done the hard work for you! Inside our hampers, you'll find:
Red and white wine, champagne, beer, or whisky
Crackers, nuts, smoked olives, and dried fruit
Chocolate, cookies, melting moments, popcorn
Condiments, such as honey, oil, jam, relish, tapenade, and dressings
Is a Gift Hamper a Good Gift?
As one of Australia's leading gourmet hamper companies, we certainly think so! Food and wine are a staple at every special occasion, from birthdays and Christmas to baby showers and housewarming parties. We have the best gifts packed with award-winning food and wine to put a smile on everyone's face, fill them up, and make the event one to remember.
How do You Make a Gift Hamper Look Good?
We make our gift hampers look incredible by firstly filling it with scrumptious sweet and savoury goodies and wines by prestigious brands like Penfolds, Maggie Beer, and Moet. Presentation is just as important as what's inside. Your gift hamper will come in a handcrafted, environmentally-friendly gift box with grosgrain ribbon and personalised greeting card with your special message on it. We top it off with free delivery to most Australian destinations!
What Occasions Can You Give a Gift Hamper?
Our gift hampers are the perfect gift to celebrate any special occasion in someone's life. Food and wine bring people together and our hampers are ideal for sharing with friends and loved ones. They also cater to many different tastes and ages. Browse our gift hampers for every event, including:
Birthdays
​Christmas
Corporate events
​Housewarming parties
Valentine's Day
​Baby showers