Customer Reviews
I highly recommend Australian Gourmet Gifts. We had to purchase a large number of hampers at late notice and Theo provided me with a fantastic level of customer service and with his assistance we were able to get the hampers ordered and delivered with plenty of notice. We will definitely be using Australian Gourmet Gifts again!
CAITLYN BARNETT - SASH (NSW)
I first contacted Theo last year when settlement was due for our latest development. We were sending baskets to each of the 65 owners who had purchased off the plan and were about to settle. As they were settling on different days Theo suggested I sent through a spread sheet which her would work off as I let him know when and to whom the baskets were to be sent.
MARIE - PRIME GROUP AUSTRALASIA (QLD)
CATHY WILLIAMS - LEWIS PRIOR (WA)
I would just like to take this opportunity to thank you for the hampers which we purchased from you for our clients at Christmas time.
The ordering was easy and you help with delivering our hampers to various offices around Australia made the whole process very smooth and stress free.
MICHELLE - FRANKLYN SCHOLAR (VIC)
We would recommend Australian Gourmet Gifts to all. We cannot advertise Australian Gourmet Gifts enough! Theo was extremely helpful and went above and beyond expectations, delivering beautifully presented hampers, full of divine products. Theo was wonderful to deal with and I am sure we will order again in the future.
SHARON - ENI AUSTRALIA LIMITED (WA)
Just a brief note to say a big thank you for the fantastic Xmas hamper we received today. It is without doubt the best we have ever received.
We are all very appreciative and as you would imagine the girls have already started eating the chocolates.
Thanks again
HEATHER - PROSPER WEALTH SOLUTIONS (NSW)
Just a short note to say thank you to you and the team at Australian Gourmet Gifts for the professional hampers you provide to our firm at Christmas. In previous years we have looked to provide a hamper to our valued clients and this has usually meant someone from our office having the task of shopping and putting together an appropriate gift…
BRUCE - PWA FINANCIAL GROUP (QLD)
We were looking online for a Hamper Company and came across Australian Gourmet Gifts. I liked the variety of the different hampers they had on offer and so I contacted them. From the moment of contact, I couldn't have asked for better service, Theo made everything so easy and was able to accommodate what we wanted for the three hundred hampers...
NIMALI - E2O PTY LTD (SA)
The Agony of Choice – How to Choose the Best Gift Hamper Online!
So, you've decided to buy a hamper for that special someone. Wonderful choice! But with such a big range out there, how do you select the right one? With this guide, you'll have the head start you need to choose the best gift hamper online – no matter who you're buying for.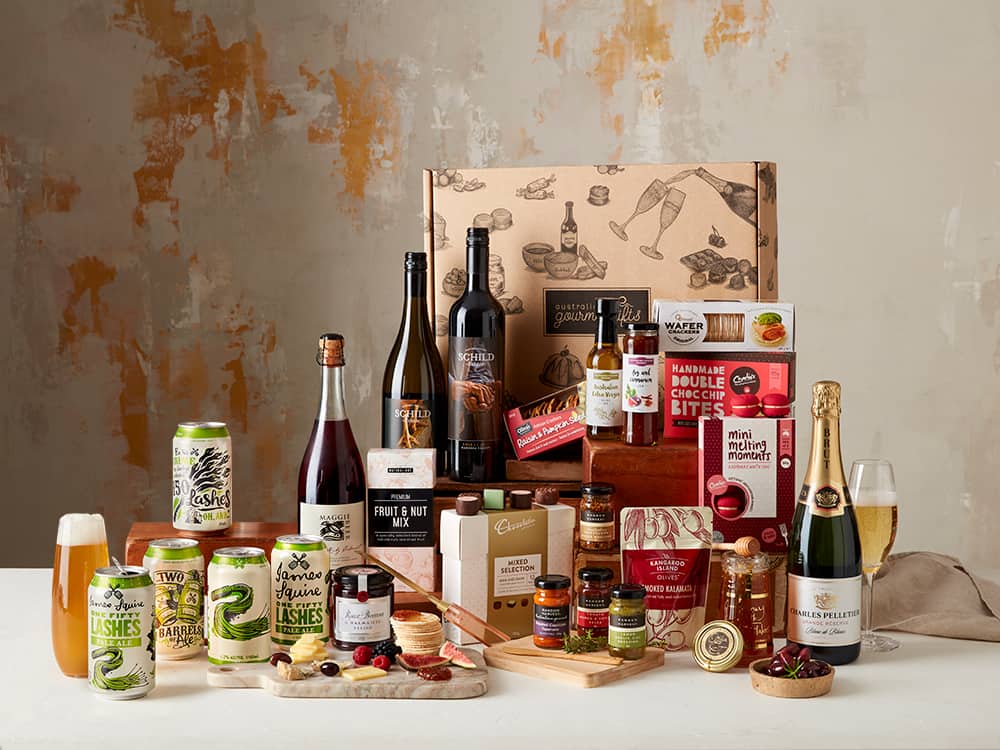 Hampers for Special Events
Food hampers and wine hampers make excellent gifts for any special occasion – especially when they're filled with renowned Australian brands in food and wine, so you know they won't disappoint!
With a diverse selection of wines, beer, champagne, non-alcoholic beverages, savoury nibbles and sweet treats, our gift hampers are diverse enough to please everyone while still having that personal touch to make them feel unique and special.
Discover birthday hampers for milestone birthdays, baby hampers for new parents, housewarming and settlement gifts, luxury hampers under $100, corporate extravaganzas, Christmas gifts and so much more.
Best Hampers for Those Looking for Beer and Wine Gifts
Many of our premium hampers contain beer or wine. So, if you're after a hamper for a young family – or to give to your niece on her Sweet 16 – you may want to stay away from these ones!
However, if you do know they'll appreciate a nice bottle of something, make it special.  After all, no one wants to open a hamper to discover the same wine that was on the discount table down at the local bottle shop.
Instead, why not take them on a journey through Australia's favourite farmers' markets or wine shows with a critically acclaimed beverage?
Whether it's quality Australian Craft Beer, the Penfold's Bin 389 'Baby Grange', or the Schild Estate Shiraz from the Barossa Valley of South Australia, this is your chance to impress.
OUR TOP BEER & WINE HAMPER PICKS:
Barossa Red Wine and White Wine Hamper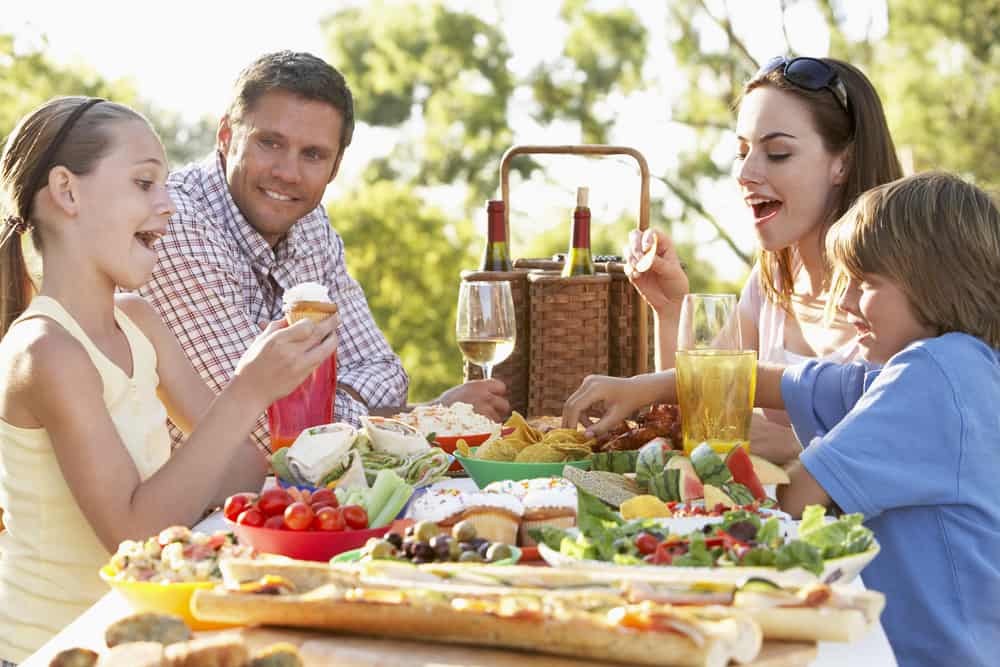 The Health-Conscious Foodie
Some people choose not to drink alcohol for health, religious or dietary reasons. Alternatively, some are just serious foodies!
That's where the gourmet food hamper comes in; it's the best way to warm a foodie's heart and rouse their appetite.
We recommend going for one containing the best Australian foods – with sweet and savoury treats so exquisite they're found only in exclusive stores and kitchens.
For chocoholics, discover packs with award-winning melting moments and artisan chocolate pralines to indulge their sweet tooth. For foodies who love entertaining, our selection of gourmet dips, jams, relishes, smoked olives, wafer crackers and honey with gold flakes makes a stunning cheese platter – just add cheese!
TOP PICKS FOR FOODIES:
Gourmet Sensations Hamper
Maggie Beer Sparkling Ruby Hamper
Gourmet Connoisseur Hamper
Gourmet Extravagance Hamper
Find the Best Pamper Hamper Gifts for Her
Celebrate the special woman in your life the right way by showing you understand and appreciate her impeccable taste. Whether it's Valentine's Day, Mother's Day, a special anniversary or just because you love her – we've got the perfect gift to surprise and spoil her.
Our luxury hampers are specially selected for the extraordinary woman and offer a little taste of the fine life. Discover beautifully packaged gifts packed with deluxe wines and gourmet treats to nibble on.
Just as appropriate for your sister as they are for your 'work wife', Australian Gourmet Gifts have scrupulously hand-picked every item inside to take the guesswork out of pairing the perfect flavours.
TOP PICKS FOR HER: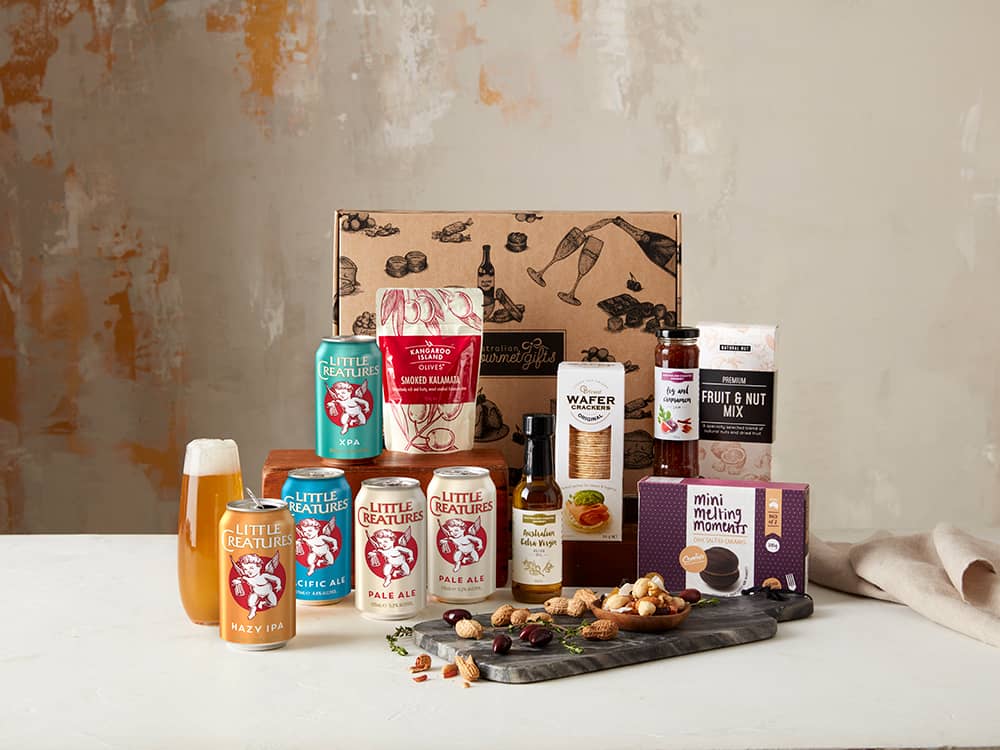 Hampers for Him
Buying for a tradie in his twenties? No problem. A beloved grandfather? Dilemma solved! Our 'hampers for him' are versatile enough to be gifted to every man (and his cavoodle)!
Whether it's a gift for Father's Day, his birthday or any other celebration, these hampers are suited to every occasion.
You'll win him over in no time with the range of fine wines, gourmet food and dark chocolate melting moments. After all, you know what they say: "the way to a man's heart is through his stomach…"
TOP PICKS FOR HIM:
​Glenmorangie Whisky Hamper
​
Best Sweet Treat Hampers
We've got sinfully sweet hampers to tickle the tastebuds of any self-confessed sweet tooth. In each gift hamper, you'll find a selection of sweet treats that have been handcrafted by artisan brands like Charlie's Cookies and Serious Food Co.
When you bite into a creamy chocolate praline, a heavenly melting moment or an indulgent choc chip cookie, you'll be delighted with the superior taste and texture that only an artisan chocolate-maker can deliver!
Some of our hampers have more sweets than others. We recommend the Gourmet Vegan & Gluten-Free Sensations Hamper with plant-based cookies and chocolate-drizzled popcorn or the Gourmet Extravagance Hamper with melting moments and a box of decadent Chocolatier Australia chocolates.
Best Corporate Hampers for Staff and Clients
Buying an individual corporate gift for everyone in the office is time-consuming, expensive and just downright impractical.
Enter, the executive hamper.
Your teams will be able to pass it around and find something they love. What better way to show your boss, clients or team members exactly how much you appreciate them?
They're also ideal as a Christmas-time 'thank you', or to celebrate a big team win! You can be sure that the irresistible goodies and their impeccable quality will bring joy to any corporate space.
We make it super easy to send out as many hampers as you need, from 20 to 2000. Just fill in the online Bulk Order Form with each recipient's delivery details and we'll send them straight to their doorstep.
TOP CORPORATE HAMPER PICKS:
Birthday Gift Hampers to Make That Special Day Memorable
Birthdays only come around once a year so make it special with our stunning birthday hampers. We have gourmet gift hampers for your foodie friends and 'too young to drink' kids on their 16th. Milestone birthdays are a cause for even more celebration. Step up to the occasion and gift Dad the Glenmorangie Whisky Hamper on his 60th, the Luxury French Sparkling Hamper on your sister's 18th and the Barossa Red & White Wine Hamper on your bestie's 40th.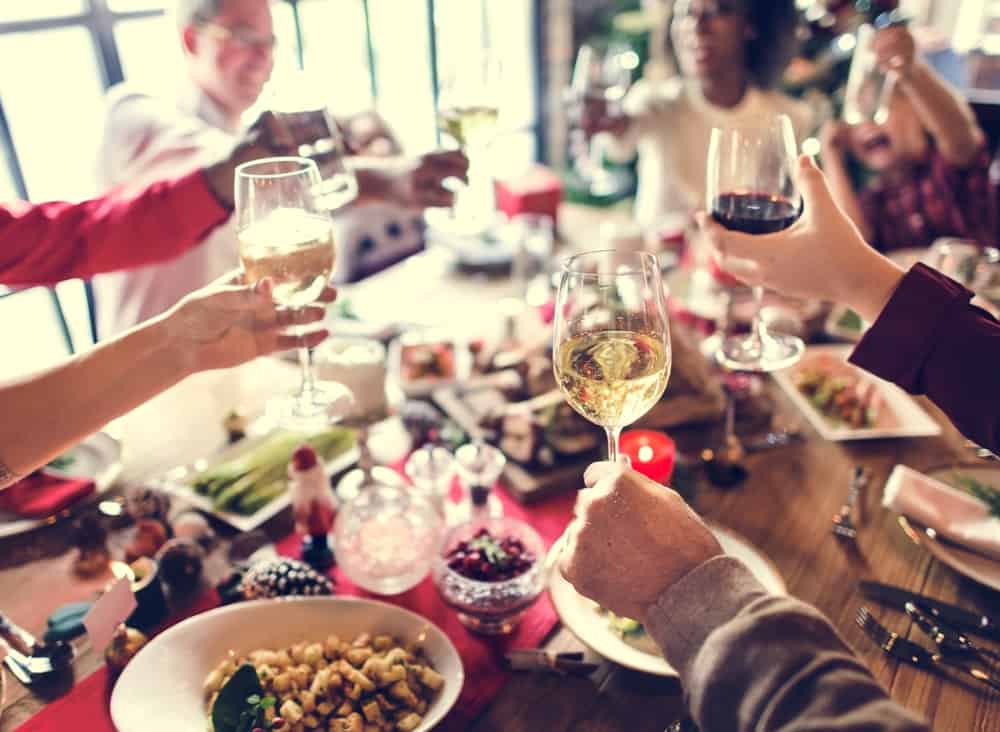 Best Gift Basket Ideas for a Loved One
When you're stumped for gift ideas, browse our best sellers for some delicious inspiration. Whether the person you're buying for is a sweet tooth, cheese platter fan, wine connoisseur or lover of world-champion whisky – we've got all the beautiful gifts you need to make their day and leave a lasting impression.
Customise Your Gift Hamper Online
Add a personal touch to your gift hamper with a heartfelt message and we'll pop it on our beautifully-designed gift cards. Just write your words during checkout in the required field. This is a great way to personalise mass corporate hampers and make each staff or client feel unique and valued.
We go the extra mile to ensure your hamper is presented impeccably with an environmentally-designed and locally-made gift box that reflects our elegant gourmet theme.
Free Online Hamper Delivery Service
We offer free delivery Australia-wide to most major destinations, including:
​Melbourne
Sydney
Perth
Brisbane
Adelaide
If you need a hamper in a hurry, upgrade for a small cost to express delivery and receive next day delivery for the majority of orders placed.
​
​FAQs About the Best Gift Hampers
What Types of Gifts are in a Hamper?
You can pretty much put anything in a gift hamper, but we think you can't go wrong with the ones that are overflowing with quality food and beverages. These hampers will fill them up and keep on giving with goodies like:
Wines, beer, champagne and whisky
Crackers and olives
Cookies, chocolate, popcorn
Jams, oils, relish, dressing, tapenades, honey
What is the Best Gift Hamper?
To choose the best gift hamper, you'll need to consider the person and the occasion. Our hampers are made to celebrate every event and individual, from vegans and non-drinkers to those who love a smoked olive or two with a glass of French bubbly. We have:
Luxury gifts for any budget
New baby foodie hampers
Xmas-themed hampers
Corporate hampers for staff and clients
Wine and beer hampers
What is the Best Christmas Hamper?
Give someone a Christmas gift that is unique and thoughtful with our gorgeous Christmas hampers. We have Christmas-themed hampers with steamed pudding and gingerbread, as well as food and wine hampers to celebrate any way you choose. Here's our top picks:
Premium Gourmet Christmas Hamper
Premium Wine Christmas Hamper
Penfolds 28 & French Sparkling Christmas Hamper
Moet Champagne Hamper
Gourmet Connoisseur Hamper
Where Can You Purchase the Best Gift Hampers Online?
Australian Gourmet Gifts have an exquisite range of hampers to celebrate any occasion. We fill our hampers with Australian-made products from award-winning brands to guarantee quality and flavour in every bite. Enjoy free gift delivery Australia-wide to most major cities in NSW, QLD, WA, VIC and more.