Popular Gourmet Gift Hampers
Australian Gourmet Gifts - Hampers for all Occasions
Gourmet Christmas Hampers – The Ultimate Gift Hampers of Impeccable Taste
Welcome to the simplest way to send a spectacular gourmet Christmas hamper online. There is no better way to mark a special occasion than by choosing an Australian Gourmet Gifts hamper. At Australian Gourmet Gifts we are delighted to be offering the most beautiful selection of luxury gourmet Christmas hampers and gift baskets online, delivered free.
Need the perfect Christmas hampers for your customers? Want to say thanks to your valued employees? We make it simple to deliver show-stopping gourmet gift baskets right to your client's door, whether in Melbourne, Sydney, or anywhere else in Australia. Each hamper can be personalised with a special message from you and ordered online in no time.
Our Gourmet Food & Wine Gift Hampers are also the Best Value Online
Packed with only premium products, fine wines or deli quality foods from Australian suppliers, our gourmet gift hampers are guaranteed to be the perfect treat for your corporate clients, family or friends. Carefully presented in an elegant hamper gift box, our gourmet baskets make the perfect present for men and women. Your gift hamper is hand packed and beautifully presented, to make a pleasing impression. More importantly, the tasty gourmet treats inside are always well received!
At Australian Gourmet Gifts, we believe in delivering value. Just because our baskets are more affordable, doesn't mean they're less impressive. Your gift hamper is more than just food and wine, it's a way to show someone your heartfelt appreciation. We understand how important your gift delivery really is! When you browse our luxury gift hampers online, you're seeing exactly what they'll receive. Always impressive. Always excellent value. Guaranteed.
Hampers Melbourne
Our hamper distribution facility in Melbourne is located at Unit 1, 101 – 115 Paramount Blvd, Derrimut VIC 3030. From here, we distribute all hampers for delivery to Melbourne and to all regional areas in Victoria. All hampers to Melbourne are usually delivered by the next day, however it may take a bit longer during the Christmas period. Wherever your recipients are in Melbourne, hampers delivered right to their door surely makes an unforgettable impression and provides a wonderful surprise. Do you want to send beautiful Christmas hampers to Melbourne? Australian Gourmet Gifts offer the best value hampers and free delivery.
Hampers Sydney
All hampers to Sydney and across New South Wales are despatched from our Sydney hamper facility located at Unit 1, 9-10 John Morphett Pl, Erskine Park NSW 2759. Therefore, no matter where your recipient lives or works in Sydney, we can organise a beautiful hamper for quick delivery. For all hampers to Sydney and country NSW we also offer express delivery so your recipients can have their Christmas hampers by the next business day. For all hampers Sydney, simply call on Australian Gourmet Gifts.
The Easiest Way to Send Hampers. Simply Order Online, We'll Deliver!
Ordering your hampers online is simple. We make it simple and fast to do your gift shopping!
1. Choose your hampers online from our selection.
2. Personalise it with a message.
3. Decide where you want your hampers delivered.
4. We do the rest.
For single orders, you can choose to have the gift hamper delivered Australia wide directly to the recipient (with your message on a beautiful card), or to you for hand delivery.
There's a reason so many of Australia's top companies choose Australian Gourmet Gifts for corporate Christmas hampers and staff gifts. We understand your corporate reputation is on the line – our reputation is online corporate gift perfection!
Our Australian gift hampers arrive fresh and beautiful every time. Let us make your job easier. You choose your gift baskets, we'll take care of your clients on time and to your exacting standards.
Free Delivery Across Australia on all Christmas Hampers and Gourmet Gift Hampers.
At Australian Gourmet Gifts, we deliver all hampers free, secure and on time Australia wide. We use a real-time dispatch system to process your orders instantly. This means we're exceptionally quick!
Free gift hamper delivery to Sydney, Melbourne, Adelaide, Brisbane and Perth can be as quick as next day. Hampers delivered to other capitals and across Australia is fast and free also – but if you need a last minute gift delivery, we offer overnight express for a small fee. You'll be able to track your hamper delivery so you know just when your recipient will be wowed!
Buying Christmas hampers online? Christmas can cause delivery delays, so order early or choose our affordable next-day delivery option.
Do you know someone who deserves to be pampered this Christmas? Browse our impressive selection of Gourmet Christmas Hampers!
Are you looking for premium gourmet hampers online to send to your clients and employees? Have a look at our premium Corporate Hampers!
Would you like to surprise someone for their birthday; or congratulate someone on a great achievement such as purchasing a new house; or for any other special occasion? Australian Gourmet gifts deliver beautiful Gourmet Gift Hampers Australia wide!
Gift Hampers Blog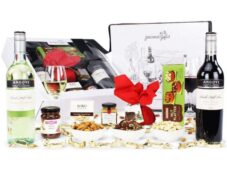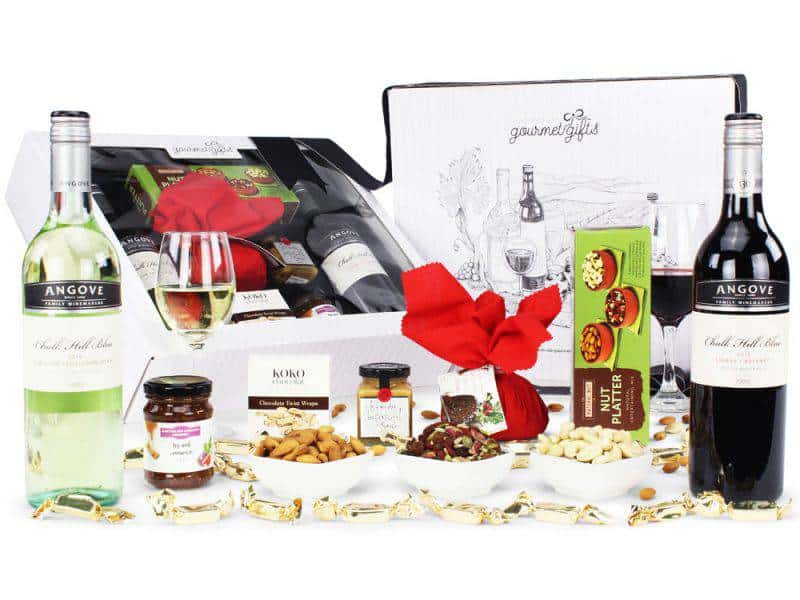 Gift hampers are oneof the most popular Christmas presents in Australia. They are the perfect Christmas gift because they are full of delicious…
Google Reviews on our Hampers
Christmas Hampers Testimonials