Australian Gourmet Gifts: Hampers Australia
Welcome to Australian Gourmet Gifts! The best way to send spectacular gourmet gift hampers Australia-wide. Jam-packed with premium and award-winning products and free hamper delivery. We're confident that they are among the best value hampers and gift baskets you'll find anywhere in Australia. So when it's time to thank clients and employees in Sydney and Melbourne, or surprise family and friends in Brisbane and Perth, simply order your hampers online, we'll deliver. Browse our new range of Christmas Hampers here!
australian brands
AWARD-WINNING FOOD & WINE
environmentally friendly
AUST SUSTAINABLE PACKAGING
Free Delivery
Australia-wide
Same Day Delivery for Melbourne Metro
Orders Available Before 2pm (Weekdays)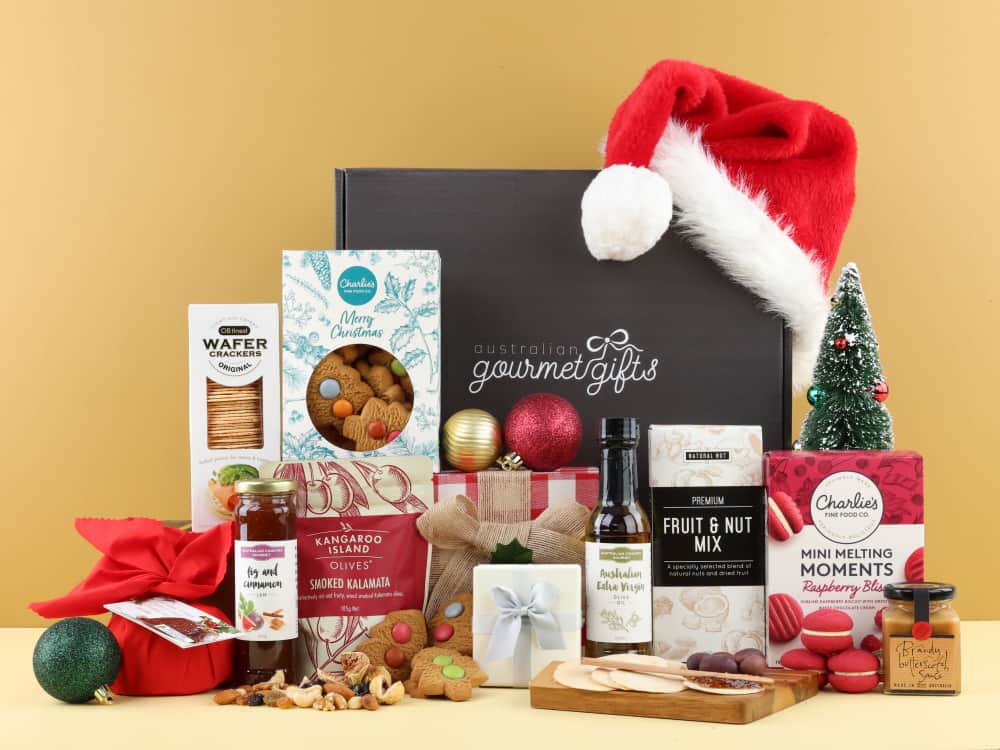 Christmas Hamper Buyer guide
Make 2023 the best celebration yet with these sensational gourmet Christmas hampers.
Gift buying has never been easier with food and wine gift ideas to spoil everyone on your list.
Customer Reviews
I highly recommend Australian Gourmet Gifts. We had to purchase a large number of hampers at late notice and Theo provided me with a fantastic level of customer service and with his assistance we were able to get the hampers ordered and delivered with plenty of notice. We will definitely be using Australian Gourmet Gifts again!
CAITLYN BARNETT - SASH (NSW)
I first contacted Theo last year when settlement was due for our latest development. We were sending baskets to each of the 65 owners who had purchased off the plan and were about to settle. As they were settling on different days Theo suggested I sent through a spread sheet which her would work off as I let him know when and to whom the baskets were to be sent.
MARIE - PRIME GROUP AUSTRALASIA (QLD)
CATHY WILLIAMS - LEWIS PRIOR (WA)
I would just like to take this opportunity to thank you for the hampers which we purchased from you for our clients at Christmas time.
The ordering was easy and you help with delivering our hampers to various offices around Australia made the whole process very smooth and stress free.
MICHELLE - FRANKLYN SCHOLAR (VIC)
We would recommend Australian Gourmet Gifts to all. We cannot advertise Australian Gourmet Gifts enough! Theo was extremely helpful and went above and beyond expectations, delivering beautifully presented hampers, full of divine products. Theo was wonderful to deal with and I am sure we will order again in the future.
SHARON - ENI AUSTRALIA LIMITED (WA)
Just a brief note to say a big thank you for the fantastic Xmas hamper we received today. It is without doubt the best we have ever received.
We are all very appreciative and as you would imagine the girls have already started eating the chocolates.
Thanks again
HEATHER - PROSPER WEALTH SOLUTIONS (NSW)
Just a short note to say thank you to you and the team at Australian Gourmet Gifts for the professional hampers you provide to our firm at Christmas. In previous years we have looked to provide a hamper to our valued clients and this has usually meant someone from our office having the task of shopping and putting together an appropriate gift…
BRUCE - PWA FINANCIAL GROUP (QLD)
We were looking online for a Hamper Company and came across Australian Gourmet Gifts. I liked the variety of the different hampers they had on offer and so I contacted them. From the moment of contact, I couldn't have asked for better service, Theo made everything so easy and was able to accommodate what we wanted for the three hundred hampers...
NIMALI - E2O PTY LTD (SA)
Why Choose Hampers from Australian Gourmet Gifts?
We Only Use Quality Australian-Made Products
All the products in our hampers are Australian-made, except for French Champagne. These beautiful Australian products are of the highest quality, and quite a few of them are also award-winning. You may be familiar with some of the brands - Maggie Beer, Charlies Cookies, Random Harvest, Penfolds, Schild Estate and so much more! In addition, we use locally sourced sustainable packaging; we do not import our hamper boxes; they are all Australian-made. We are proud to be the only hamper company to use only Australian-made products!
Hamper Delivery is Free Australia-Wide
We absorb the delivery charges so we can provide the best value to our customers. The only exception is delivery to some remote destinations where the charges are just too high for us to absorb. Our hamper delivery is also secure and fast. When you order hampers online, the estimated delivery timeframes to the major cities are:
Melbourne - 1 to 3 Business Days
Sydney - 1 to 3 Business Days
Brisbane - 2 to 4 Business Days
Adelaide - 2 to 4 Business Days
Perth - 3 to 5 Business Days
Easy, Efficient and Reliable Corporate Ordering
Ordering from Australian Gourmet Gifts is simple using our Corporate Bulk Order Form. We make it simple and fast so you can get on with your business! You can choose to have the delivery of your hampers Australia wide, directly to the recipient (with your message on a beautiful card), or to you for hand delivery. There's a reason so many of Australia's top companies choose Australian Gourmet Gifts for corporate Christmas gifts. We understand your reputation is on the line - our reputation is quality Australian hampers online. But don't just take our word for it, read Caitlyn's testimonial on the 300 Christmas hampers they've received in Sydney, or Sharon's review for the hampers we delivered to Perth, or multiple other reviews for our hampers Melbourne and all over Australia.
Hampers for All Occasions and Celebrations
At Australian Gourmet Gifts, we believe in delivering quality and value. Just because our hampers are affordable, it doesn't mean they're less impressive. You can trust award-winning Australian products! Also, delivery is free, so there are no additional charges or nasty surprises when you buy from us. Our hampers are suitable for all occasions and celebrations, and the tasty gourmet treats inside are always well received! Your gift is more than just food and wine, it's a way to show someone your heartfelt appreciation. We understand how important your hamper delivery really is! When you browse our luxury gift hampers online, you're seeing exactly what they'll receive. Always impressive. Always excellent value. Guaranteed. Whether you're looking to send Christmas hampers to your clients and employees; or surprise loved ones for a birthday; or congratulate someone on an outstanding achievement such as purchasing a new house; we'll make your job easier. You choose your beautiful hampers online, we'll take care of the rest!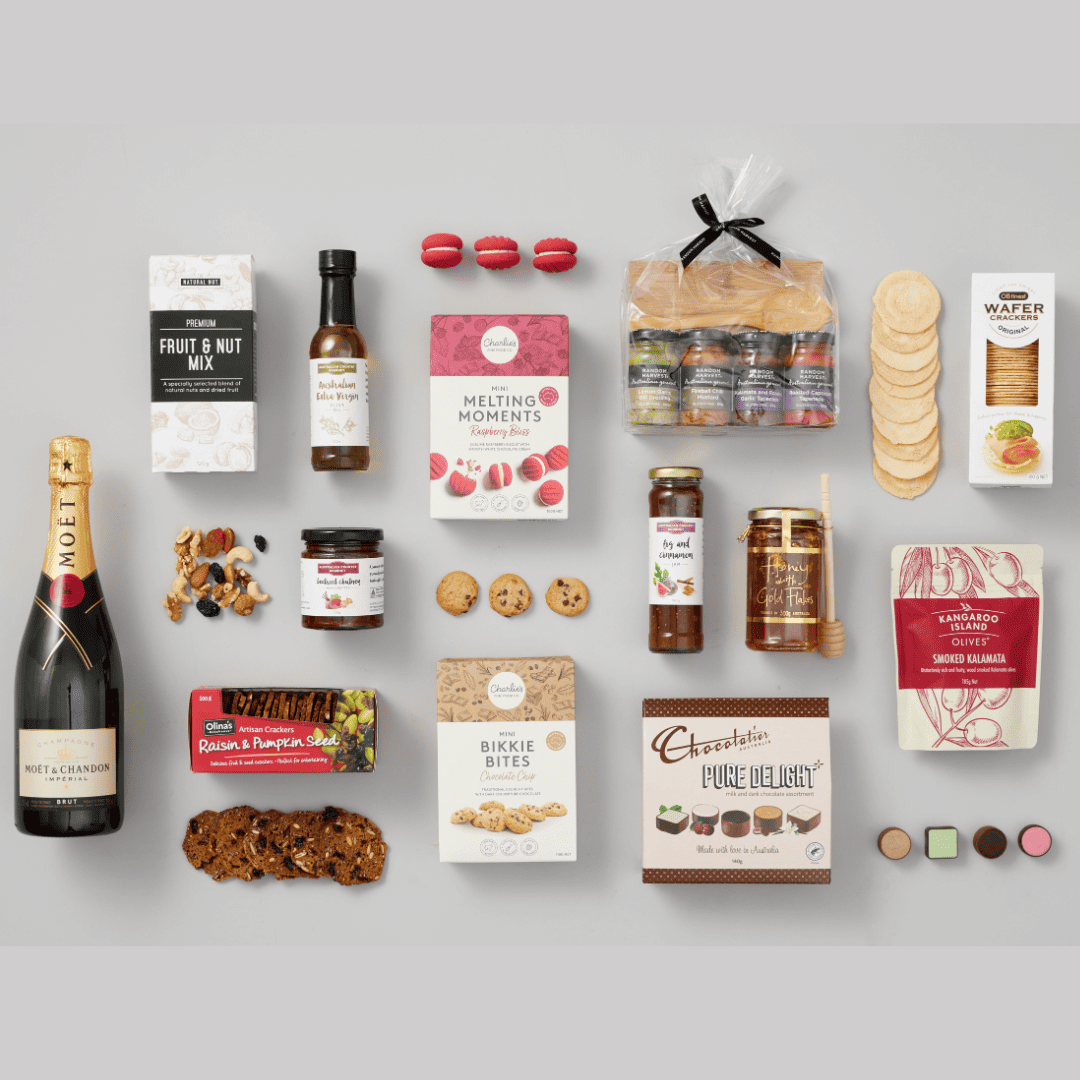 Hampers: The Ultimate Gift for Every Occasion
Why They're the Perfect Gift for Every Occasion Gift-giving can be a delightful yet daunting task. How can you ensure your gift stands out from the crowd and brings boundless joy to the recipient? Fear not, dear reader! In this blog post, we will explore the magical reasons why hampers are the perfect choice for…