Why Gift Hampers Make the Perfect Holiday Gifts
This year, give the gift of a beautifully presented, luxurious, convenient and thoughtful gift. At Australian Groumet Gifts we believe that the best Christmas gifts are the ones that can be shared with loved ones - so crack open one of our Christmas Gift Hampers and get in the Christmas spirit!

Are you the type of person who struggles to decide what to buy for the people on your holiday gift list every year? Often it isn't easy to figure out what type of gift would be enjoyed by friends, family, neighbours and coworkers. It's particularly challenging to shop for those who appear to have everything already. But rather than throwing up your hands and settling on a gift card, why not take a peek at some spectacular gourmet gift hampers?
Why gourmet hampers make the ideal gift
A gourmet hamper is the perfect Christmas gift for anyone on your list. Presented beautifully, the gourmet gift hamper looks as good as it tastes. A special selection of sumptuous gourmet treats is the perfect way to enjoy a holiday evening with family and friends. Plus, it saves you the effort of DIY boxing and wrapping! Start gifting hampers this festive season if you are looking for:
Convenience
Presentation
Thoughtful Gifts
Convenience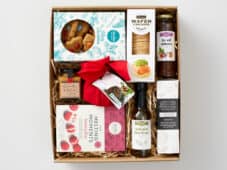 Gourmet Gift hampers make easy gifts because they are so simple to organise. Browse the online boutique to discover a host of great gift ideas for every type of recipient. Use the gift guides to find unique gifts, perfect for your family, friends and colleagues. Ordering online means getting all your shopping done from the comfort of your couch. Best yet, with free gift wrapping, card personalisation and Australia-wide delivery, you can have Christmas wrapped up with just a few clicks!
Presentation
Gorgeous presentation is one of the best things about a holiday season gift hamper. Professionally boxed, wrapped in grosgrain ribbon and featuring a personalised greeting card from you, the hamper is everything we love in a gift basket. Filled with products from Australia's best food wine producers and renowned French champagne houses, each individual item is a beautifully packaged gift in itself. Best of all, the gift-wrapping and delivery come free, so you only pay for the beautiful products.
Thoughtful gifts
The best gift ideas always show an element of thoughtfulness and consideration. That's why a hamper that focuses on your recipients' specific tastes is such a great gift idea. Choose a craft beer hamper for one who loves their boutique brews or a wine hamper for those who love their vino. There are food-focused gifts for the foodie, or even vegan and gluten-free hampers for the friend who's focused on wellness. At Australian Gourmet Gifts, everyone is accounted for. With a curated hamper that speaks to their taste and a personalised card, your recipient will feel touched that you have gone the extra mile.
Best Christmas gift ideas (guaranteed to keep you on the nice list)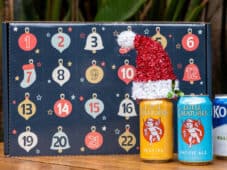 The silly season is upon us, and it's time to start preparations. This year, rather than sourcing all those poor-quality stocking stuffers that retailers overcharge for, why not gift high-quality hampers that recipients will actually appreciate? You can give individual hampers or buy hampers for groups like families or work teams. Focus on recipients' tastes or buy a festive hamper full of Christmas-flavoured goodies.
Premium Gourmet Christmas Hamper – perfect for the workplace Secret Santa
Beer Advent Calendar – full of fun and festivity
Premium Wine Christmas Hamper – all the flavours of the season
Luxury French Sparkling Hamper – a glamorous gift for someone special
Gift ideas 2022
Although traditionally given through the festive holiday, hampers go well beyond the Christmas and Hanukkah periods. These beautiful packages are becoming increasingly popular for all occasions, ideal housewarming gifts, graduation gifts, birthday gifts, and so much more. Find exquisite selections for all your loved ones – from your mother-in-law to your best friend. Enjoy watching their eyes light up as they open one of these popular selections:
Gourmet Sensations Hamper – a mouth-watering collection of goodies
Barossa Red & White Hamper – a wine gift that won't be forgotten
Moet Champagne Hamper – bubbles to celebrate the moment
Penfolds 28 Shiraz Extravagance Hamper – makes a lasting impression
Our best-selling gifts
Hampers have experienced a revival in the last few years. Why? Because we all have too much 'stuff' at home that is never put to use. We want practical, usable gifts that don't take up space in our living room. And that's what makes a beautiful gift hamper so perfect. It's a celebratory gift consumed amongst loved ones- a gift that continues to live on in our memories (not in the back of our kitchen cupboards).
What's more, gift hampers have experienced an upgrade. They are no longer made up of no-name or supermarket brands or soon-to-expire products. Australian Gourmet Gift Hampers contain only premium goods, hand selected for quality, presentation and their reputation for excellence. Absolutely no fillers! Try one of these best-sellers to experience the difference:
Penfolds 311 Chardonnay Extravagance Hamper – perfect for the summer picnic
Gourmet Extravagance Hamper – famous amongst the foodies
Penfolds 28 & French Sparkling Christmas Hamper – everything you love about Christmas
Premium Beer & Wine Hamper – Friday drinks in a gift box
Make her smile with the best gifts for women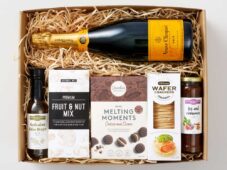 Discover the perfect gift for the most important woman in your world. Whether it's your Mum, your sister, your wife or your bestie, an indulgent gourmet gift hamper is destined to hit the mark. This year, forget about the skincare gift set or the restaurant dinner and give her an original gourmet experience. Take your hamper on a picnic lunch at the headland, down to the botanical gardens or even out to the balcony. Watch the sun go down as you sip, chat and nibble on her favourite treats.
Opulence Pamper Hamper- an indulgent Mother's day gift
Gourmet Connoisseur Hamper – all the specialties she loves
Veuve Clicquot Hamper – a glamorous gift that shows her she's worth it
Corporate gifts for staff and clients
Take the guesswork out of gifting this year with universally-loved gourmet food. Ideal for the corporate environment, gourmet gifts are always appreciated by staff, colleagues and clients. Celebrating in style is a great way to show those around you how much they are appreciated. Of course, corporate gifts need to feel luxurious (not like a last-minute gift purchased at Amazon). And that's where premium corporate gifts featuring high-quality goods and adorned with individually personalised cards will stand out:
Premium Wine Christmas Hamper – a beautiful way to thank staff this season
Moet Champagne Hamper – a special gift to make them feel valued
7 Star Executive Luxury Hamper – everything you need for a team celebration
Moet And Veuve Champagne Decadence Luxury Hamper – A show-stopping gift to impress the clients
Can't-miss gifts for the man in your life
When we think of gifts for men, we often tend to settle on tech gifts. But unless you have a wishlist, gifts like the Bluetooth gadget can go down like a led balloon. Chances are, you're not in the market to buy him the latest Apple iPhone, and he likely already has the AirPods. This year, why not give him the gift of an experience? A gourmet food and beverage journey that resembles the things he loves:
The Gentleman's Hamper – ideal for the hard-to-buy-for gent
Barossa Shiraz Hamper – made for an evening of relaxation
Little Creatures Beer Hamper – the best way to kick off the BBQ
Gifts to make Dad's day brighter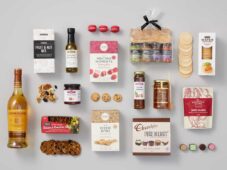 Father's Day gifts just became easy, thanks to Australian Gourmet Gifts. Whether shopping for your dad, your father-in-law or simply a father figure, there are plenty of great gifts to make him feel special. Enjoy it together, or send it long-distance and surprise him from afar. Any Dad will love tucking into these boxes of goodies:
Gourmet Sensations Hamper – gourmet snacks to graze on over a card game
Single Malt Whisky Extravagance Hamper – the easiest way to become Dad's favourite child
Penfolds Baby Grange Extravagance Hamper – an extravagant gift for the dad who has everything
Gifts for your boyfriend or girlfriend
What will you purchase for your partner this holiday? Old Star Wars memorabilia? A skincare subscription box? Rather than going for the risky or expensive options, why not go for a fail-proof luxury gift? If you're lucky, they might invite you along to share it. With a gourmet hamper, your loved one receives a party in a gift box, an indulgent experience designed to spoil them rotten. Make a TikTok of your gift being opened for all your friends and family to see:
Relax and Soothe Pamper Hamper – a gorgeous gift for a spa day
James Squire Beer Hamper – take it with you to watch the game
Luxury French Sparkling Hamper – the best way to share an evening together
Shop with Australian Gourmet Gifts this holiday for a unique gifting experience that wins every time. Find perfect gifts for all your loved ones, friends and colleagues this holiday season!