Hampers that won't break the bank
Celebrate Christmas with a delicious gourmet gift hamper that is as luxurious as it is affordable. Get value for money and get your Xmas spirit on with a thoughtful hamper from Australian Gourmet Gifts.

A party in a gift box
Great Christmas hampers feel like a celebration in a gift basket. Filled with gourmet delicacies that you won't find on supermarket shelves; a unique holiday gift hamper should contain special products. The exciting mix of different flavours will take your recipient on a culinary journey of the foods and beverages they love most – from both the past and the present. Although luxurious, a good-quality Christmas gift hamper doesn't need to be overly expensive. Mum's favourite chocolates or Dad's favourite craft beer are some of life's simple luxuries that never get old.
Value for Money

We all need to watch our spending over Christmas and make smart decisions regarding gift-giving. However, there's no point in giving supermarket-style gift hampers if several items end up in a landfill. That's why, at Australian Gourmet Gifts, we carefully curate every gift hamper to ensure that each item is a worthy gift in itself. You won't find any 'filler items' or soon-to-expire products here, only premium Australian name brands renowned for their exceptional quality, value and packaging. Plus, with free wrapping, gift card personalisation and nationwide delivery, you only pay for the beautiful products.
Convenience
Let's face it, Christmas gift shopping can be exhausting. Finding the perfect gift for every family member is stressful and takes the joy out of the festivities. Retailers charge a premium at this time of year for lacklustre offerings, which we end up purchasing just to tick a name off the list. But with hamper gifts from Australian Gourmet Gifts, you can source foolproof, high-quality and affordable presents for all your loved ones in one accessible online location.
Mouth-watering hampers are perfect for all your family, friends and colleagues. Overflowing with festive beverages and sumptuous gourmet specialties, these thoughtful gifts are a celebration in themselves. Browse the online boutique for fabulous gift ideas – like a pamper hamper for Mum, a whiskey hamper for Dad, a gourmet hamper for your foodie friend, fine wine hampers for colleagues, and family hampers to feed a crowd.
Best of all, you can complete all your Christmas shopping at home in our online portal. And with free delivery Australia-wide, you can send gifts to your clients in Melbourne or your family back in Perth without worrying about the unexpected shipping costs added at checkout.
Occasions to give a hamper
The fantastic thing about high-quality gourmet hampers is that they suit every special occasion. So, whether you're wishing someone a happy housewarming or birthday, or congratulating a new mum with a surprise baby gift, Australian Gourmet Gifts has a beautiful, affordable box of goodies perfect for any occasion. Let's take a look at some hamper-giving ideas:
Valentine's Day
There's nothing more romantic than indulging your special someone with delicious gifts. So why not win them over this Valentine's Day with a hamper that focuses on their gourmet favourites like red wine, sparkling, craft beer, chocolate and savoury goodies? An unexpected delivery to the doorstep will undoubtedly make them feel special. Don't forget to leave your loving message at the checkout and our staff will be sure to inscribe it on a greeting card to attach.
Luxury French Sparkling Hamper – All the romance of a luxury hamper at a very reasonable price point
Barossa Chardonnay Hamper – everything you need for a romantic summer picnic
Penfolds Cab Sauv Hamper – perfect for an evening at your favourite lookout
Christmas Gifts
Complete your Christmas shopping with Australian Gourmet Gifts and discover the perfect gift for everyone. From the relative who has everything to the gluten-free vegan, we have fabulous gifts to suit them all. With free gift wrapping, personalised greeting cards and Australia-wide delivery, our hamper service is a simple and affordable way to get organised for Christmas. Why not keep it straightforward this year and complete all your shopping in one accessible online location?
Premium Gourmet Christmas Hamper – perfect for a family to connect over the flavours of Xmas
Little Creatures Beer & Socks Hamper – a popular gift for that hard-to-buy-for guy
Gourmet Vegan & Gluten-Free Sensations Hamper – a fantastic gift for that friend with a healthy lifestyle
Beer Advent Calendar – full of silly season fun
Maggie Beer Sparkling Ruby Hamper – prepare them with goodies for Boxing Day at the beach
Mother and Father's Day gifts
Show Mum and Dad how much they mean to you with a sumptuous gourmet hamper gift. An indulgent gourmet gift lets Mum or Dad know that they too, deserve to be spoilt. Specialty treats, premium wine and relaxation gifts always make a welcome surprise. A beautiful package, delivered to the doorstep, with a loving note from you – how can you go wrong? Encourage them to relax, enjoy and make the most of a special evening.
Luxury Soothe Pamper Hamper – French sparkling, scorched almonds, a wheat bag and bath salts
The Gentleman's Hamper – boutique beer, a wheat bag, comfy socks and savoury snacks
Gourmet Sensations Hamper – sensation snacks from artisanal producers
Penfolds Cab Sauv Hamper – a memorable Barossa wine gift
Corporate Hampers
Let your colleagues, clients and staff know how much you value their efforts with a token of appreciation. We all know corporate gifting can be tricky, with preferences, budgets and branding to consider. Luckily, corporate gift hampers are one of our specialties and Australian Gourmet Gifts has plenty of suggestions for budget-friendly, popular and on-brand gifts for the season. Whether you need one gift for the team or two hundred gifts to send to staff across the country, Australian Gourmet Gifts is here to help. Our team will box, wrap, and personalise each gift box with your special message.
Penfolds Cab Sauv Hamper – an elegant, affordable gift for staff to enjoy over the holidays
Gourmet Sensations Hamper – a food-focused hamper brimming with Australian specialty snacks
Moet Champagne Hamper – a luxury gift to send to the special client
Sweet treats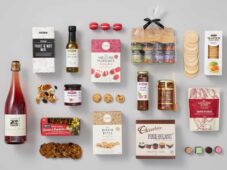 Hampers always make a welcomed gift for the sweet-toothed friend. Whether you are looking for something Christmas-themed hamper, an Easter-themed hamper or simply a gift of sweet goodies, we have unique assortments to make them swoon. Australian Gourmet Gifts has scoured the country to source some of the most beloved producers of artisanal sweets, cookies, biscuits and chocolate. Some of the satisfying snacks and desserts you're likely to come across in a gourmet hamper gift include:
Traditional Foods – Steamed Christmas Pudding
Ogilvie Butterscotch & Brandy Sauce
Charlie's Raspberry Bliss Mini Melting Moments
Bramble & Hedge Raspberry Vanilla Bean Vegan Nougat
Random Harvest Assorted Fudge
Ernest Hillier Milk Chocolate Scorched Almonds
Chocolatier Australia – Pure Delight Milk and Dark Assortments
For the wine lovers
A quality wine gift hamper is always a special treat for those who love their wine. Featuring some of Australia's most popular drops, these beautiful wine hampers are the gift of a good time. Your recipient will enjoy sipping on quality vino, grazing on delectable nibbles and chatting amongst their loved ones. Who wouldn't want a gift like that? Good-quality wine isn't necessarily the most expensive. Our in-house wine expert has carefully selected value-for-money drops to suit every budget.
Barossa Red & White Hamper – multi-award-winning Barossa wines
Penfolds Cab Sauv Hamper – an elegant, aromatic drop from Aussie favourite Penfolds
Luxury French Sparkling Hamper – affordable French luxury for the lover of sparkling
For all special occasions
Our great memories come from sharing food with those we love most, which is why hampers are perfect for every occasion. Your recipient has the pleasure of popping a bottle of their favourite beverage and putting together a delicious grazing board for friends using gourmet accoutrements- like smoked olives, dips, tapenade, nuts, honey, olive oil, crackers, and so much more. A gourmet experience shared with others is memorable and works for every occasion.
New Year's Eve parties
Farewell parties
Housewarming celebrations
Company milestones
Engagement gifts
Retirement parties
Shop with Australian Gourmet Gifts to source high-quality, affordable, value-for-money gift hampers under $100 you won't find in-store anywhere else. Delivered to the doorstep in just a day or two, these gorgeous hampers are great for last-minute gifting. Plus, with all the beautiful details, like a designer gift box, grosgrain ribbon and a personalised greeting card, your recipient will feel as though you have gone the extra mile. With a user-friendly online portal full of great gift ideas, you will never have to be concerned about shopping for gifts again.
Browse gift hampers online for great gift ideas that won't break the bank. Australian Gourmet Gifts have an inspiring collection of high-quality gifts to suit all lifestyles, budgets and special occasions.