Customer Reviews
I highly recommend Australian Gourmet Gifts. We had to purchase a large number of hampers at late notice and Theo provided me with a fantastic level of customer service and with his assistance we were able to get the hampers ordered and delivered with plenty of notice. We will definitely be using Australian Gourmet Gifts again!
CAITLYN BARNETT - SASH (NSW)
I first contacted Theo last year when settlement was due for our latest development. We were sending baskets to each of the 65 owners who had purchased off the plan and were about to settle. As they were settling on different days Theo suggested I sent through a spread sheet which her would work off as I let him know when and to whom the baskets were to be sent.
MARIE - PRIME GROUP AUSTRALASIA (QLD)
CATHY WILLIAMS - LEWIS PRIOR (WA)
I would just like to take this opportunity to thank you for the hampers which we purchased from you for our clients at Christmas time.
The ordering was easy and you help with delivering our hampers to various offices around Australia made the whole process very smooth and stress free.
MICHELLE - FRANKLYN SCHOLAR (VIC)
We would recommend Australian Gourmet Gifts to all. We cannot advertise Australian Gourmet Gifts enough! Theo was extremely helpful and went above and beyond expectations, delivering beautifully presented hampers, full of divine products. Theo was wonderful to deal with and I am sure we will order again in the future.
SHARON - ENI AUSTRALIA LIMITED (WA)
Just a brief note to say a big thank you for the fantastic Xmas hamper we received today. It is without doubt the best we have ever received.
We are all very appreciative and as you would imagine the girls have already started eating the chocolates.
Thanks again
HEATHER - PROSPER WEALTH SOLUTIONS (NSW)
Just a short note to say thank you to you and the team at Australian Gourmet Gifts for the professional hampers you provide to our firm at Christmas. In previous years we have looked to provide a hamper to our valued clients and this has usually meant someone from our office having the task of shopping and putting together an appropriate gift…
BRUCE - PWA FINANCIAL GROUP (QLD)
We were looking online for a Hamper Company and came across Australian Gourmet Gifts. I liked the variety of the different hampers they had on offer and so I contacted them. From the moment of contact, I couldn't have asked for better service, Theo made everything so easy and was able to accommodate what we wanted for the three hundred hampers...
NIMALI - E2O PTY LTD (SA)
Wish Them the Best with Our Celebratory Birthday Gift Hampers
A birthday hamper filled with premium wine and mouth-watering gourmet treats is the perfect gift for hard-to-buy-for friends and family! Popular hampers for women's birthdays usually contain a nice bottle of Champagne, like Moet, and indulgent sweets. To impress him, you can't go wrong with a Single Malt Whisky or Craft Beer and gourmet nibbles. Whoever you are buying for, we know you'll find one of our superb birthday hampers that's just right to make their day a memorable one.
Popular Birthday Gift Hampers
Birthdays bring friends and family together over a table laden with good wine and good food. Australian Gourmet Gifts can help get the party started with our huge range of birthday hampers to suit every birthday boy or girl. We've filled our boxes with local and award-winning food and alcohol by prestigious brands to make the event special and one to remember. Check out some of our most popular hampers to suit every budget, including:
Moet & Chandon Champagne Hamper
Penfolds Premium Red Wine & White Wine Hamper
​Gourmet Sensations Hamper
Luxury French Sparkling Hamper
James Squire Beer Hamper
Gourmet Vegan & Gluten-Free Hamper
Premium Beer & Wine Hamper
Gourmet Connoisseur Hamper
Buy Birthday Gifts Online and Personalise Them with a Gift Card
We understand that buying gifts online can sometimes be a bit impersonal. That's why we want to help you give your gift a special touch by adding a beautifully designed greeting card with your personal message on it. All you need to do is fill in the required fields when you go through checkout and we'll put your words on our greeting card for a wonderfully thoughtful gift from you to your recipient.
Great Idea for Your Corporate Clients
Show your clients and employees that you appreciate working with them by helping them to celebrate their birthday in style. A corporate gift is a fantastic way to build and maintain strong business relationships and leave a lasting impression of your brand. Surprise your valued clients and colleagues with a birthday hamper stuffed with sweet and savoury delights paired with award-winning wines, beer, champagne and whisky. The 7 Star Executive Luxury Hamper is an over-the-top luxury hamper for when you need to pull out all the stops. Overflowing with award-winning wine, beer, champagne, non-alcoholic beverages, and an abundance of gourmet treats – it's an extravagant gesture they're sure to remember for a long time to come!
Food Birthday Gift Hampers Delivered to Your Door
For the foodie in your life, we've got a bunch of birthday hampers that revolve solely around gourmet food. The popular Gourmet Sensations Hamper is just $79.95 and full to the brim with local goodies like Charlie's Raspberry Bliss Mini Melting Moments, Kangaroo Island Smoked Kalamata Olives, and Olina's Artisan Raisin and Pumpkin Seed Crackers. We've also got the beautiful Maggie Beer Sparkling Ruby Hamper for non-alcoholics. It's loaded with dried fruit and nuts, olives, jams, oils, and crackers with a bottle of non-alcoholic Sparkling Ruby Cabernet – simply add some sliced meat and cheese and you've got yourself a stunning grazing platter for a birthday picnic!
Have your birthday hamper sent to your door for personal delivery or sent directly to the recipient for a welcome surprise on their special day.
Pamper Birthday Hampers for That Someone Special
Give your loved one a chocolate gift on their birthday and you'll make their day! We've got hampers to satisfy a sweet tooth with local favourites like Charlie's Cookies and their range of mini melting moments and divine chocolate chip cookies. The Gourmet Vegan & Gluten-Free Hamper is a pamper hamper that's big on sweet treats. Proving that restrictive diets are anything but boring, it's packed with certified organic popcorn with chocolate drizzle by Serious Food Co, Charlie's Plant-Powered cookies, Mary's Gone Crackers Real Thin Crackers, fruit and nuts, olives, and oil for a seriously good-for-you feast.
Wine Gifts for a Birthday Present
Do you know someone who fancies themselves a bit of a wine connoisseur? Impress them with your own knowledge about top-shelf beverages and give them one of our wine hampers. We have the Wine Indulgence Hamper for under $100 with not one but two drops from Angove: a gorgeous Sauvignon Blanc and a dazzling Shiraz Cabernet. We've also got the Barossa Shiraz Hamper, Barossa Chardonnay Hamper, and Penfolds Cab Sauv Hamper. To truly take their breath away, the stunning Penfolds Baby Grange & Moet Hamper is a luxurious combination of red wine royalty and French Champagne paired with a smorgasbord of artisan treats to kick off any birthday celebration.
Birthday Hampers with Australian Products
What makes Australian Gourmet Gifts different from other hamper companies? We proudly use Australian-made products crafted with local ingredients by brands that you know and love. Even our gift box is locally-made! You can find many award-winning homegrown brands in our hampers, including Maggie Beer, Penfolds, Charlie's Cookies, James Squire, and Kangaroo Island.
Surprise Someone This Birthday with a Hamper
Wish a close friend, family member, or colleague a 'Happy Birthday' with a hamper from Australian Gourmet Gifts. Containing handpicked Australian gourmet food products and premium wine and Champagne, it is guaranteed to get the party started and make their special day a memorable one. Our birthday hampers are the perfect present to show someone that you care, even if you can't be there. They are also a great way of getting someone that you care about a gift that they can enjoy and that they wouldn't normally indulge in. It's always great to make a fuss over those special people in your life on their important day. Here's a terrific idea to surprise your partner, mum or dad, gran, granddad or other family member.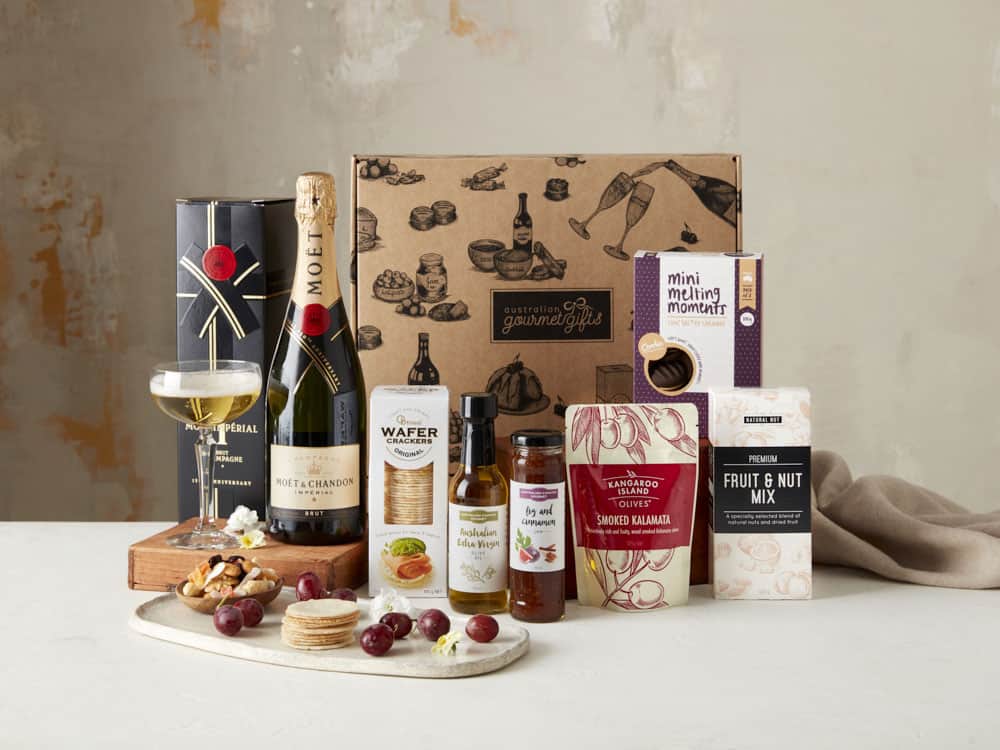 Can't Be There to Celebrate?
Stuck in lockdown or live on the other side of the country? If you can't be there on their special day, getting presents delivered straight to their door is the next best thing. Our birthday hampers are individually made with delectable gourmet products and premium wine, guaranteed to make up for your absence. Just don't count on them saving some for you!
Milestone Birthday Celebrations with a Birthday Gift Hamper
Milestone birthdays are a cause for some real celebration. It's a special event that requires gift givers to kick it up a notch and give the birthday guy or girl a gift that is truly memorable. We've got just the thing with our carefully curated birthday hampers filled with gourmet and multi-award-winning delights. Surprise a loved one with the Gourmet Extravagance Hamper brimming with luxury goodies, such as Ogilvie gold-flaked honey, artisan chocolate, and a stunning cheeseboard pack by Random Harvest complete with dressings, tapenades, and cheese board – it's everything to mark the occasion whether it's their 21st, 50th, or 100th birthday!
Last minute Gifts Can Be Awesome!
From 21st to 60th and above, our gourmet hampers are the perfect last minute gift that doesn't look last minute. Beautifully packaged, meaningful and personalised with a heartfelt note from you, they are the perfect gift choice if you're running a little late. When it comes to delivery, we're all over it. We guarantee secure and fast hamper delivery Australia-wide. With same or next day despatch, getting birthday presents delivered is stress-free and easy.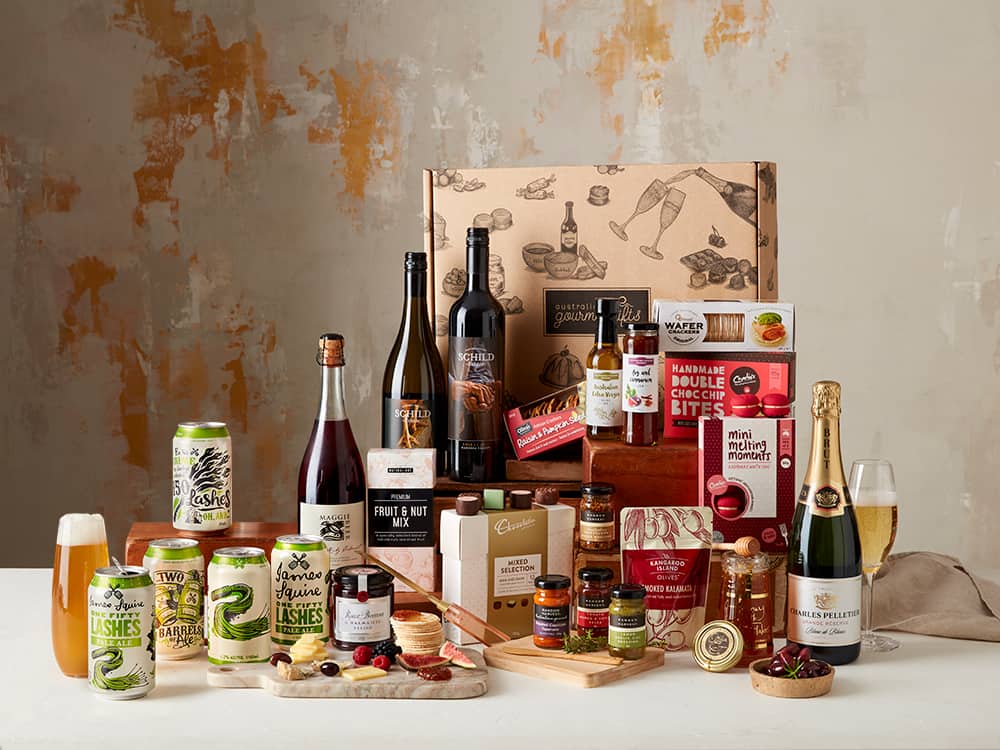 Birthday Hampers Wrapped Up and Ready to Impress
When you buy a hamper from Australian Gourmet Gifts, you don't have to worry about also purchasing wrapping paper, a gift box, or a greeting card. We do it all for you! Our birthday hampers come beautifully and securely packaged in an elegant gift box that has been handcrafted using sustainable local materials and designed to suit our gourmet theme. We top it off with a stylish grosgrain ribbon and personalised greeting card with your special words on it. Whether you plan on handing your gift in personally or having it delivered to their door, your lucky recipient is sure to feel super special when they unwrap your hamper.
Birthday Gift Ideas
We get it – coming up with birthday gift ideas is hard! We've put together a range of birthday hampers to take the pressure off you and give your recipient a birthday gift they'll remember for years. From premium craft beer by James Squire, Moet Champagne, and Glenmorangie whisky to Penfolds wine, artisan crackers, sweet treats, savoury nibbles, and condiments – our hampers are made to celebrate birthdays and any other special occasion, including Father's Day, Mother's Day, Christmas, Easter, and anniversaries.
Birthday Gift Baskets Delivered Free Australia-Wide
We offer free delivery across Australia to most major cities and destinations, including:
Melbourne
Sydney
Adelaide
Brisbane
Perth
If you need your hamper to arrive in a hurry, you can upgrade to Premium Express or Express Courier with 1-2 day delivery for the majority of orders. For more information on our hampers and delivery times, get in touch with our team and we'd be happy to assist you!
FAQs About Birthday Hampers
What is Included in a Birthday Gift Hamper?
From our birthday hampers to our corporate and housewarming hampers, we fill our gifts with the best local food and beverages in Australia. You can expect a delicious assortment of goodies in each hamper by award-winning and prestigious brands. We've got:
Top-shelf wines, craft beer, Champagne, and whisky
Sweet treats, including popcorn, cookies, chocolate, and melting moments
Savoury nibbles, including nuts, olives, and crackers
Condiments, including relish, jam, oils, tapenade, and dressings
Where Can I Buy Customised Birthday Gift Baskets?
Gifting birthday presents is made easy with Australian Gourmet Gifts. Our team go to great lengths to make any birthday boy or girl feel extra special by filling our hampers with gourmet food, wines, and beers from local and international brands. Each hamper is wrapped in a handcrafted sustainable box with a personalised greeting card from you. We offer free gift delivery to most Australian destinations.
What is the Best Gift to Give for a Birthday?
We believe that you just can't go wrong with a birthday hamper overflowing with gourmet treats and award-winning wines and craft beer! We have hampers to please foodies and wine lovers, vegans, and those on a gluten-free diet. Check out our favourite hampers:
Gourmet Sensations
Wine Indulgence
Luxury French Sparkling
James Squire Beer
Gourmet Vegan & Gluten-Free Sensations
What is Included in a Birthday Gift Hamper?
Our birthday hampers are the perfect way to celebrate the birthday of a friend, loved one, or corporate client. From food hampers to wine hampers, here's a peek into some of the mouth-watering treats you'll find in our birthday hampers:
Maggie Beer Sparkling Ruby Cabernet (non-alcoholic)
Random Harvest Cheeseboard Pack
Kangaroo Island Smoked Kalamata Olives
Charlies Mini Melting Moments
Moet & Chandon Champagne