Customer Reviews
I highly recommend Australian Gourmet Gifts. We had to purchase a large number of hampers at late notice and Theo provided me with a fantastic level of customer service and with his assistance we were able to get the hampers ordered and delivered with plenty of notice. We will definitely be using Australian Gourmet Gifts again!
CAITLYN BARNETT - SASH (NSW)
I first contacted Theo last year when settlement was due for our latest development. We were sending baskets to each of the 65 owners who had purchased off the plan and were about to settle. As they were settling on different days Theo suggested I sent through a spread sheet which her would work off as I let him know when and to whom the baskets were to be sent.
MARIE - PRIME GROUP AUSTRALASIA (QLD)
CATHY WILLIAMS - LEWIS PRIOR (WA)
I would just like to take this opportunity to thank you for the hampers which we purchased from you for our clients at Christmas time.
The ordering was easy and you help with delivering our hampers to various offices around Australia made the whole process very smooth and stress free.
MICHELLE - FRANKLYN SCHOLAR (VIC)
We would recommend Australian Gourmet Gifts to all. We cannot advertise Australian Gourmet Gifts enough! Theo was extremely helpful and went above and beyond expectations, delivering beautifully presented hampers, full of divine products. Theo was wonderful to deal with and I am sure we will order again in the future.
SHARON - ENI AUSTRALIA LIMITED (WA)
Just a brief note to say a big thank you for the fantastic Xmas hamper we received today. It is without doubt the best we have ever received.
We are all very appreciative and as you would imagine the girls have already started eating the chocolates.
Thanks again
HEATHER - PROSPER WEALTH SOLUTIONS (NSW)
Just a short note to say thank you to you and the team at Australian Gourmet Gifts for the professional hampers you provide to our firm at Christmas. In previous years we have looked to provide a hamper to our valued clients and this has usually meant someone from our office having the task of shopping and putting together an appropriate gift…
BRUCE - PWA FINANCIAL GROUP (QLD)
We were looking online for a Hamper Company and came across Australian Gourmet Gifts. I liked the variety of the different hampers they had on offer and so I contacted them. From the moment of contact, I couldn't have asked for better service, Theo made everything so easy and was able to accommodate what we wanted for the three hundred hampers...
NIMALI - E2O PTY LTD (SA)
Leave a Lasting Impression with Our Corporate Gift Hampers
When you're sending corporate hampers and gift baskets, you're sending your reputation. Join countless other corporate clients and trust in Australia Gourmet Gifts – the leading supplier of corporate hampers filled with award-winning, Australian-made products. Some of Australia's biggest brands rely on us to maintain their stellar reputation and relationships with clients and employees. We understand the importance of corporate gifting and make it easy for you to build connections and nurture long-lasting and rewarding business relationships.
Choose from our value range of corporate Christmas hampers for staff, client 'thank you' gifts, or our luxury executive gift baskets for the discerning directors. Impress them all with Australia's best corporate gift hampers!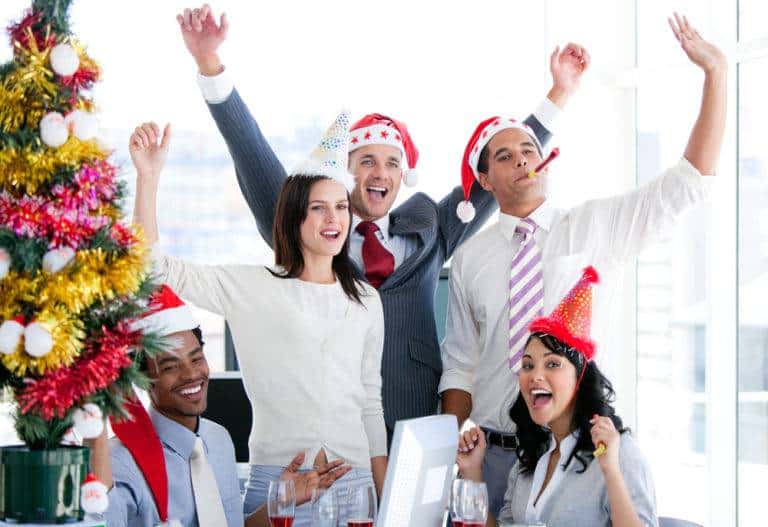 Popular Corporate Hampers
We've got a corporate gift hamper to help you celebrate any special occasion, no matter what industry you work in. Our hampers are carefully curated by a talented team to ensure their contents beautifully complement each other and wow your intended recipient. From Christmas hampers to settlement gifts, there's a corporate hamper to perfectly capture any event. Check out these popular choices:
Barossa Shiraz Hamper
Gourmet Sensations Hamper
Wine Indulgence Hamper
Premium Beer & Wine Hamper
Penfolds Cab Sauv & French Sparkling Hamper
Ordering Different Types of Corporate Gift Hampers
Whether you're gifting your hamper in person or sending it from afar, we make ordering your hampers online easy and convenient. First, browse our huge selection of corporate hampers. We have gift baskets that will appeal to dedicated foodies and wine hampers to tickle the tastebuds of the most knowledgeable wine connoisseurs.
You can order different hampers for different recipients. Just upload your own spreadsheet or fill in our Bulk Order Form with all of the details, including which hamper you have selected for each individual and their address. You can even add a different message beside each recipient to truly personalise each gift!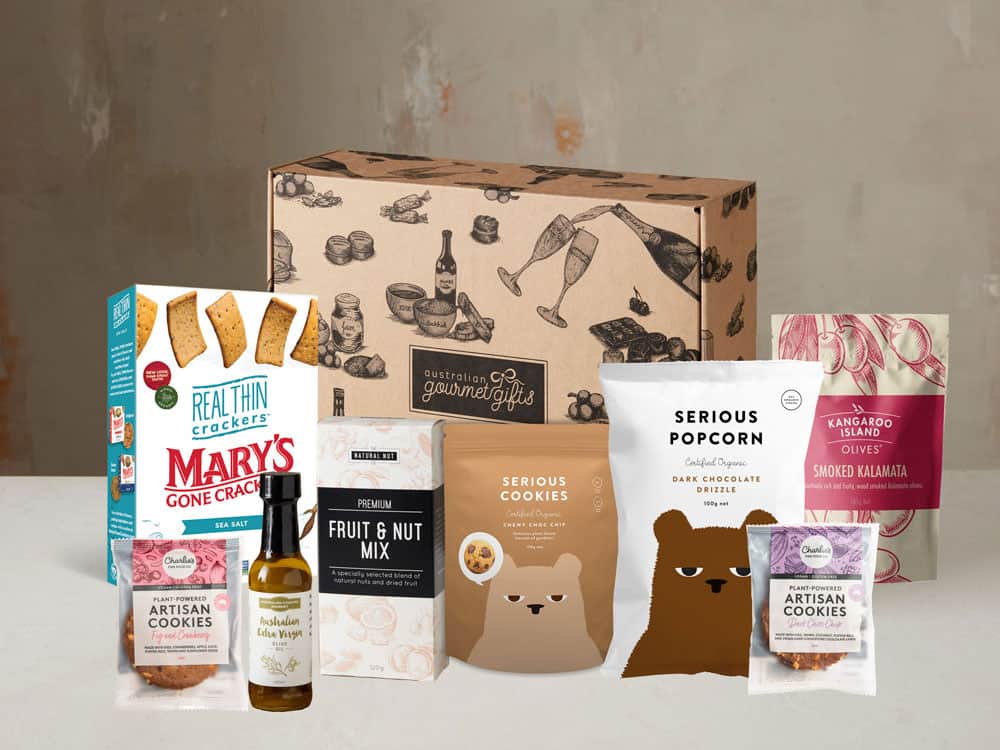 Gourmet Corporate Gift Hampers to Remember
Good business is all about making connections and showing your clients or employees that there is a real person behind the brand. Someone who cares about them and genuinely appreciates working with them. What better way to do this than by sending a gourmet hamper from Australian Gourmet Gifts? With a bundle of award-winning foods, top-shelf wine, premium craft beers, and delectable artisan goodies – they won't forget you in a hurry!
Corporate Food Hampers Available
Our corporate food hampers contain an amazing combination of gourmet food and treats from a selection of famous names. Not only are they of the highest quality and Australian-made, but some are also award-winning! You may know many of these exquisite food brands – Charlies Cookies, Ogilvie Fine Foods, Kangaroo Island Olives, OB Finest Crackers, and Australian Country Gourmet. We also feature the Maggie Beer Sparkling Ruby Cabernet, a great bubbly option for those who want to celebrate without alcohol, or for the corporates that promote an alcohol-free culture. You'll find all these products across our beautiful range, including the Gourmet Extravagance Hamper and the Gourmet Sensations Hamper, that are both very well received and ideal as office gift hampers.
Got a client who is vegan or gluten-free? Are you a vegan-friendly business? We've got you covered with the Vegan & Gluten-Free Sensations Hamper. Delight them with a selection of tasty nibbles from Serious Food Co, Charlie's Plant-Powered Cookies, Mary's Gone Crackers, and more.
Business Gift Ideas with Australian Gourmet Gifts
A gourmet hamper is the perfect gift for when you're stuck on business gift ideas. With esteemed local brands and award-winning products, they help you project the right image for your business while satisfying your clients appetite and making them feel wholly appreciated. Our team have put in the hard work for you and put together a fantastic selection of nibbles and fine beverages to wine and dine your valued clients. Give them the best with our corporate hampers for every occasion, including:
Housewarming Hampers & Gifts
Hampers under $100
The Gift of Corporate Hamper Luxury
When you really need to impress, our luxury gifts will do the job. The 7-Star Executive Luxury Hamper is the ultimate in extravagant gifts and contains a stunning assortment of our very best products, including James Squire craft beers, Schild Estate Wines, and a smorgasbord of antipasto and cheese platter favourites, such as smoked olives, gold flaked honey, crackers, and tapenade.
We even sell luxury hampers under $100 for those with a smaller budget. Small on price but big on flavour and value, these beauties are packed with deluxe gourmet treats and the finest beverages to pamper your business associates.
Can You Bulk Order Corporate Gift Hampers?
Absolutely! Many of our corporate clients need to send out a large quantity of corporate baskets to their recipients. We make bulk corporate orders our speciality. Simply fill out the Bulk Order Form online or upload your own spreadsheet. You will need to enter all of the necessary address details for delivery so that we can send your gifts to multiple destinations. Choose one hamper to wow thousands or a different hamper for each recipient. It's up to you!
​How You Can Personalise Your Corporate Gift Hampers
Each corporate hamper comes with an elegantly designed gift card in a natural kraft envelope that aligns with our gourmet theme. You can personalise each message by filling in the required fields during Checkout. Whether you need 20 hampers or 2000 hampers – we'll make sure your personalised message is attached to each and every one of them!
Beautifully Presented Hampers with Australian Products
We believe the outside of a gift is just as important as the inside! All of the goodies will be encased in a beautifully designed environmentally-friendly box that has been completely constructed from local sustainable materials. An elegant grosgrain ribbon and personalised greeting card make for the perfect finishing touches.
Stylish Corporate Christmas Gift Hampers for Your Staff and Clients
Need to give amazing corporate Christmas hampers and End of Financial Year corporate hampers to your employees and most valuable clients? We'll help you save time and money. It's a big job organising bulk corporate gift baskets. Don't invest valuable staff hours in researching and organising when we can do it all – and at a fraction of the cost. View our Corporate Christmas Hampers now! We can assist you with one, or one thousand, delivered free Australia-wide.
Here at Australian Gourmet Gifts, we understand how important it is to let your key customers or clients know that you appreciate their business throughout the year. It's also great management practice to provide rewards for those members of the team who have been there for you. That's why we have created this superb selection of corporate hampers and gift baskets, each delivering a taste sensation that will keep your name fondly on the recipient's lips!
We've delivered tens of thousands of corporate gift hampers across Australia and our customers return year after year. They love our professionalism as much as our gourmet treats. We know your reputation is at stake. Our hampers deliver more than just fine delicacies – they deliver a lasting impression of your brand.
Corporate Wine Hampers
You'll also find a superb collection of Wine, Champagne and Whisky across our range of luxury executive gift baskets. The 7 Star Executive Hamper contains the whole lot! Our corporate wine gifts include red wine and white wine from the rich Angove South Australian range, typically served in restaurants, as well as top-shelf drops from the multi award-winning Schild Estate Barossa Winery and the world-renowned Penfolds and Moet Champagne brands. For the whisky lover, we feature the Starward NOVA Single Malt Australian Whisky, winner of Best Australian Whisky Innovator and crowned Best Craft Distilled Whisky in the world.
We've brought all these impressive brands together to curate the perfect client 'thank you' gift hampers that add value to your brand!
Free Shipping Australia-Wide for all Corporate Gift Hampers
From NSW to NT, WA, and VIC, we offer free shipping for corporate hampers across all of Australia. We ensure our hampers arrive on-time and in style to all Australian destinations, including:
Melbourne
Sydney
Perth
Brisbane
FAQs About Corporate Gift Hampers
Why are Corporate Gifts Important?
Corporate gifting is an important part of building a business brand and fostering strong relationships between you and your clients or employees. Its main job is to let the other person know your appreciation in working with them. From settlement gifts for real estate agents to Christmas hampers for staff, a corporate gift:
Shows appreciation and gratitude
Encourages return business
Builds solid business relationships
Leaves a lasting impression
What are Some of the Most Popular Corporate Gift Hampers?
Whether you need to impress with food, wine, or a little of both, our corporate gift hampers are just the thing to say, 'thank you for your business'. We have Christmas hampers, luxury hampers, housewarming hampers, and more. Check out these favourites:
Barossa Shiraz Hamper
Maggie Beer Sparkling Ruby Hamper
Premium Beer & Wine Hamper
​Gourmet Connoisseur Hamper
Luxury French Sparkling Hamper
What is the Best Way to Order a Corporate Gift Hamper?
If you have a lot of hampers to send out to multiple destinations, the best way to do this is by filling out our online Bulk Order Form. This sheet allows you to fill in all of the delivery details of each recipient so that we can deliver hampers to each doorstep anywhere in Australia. Whether you have ten corporate gift hampers to deliver or thousands – our team work quickly and efficiently to get them where they need to go!
What are the Different Types of Corporate Gift Hampers?
We provide corporate gift hampers to celebrate any special occasion between you and your employees, clients, and business partners. Our long-term corporate customers span various industries, including real estate, manufacturing, transport, and more. There's something for everyone with our:
Gourmet food hampers and wine hampers
Christmas hampers
Luxury hampers
Birthday hampers