Reward your hard-working employees with corporate gift baskets
Choosing corporate gifts every year can be a struggle. You need to be creative, remember not to replicate last year's gift and ensure those unique gifts stay on brand.

If you're going to get your clients or employees something to adore, make sure it's adorable! And, there's your budget to consider. Of course, there's nothing worse than giving clients and staff an overly personal gift that goes down like a led balloon.
Corporate gift baskets are not all created equal. You want to give a gift of luxury. You want to tell them they're worth only the best. Let's face it; a department store gift hamper isn't going to cut it. It's going to have a cheap 'Amazon' feel about it! If you are looking for the ultimate way to reward your hard-working employees or valuable clients this year, you should choose our premium corporate gift baskets – packed with treats they'll love.
Variety is the spice of life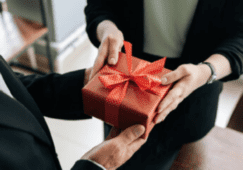 We all know how exhausting it is to be handed the same old present each year and have to feign excitement. A travel mug or tote bag branded with the company logo, office supplies, a remote charger, or even a bunch of flowers? Yawn. Yes, they are nice gestures, but why not spice things up a little and put some excitement back into gift-giving with something your employees will never expect? Personalising a gourmet hamper with a lovely message of appreciation shows you value their contribution to your business.
Suitable for all employees
Men, women, senior executives and junior clerks – it does not matter who you employ, or what role they fill within the business; everyone will feel recognised and rewarded when they are personally presented with an employee holiday gift basket. According to an industry survey on corporate gift giving conducted by the Advertising Specialty Institute, gourmet gift hampers have been voted the number 1 way to impress clients. Gift hampers are practical, and stylish and can be shared around the office or at home with family.
Rewarding employees for their hard work is a surefire way to keep morale high and increase productivity. What better way to show your staff you appreciate their efforts than by choosing a perfectly presented hamper that suits both men and women? After all, everyone loves gourmet food! Gift giving is always appreciated after launching a project, the successful delivery of service or at the end of the year as a Christmas surprise.
A gift basket option to suit all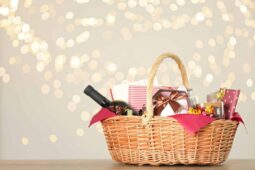 Australian Gourmet Gifts offers a wide variety of hampers that can be tailored to suit your needs. Create something 'on brand' by adding luxury items or quirky extras. Employees will be proud to share their corporate gift baskets full of goodies with friends and family. Employees will not forget the goodwill of your company! When you are looking for a promotional product to say thanks, or a gift to show your appreciation, consider giving corporate gift baskets. Sending a basket of gourmet goodies is fast, and delivery is free across Australia.
Thank you gifts for employees
An employee gift will most certainly be noted and remembered. Showing your employees gratitude is essential to maintaining great staff and upholding the company's reputation as a great workplace. Employee appreciation gifts let the team how much they are valued. The small gesture from you can only uplift spirits and increase staff wellbeing. And you know what they say about happy staff? They are more productive at work and make smarter decisions.
So what makes a great gift to say thank you? We believe that the best gifts show someone a good time, let them know they are valued and show them that they deserve the best. With a high-quality gourmet gift to enjoy together in the office, your employees can take a moment to kick-back, courtesy of your great gift. Team members will bond, get the know the new employees and feel more comfortable in the workspace. They might even mention the great perks of working at your business to other potential employees on LinkedIn.
Part of the magic of a gourmet hamper is that it appeals to all (who wouldn't a basket of luxurious gourmet nibbles and premium beverages), it encourages employee engagement (hello happy hour!), and it is a gift of relaxation to be savoured during time off. A coffee mug may suggest 'get to work', but a bottle of wine says 'sit back and relax'.
What to get your clients and coworkers for Christmas
Whether you're looking for individual take-home gifts or a special treat to enjoy in the office before the holiday break, you can find great gift ideas in the Australian Gourmet Gifts online boutique. Choose gift boxes ranging from affordable to luxury that focus on gourmet nibbles, champagne, fine wine, chocolate, whiskey, craft beer and more. Beautiful gift boxes bursting with fine Aussie wines, artisanal snacks and luxury relaxation gifts are sure to go down a treat with any recipient.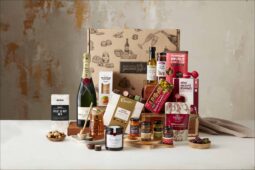 If you're feeling festive, why not send staff home with a gift box of goodies that speak to the holiday season? Filled with nostalgic notes of plum pudding, brandy sauce, gingerbread and sparkling wine, Christmas hampers are a succulent reminder of the season. Perfect for the Boxing Day picnic or New Year's Eve party, these delicious assortments will ignite the celebration. Staff, clients and coworkers will undoubtedly feel appreciated as they share delicious nibbles with the family.
Whether you have one colleague or one thousand staff, the perfect gifting option is waiting for you at Australian Gourmet Gifts. A professionally packaged hamper filled with some of Australia's finest food produce is sure to tick every box. It makes a nice change from the usual tea cups, tumblers and candles. You can even find the perfect Secret Santa gift.
Memorable gifts
Meaningful gift ideas aren't difficult with Australian Gourmet Gifts. Our gift hampers are all about making memories over food. It's about the moments you share with colleagues, friends, and loved ones as you sip, graze and chat. Reminisce over the year's events and toast the year ahead. Pass around a share plate of Australia's finest nibbles and raise your glass of Penfold's Shiraz. Of course, if you prefer a James Squire beer or a Lyre's alcohol-free mixer, we can get behind that too!
Gifts that offer a bit of indulgence or encourage a little 'me-time' are always memorable. Whether that's a luxury hamper featuring Moet & Chandon or a gift set of boutique beers and cosy socks. We all need a little self-care at the end of the year, and your gift is the permission slip.
A thoughtful gift needn't be the most lavish (although it can be if you want). But it needs to show the recipient that you considered them and made a little effort. Whilst we all like a gift card, it's not very personal and is easily forgotten. That's where a personalised gift for Australian Gourmet Gifts differs. Not only will our staff professionally box your gift and wrap it in grosgrain ribbon, but we will also attach a personalised greeting card from you. Whether purchasing one gift or a thousand gifts, we will personalise each and every gift box.
Hampers everyone will love
If you need more great reasons why hampers make the perfect gift, we've got them. Thankfully, hampers can be sent anywhere in the country. With free delivery across Australia, you can have holiday care packages sent to home office and clients interstate. Whilst everyone in the office can enjoy receiving a surprise hamper, so can your remote employees.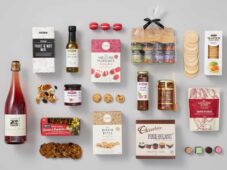 Throw a Zoom party and let your remote workers open their holiday hampers together. A virtual holiday party is wonderful for team building, employee engagement and staff's overall health and wellness. With staff members opening a celebratory hamper full of succulent gourmet treats and festive beverages, that's one Zoom meeting you won't want to miss!
Sending an unexpected surprise gift to a valuable client is one sure way to make an impression. They will undoubtedly appreciate doing business with you as they enjoy a Friday happy hour of champagne, wine and beer and delectable sweet and savoury treats. If happy hour doesn't sit with your corporate branding, we have plenty of other styles of gift ideas – including healthy lifestyle foods, gourmet foods, and relaxation pamper gifts.
For the wine lovers
For the connoisseurs, the wine buff and those that just love a great drop, there's simply no better gift than a wine gift. Unfortunately, searching the wine store can be very daunting. But with an Australian Gourmet Gift box, we've already done the hard part for you. Our in-house sommelier has partnered with some of the top wine brands in Australia to bring you the best value-for-money wines at every price point. Whether you're looking for something budget-friendly or happy to splurge on something extra special, Australian Gourmet gifts have a high-quality vino hamper that's sure to impress.
But our wine gifts offers your recipient more than just a fantastic drop. Our gift boxes include a bountiful collection of artisanal snacks to pair them with. Your recipient will enjoy sipping on Penfold's Chardonnay whilst nibbling on smoked olives from Kangaroo Island. Or swirling hearty Shiraz from Schild Estate whilst dipping in roasted capsicum tapenade. Now that's an Australian gourmet experience!
Of course, if bubbly is more their style, then nothing says celebration quite like our luxury hampers of French champagne. The gorgeous gift boxes featuring Moet & Chandon and Veuve Cliquot show that you mean business. They represent the ultimate treat for a champagne-lover and make a truly meaningful gift. The moment that we pop champagne is a special one, and the champagne gift is always well received.
Sweet tooth perfection
'Tis the season to indulge in the things we love most. And for many of us, that means sweet treats and chocolate! Crafted with the sweet tooth in mind, many hamper gifts include cookies, biscuits, pudding & sauce, chocolate truffles, nougat, honey and caramel delights. Of course, we only include high-quality products in these sweet hampers so that your gourmet gift stands well out from the crowd.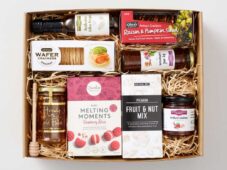 Premium quality award-winning sweets show your employees that only the best will do for them. Your colleagues, clients and staff will feel the festive fever as they savour magical melting moments, double-choc biscuits, gold flake honey or plum pudding and brandy sauce. Beautifully packed, wrapped and boxed, each of these beautiful packages will feel like a gift in itself.
Your sweet treat will have a gourmet edge and offer so much more than the usual DIY holiday gift box. Including award-winning and premium gourmet brands, our unique gift collection is exclusively Australian. Exquisitely presented in a professional gift box, wrapped in ribbon and delivered with a personalised card from you, this delightfully decadent holiday gift is sure to go down a treat.
Memorable hampers
Forget about the desk organizer, mouse pad, Bluetooth gadget or company water bottle. You can deliver something so much more memorable to colleagues, staff and clients. With Australian Gourmet Gifts, you can keep in line with your corporate branding but deliver a gift that employees want to receive. Not only that, but your consumable gift will not end up in landfill and staff and clients will remember the wonderful experience of enjoying it.
Send a buzz of excitement through the office when the surprise delivery of gift boxes appears on desks. Individually personalised and looking exquisite, these beautiful bundles of joy will ignite the festive spirit. Watch your employees' eyes light up and wait to receive that call from the thrilled clients.
Best of all, shopping for gourmet gifts online is incredibly easy. Simply browse the online boutique, select your favourites and head to the checkout to inscribe your personalised message. Use the bulk order form for large groups or contact us for assistance. Your personalised gift will arrive in offices or doorsteps across the country in just a day or two. That's holiday gifting taken care of!
Purchase deluxe corporate gift baskets online today for fast, free delivery. Gourmet hampers will get everyone in the office talking!