Customer Reviews
I highly recommend Australian Gourmet Gifts. We had to purchase a large number of hampers at late notice and Theo provided me with a fantastic level of customer service and with his assistance we were able to get the hampers ordered and delivered with plenty of notice. We will definitely be using Australian Gourmet Gifts again!
CAITLYN BARNETT - SASH (NSW)
I first contacted Theo last year when settlement was due for our latest development. We were sending baskets to each of the 65 owners who had purchased off the plan and were about to settle. As they were settling on different days Theo suggested I sent through a spread sheet which her would work off as I let him know when and to whom the baskets were to be sent.
MARIE - PRIME GROUP AUSTRALASIA (QLD)
CATHY WILLIAMS - LEWIS PRIOR (WA)
I would just like to take this opportunity to thank you for the hampers which we purchased from you for our clients at Christmas time.
The ordering was easy and you help with delivering our hampers to various offices around Australia made the whole process very smooth and stress free.
MICHELLE - FRANKLYN SCHOLAR (VIC)
We would recommend Australian Gourmet Gifts to all. We cannot advertise Australian Gourmet Gifts enough! Theo was extremely helpful and went above and beyond expectations, delivering beautifully presented hampers, full of divine products. Theo was wonderful to deal with and I am sure we will order again in the future.
SHARON - ENI AUSTRALIA LIMITED (WA)
Just a brief note to say a big thank you for the fantastic Xmas hamper we received today. It is without doubt the best we have ever received.
We are all very appreciative and as you would imagine the girls have already started eating the chocolates.
Thanks again
HEATHER - PROSPER WEALTH SOLUTIONS (NSW)
Just a short note to say thank you to you and the team at Australian Gourmet Gifts for the professional hampers you provide to our firm at Christmas. In previous years we have looked to provide a hamper to our valued clients and this has usually meant someone from our office having the task of shopping and putting together an appropriate gift…
BRUCE - PWA FINANCIAL GROUP (QLD)
We were looking online for a Hamper Company and came across Australian Gourmet Gifts. I liked the variety of the different hampers they had on offer and so I contacted them. From the moment of contact, I couldn't have asked for better service, Theo made everything so easy and was able to accommodate what we wanted for the three hundred hampers...
NIMALI - E2O PTY LTD (SA)
Raise a Glass with Our Premium Beer and Wine Hampers
There's nothing like good friends and a good drop! Our luxurious Wine, Champagne, and Beer Hampers feature smooth red wine and white wine, delicious champagne, and top quality Australian craft beer. Not only that, we compliment all of our beer and wine hampers with a creative selection of gourmet delicacies by local brands to nibble on while you drink. With everything from smoked Kalamata olives and wafer crackers to divine Melting Moments and traditional jam, there's something that will please everyone!
Why give an impersonal bottle of wine when you can send an indulgence hamper full of wine, beer, and gourmet treats? At Australian Gourmet Gifts, we turn a simple wine gift into pure pleasure.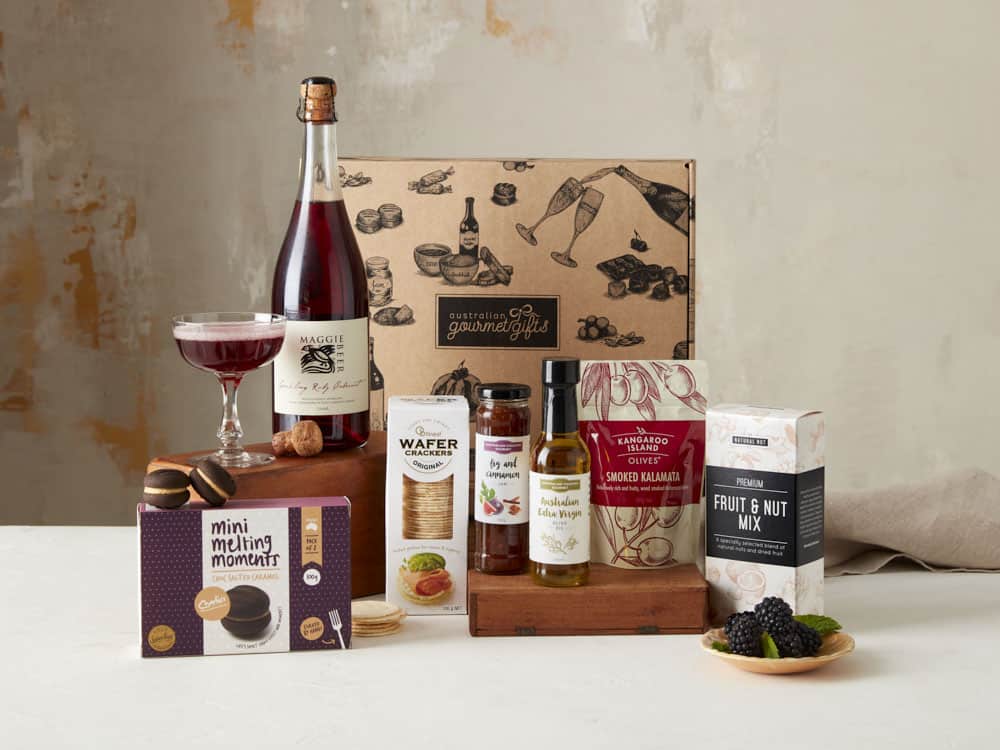 Beer and Wine Hampers for Every Occasion
Do you have a good friend, loved one, or client who recognises top shelf wine and champagne from the rest? Are you looking for an impressive, meaningful way to say congratulations or thank you? Our Wine Hampers, Beer Hampers, and Champagne Hampers are sure to do the trick. One of our most popular hampers is the Premium Beer and Wine Hamper – it really has something for everybody. Inside, you'll find some of the finest drops on the market, from Penfolds and Angove Wines to James Squire Craft Beer, all at surprisingly affordable prices.
Obviously, such premium quality wine and beer can't be enjoyed with just any old snack. Our talented team have carefully and painstakingly selected an array of delicious, indulgent accompaniments to go with them. Think smoked Kalamata olives, gourmet crackers, chocolate cookies – and that's just the tip of the delicious iceberg! Our wine hampers are available in various price ranges so you can select the one that suits your budget.
Great Range of Gourmet Beer and Wine Hampers Available Online
Whether you're there for the celebration or sending your love from afar, we make it super easy for you to spoil someone on any special occasion. Browse our gourmet gift packs online from the comfort of your home and discover our complete range of beer and wine hampers made to impress. Use our categories to find hampers that have been curated specifically to celebrate your occasion, from housewarming hampers to hampers under $100.
Once you've made your choice, pop it into your shopping cart and follow the steps through a quick and easy checkout process. We offer free delivery to most destinations across Australia with the option to upgrade to express postage for gifts in a hurry.
Perfect Gift for Father's Day
Give Dad a beer gift this Father's Day and make it a good one! Fire up the BBQ for a day of good beer, good food, and good company with the James Squire Beer Hamper. Sure to please any beer lover, this beauty features 5 x craft beers by Australia's favourite premium craft brewer and a dizzying selection of perfectly paired treats, including Kangaroo Island smoked olives, fruit and nut mix, and mini Melting Moments.
Is Dad more of a whisky fan? Thrill him with our decadent Glenmorangie Whisky Hamper with world champion craft distilled whisky. Smooth and deep-flavoured, this treasure is a 10-year old Single Malt Scotch Whisky that has won multiple awards. We've paired it with an elegant arrangement of equally impressive treats to snack on while he dines!
Birthday Gifts for That Special Someone in Your Life
Gift hampers are a unique and wonderful way to show someone that you love them on their special day. Whether the birthday boy or girl prefers a good craft beer, a bold red, or a glass of bubbly – Australian Gourmet Gifts make it easy to spoil them with our diverse beer and wine hampers. Check out some of our favourites:
1. Barossa Shiraz Hamper
2. Wine Indulgence Hamper
3. Premium Beer and Wine Hamper
4. Barossa Red and White Wine Hamper
5. Pen Folds Cab Sauv & French Sparkling Hamper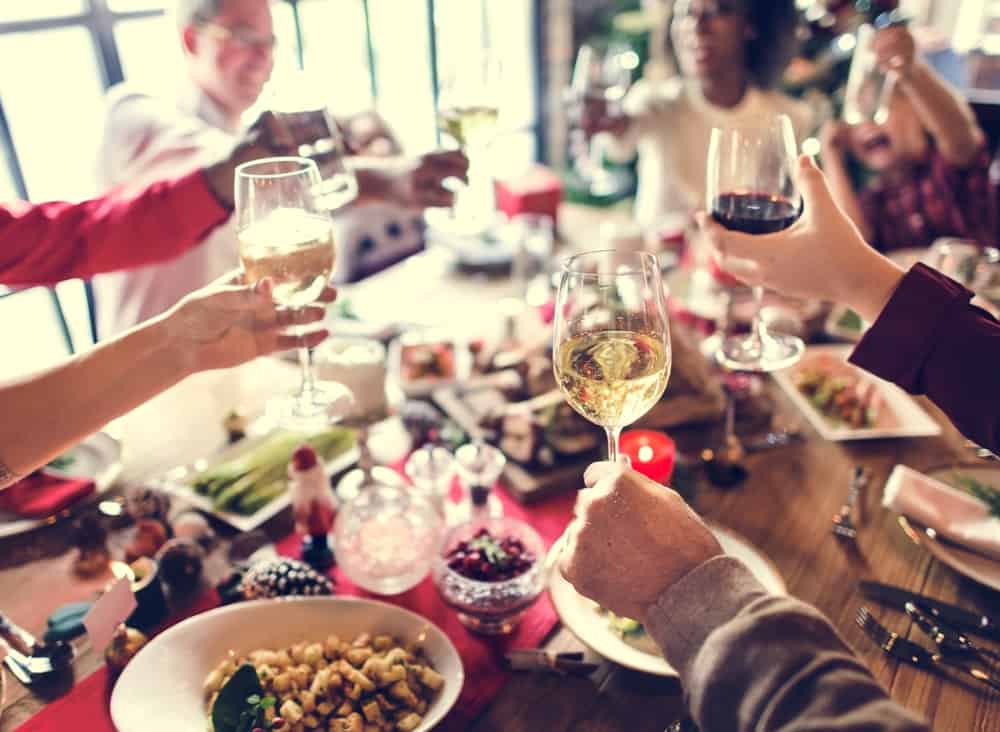 Beer and Wine Christmas Hampers – the Perfect Gift This Year!
If you're looking for a great gift to send friends, family, and clients this Christmas – you can't go past our beer, wine, and food hampers. We have a number of extravagant Christmas-themed gift baskets to get the party started. Packed with our finest selection of wines, beers, and champagnes, celebrate Christmas in style with traditional favourites like cloth-wrapped steamed pudding, brandy and butterscotch sauce, and gingerbread cookies. We've also thrown in some new favourites, such as Charlie's Cookies Mini Melting Moments.
Need to send out a bunch of Christmas wine hampers to your employees and clients? We make it easy with our Bulk Order Form. Simply fill in the details of the recipients and we'll make sure Santa delivers them directly to their doorstep or to you for personal delivery!
Beer Hampers Made in Australia
With so many breweries across the country and beer weeks taking place throughout Australia, the popularity of both mainstream and craft beers continues to grow nationwide. Therefore, what better gift to offer to your family, friends, and valued clients than one of our premium beer hampers? Our Beer Hampers include a carefully handpicked selection of celebrated craft beer from James Squire Breweries to suit all tastes.
Show someone that you care, congratulate them on a birthday or promotion, or send a big thank you with our special beer hampers. Our premium Australian Craft Beer can certainly hold their own against some of the world's most highly regarded craft beers! To match them, we offer an expertly picked assortment of tasty gourmet food and treats, including a generous selection of crunchy nuts to nibble on.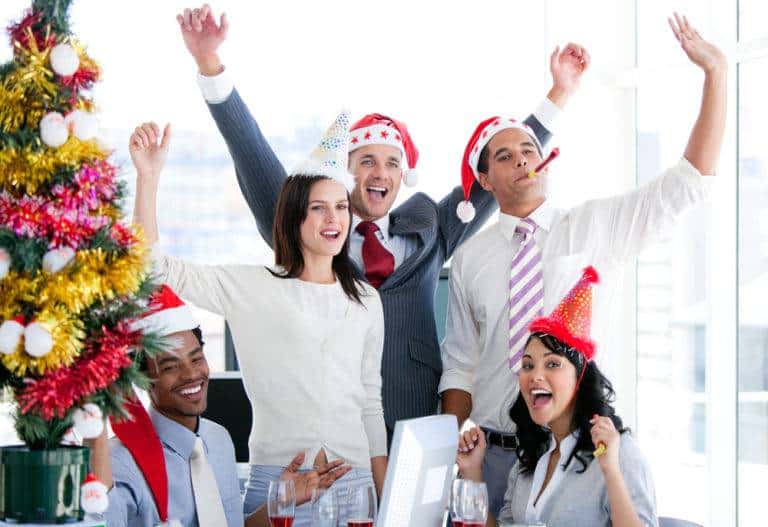 Corporate Gift Baskets Available Australia-Wide
We deliver fine Wine Hampers to your clients and staff! Wine and dine them with a terrific choice of top shelf wines and a mouth-watering selection of gourmet eats, such as Beetroot and Balsamic Relish, Artisan Crackers, and a Fig & Cinnamon Jam to complete a cheese platter. Take a few moments now to browse our terrific range of luxury Wine and Champagne Hampers specially created for your valued clients and customers.
Our Christmas wine hampers provide premium Champagne and Sparkling Wine at far more reasonable prices than you would usually expect to pay. One of the secrets to the success of our collection is that the wines selected are those sold at some of Australia's finest restaurants. Consequently, our luxury wine Christmas hampers are designed for those who enjoy a top shelf drop (or two). You can expect high-end brands, from Penfolds Bin 389 "Baby Grange" to Moet Champagne. Order as many corporate hampers as you need to with our Bulk Order form and we'll take care of the rest!
Great Range of Gift Ideas for Those Who Love a Drop of Something Special
Pamper a special someone in your life with an indulgence hamper full of luxury red and white wines and handcrafted artisan treats. Our range of wine hampers are sure to impress even the most pickiest of wine connoisseurs! Discover the Wine Indulgence Hamper with two drops of exquisite Angove wines crafted in South Australia. Go for a Barossa Shiraz Hamper or a Barossa Chardonnay Hamper with award-winning wines and pair them with our traditional jams and oils. Know someone who loves a glass of fine French bubbly? Pick up the Penfolds Cab Sauv & French Sparkling Champagne for the absolute best from France and Australia!
Beer and Wine Hampers Beautifully Presented in a Gift Box
All of our beer and wine hampers come packaged in an elegant gift box that's worthy of our gourmet reputation. We don't import our boxes, either – each one is handcrafted in Australia from local and sustainable materials and topped off with a grosgrain ribbon for impeccable presentation. A premium gift card in a Kraft envelope is also attached which you can personalise with your message for a truly unique gift.
Perfect Gift You Can Personalise Full of Australian-Made Products
Our wine and food hampers are stuffed full of delectable treats and beverages made by the most loved local brands in Australia. We're talking about Penfolds, James Squire, Charlie's Cookies, Angove, and Kangaroo Island. Many of our products have also won awards for their incredible taste and texture. With such a huge range of wine hampers, you can choose the perfect gift for anyone at a price that you can afford.
Free Delivery Australia-Wide
Our gourmet hampers and wine hampers can be sent free to anywhere in Australia, from NSW to WA! We absorb the delivery cost to most destinations to make giving gifts to others fast, easy and affordable. We send to all major cities and in between, including:
1. Melbourne
2. Sydney
3. Brisbane
4. Perth
5. Adelaide
FAQs About Beer and Wine Hampers
What Type of Alcohol is in a Wine Hamper?
At Australian Gourmet Gifts, we aim to please everyone! That's why we offer a fantastic range of the highest quality alcoholic beverages in all of our hampers alongside a perfectly curated selection of gourmet treats to compliment them. From hampers under $100 to luxury hampers, you can find:
1. Craft beer
2. Red wine
3. White wine
4. Champagne
5. Whisky
What Does a Beer and Wine Hamper Consist of?
We put a huge amount of thought into what goes into our premium beer and wine hampers. Whether it's a birthday, Christmas, or something else, a good hamper needs to be balanced with the right alcohol and gourmet treats. Starting with top shelf wine and beer, a hamper should also contain:
1. Fruit and nuts
2. Jams, oils, and relishes
3. Crackers
4. Sweet biscuits and treats
5. Olives and other savoury nibbles
What is the Most Popular Type of Wine Hamper?
We have a stunning selection of wine hampers to suit every taste and budget from the most recognised brands in Australia. Our hampers are used to celebrate Christmas, thank corporate clients, pamper someone on their special day, and so much more. Check out our most popular wine hampers:
1. Wine Indulgence Hamper
2. Premium Wine Christmas Hamper
3. Barossa Shiraz Hamper
4. Premium Beer and Wine Hamper
What is in a Beer and Wine Hamper?
You can find an exciting assortment of goodies in each of our beer and wine hampers that have been handcrafted by local gourmet brands and handpicked by our team. Only the best of the best makes the cut. Here's a sneak peek:
1. Penfolds Koonunga Hill Cab Sauv
2. Schild Estate Barossa Valley Chardonnay
3. Charlie's Cookies & Cream Melting Moments
4. Kangaroo Island Smoked Kalamata Olives
5. Australian Country Gourmet Fig & Cinnamon Jam
For more information on our hampers, visit our FAQ page here.