Customer Reviews
I highly recommend Australian Gourmet Gifts. We had to purchase a large number of hampers at late notice and Theo provided me with a fantastic level of customer service and with his assistance we were able to get the hampers ordered and delivered with plenty of notice. We will definitely be using Australian Gourmet Gifts again!
CAITLYN BARNETT - SASH (NSW)
I first contacted Theo last year when settlement was due for our latest development. We were sending baskets to each of the 65 owners who had purchased off the plan and were about to settle. As they were settling on different days Theo suggested I sent through a spread sheet which her would work off as I let him know when and to whom the baskets were to be sent.
MARIE - PRIME GROUP AUSTRALASIA (QLD)
CATHY WILLIAMS - LEWIS PRIOR (WA)
I would just like to take this opportunity to thank you for the hampers which we purchased from you for our clients at Christmas time.
The ordering was easy and you help with delivering our hampers to various offices around Australia made the whole process very smooth and stress free.
MICHELLE - FRANKLYN SCHOLAR (VIC)
We would recommend Australian Gourmet Gifts to all. We cannot advertise Australian Gourmet Gifts enough! Theo was extremely helpful and went above and beyond expectations, delivering beautifully presented hampers, full of divine products. Theo was wonderful to deal with and I am sure we will order again in the future.
SHARON - ENI AUSTRALIA LIMITED (WA)
Just a brief note to say a big thank you for the fantastic Xmas hamper we received today. It is without doubt the best we have ever received.
We are all very appreciative and as you would imagine the girls have already started eating the chocolates.
Thanks again
HEATHER - PROSPER WEALTH SOLUTIONS (NSW)
Just a short note to say thank you to you and the team at Australian Gourmet Gifts for the professional hampers you provide to our firm at Christmas. In previous years we have looked to provide a hamper to our valued clients and this has usually meant someone from our office having the task of shopping and putting together an appropriate gift…
BRUCE - PWA FINANCIAL GROUP (QLD)
We were looking online for a Hamper Company and came across Australian Gourmet Gifts. I liked the variety of the different hampers they had on offer and so I contacted them. From the moment of contact, I couldn't have asked for better service, Theo made everything so easy and was able to accommodate what we wanted for the three hundred hampers...
NIMALI - E2O PTY LTD (SA)
Australian made beer hampers are the perfect gift
Take the stress out of gifting a go for the sure-fire win. Beer gift hampers are a welcomed arrival at birthdays, BBQs and seasonal celebrations. Australian craft beers are at top of their game and nothing surpasses our boutique brews. With premium beers and sweet and savoury nibbles, these generous gift packs are the perfect way to celebrate.
Christmas beer hampers to celebrate the festive season
Looking for Christmas gift ideas? Beer hampers are great gifts that are sure to be put to good use. That's why Australian Gourmet Gifts has hand-picked some of the most popular names in the industry to star in our beer-focused Christmas hampers.
James Squire Beer Hamper – beer lovers rejoice with five smashing craft brews from this local Aussie producer. With fresh fruity flavours and a lovely clean finish, every drop is a gift to remember.
We take the experience to the next level with some specialty gourmet snacks. Nibbles you're likely to see in a beer hamper include:
Smoked Kalamata Olives – the perfect beer companion
OB Finest Wafer Cracker – artisan crackers to load up with cheese
Charlie's Cookies & Cream Mini Melting Moments – to finish on something sweet
Little Creatures Beer Hamper – A quintessential collection from the best of the brew-houses. With spectacular flavours and the freshest ingredients, this award-winning brewer serves up a treat.
Sensational snacks keep the flavours exploding and will top off a gourmet experience. Delicious foods you're likely to see include:
The Natural Nut Company Fruit & Nuts Mix – perfect for sipping and grazing
Australian Country Gourmet Extra Virgin Oil – dip in the fresh-baked sourdough
Australian Country Gourmet Fig & Cinnamon Jam – add to a cracking cheeseboard

Beer gift baskets make a perfect Father's Day Gift
Show your Dad a good time this Father's Day with the gift you know he'll enjoy. Imagine his joy to open a box full of the things he loves most. Sharing it with friends or taking it to a BBQ, he'll relish every moment of enjoying your gift.
Whether he's here in South Australia or over in NSW, we can deliver right to his doorstep. Send it to Sydney, Brisbane, Adelaide, Melbourne, Perth, Canberra or any regional area of Australia. His face will light up when he opens the door to discover your special surprise.
Out of time and on a budget? No need to worry. For under $100 you can have Dad's Father's Day gift delivered in just a couple of business days. Better yet, it comes beautifully packed with a personalised greeting card from you.
Explore our popular range of beer hampers for the home, office and beyond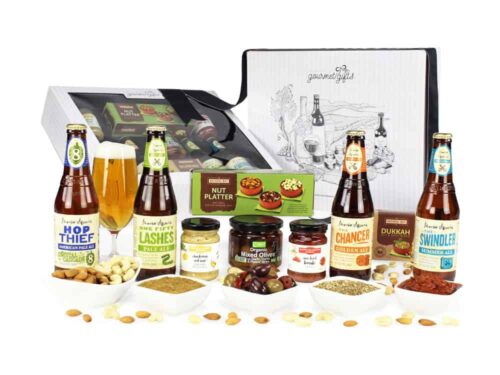 Adelaide's most popular beer hampers are great for sharing at home or taking to the office as a treat. James Squires and Little Creatures are sure to win over the crowd. Accompany it with a selection of gourmet treats and you'll be the toast of the month.
Not sure about drink preferences? Why not try a mixed basket with options for all like:
Premium Beer & Wine Hamper – Craft beers, red wine, white wine and gourmet snacks hamper
Looking for alcohol-free options? Try these impressive collections:
Maggie Beer Sparkling Ruby Hamper – say cheers with a delicious non-alcoholic sparkling beverage plus a spectacular collection of gourmet goodies
Lyre's Non-Alcoholic Premix Spirits Hamper – all of the lively flavours of spirits with none of the alcohol. Paired with a classic collection of Aussie gourmet snacks
Prefer to focus on food? Try these gourmet selections to please all the foodies:
Gourmet Sensations Hamper – packed with tasty tit-bits this box of nibbles will keep you grazing for hours
Gourmet Extravagance Hamper – a show-stopping collection of award-winning gourmet goods
Types of beers included in our Beer Hampers
When it comes to boutique beers, Australian ales are hard to resist. That's why Australian Gourmet Goods has partnered with top homegrown brewers to bring you terrific craft beer selections. James Squire delivers an Australian-style cloudy pale ale with a refreshing character and fruity aromas. Littles Creatures provides fresh, intense ales that are full of hops flavour.
Why beer and wine gift baskets make perfect corporate gifts
Share your gratitude, celebrate a milestone or share your seasonal wishes. Beer and wine hampers are ideal corporate gifts that bring a sense of joy to the office. So take the guesswork out of gifting with a basket full of happiness to be shared and enjoyed by all.
Festive gifting for Easter and Christmas
Welcome in the New Year
Celebrate the team's big win
Congratulate the new client
Hooray for hitting the target
Best wishes for future endeavours
Lot's of colleagues and clients to shop for? We'll help you make a bulk order so that all of your colleagues across the country receive their gift at once with fast, free and reliable delivery. Order before 11 am for same-day dispatch. Metro areas typically see delivery in 1-2 days (regional areas may take longer).
Personalise your Australian beer hamper with a gift box and card
Not only do we deliver your thoughtful pamper hamper, but we also package it in a professional gift box with a personalised note attached.
Happy Birthday
Happy Valentine's Day
Merry Christmas
Happy Father's Day
Welcome Home
Bon Voyage
Whatever the occasion, we'll help you share those sentiments with your loved ones and friends. Just type your message at the checkout. We'll transfer it to a quality gift card and attach it to your professionally gift-wrapped package.
Free delivery throughout Adelaide and Australia wide
Save on trips to the post office and forget about trying to park at the mall. With free shipping throughout Adelaide and most of the country, Australian Gourmet Gifts are the easy and cost-effective choice. Send it fast and free with our streamlined online service. Complete your shopping in just a few clicks and let us take care of the rest.
Brands we know and trust
Our partnerships with award-winning brands mean that you get the best of the best. Signature names like Moet & Chandon, Maggie Beer, Little Creatures, Penfolds and James Squire are renowned for their exceptional product. We've selected names you know and trust so that you can be sure of quality.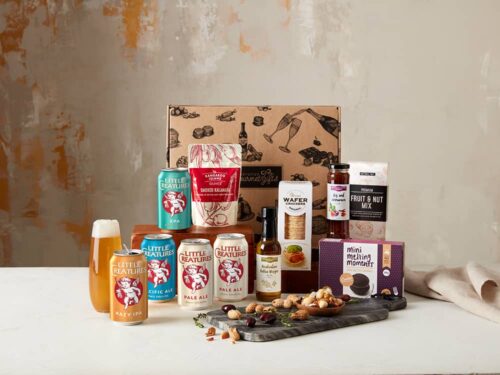 Order your beer hamper online with Australia Gourmet Gifts
Ordering is easy. Just select your favourite beer hamper (or other styles of hampers), pop it in the cart and head to the checkout. There are all the convenient payment options to simplify the process. Type a special message and your work is done. Our team will put it together and send it off.
Birthday gifts
Housewarming gifts
Corporate gifts
Christmas gifts
and much more!
FAQ's:
What type of beer comes in a beer hamper?
Australian Gourmet gifts has proudly partnered with two of our industry favourites. James Squire provides us an Australian-style cloudy pale ale with a refreshing character and fruity aromas. Littles Creatures bring us fresh, intense ales with full hops flavours.
What is the average cost of a beer hamper?
Our terrific craft beer hampers average $90 to $100. If you'd like to include other alcoholic beverages in a larger mixed gift hamper these run from around $110 up to $360.