Customer Reviews
I highly recommend Australian Gourmet Gifts. We had to purchase a large number of hampers at late notice and Theo provided me with a fantastic level of customer service and with his assistance we were able to get the hampers ordered and delivered with plenty of notice. We will definitely be using Australian Gourmet Gifts again!
CAITLYN BARNETT - SASH (NSW)
I first contacted Theo last year when settlement was due for our latest development. We were sending baskets to each of the 65 owners who had purchased off the plan and were about to settle. As they were settling on different days Theo suggested I sent through a spread sheet which her would work off as I let him know when and to whom the baskets were to be sent.
MARIE - PRIME GROUP AUSTRALASIA (QLD)
CATHY WILLIAMS - LEWIS PRIOR (WA)
I would just like to take this opportunity to thank you for the hampers which we purchased from you for our clients at Christmas time.
The ordering was easy and you help with delivering our hampers to various offices around Australia made the whole process very smooth and stress free.
MICHELLE - FRANKLYN SCHOLAR (VIC)
We would recommend Australian Gourmet Gifts to all. We cannot advertise Australian Gourmet Gifts enough! Theo was extremely helpful and went above and beyond expectations, delivering beautifully presented hampers, full of divine products. Theo was wonderful to deal with and I am sure we will order again in the future.
SHARON - ENI AUSTRALIA LIMITED (WA)
Just a brief note to say a big thank you for the fantastic Xmas hamper we received today. It is without doubt the best we have ever received.
We are all very appreciative and as you would imagine the girls have already started eating the chocolates.
Thanks again
HEATHER - PROSPER WEALTH SOLUTIONS (NSW)
Just a short note to say thank you to you and the team at Australian Gourmet Gifts for the professional hampers you provide to our firm at Christmas. In previous years we have looked to provide a hamper to our valued clients and this has usually meant someone from our office having the task of shopping and putting together an appropriate gift…
BRUCE - PWA FINANCIAL GROUP (QLD)
We were looking online for a Hamper Company and came across Australian Gourmet Gifts. I liked the variety of the different hampers they had on offer and so I contacted them. From the moment of contact, I couldn't have asked for better service, Theo made everything so easy and was able to accommodate what we wanted for the three hundred hampers...
NIMALI - E2O PTY LTD (SA)
Browse the range of thank you gift hampers available in Adelaide
Brighten someone's day with a gift box full of goodies. Premium beverages, gourmet delicacies, artfully boxed with a personalised card attached. Choose from a variety of gorgeous gift ideas to say a special thank you. Adelaide's favourite picks include:
Little Creatures Beer Hamper – say a big thanks with a hamper of beer
Gourmet Sensations Hamper – a best seller they're destined to love
Moet Extravagance Hamper – the elegant way to say cheers
Easter Extravagance Hamper – spread joy for the festive season
Penfolds 28 Shiraz Extravagance Hamper – say thanks with a little extravagance
Such an unexpected pleasure is sure make their day!
Your perfect gift can be delivered to your recipient's doorstep. Order online today for free, fast and reliable delivery- in the Adelaide metro area (or anywhere across Australia).
Our most popular hampers are full of Australian made products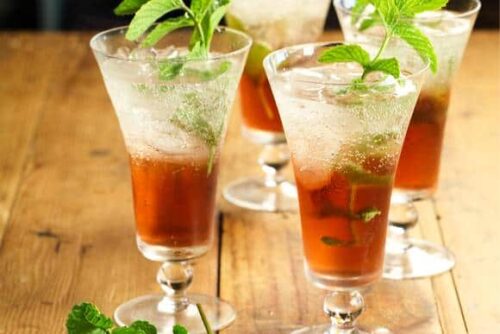 When it comes to saying thank you, handmade says it best. Treat your loved ones to Australia's finest, from the signature Barossa wines to small-batch local delicacies. Share the flavours of regional Australia with the distinctive tastes we know and love:
Maggie Beer Sparkling Ruby Hamper – Sensational non-alcoholic bubbles and gourmet nibbles
Penfolds Premium Red & White Wine Hamper- everything you love about home
Gourmet Vegan & Gluten-Free Sensations Hamper – blessed with Australian plant-based goodness
Penfolds Baby Grange Extravagance Hamper – ideal as the memorable birthday gift
Barossa Red & White Wine Hamper- benchmark wines to mark the occasion
Australia is a foodies paradise and we're rightly proud of our produce. That's why our gift hampers Australia include a bounty of the nation's finest. Delicious Aussie-made delicacies you're likely to find in a hamper include:
Charlie's Raspberry Bliss Mini Melting Moments
Kangaroo Island Smoked Kalamata Olives
Bramble & Hedge Raspberry Vanilla Bean Vegan Nougat
Australian Country Gourmet Extra Virgin Olive Oil
OB Finest Wafer Crackers
Send a personalised thank you hamper today
A personalised thank-you note will complete your gift with an extra personal touch. Inscribed on a beautiful greeting card, your words of gratitude are sure to be appreciated. The perfect gift, exquisitely wrapped with a few kind words will make them feel special for sure.
Thank you for caring
I appreciate you showing up
You're the best thing that's happened to me
Thank you for your patience
Cheers to a job well done
Thanks for all the support
A gourmet food indulgence for those who love luxury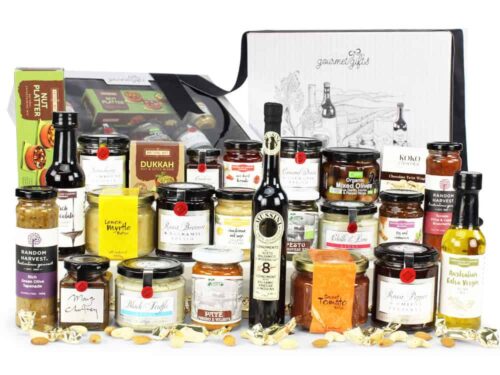 Spoil them rotten with spectacular wines and a sinful selection of the finest accoutrements. Lovers of luxury will surely be impressed by French champagne, benchmark wines and prime quality produce. Luxury hampers are a lovely pamper gift for those with fine taste who love to indulge.
Gourmet Extravagance Hamper- sumptuous nibbles for the fine foodie friend
Moet Extravagance Hamper- ideal for the lady of luxe
Penfolds 311 Chardonnay Extravagance Hamper – the essence of South Australia
Penfolds 28 Shiraz Extravagance Hamper – an exceptional drop to remember
Moet Champagne Hamper – say thank you for the luxurious hospitality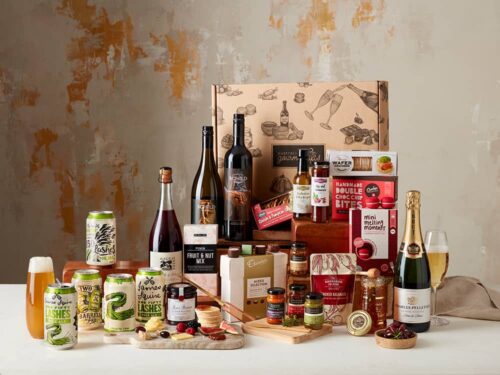 Make them feel special this Mother's and Father's Day
Forget about the bouquets of flowers and bundles of socks. Why not give them something they'll truly appreciate this Mother's or Father's day. Make them feel special with an indulgent gift and encourage them to relax. Red wine, white wine, savoury or sweet, we have the perfect gift to please your loving parents:
Barossa Chardonnay Hamper – for Mum because she deserves it
Barossa Shiraz Hamper – for Dad because he's the best
Penfolds Cab Sauv & French Sparkling Hamper – for them because they are special
Gourmet Connoisseur Hamper – for the one who's obsessed with good food
7 Star Executive Luxury Hamper – for all because it's superb
You planned to, you tried to, but you simply forgot? Take the stress and guilt out of last minute gift shopping and head to our online boutique. In just a few days Mum or Dad's gift will be on the doorstep, exquisitely packaged and wrapped up in ribbon with a lovely personalised card attached.
Make this Christmas memorable with festive season gift baskets
Shared experiences are the best gifts to give. Make memories together this Christmas season as you sip superb wines and sumptuous nibbles. Share a pudding with brandy sauce and make a toast with beautiful bubbly. Christmas gifts don't come any better than:
Premium Gourmet Christmas Hamper – say thank you with our festive favourites
Premium Wine Christmas Hamper- a basket of happiness and well wishes
Penfold's Baby Grange & Moet Hamper – give thanks to and family and loved ones
Moet Champagne Hamper – Merry Christmas and thank you to our fabulous hosts
Make seasonal gift giving easy. Have one of these beautifully handcrafted hampers delivered to all of your acquaintances. Friends across the country, colleagues in other offices, family in other cities. Take care of it all in a single swoop with one easy online order.
Free Australia wide delivery on all pamper hampers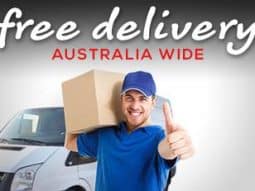 Gift delivery doesn't come any easier. Order online before 11 am for same-day dispatch to anywhere in the country. Our streamlined delivery service ensures that your friends in Adelaide, Melbourne, Perth, Brisbane and Sydney will receive their beautiful gift in just a few days.
Free delivery to all metro areas and most regional destinations across Australia
1-2 business day delivery is typical (remote areas may take longer)
Express shipping services are available (at an additional fee)
Thank your staff and clients with our special range of corporate hampers
Give them the gift of a good time with a crowd-pleasing hamper. Show your clients and colleagues how much they're valued with a generous offer of thanks. Corporate hampers are fun, easy and always appreciated.
James Squire beer hamper – cheers to a job well done
7 Star Executive Luxury Hamper- the ultimate corporate gift
Premium beer & Wine Hamper- break open and bond with the team
Single Malt Whisky Extravagance Hamper – a drink to the latest deal
Moet Champagne Hamper – give thanks for an incredible year
Whether it's your secretary, the office team, or staff across Australia we have the gift to make them smile. Order individuals or order in bulk, your personalised gift will arrive beautifully presented to the doorstep in just a few days.
Order your thank-you hamper online with Australian Gourmet Gifts
Saying thanks has never been easier. Simply select your favourite gourmet gifts and head to the checkout for quick and easy payment options. Make sure to write your special thank you message into the dedicated field. From there, our team will take care of the rest. Just sit back and wait to receive that delighted phone call.
FAQ's:
What is the cost of a thank-you hamper?
Whether you're on a tight budget or looking to splurge, there's a beautiful gift with your loved one's name on it. From premium high-quality hampers starting under $100 to top-end luxury gifts at up to $370, there's the perfect pick for every style and budget.
What types of thank you hampers are available?
There is a thank-you hamper available for all different tastes and lifestyles. Pick from gifts including red and white wine, craft beer, gourmet foods, champagne, alcohol-free mixers, Christmas and Easter treats or vegan and gluten-free delicacies.