Customer Reviews
I highly recommend Australian Gourmet Gifts. We had to purchase a large number of hampers at late notice and Theo provided me with a fantastic level of customer service and with his assistance we were able to get the hampers ordered and delivered with plenty of notice. We will definitely be using Australian Gourmet Gifts again!
CAITLYN BARNETT - SASH (NSW)
I first contacted Theo last year when settlement was due for our latest development. We were sending baskets to each of the 65 owners who had purchased off the plan and were about to settle. As they were settling on different days Theo suggested I sent through a spread sheet which her would work off as I let him know when and to whom the baskets were to be sent.
MARIE - PRIME GROUP AUSTRALASIA (QLD)
CATHY WILLIAMS - LEWIS PRIOR (WA)
I would just like to take this opportunity to thank you for the hampers which we purchased from you for our clients at Christmas time.
The ordering was easy and you help with delivering our hampers to various offices around Australia made the whole process very smooth and stress free.
MICHELLE - FRANKLYN SCHOLAR (VIC)
We would recommend Australian Gourmet Gifts to all. We cannot advertise Australian Gourmet Gifts enough! Theo was extremely helpful and went above and beyond expectations, delivering beautifully presented hampers, full of divine products. Theo was wonderful to deal with and I am sure we will order again in the future.
SHARON - ENI AUSTRALIA LIMITED (WA)
Just a brief note to say a big thank you for the fantastic Xmas hamper we received today. It is without doubt the best we have ever received.
We are all very appreciative and as you would imagine the girls have already started eating the chocolates.
Thanks again
HEATHER - PROSPER WEALTH SOLUTIONS (NSW)
Just a short note to say thank you to you and the team at Australian Gourmet Gifts for the professional hampers you provide to our firm at Christmas. In previous years we have looked to provide a hamper to our valued clients and this has usually meant someone from our office having the task of shopping and putting together an appropriate gift…
BRUCE - PWA FINANCIAL GROUP (QLD)
We were looking online for a Hamper Company and came across Australian Gourmet Gifts. I liked the variety of the different hampers they had on offer and so I contacted them. From the moment of contact, I couldn't have asked for better service, Theo made everything so easy and was able to accommodate what we wanted for the three hundred hampers...
NIMALI - E2O PTY LTD (SA)
Top gourmet hamper selections chosen by Adelaide
South Australians know their gourmet goods. With our world-class Barossa wineries and passionate gourmet food producers, we are home to some of the nation's finest products. From specialty hampers through to best-sellers, our curated collections feature all the famous flavours of South Australia:
Barossa Chardonnay Hamper – pure sophistication
Maggie Beer Sparkling Ruby Hamper – destined to be a hit
Penfolds Baby Grange Extravagance Hamper – when only the best will do
Barossa Shiraz Hamper – the nostalgic notes of our region
Australian made products at the heart of our gift hampers
Australian made is at the heart of our business. We're extremely proud that all of our hampers hero the best local gourmet foods and beverages. Top-quality award-winning Aussie products hand-selected from across the country include:
Bramble & Hedge Raspberry Vanilla Bean Vegan Nougat – handmade in Melbourne
Smoked Kalamata Olives – harvested and wood-smoked on Kangaroo Island
Australian Country Gourmet Extra Virgin Olive Oil – extracted from the fruit of the Alpine Valleys (North-Eastern Victoria)
James Squires Beers – expertly crafted in inner Sydney breweries
Penfolds Cab Sauv – cultivated in the heart of the Barossa
Popular gourmet food and wine hampers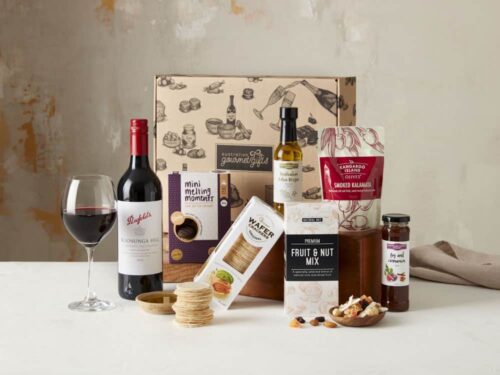 Spoil your inner circle with a beautiful gourmet gifts hamper. Take the guesswork out of gifting and give them an indulgence they're sure to love. Whether they're wine lovers, beer aficionados, foodies, vegans or alcohol-free, we have a beautifully curated box designed to please everyone:
Lyre's Non-Alcoholic Premix Spirits Hamper – premium sparkling beverages and sensational snacks
Gourmet Vegan & Gluten-Free Sensations Hamper – full of tasty plant-based goodness
Premium Beer & Wine Hamper – designed to satisfy the crowd
Penfolds Premium Red & White Wine Hamper – for a perfect afternoon of grazing
Gourmet Connoisseur hamper – crafted for the foodie friends
Chocolate gourmet hampers for those with a sweet-tooth
Chocolate hampers for Easter, Christmas and birthdays are sure to go down a treat. Who can resist the sweet temptation of melting moments, chocolate cookies, Easter eggs, Christmas pudding and caramel popcorn? Your chocoholic friends will go crazy for a mouth-watering basket packed with sweet nibbles:
Easter Indulgence Hamper – a sinfully rich selection of treats
Luxury French Sparkling Easter Hamper – chocolate and sparkling that sing together
Premium Wine Christmas Hamper – festive fave's like pudding, sauce, cookies and wine
Gourmet Vegan & Gluten-Free Sensations Hamper – nougat, hot chocolate, popcorn and cookies
Surprise clients and staff with a gourmet hamper today
Show your appreciation to clients and staff members with a delectable gourmet hamper. Say a big thank you to the awesome team, Merry Christmas to the whole office or welcome aboard to your new client. Our premium corporate hampers are sure to win them over:
Luxury French Sparkling Hamper – get them into the spirit
Glenmorangie Whisky Hamper – a classy gift for your special client
Penfolds Baby Grange & Moet Hamper – say a heartfelt thank you
7 star Executive Luxury Hamper – show your team they're worth it
Hundreds or thousands of employees to buy for? No problem. Place a bulk order and our team will have them swiftly delivered to the right doorsteps – each with your personalised card attached. Anywhere in Australia.
Your perfect birthday gift delivered anywhere in Adelaide
Don't have time to shop for birthdays? Finding the perfect gift just became easy. Purchase online with Australian Gourmet Gifts and take the headache out of gift giving. With so many fabulous options, you are bound to find a special birthday gift for even the most difficult-to-buy-for friend:
Moet Champagne Hamper – for glamourous gifting
Gourmet Extravagance Hamper – the foodie's delight
Barossa Red & White Hamper – to get the party started
Penfold Cab Sauv & French Sparkling hamper – pamper your nearest and dearest
Christmas Day made easy with gourmet food and wine hampers
Thoughtful, effortless and always popular, gourmet food hampers are the most welcomed of Christmas gifts. Take pleasure in knowing that your gift won't be wasted. Watch the smile on their face as they open a gift box full of indulgent pleasures. Popular Christmas Hampers include:
Premium Wine Christmas Hamper – a seasonal celebration
Premium Gourmet Christmas Hamper – an exquisite selection of savoury and sweet
Penfolds 28 & French Sparkling Christmas Hamper – festive bubbles, wine and pudding
Treat your parents with gourmet hampers this Mother's and Father's Day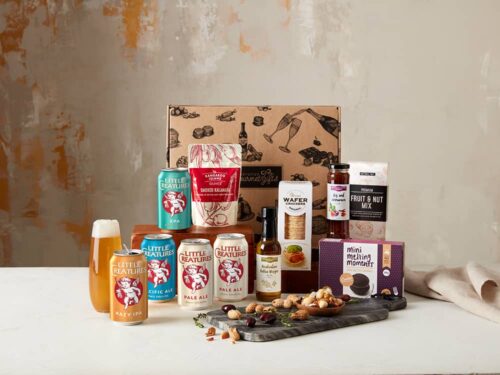 Show your parents how special they are with a thoughtful and memorable gourmet gift. Let them unwind and enjoy some pampering.
Mother's Day- Better than a bouquet of flowers, why not give mum something to swoon over. Make her feel special with a luxury hamper or pamper gift and encourage her to indulge:
Moet Extravagance Hamper – yes, she will love it
Maggie Beer Sparkling Ruby Hamper – because she has great taste
Father's Day- There's nothing Dad loves more than gourmet goodies. Check out the selection of gift baskets popular with the gentlemen:
Penfolds 28 Shiraz Extravagance Hamper – for the Dad who loves his red
Little Creatures Beer Hamper- because he knows his boutique beer
All Occasion- Spoil them both with a luxurious treat that they can enjoy together:
Penfolds Premium Red & White Wine Hamper – who wouldn't want this one!
Penfolds Baby Grange & Moet Hamper – a top-shelf treat to experience with a loved one
Enjoy Free delivery on all luxury gourmet hampers
Gift delivery needn't be expensive or time-consuming. With free delivery to Adelaide and Australia wide, we've got you covered. The online prices are all inclusive so that you only pay for the top quality products and nothing more.
Order before 11 am for same day dispatch (and often next day delivery). Orders placed after 11 am are dispatched the following day. A great last-minute gift-giving solution!
Showcased in a lovely gift box alongside your personalised card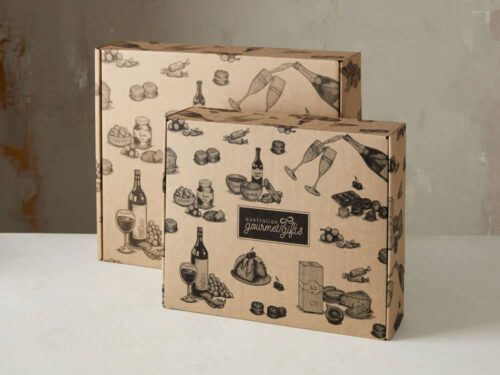 Exquisite presentation is our forte. That's why all gourmet hampers come in a professional gift box with an elegant personalised card attached. Just type your special note into the message field and we'll transfer it to a professional quality greeting card.
Congratulations
Happy Easter
Welcome
Get well soon
Delivery of your gourmet hamper to a client or loved one
Whether you're sending a corporate gift to your client's office, or a pamper-hamper to your loved one's home, Australian Gourmet Gifts will take care of the delivery. We deliver to all major cities and regional areas in Australia:
Adelaide
Perth
Melbourne
Sydney
Canberra
All other Australian locations
Purchase your gourmet hamper online with Australian Gourmet Gifts
Online shopping makes purchasing easy. Simply select your gourmet hamper and head to the checkout and follow the quick and easy payment instructions. Don't forget to add a special message for your recipient.
Then, sit back and relax. Your beautifully presented gourmet gift will be quickly delivered to their doorstep.
FAQ's:
Why are hampers a great gift idea?
Everyone loves a gourmet gift. No matter the occasion, the chosen recipient, or your budget, there's a stunning gift basket to help you make the most of every moment.
birthday gifts
festive gifts
corporate gifts
housewarming gifts
farewell gifts
And so much more…
What are some of the items included in a gourmet hamper?
Our gourmet hampers are full of delectable savoury snacks, sweet treats and local specialties like olives, jams, crackers and cookies. They also feature premium beverages such as Barossa wines, French champagne, Scottish whisky, craft beers and alcohol-free mixers.