Customer Reviews
I highly recommend Australian Gourmet Gifts. We had to purchase a large number of hampers at late notice and Theo provided me with a fantastic level of customer service and with his assistance we were able to get the hampers ordered and delivered with plenty of notice. We will definitely be using Australian Gourmet Gifts again!
CAITLYN BARNETT - SASH (NSW)
I first contacted Theo last year when settlement was due for our latest development. We were sending baskets to each of the 65 owners who had purchased off the plan and were about to settle. As they were settling on different days Theo suggested I sent through a spread sheet which her would work off as I let him know when and to whom the baskets were to be sent.
MARIE - PRIME GROUP AUSTRALASIA (QLD)
CATHY WILLIAMS - LEWIS PRIOR (WA)
I would just like to take this opportunity to thank you for the hampers which we purchased from you for our clients at Christmas time.
The ordering was easy and you help with delivering our hampers to various offices around Australia made the whole process very smooth and stress free.
MICHELLE - FRANKLYN SCHOLAR (VIC)
We would recommend Australian Gourmet Gifts to all. We cannot advertise Australian Gourmet Gifts enough! Theo was extremely helpful and went above and beyond expectations, delivering beautifully presented hampers, full of divine products. Theo was wonderful to deal with and I am sure we will order again in the future.
SHARON - ENI AUSTRALIA LIMITED (WA)
Just a brief note to say a big thank you for the fantastic Xmas hamper we received today. It is without doubt the best we have ever received.
We are all very appreciative and as you would imagine the girls have already started eating the chocolates.
Thanks again
HEATHER - PROSPER WEALTH SOLUTIONS (NSW)
Just a short note to say thank you to you and the team at Australian Gourmet Gifts for the professional hampers you provide to our firm at Christmas. In previous years we have looked to provide a hamper to our valued clients and this has usually meant someone from our office having the task of shopping and putting together an appropriate gift…
BRUCE - PWA FINANCIAL GROUP (QLD)
We were looking online for a Hamper Company and came across Australian Gourmet Gifts. I liked the variety of the different hampers they had on offer and so I contacted them. From the moment of contact, I couldn't have asked for better service, Theo made everything so easy and was able to accommodate what we wanted for the three hundred hampers...
NIMALI - E2O PTY LTD (SA)
Delicious Christmas Hampers Adelaide, with Free Delivery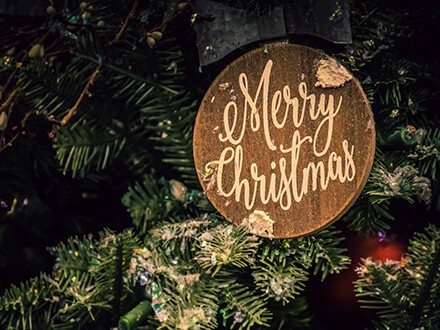 For the best Christmas hampers in Adelaide, and delivery across Australia, browse our beautiful range of gourmet gift baskets. Whether you're looking to spoil your loved ones or send a thank-you corporate gift, our Christmas hampers say it with generosity and style, and are sure to spread the joy this festive season.
View our Xmas buyers guide to find the right hamper for your need.
Adelaide's best food hampers this Christmas
Spoil your loved ones with Adelaide's best gourmet hampers this Christmas bursting with quality and taste. Or if you're looking for a corporate gift to show appreciation for the year that was, you're also in the right place. Choose from our range of beautiful gifts jam-packed with gourmet goodness. From melting moments, dried fruit and nuts to Christmas pudding, delectable crackers and joyful fig and cinnamon jam, there's lots of indulgent yumminess from Australian and artisanal foodie favourites. Browse our hampers with top-shelf wine, Scottish whisky, Moët & Chandon Champagne and Australian craft beer. Plus we offer vegan, gluten-free and non-alcoholic options.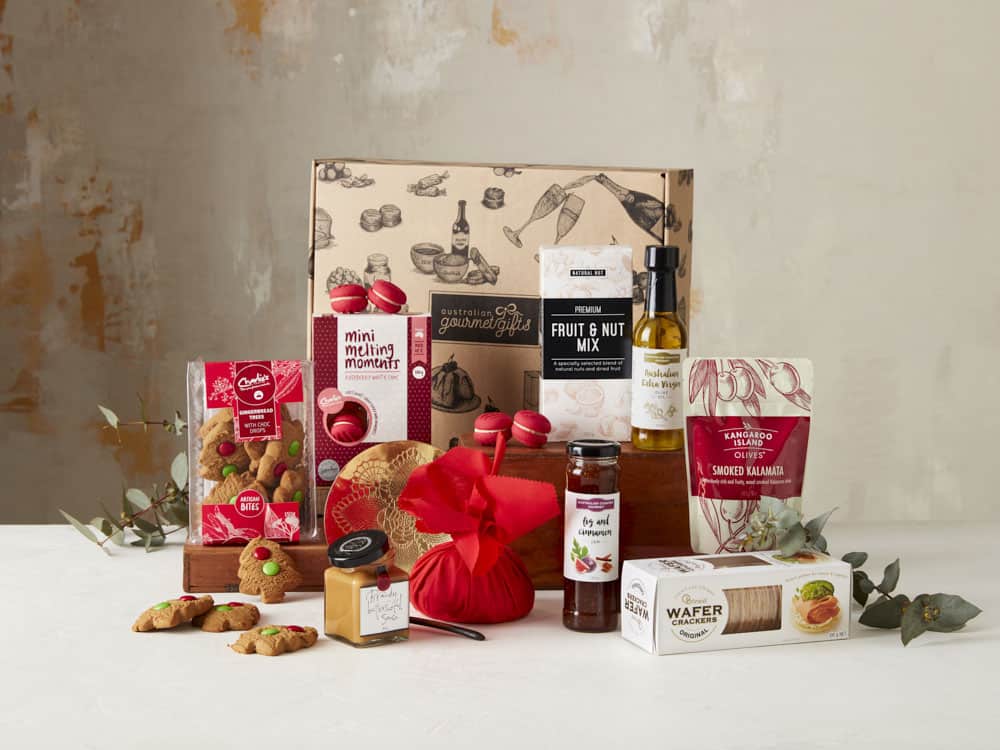 Most popular Christmas hampers
We have a wide range of beautiful Christmas hampers packed with thought to cater to all tastes, preferences and budgets. Choose the perfect Christmas hamper from our extensive range.
TOP PICKS INCLUDE
Gourmet Sensations Hamper
Barossa Shiraz Hamper
Maggie Beer Sparkling Ruby Hamper
Gourmet Vegan & Gluten-Free Sensations Hamper
Little Creatures Beer Hamper
Free delivery of all gift baskets Adelaide wide and to main destinations in Australia
Focus on the gift rather than the delivery! And you can do that with free delivery on all our gift baskets Adelaide wide. We also offer free delivery to all main destinations across Australia including Melbourne, Sydney, Brisbane, Perth, Adelaide, and Darwin.
Best-selling Christmas corporate hampers in Adelaide
Besides spoiling loved ones, our corporate gift presentations are also best-sellers in Adelaide as the perfect Christmas hamper for clients and colleagues. Our extensive selection of corporate hampers cater to a range of tastes, preferences and palates which makes them well received and much enjoyed. And because our gifts are beautifully presented, they convey a message elegantly and in style.
Our corporate hampers serve up the highest quality delectable Australian and artisanal snacks from choc chip cookies, mini melting moments, and raisin and pumpkin seed crackers, to fig and cinnamon jam, Christmas pudding, dark-chocolate drizzled popcorn and plump Kalamata olives, to mention just a few. Suitably matched to our gourmet snacks are a range of premium wines from Australian Barossa, Penfolds and Schild Estate as well as international brands including Charles Pelletier, Moët & Chandon and Glenmorangie.
Gourmet food and wine Christmas hampers
Our luxurious gourmet food and wine Christmas hampers are packed with good taste and wrapped to impress. Whatever your message, from big love to big thanks, for family, friends or as a corporate gift.
TOP PICKS INCLUDE
Our Gourmet Sensations Hamper is affordably priced, full of flavour and packed to delight for all ages with high-end gourmet treats and premium snacks.
The Wine Indulgence Hamper matches elegance with value combining two Australian wines and taste-matching gourmet goodies.
For all ages and preferences, the Gourmet Vegan & Gluten-Free Sensations Hamper combines delicious plant-based good-food treats with exceptional taste.
The Premium Gourmet Christmas Hamper is jam-packed with Christmas inspired festive food and treats for maximum holiday season enjoyment.
Spread a bit of Scottish single malt joy with the Glenmorangie Whisky Hamper, for any whisky lover, with premium gourmet snacks to round off the luxurious experience.
The 7 Star Executive Luxury Hamper brings out all the bells and whistles and conveys quality and taste excellence with palate-pleasing beverages and gourmet indulgences.
Chocolate Christmas Hampers available
For the chocolate lover, yes we understand! Many of our gourmet Christmas hampers have decadent chocolate snacks for those who just can't get enough of the pure luxury inherent in a quality chocolate experience. And we also have plant-based options.
SOME OF OUR GOURMET CHOCOLATE HAMPER GOODIES INCLUDE:
Chocolatier Australia – Gold Mixed Selection 135g. A delectable assortment of individually wrapped chocolate. But not just any chocolate. We're talking Mud Cake, Cookie Crumble, Mintilicious and Cherry Coconut. Say no more.
Charlie's Traditional Australian Choc Chip Bites 125g. From multi-award winning gourmet cookie company, this dark couverture chocolate is deliberately imperfect in shape and purposely perfect in flavour.
Charlie's Cookies & Cream Mini Melting Moments 100g. Another award winner — the Australian Food Awards — this chocolatey snack is more than a moment, it's a chocolate lover's dream with rich couverture chocolate and velvety butter cream.
Serious Food Co Cookies Popcorn Dark Chocolate Drizzle 100g. Hand-popped, sweet and salty popcorn, generously drizzled with organic and fair trade real Belgian chocolate, makes for many mouthfuls of foodie perfection.
Serious Food Co Cookies Chewy Choc Chip 170g. Made from a secret blend of plant-based ingredients and fair trade vegan dark chocolate, it's a classic choc chip cookie that breaks the mould.
Charlie's Plant-Powered Dark Chocolate Chip Artisan Cookie 50g. Reengineering plant power, this dark choc chip artisan cookie is bursting with figs, puffed rice, coconut, tahini and vegan dark couverture chocolate chips.
To gift these decadent chocolate treats, browse our range of beautiful chocolate Christmas hampers, which include: The Single Malt Whisky Extravagance Hamper, Penfolds 311 Chardonnay Extravagance Hamper, Little Creatures Beer Hamper, Penfolds 28 Shiraz Extravagance Hamper, and Gourmet Vegan & Gluten-Free Sensations Hamper, plus more.
Best options for Christmas hampers for your loved ones
Spread joy with warmth and show how much you care with a generous and tasteful hamper for loved ones to enjoy over the festive season. All our hampers are jam-packed with delectable nibbles for all ages to enjoy. From gourmet sweet treats to lip-smacking savoury delights we cater for all tastes, and also have plant-based and non-alcoholic items.
New luxury Christmas hampers
Our new luxury Christmas hampers include only the highest quality and best tasting gourmet savoury and sweet snacks as well as carefully selected top-shelf wine, craft beer, and premium whisky and Champagne.
TOP PICKS INCLUDE
Wine Indulgence Hamper
Luxury French Sparkling Hamper
Premium Wine Christmas Hamper
Gourmet Connoisseur Hamper
7 Star Executive Luxury Hamper
Bestselling Christmas gift boxes Adelaide
Our luxurious Christmas gift boxes will make a lasting impression. Choose from a wide range of gorgeous hampers and gift boxes with free delivery in Adelaide. Our  bestselling Christmas gift boxes are packed to perfection with artisanal Australian food and gourmet treats, including vegan and gluten-free options, as well as white and red wine, Australian craft beers, French Champagne, Scottish whisky and non-alcoholic bubbles. All beautifully wrapped in a gorgeous gift box with ribbon and personalised artistic card. Destined to impress and be appreciated.
Australian Christmas gift ideas
Thinking up the perfect gift ideas for Christmas sometimes means a lot of guesswork and legwork. That's how we can help. Our extensive range of tasteful gift options, across all price points, convey a tasteful message presented generously in the holiday spirit. Catering to an array of tastes from the discerning foodie to chocolate lover, to plant-based preferences and wine hampers to non-alcoholic bubbles. This means less time thinking up Christmas gift ideas and more time for other things.
Free hamper delivery for all Christmas gift hampers
Whether you're sending to family, friends, clients, business partners or work colleagues, enjoy free delivery to anywhere in Adelaide. We also offer free delivery to Melbourne, Sydney, Brisbane, Perth, and Darwin, and to most main destinations Australia wide. And if you're sending to multiple destinations, we can accommodate various delivery options with our bulk order form as well as personalised cards on every gift.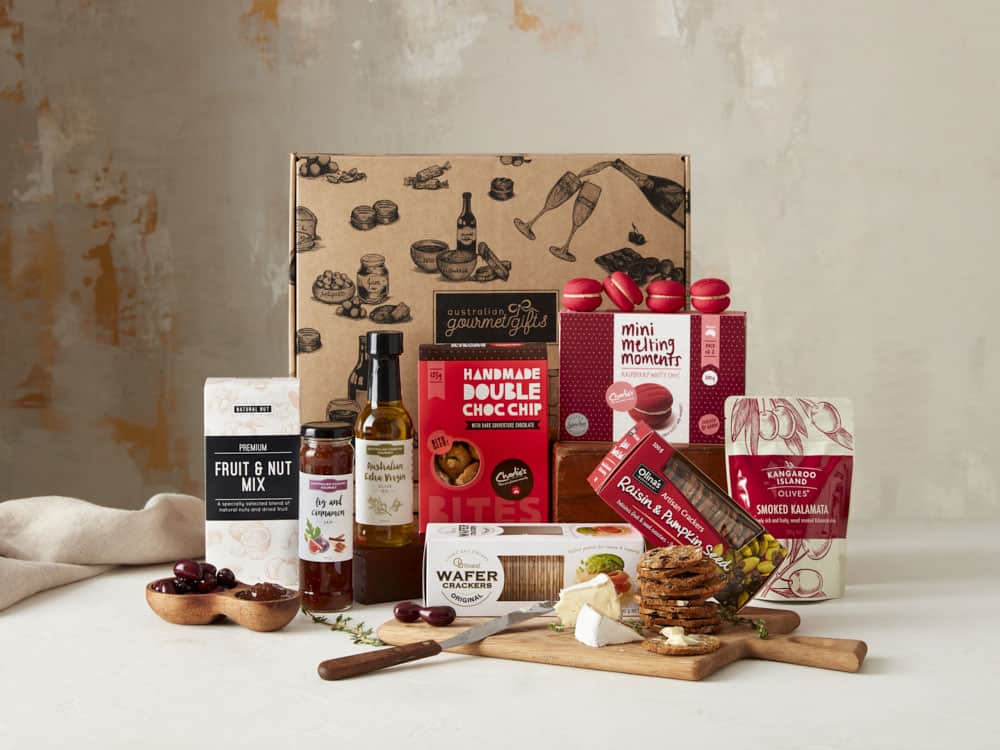 Gourmet gifts Australia wide
Besides free delivery to main destinations across Australia, our gourmet gifts are bestsellers because each hamper is packed with pure luxury for a range of tastes, and for a range of gift budgets. From under $100 elegant gift presentations to deluxe 7-star executive hampers, all our gift presentations are bursting with gourmet Australian, artisan, and international premium brands.
Unique Christmas gift hampers
Australian Gourmet Gift presentations make a lasting impression from the packaging to the gourmet hand-picked Australian and international products. Our range of hampers smacks of luxury and best quality, delighting all who receive. Browse through our extensive range of premium presentations to find a unique Christmas gift hamper that best suits your special recipient's tastes.
Family-friendly Christmas hampers
Our family-friendly Christmas hampers are packed to spread joy over the festive season with gourmet snacks and goodies sure to delight all ages. Some of the decadent treats include choc-chip bites, mini melting moments, smoked Kalamata olives, fig and cinnamon jam, steamed Christmas pudding, and gingerbread Christmas trees. Browse our Xmas range to decide.
TOP PICKS INCLUDE
The Gourmet Sensations Hamper
Premium Gourmet Christmas Hamper
Maggie Beer Sparkling Ruby Hamper
Gourmet Vegan & Gluten-Free Sensations Hamper
Gourmet Connoisseur Hamper
Beautifully presented Christmas hampers available in an extensive range
Because packaging makes the first impression when receiving a gift, we like to make a good one. All our Christmas hampers are beautifully presented in a stylish gift box made from sustainable materials with a ribbon and personalised greeting card. All items are carefully packed to ensure they reach their destination undamaged. But if any hamper or its contents arrives damaged, we'll gladly replace it.
Buying a gift basket for all special occasions
Besides beautiful Christmas gifts, Australian Gourmet Gifts also offer a wide range of beautiful gift baskets for all special occasions. Choose from tasteful gifts for all occasions and budgets. From birthdays, housewarming entertainers, and Mother's Day to pamper hampers, baby gifts, and Father's Day, to all types of special occasions — including Easter! Our gift baskets combine varied mixes of quality products, artisanal food and wines made in Australia, as well as plant-based and non-alcoholic options. Our deluxe hampers also include luxurious favourites like French bubbly and Scottish whisky.
How Australian Gourmet Gifts can help
Make finding and giving the perfect gift as easy as (Christmas) pie with Australian Gourmet Gifts! We're here to help and pride ourselves on easy online ordering and checkout, service excellence, and free delivery to main destinations across Australia. All our gift hampers are designed to delight and sure to impress, packed with carefully selected premium gourmet products beautifully presented in a stylish hamper with a personalised gift card. We dispatch all orders within 24 hours, and depending on the destination in Australia, estimated standard delivery may vary from 2-4 business days for South Australia to 4-6 business days for the Northern Territory.
Frequently Asked Questions about sending Christmas Hampers Adelaide: 
How many Christmas Hampers are there to choose from?
There are millions of Christmas hampers to choose from – in real life and online. That's why we're here, to make things easier. Our extensive range of gourmet Christmas hampers offers lots of choice for varying tastes and preference, as well as budgets, but without the overwhelm.
What are some benefits of buying a Christmas Hamper?
High quality Christmas hampers are always well received and appreciated. Whether to spoil loved ones, to show you care, or as a token of thanks, Christmas hampers are an easy way to spread joy and delight over the festive season. Christmas hampers are also the perfect corporate gift as a thank-you for the year that was with a light dollop of corporate branding.
What are the prices for Christmas Hampers in Adelaide?
Our Christmas hampers cater to a range of budgets with price points from under AUD$100 to AUD$300 and beyond. Australian Gourmet Gifts also offers FREE delivery in Adelaide.
What is the name of the company that offers Christmas Hamper delivery?
Australian Gourmet Gifts. Delivery is free in Adelaide, as well as to all main destinations Australia wide.