Customer Reviews
I highly recommend Australian Gourmet Gifts. We had to purchase a large number of hampers at late notice and Theo provided me with a fantastic level of customer service and with his assistance we were able to get the hampers ordered and delivered with plenty of notice. We will definitely be using Australian Gourmet Gifts again!
CAITLYN BARNETT - SASH (NSW)
I first contacted Theo last year when settlement was due for our latest development. We were sending baskets to each of the 65 owners who had purchased off the plan and were about to settle. As they were settling on different days Theo suggested I sent through a spread sheet which her would work off as I let him know when and to whom the baskets were to be sent.
MARIE - PRIME GROUP AUSTRALASIA (QLD)
CATHY WILLIAMS - LEWIS PRIOR (WA)
I would just like to take this opportunity to thank you for the hampers which we purchased from you for our clients at Christmas time.
The ordering was easy and you help with delivering our hampers to various offices around Australia made the whole process very smooth and stress free.
MICHELLE - FRANKLYN SCHOLAR (VIC)
We would recommend Australian Gourmet Gifts to all. We cannot advertise Australian Gourmet Gifts enough! Theo was extremely helpful and went above and beyond expectations, delivering beautifully presented hampers, full of divine products. Theo was wonderful to deal with and I am sure we will order again in the future.
SHARON - ENI AUSTRALIA LIMITED (WA)
Just a brief note to say a big thank you for the fantastic Xmas hamper we received today. It is without doubt the best we have ever received.
We are all very appreciative and as you would imagine the girls have already started eating the chocolates.
Thanks again
HEATHER - PROSPER WEALTH SOLUTIONS (NSW)
Just a short note to say thank you to you and the team at Australian Gourmet Gifts for the professional hampers you provide to our firm at Christmas. In previous years we have looked to provide a hamper to our valued clients and this has usually meant someone from our office having the task of shopping and putting together an appropriate gift…
BRUCE - PWA FINANCIAL GROUP (QLD)
We were looking online for a Hamper Company and came across Australian Gourmet Gifts. I liked the variety of the different hampers they had on offer and so I contacted them. From the moment of contact, I couldn't have asked for better service, Theo made everything so easy and was able to accommodate what we wanted for the three hundred hampers...
NIMALI - E2O PTY LTD (SA)
Give Your Team and Clients the Thanks They Deserve with Our EOFY Corporate Hampers
The end of financial year (EOFY) brings a special buzz to the business market in Australia. From hitting financial targets to that satisfying feeling of putting your accounts in order – we always love seeing the back of this annual milestone. That's why EOFY is also the perfect opportunity to express your appreciation in the corporate sphere. So, why not wrap up the year with some equally well-wrapped hamper goodies? They're the perfect EOFY gift for your star staff and key clients!
EOFY Gifts for Staff and Clients
Our corporate gift hampers are the perfect gift to celebrate the achievements of your staff and thank clients for their business over the past year. We've loaded our gift baskets with the highest quality Australian products we could find from local brands – many of them are even award-winning – to let your recipients know just how valuable they are to the company.
We've got artisan chocolate and cookies to satisfy sweet tooths and savoury nibbles like wafer crackers and olives to pair with fruit jam, tapenade, relish and exquisite boutique oil. We top it off with a bottle of top-shelf wine, craft beer, World Champion whisky or French bubbly to tie it all together.
Wine Hampers Available for Staff and Clients
A fancy wine gift is one of the most effective ways to pamper hard-working employees at the end of the tax year. Our wine hampers also make classy corporate Christmas gifts and are a stunning centrepiece on any festive table. Check out some of our top sellers:
Barossa Shiraz Hamper
Premium Beer and Wine Hamper
​Wine Indulgence Hamper
Luxury French Sparkling Hamper
Barossa Chardonnay Hamper
Benefits of Corporate Hampers
Corporate gifting has become a very important part of conducting business in the modern world. It's a chance to build a strong brand image that says you are a company that cares for and values its staff, partners, clients and referrals. Corporate hampers can:
– Show your sincere appreciation and thanks
– Lift staff morale
– Build solid, long-term business relationships
– Foster return business
– Leave a lasting impression and increase brand awareness
Corporate Gift Boxes
Your lucky recipients will receive their goodies in beautifully-crafted and environmentally-friendly gift boxes that have been made using local materials and designed to suit our elegant theme. A stylish grosgrain ribbon is the icing on the cake and makes each hamper a joy to unwrap.
​
Best Corporate Gifts for Employees
EOFY kickstarts the process of winding up the business activities from one financial year and gearing up for the next. As you're taking note of earnings and setting goals for the year ahead, what better time to reflect on all that your team has achieved?
Whether it's more sales, new partnerships or just a general all-round dedication to the organisation, don't let their hard work go unrecognised. We think nothing says 'thank you' quite like a lavish corporate hamper. And as a plus, they're also a great idea for small teams who all deserve a piece of the action!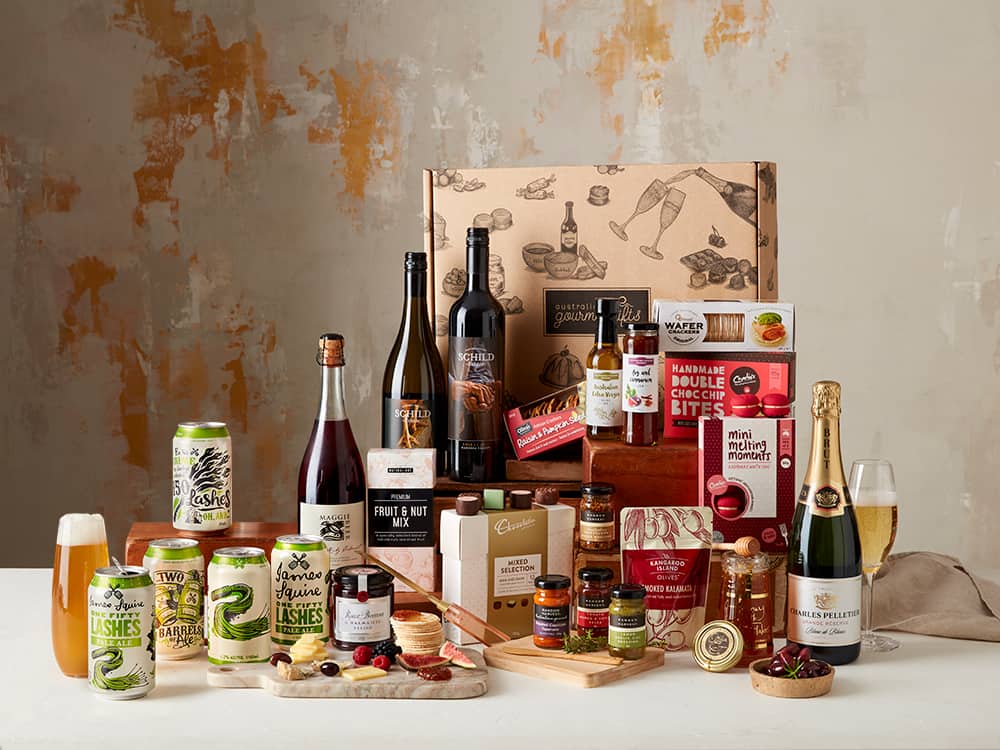 Gift Ideas for Virtual Events
Our hampers are a fun way to bring together remote team members and share in the excitement of unwrapping our gift baskets during a Zoom party. Plus, if you get a specialised corporate hamper, their contents have been purposefully chosen to be suitable for the office. This way you can be sure you won't be left red-faced from a poorly-thought-out tongue-in-cheek gag (we're looking at you, mug with inappropriate slogan!).
Luxury Hampers Made to Remember
When it comes to luxury hampers for clients, tax time is an easy way to stand out from the crowd. Why limit your gift-giving to Christmas just like your competitors? How cliché! Sending a thoughtful gift at EOFY will have more impact and meaning. It says: Your business is important to us – every day of the year!
We have a wonderful selection of luxury hampers under $100 to show your heartfelt thanks, including Gourmet Sensations, Wine Indulgence and Luxury French Sparkling. For extra special clients, the 7 Star Executive Luxury Hamper is the Rolls Royce of our corporate hampers. It's a superstar gift basket that combines the best of all of our other hampers to create a mammoth …..made to impress.
Corporate Gourmet Food Hampers
For your staff and clients who are major foodies, our gourmet food hampers have been set to stun with an exciting selection of deluxe goodies handcrafted from Australia's finest brands, from Maggie Beer to Charlie's Cookies. Dive into premium oils, jams and relishes with wafer crackers and smoked olives before finishing off with some decadent melting moments, artisan chocolate, cookies and popcorn.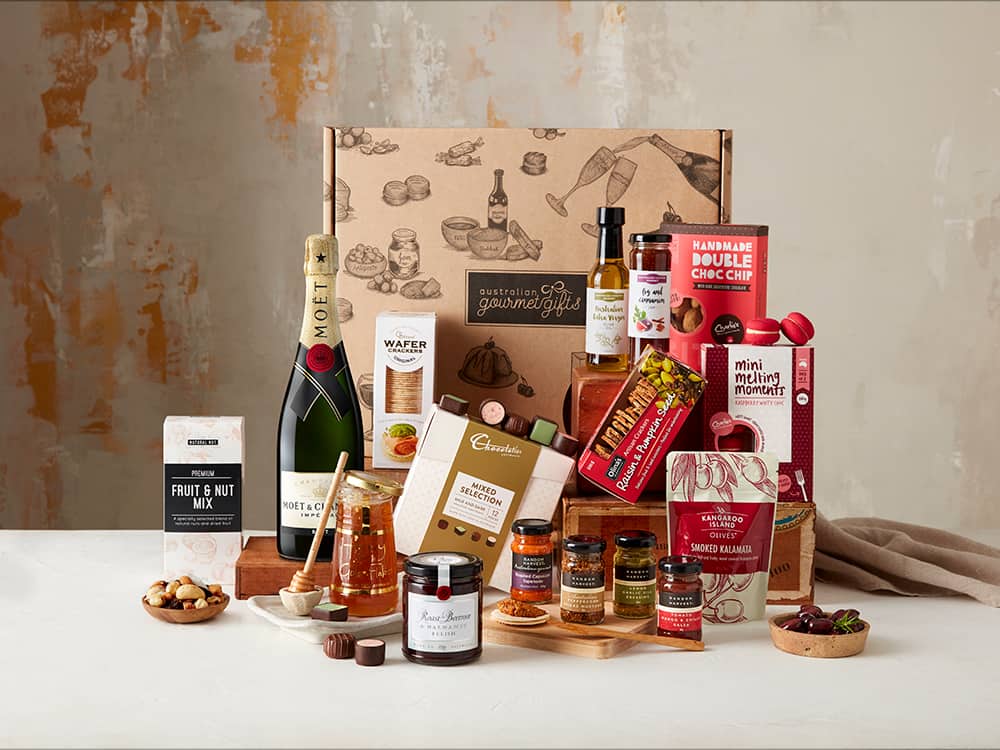 Personalise Your Corporate Gift Baskets
Just because you're sending our mass corporate hampers doesn't mean you can't add a personal touch. A personalised corporate hamper is much more special to staff and clients as it helps them to feel like they are valued as individuals. Take the time to type a special message when prompted during checkout and we'll pop your words onto our elegant gift cards so that your recipients will know how much thought and care you put into each present.
Branded Gift Ideas for Your Staff and Clients
We provide a wide range of diverse corporate hampers so that you can gift a hamper that reflects your unique business and brand image. For companies who have a no alcohol workspace, we've got the stunning Maggie Beer Sparkling Ruby Hamper with non-alcoholic Ruby Cabernet and an indulgent selection of jam, melting moments, wafer crackers and more. We've also got a plant-based hamper for vegan-friendly and gluten-free businesses with an assortment of Serious Food Co cookies and popcorn, Charlie's Plant-Powered Cookies, Mary's Gone Crackers and so much more.
They're Tax-Deductible!
It wouldn't be an EOFY article unless we mentioned some tax! The whole point around EOFY is sorting it out, after all. As any tax-savvy businessperson knows, gifts for staff and clients can be claimed back on tax. So, what better excuse to treat your team or clients – just before the ATO closes its metaphoric doors?
Free Shipping Australia-Wide
We make sending out a ton of corporate hampers at EOFY super easy and affordable. In fact, you won't even have to pay postage to major destinations! We offer free delivery Australia-wide with the option to upgrade to express postage for next day delivery on most orders. We ship free to all major cities, including:
Sydney
Melbourne
Adelaide
Perth
Brisbane
Darwin
How Australian Gourmet Gifts Can Help
Our corporate customers depend on us each year to send out thousands of hampers and help them to uphold their professional reputation. We work with some of Australia's biggest and most respected brands because they know they can count on us to provide exceptional hampers at an affordable cost with a simple and reliable corporate order process.
The best news is that our corporate hampers are not just for EOFY! They're perfect for celebrating any special event, from Christmas and birthdays to Father's Day, Mother's Day and the purchase of a new home. Discover our range today and get in touch with us if you have any questions at all.
FAQs About End of Financial Year Corporate Hampers
What are Some Benefits of Corporate Hampers?
Whether you're celebrating Christmas, a business milestone, EOFY or something else – corporate gifting has become an important part of modern business and is an excellent way to express your gratitude to team members, clients and business associates. Corporate hampers help to:
Show appreciation and give thanks
Build and nurture strong business connections
Encourage return business
Leave a lasting impression
What is in a Corporate Hamper?
We fill our luxury hampers for corporate clients with a wonderful assortment of fine beverages and handcrafted gourmet treats by Australia's favourite artisan brands. You can find something to please everyone! We've got:
Red wine, white wine, champagne, craft beer, whisky and non-alcoholic wine
Savoury goodies, including crackers, nuts and olives
Sweet treats, including melting moments, chocolate and cookies
Condiments, including oil, jam, relish, tapenade and honey
Where Can You Purchase a Corporate Hamper Online?
Australian Gourmet Gifts are the go-to experts in corporate gifting for many of Australia's biggest companies. Customers know that they can rely on us to provide beautifully curated hampers full of quality local products with a simple ordering process and free delivery. Our Bulk Order Form makes it easy to thank thousands of clients and staff. Simply fill in the delivery details with your personalised message and we'll take care of everything else!
What are Some Products Typically Found in a Corporate Hamper?
Our creative team aim to create hampers that satisfy a wide range of tastes and preferences. We load our corporate hampers with sweet and savoury nibbles that pair perfectly with award-winning wines, beer and whisky. From birthday hampers to settlement gifts, here's a peek at what you can find:
Charlie's Mini Melting Moments
Penfolds Baby Grange Bin 389
Moet & Chandon Champagne
Kangaroo Island Smoked Olives
Australian Country Gourmet Fig & Cinnamon Jam