Christmas Gift Ideas For Your Associates
How do you show an associate at work or a cherished colleague that you appreciate them? We think the answer is a thoughtful gift hamper.

Corporate Gifts to impress your associates and collegues

Make an impression on your business associates this year with a spectacular Christmas hamper from Australian Gourmet Gifts. A memorable hamper gift is a great way to show appreciation to your colleagues, clients and staff. There's no better way than to nurture your professional relationships with a delectable token of gratitude delivered to the workspace. Wish colleagues well for the holidays with a beautiful gift basket of wine, beer, and gourmet treats.
Encouragement to hard-working employees
This year, consider what your staff might really like to receive (beyond the coffee mug with the company logo, office supplies or a scented candle). Why not give employees a gift that won't end up in a landfill and send them a gourmet party in a gift box?
Your employee Christmas gift might need to appeal to many personalities and lifestyles. The one thing that is universally loved by all is food. At Australian Gourmet Gifts, you'll discover a wide range of high-quality gourmet hampers, from affordable to luxury, that will make your staff feel noticed, appreciated and valued.
Appreciation of colleagues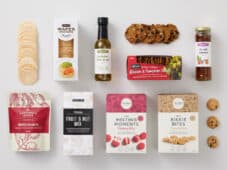 Let your colleagues know how much you value their contribution with a gourmet gift to celebrate the season. It's a great way to nurture your relationships in the office and form positive bonds. A bottle of wine and some quality gourmet treats is a perfect office gift and a great way to break the ice with those you would like to know better. A hamper gift makes a great first impression, one they won't forget.
Relationships with Clients
Generous holiday gifts are something your clients remember you by. Whether you have customers or clients you regularly do business with (or wish that you did), nothing shows your enthusiasm better than the unexpected delivery of a gift. Breaking open a gift box of goodies shows the clients a good time. Plus, it gets them into the spirit of the festive season. Send a positive message of appreciation, value and enthusiasm to work together with an impressive hamper to celebrate the holidays.
Selecting corporate gifts
There's no denying that corporate gifting can be a little tricky. With corporate branding, budgets and various personalities to consider, it's no wonder they can be a little lacklustre. But with a high-quality gift that stands head and shoulders above the usual tote bag, stickers with the company logo, Bluetooth gadget or gift card, you show to staff and associates that you've taken the time to seek a unique, thoughtful gift. Recipients will be pleasantly surprised, and your token of appreciation will be remembered for the year to come.
Gifts for staff
Wellness comes in many forms, and celebrating with family and friends over food is undoubtedly a form of self-care. Holiday season gifting is an opportunity to encourage your staff members to take a break and relax. Let employees know they deserve some pampering with a gorgeous gift box of artisanal flavours and celebratory beverages. Enjoying your gift at a Christmas BBQ or for a New Year's Eve Celebration will be nothing but beneficial for them, you and the company. Let them ring in the season with one of these exquisite gift boxes: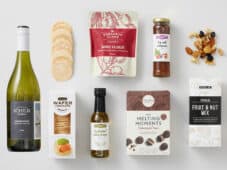 Barossa Chardonnay Hamper – ideal for the summer picnic
James Squire Beer Hamper – the best way to start the BBQ
Gourmet Connoisseur Hamper – for an indulgent day of grazing
Luxury French Sparkling Hamper – the best way to kick off celebrations
Moet Champagne Hamper – a luxury gift to make them feel spoilt
Nurturing your staff with employee appreciation gifts will pay you back tenfold. Satisfied staff work harder, make better decisions and uphold the company's reputation. And the best part is, with free delivery Australia-wide, none of your staff needs to miss out. Surprise remote employees with a delivery of goodies to their home office to thank them for all their hard work.
Gifts for your clients
Great client gifts should be celebratory in nature. They need to feel opulent and exciting. An Amazon or Etsy gift will not cut it, nor will a keychain, mousepad, stainless steel water bottle or DIY gift. The best gift for a client is all about treating them—an excuse for their staff members to have a celebration, courtesy of you. But remember to ensure your gift is professional and always unisex. Bring the party to the client's workplace with one of these trending 2022 hamper collections:
Moet Extravagance Hamper – show them that you mean business
Single Malt Whisky Extravagance Hamper – break out the tumblers for this distinguished gift
Gourmet Extravagance Hamper – your gourmet grazing platter is ready and waiting
Penfolds Decadence Luxury Hamper- elegant drops that showcase quality
Star Executive Luxury Hamper – Friday drinks courtesy of your company
At Australian Gourmet Gifts, we constantly endeavour to make gifting as easy as possible. That's why we professionally pack your gift in a designer gift box, wrap it in grosgrain ribbon and even personalise a greeting card from you. What's more, we deliver it to the client's office in just a day or two. All you need to do is place an online order, and we will take care of the rest.
A memorable Christmas gift hamper to celebrate with staff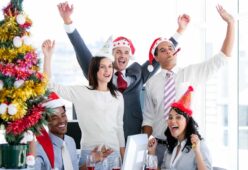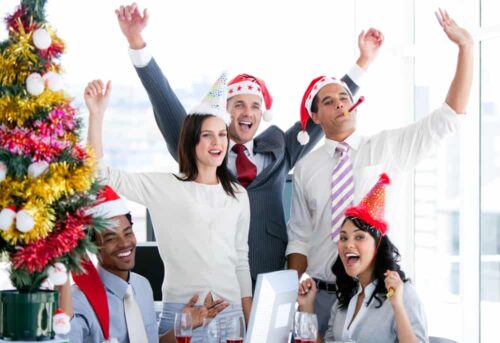 At the end of the year, it's always nice to have a celebratory drink amongst the team. So, kick off the silly season with an office gift to break open and share on a Friday. Make a toast to this year's wins and share best wishes for the year to come. Relax, unwind and get to know colleagues and staff over a glass of bubbles, a beer and a platter of goodies to graze on. Introduce the new employees and encourage everyone to feel at home:
Show your gratitude to employees and colleagues
Share the season's sentiments
Introduce the new staff
Congratulate staff on a fantastic year
Get to know employees in other departments
Chat, laugh and toast to the year ahead!
The gifts employees value
One thing is for sure; your employees don't appreciate the laptop sleeve, the travel mug, or the remote charger. And we all know that the gift set of essential oils or the diffuser will only sit in the back of the cupboard. Employees appreciate a gift that speaks to them, the season and what they like to do on weekends. With a hamper gift of craft beer and succulent, savoury bites or a gift box of sparkling wine and decadent sweet treats, you send a message that they are worth taking care of and deserve to be celebrated.
Employees love to receive gifts that feel luxurious. By partnering with renowned Australian (and a few international) brands, we ensure that both you and your employees know precisely the level of quality to expect. Your associates and clients are sure to feel special when they open a luxury hamper filled with branded products like:
Penfold's Estate wines
Moet & Chandon + Veuve Clicquot
Charlies Melting Moments
Maggie Beer sparkling ruby
Little Creatures craft beers
Kangaroo Island smoked olives
Ogilvy Fine Foods
Christmas gifts for all kinds of employees
A surprise gift full of specialty goodies from Santa might be just what you need to win over the staff this year. Experiment with one of these unique gifts for Christmas and notice the positive response. Show them that you know what kind of person they are and appreciate their lifestyle. Moreover, you've gone out of your way to source the perfect gift. The keen attention to detail will make your gift stand out:
The Gentleman's Hamper – for the boutique beer connoisseur
Gourmet Sensations Hamper – surprise the office foodie with a gourmet delight
Gourmet Vegan & Gluten-Free Sensations Hamper – specialties for staff with a healthy lifestyle
Penfolds Cab Sauv Hamper – a perfect gift for lovers of wine
Maggie Beer Sparkling Ruby Hamper – an alcohol-free celebration that's just as fun as the rest
Premium Gourmet Christmas Hamper – for that employee who can't get enough of Christmas
Whether you are buying a corporate hamper for one or one thousand, Australian Gourmet Gifts will beautifully pack, individually personalise and deliver your gifts to the door. Simply order online and leave your special Christmas message in the dedicated field at checkout. For large orders, download and complete the bulk order form. Of course, you can always contact our friendly team for assistance.
Show your appreciation in 2022
There's never been a better time to say thank you. Wish your associates happiness over the holidays with a gift to show your thanks. A great gift basket from Australian Gourmet Gifts shows your business's kind and generous spirit.
Browse our online gift guides for a range of unique gift ideas to make 2022 the best Christmas yet. We recommend that you order a few days earlier during the busy Christmas period to ensure that come Christmas, all the important people in your work life will make the surprise discovery of a gourmet food hamper waiting for them on their desks.