Customer Reviews
I highly recommend Australian Gourmet Gifts. We had to purchase a large number of hampers at late notice and Theo provided me with a fantastic level of customer service and with his assistance we were able to get the hampers ordered and delivered with plenty of notice. We will definitely be using Australian Gourmet Gifts again!
CAITLYN BARNETT - SASH (NSW)
I first contacted Theo last year when settlement was due for our latest development. We were sending baskets to each of the 65 owners who had purchased off the plan and were about to settle. As they were settling on different days Theo suggested I sent through a spread sheet which her would work off as I let him know when and to whom the baskets were to be sent.
MARIE - PRIME GROUP AUSTRALASIA (QLD)
CATHY WILLIAMS - LEWIS PRIOR (WA)
I would just like to take this opportunity to thank you for the hampers which we purchased from you for our clients at Christmas time.
The ordering was easy and you help with delivering our hampers to various offices around Australia made the whole process very smooth and stress free.
MICHELLE - FRANKLYN SCHOLAR (VIC)
We would recommend Australian Gourmet Gifts to all. We cannot advertise Australian Gourmet Gifts enough! Theo was extremely helpful and went above and beyond expectations, delivering beautifully presented hampers, full of divine products. Theo was wonderful to deal with and I am sure we will order again in the future.
SHARON - ENI AUSTRALIA LIMITED (WA)
Just a brief note to say a big thank you for the fantastic Xmas hamper we received today. It is without doubt the best we have ever received.
We are all very appreciative and as you would imagine the girls have already started eating the chocolates.
Thanks again
HEATHER - PROSPER WEALTH SOLUTIONS (NSW)
Just a short note to say thank you to you and the team at Australian Gourmet Gifts for the professional hampers you provide to our firm at Christmas. In previous years we have looked to provide a hamper to our valued clients and this has usually meant someone from our office having the task of shopping and putting together an appropriate gift…
BRUCE - PWA FINANCIAL GROUP (QLD)
We were looking online for a Hamper Company and came across Australian Gourmet Gifts. I liked the variety of the different hampers they had on offer and so I contacted them. From the moment of contact, I couldn't have asked for better service, Theo made everything so easy and was able to accommodate what we wanted for the three hundred hampers...
NIMALI - E2O PTY LTD (SA)
Most popular hampers on the Gold Coast: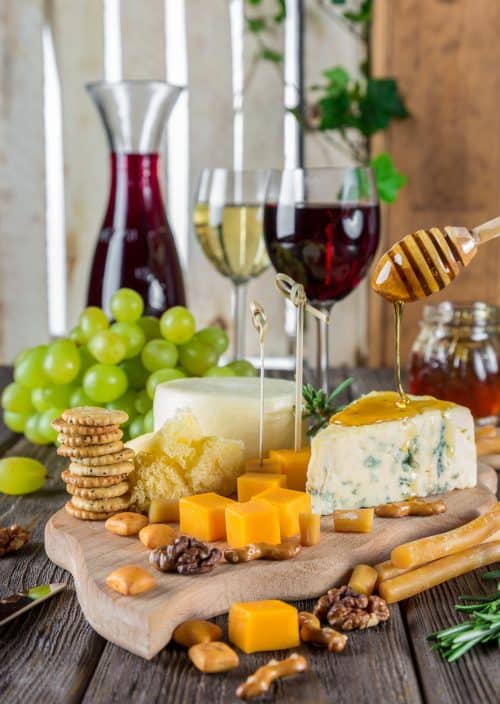 Here on the Gold Coast, we live an enviable lifestyle – soaking up the sun, socialising and making the most of the good times. Eating, drinking and kicking back with friends and family is what we do best. That's what makes a gourmet gift hamper such a great way to spoil a loved one, friend or client. It's the gift of a good time, and one that they are destined to appreciate. Gold Coast hamper favourites include:
Gourmet Connoisseur Hamper – a basket of treats packed full of flavour
Maggie Beer Sparkling Ruby Hamper – great for the foodie who knows their quality brands
Barossa Red & White Wine Hamper – sensational wines to please the whole circle
Penfolds Baby Grange Extravagance Hamper – top-notch vino and gourmet creations
Moet Champagne Hamper – a true celebration deserves only the finest
Wine and champagne hampers full of Australian-made products
Australia has made its mark with exceptional food and wine products that rank among the finest in the world. Proudly, Australian-made is the cornerstone of our gift collection and we're thrilled to support local businesses. We've scoured every corner of the country and hand-picked premium beverages and artisan foods to feature in these fabulous wine and champagne hampers. Aussie products you're likely to see in a hamper include:
Penfolds Estate Wines
James Squire Beers
Charlie's Cookies & Cream Melting Moments
Angove Estate Wines
Kangaroo Island Smoked Olives
Australian Country Gourmet Fig & Cinnamon Jam
Gourmet Food Hampers for the real foodie
Queensland enjoys a buzzing food and wine scene with some outstanding restaurants and world-class food and wine festivals. The Gold Coast is a foodie destination and the quality is only getting better. At Australian Gourmet Goods, we know that your family and friends have high expectations, so we've curated some spectacular gourmet hampers designed to please even the toughest food critic:
Gourmet Extravagance Hamper – a food fanatics dream come true
Penfolds 311 Chardonnay Extravagance Hamper – an exquisite drop and a bounty of sweet and savoury nibbles
Gourmet Vegan & Gluten-Free Sensations Hamper – the finest selection of specialty lifestyle foods.
Luxury French Sparkling Easter Hamper – a glorious bounty of Easter treasures
7 Star Executive Luxury Hamper – a food and wine extravaganza that won't be forgotten quickly
Corporate hampers you can personalise with a gift box and card
Corporate gifting can get a little tricky at times. What can you buy that will please everyone and how do you get it to them? It's what makes Gourmet food hampers such an easy option. From budget-friendly to extravagant, there are gift ideas to suit the whole team.
Better yet, you can do all the gift shopping in one simple online order. Our team will package your gift in a professional designer gift box and attach a personalised greeting card from you. What's more, we will dispatch it the same day (for orders placed before 11 am) for the usual next-day delivery- free of charge!
Free delivery throughout QLD, NSW and across all of Australia
Buy 1 or order in bulk for all of your Australian colleagues
Gift delivery within a couple of days (often the next day)
Perfect gifts designed to please all types
Beautiful designer packaging tied up with an elegant ribbon
A personalised gift card from you to say thank you
Birthdays feel special when you receive one of our birthday gift boxes
Watch their faces light up when they open a beautiful gift box filled with indulgent treats. Whether they choose to break it open and get the party started or savour it later with a loved one, your recipient is sure to have a wonderful experience to remember the occasion.
Order online from a wide selection
Beautifully packaged with a personalised card
Dispatched same day (or if not the following day)
On the doorstep in just a couple of days
Easy, fun, fabulous gifting!
Christmas hampers to help celebrate the festive season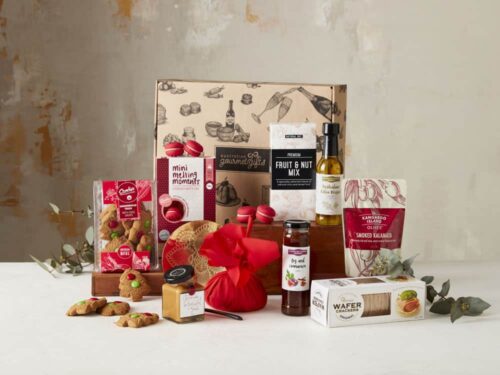 Specialty Christmas hampers are a luxurious, thoughtful and waste-free way to gift to all your friends, family and colleagues. With Christmas favourites like pudding and brandy sauce paired with red wine, white wine, champagne or alcohol-free sparkling, these gourmet hampers make an ideal Christmas gift to please the whole circle:
Premium Gourmet Christmas Hamper – a food-focused seasonal celebration
Premium Wine Christmas Hamper – wine and gourmet goodies to get you in the spirit
Penfolds 28 & French Sparkling Christmas Hamper – a top-shelf selection to welcome the festive season
Housewarming gift hampers with free delivery Australia-wide
Help fill their new house with happiness. Rather than bouquets or house plant gifts, why not gift something that's sure to suit their taste. A wine gift, champagne gift or a collection of craft beers will be a welcome addition to any soiree. Gift in the spirit of celebration with:
Little Creatures Beer Hamper – what better gift to bring to the party?
Lyre's Non-Alcoholic Premix Spirits Hamper – welcome a new family into the neighbourhood
Barossa Shiraz Hamper – congratulate friends on their big home purchase
Moet Champagne Hamper – make a toast to the building's new residents
Premium Beer & Wine Hamper – please the whole crowd with options for all
Luxury hampers that will make anyone feel special
Sending a luxury hamper is a beautiful gesture that is certain to make anyone feel special. Suitable for a host of different occasions, these generous gift packs will quickly become your gifting go-to. With wine hampers, champagne hampers, food hampers, beer hampers, alcohol-free hampers and even vegan and gluten-free hampers to choose from, there are plenty of options to suit every recipient:
Valentine's Day gifts
Mother's Day gifts
New baby gifts
Father's Day gifts
Easter gifts
Brands we know and trust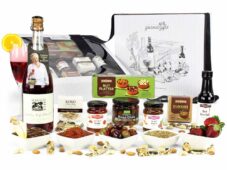 Penfolds, Moet & Chandon, James Squire, Schild Estate, Maggie Beer, Random Harvest, Charlie's Cookies- they're the names we know and love (and for good reason). Australian Gourmet Goods has partnered with some of the best in the business to ensure that your gift is a wild success. Our hampers include exclusively high-quality beverages and sweet and savoury nibbles to make for an exceptional gifting experience.
Buying your gift hamper online at Australian Gourmet Gifts
Purchasing from our online gift boutique couldn't be easier. In fact, our customers insist that it's the most enjoyable way to browse and shop. Simply select from our sensational range, pop your purchase in the cart and proceed to the checkout to share your special message for the greeting card.
FAQ's
What are some popular items in Gold Coast Hampers?
Our Gold Coast hampers are filled with quality gourmet goods like- Barrosa wines, French champagne, craft beers, handmade nougat, smoked Kalamata olives, award-winning cookies and artisan crackers, alcohol-free mixers, fine olive oil and vinegar, fruit & nut mix, homemade jams and premium Scottish whiskey.
Where can you order a hamper online on the Gold Coast?
Simply order your gourmet gift online through our convenient shopping portal. Order before 11 am for dispatch today. Whether you're sending it to Southport, Sydney or over to Perth we will take care of delivery and shipping charges. A day or two is all it takes to have your gift in hand.