Customer Reviews
I highly recommend Australian Gourmet Gifts. We had to purchase a large number of hampers at late notice and Theo provided me with a fantastic level of customer service and with his assistance we were able to get the hampers ordered and delivered with plenty of notice. We will definitely be using Australian Gourmet Gifts again!
CAITLYN BARNETT - SASH (NSW)
I first contacted Theo last year when settlement was due for our latest development. We were sending baskets to each of the 65 owners who had purchased off the plan and were about to settle. As they were settling on different days Theo suggested I sent through a spread sheet which her would work off as I let him know when and to whom the baskets were to be sent.
MARIE - PRIME GROUP AUSTRALASIA (QLD)
CATHY WILLIAMS - LEWIS PRIOR (WA)
I would just like to take this opportunity to thank you for the hampers which we purchased from you for our clients at Christmas time.
The ordering was easy and you help with delivering our hampers to various offices around Australia made the whole process very smooth and stress free.
MICHELLE - FRANKLYN SCHOLAR (VIC)
We would recommend Australian Gourmet Gifts to all. We cannot advertise Australian Gourmet Gifts enough! Theo was extremely helpful and went above and beyond expectations, delivering beautifully presented hampers, full of divine products. Theo was wonderful to deal with and I am sure we will order again in the future.
SHARON - ENI AUSTRALIA LIMITED (WA)
Just a brief note to say a big thank you for the fantastic Xmas hamper we received today. It is without doubt the best we have ever received.
We are all very appreciative and as you would imagine the girls have already started eating the chocolates.
Thanks again
HEATHER - PROSPER WEALTH SOLUTIONS (NSW)
Just a short note to say thank you to you and the team at Australian Gourmet Gifts for the professional hampers you provide to our firm at Christmas. In previous years we have looked to provide a hamper to our valued clients and this has usually meant someone from our office having the task of shopping and putting together an appropriate gift…
BRUCE - PWA FINANCIAL GROUP (QLD)
We were looking online for a Hamper Company and came across Australian Gourmet Gifts. I liked the variety of the different hampers they had on offer and so I contacted them. From the moment of contact, I couldn't have asked for better service, Theo made everything so easy and was able to accommodate what we wanted for the three hundred hampers...
NIMALI - E2O PTY LTD (SA)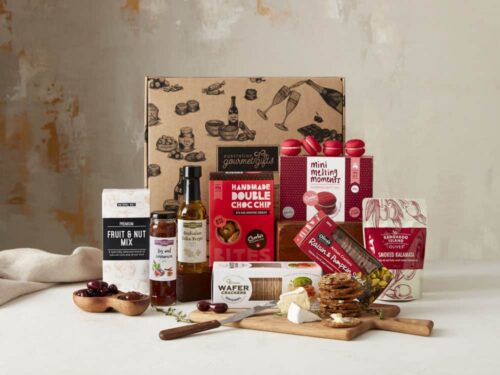 Most popular gourmet hampers available on the Gold Coast
Rejoicing over food is one the most enjoyable things in life. Eating together enables us to stay connected to the ones we love. That's what makes gourmet gift hampers such wonderful gifts. Fine food to be shared amongst friends is the opportunity for connection – a chance to learn, celebrate and provide comfort to those we love.
On the Gold Coast, we love nothing more than to catch up on life's events over a relaxing drink and a few nibbles. Gift one of these popular packs to your friends and watch the atmosphere of celebration take off:
Gourmet Sensations Hamper – a spectacular selection of gourmet goodies
Wine Indulgence Hamper – an affordable luxury that's sure to lift spirits
Moet Extravagance Hamper – celebrate in style with bubbly and nibbles
Little Creatures Beer Hamper – a crowd-pleasing collection of craft beer and snacks
Gourmet hampers full of delicious Australian made products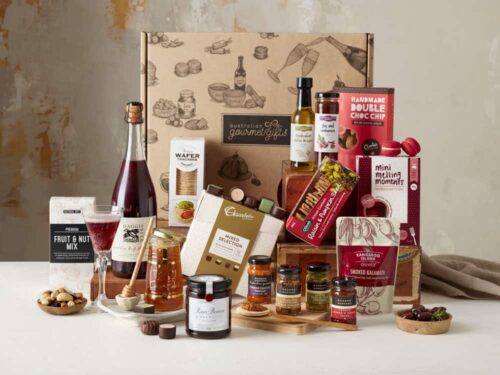 What's more Australian than a grazing board of gourmet nibbles shared with a glass of wine? With an Australian Gourmet Gift Hamper, you receive all the special accoutrements to make for a spectacular spread. Full of delicious locally-made products these fabulous gift boxes are an assortment of Australia's finest foods and beverages. Featuring national favourites like:
Gourmet Extravagance Hamper – A bounty of Australia's best gourmet goods
Barossa Red & White Wine Hamper – Beautiful Barossa wines and handcrafted snacks
Penfolds Baby Grange Extravagance Hamper – Exceptional red wine and bountiful gourmet treats
Popular food and wine gift hampers that include free delivery
Gourmet food and wine hampers are now an extremely popular way to gift. Easy, fun and guaranteed to please, these generous gifts represent value for money. Best of all, with free gift delivery throughout the country, you're only paying for the delicious products. Save time, money and effort. Send these fabulous food and wine gifts to all your recipients in Queensland and beyond.
Send free to Qld, NSW, SA, WA, NT, ACT
Next day delivery is typical in metro Brisbane, Sydney, Perth, Melbourne, Adelaide
Delivery to regional areas typically 2-3 days
Order before 11 am for same-day dispatch
(Please note that a small number of remote areas will require a delivery fee. See delivery information for details)
Make their day a little sweeter with chocolate gourmet hampers
When it comes to celebrations, never underestimate the power of chocolate. Tempt your loved one with a bit of sweetness and bring a smile to their face. Featuring fine chocolates and handcrafted confectionery goods, these sumptuous collections are a perfect way to say thank you:
Easter Indulgence Hamper – a chocolate extravaganza fit for the season
Gourmet Extravagance Hamper – an abundance of special treats to spoil the crowd
Gourmet Vegan & Gluten-Free Sensations Hamper – a sweet selection of Australia's top specialty foods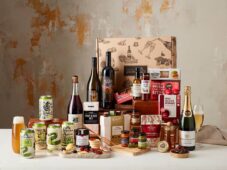 Corporate gift baskets to share between clients and staff
Show clients and staff how much you value their contribution with a gourmet hamper to share amongst the team. Make them feel appreciated and valued with a quality selection of premium goods worthy of their efforts. Perfect for bonding and breaking the ice, these corporate gift packs are sure to lift the team spirit:
7 Star Executive Luxury Hamper – the ultimate collection of fine food and beverages
Penfolds Premium Red & White Wine Hamper – Premium wines with sweet and savoury treats
Lyre's Non-Alcoholic Premix Spirits Hamper – alcohol-free yet packed full of flavour
Festive season gifting for the office just became a whole lot easier with Australian Gourmet Gifts. Place a bulk order for multiple offices and associates through our easy online portal. Our team will package, personalise and deliver your gifts to business places and homes throughout Australia.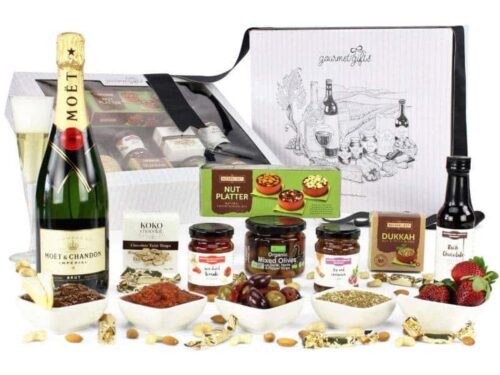 Most popular products in our gourmet hampers
At Australian Gourmet Goods, we like to let our products do the talking. That's why we've partnered with some of the most beloved Aussie and international brands renowned for their fabulous products. Popular products you are likely to see in a hamper include:
Moet & Chandon champagne – a name that speaks volumes
Penfolds Estate wines – renowned for distinguished wines
Charlies Cookies – award-winning goodness
Maggie Beer sparkling – from the queen of gourmet
Random Harvest spreads- the nostalgic flavours of Australia
Choose from a wide variety of hampers to suit any occasion
Australian Gourmet Goods is a one-stop shop for all your gifting needs and Australian hampers. With perfect gift ideas for every occasion, you'll never have to stress over last-minute gifting again. We all love good food and no matter what kind of palette your recipient has, we have the ideal gift to make them smile:
Gourmet Food hampers
Baby gifts
Easter Hampers
Mother's Day gifts
Deluxe gifts
Housewarming gifts
The perfect birthday present delivered free – on the Gold Coast and Australia Wide
Make someone's birthday extra special this year with a basket full of happiness delivered right to the doorstep. Overflowing with all the gourmet goodies they love, a birthday pamper hamper is destined to bring a smile to their face. With our easy online ordering service and free delivery across the country, there's no reason not to give it a try. We promise you'll never look back!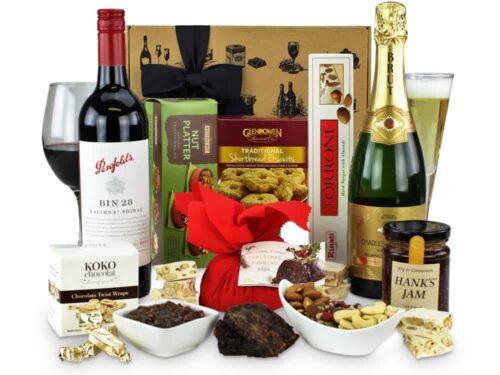 Christmas Day hampers make celebrating a little more fun
Bring on the festivities with a special Christmas Hamper designed to kick off the celebrations. Including some of our seasonal favourites like pudding, brandy sauce and sparkling wine, our Christmas hampers are sure to lift spirits:
Penfolds 28 & French Sparkling Christmas Hamper
Premium Wine Christmas Hamper
Premium Gourmet Christmas Hamper
Struggling to find a gift for that certain relative? Well, look no further than a fabulous gift hamper. With carefully curated packs to suit all walks of life you are destined to find something great for even the pickiest relative:
Relax and Soothe Pamper Hamper -a gift of relaxation that anyone would love
Gourmet Vegan & Gluten-Free Sensations Hamper – perfect for those with a clean lifestyle
The Gentleman's Hamper – you cannot go wrong with craft beer and socks!
Glenmorangie Whisky Hamper – a classy gift for the dad who loves whiskey
Luxury French Sparkling Hamper – a celebratory gift for your fabulous Mum
Gourmet Hampers for real foodies who love a delicious surprise
Discerning foodie friends will no doubt be impressed by a sumptuous gift box of goodies. Showcasing a stunning assortment of gourmet specialties our tasty food hampers are a dive into the world of deliciousness.
Treat your parents on Mother's and Father's Day to a beautiful gourmet hamper
Everyone deserves a little of life's luxuries, especially Mum and Dad. A beautiful gourmet experience to be shared is an opportunity for them to relax and connect. So this Mother's and Father's Day, why not capture your sentiments with a gift that says it all.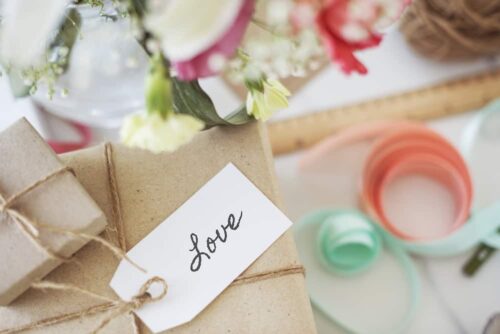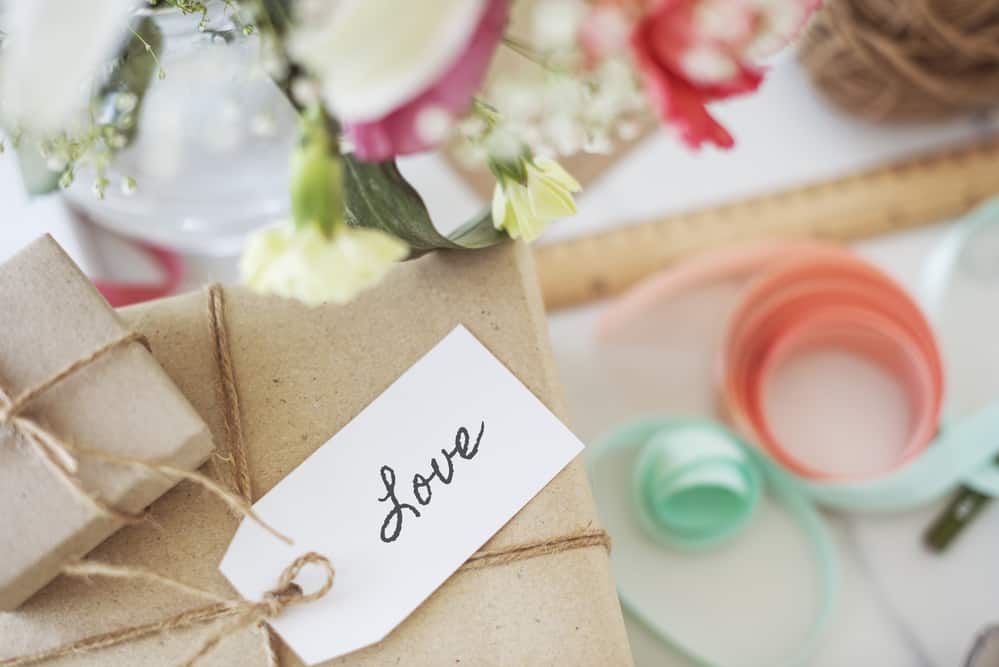 Presented in a professional gift box with a personalised card attached
The moment of opening a beautiful gift cannot be underestimated. A special surprise, beautiful details and a few kind words have the potential to make someone feel truly special. That's why our dedicated team goes the extra mile to make for the perfect experience.
Curated with precision
Packed in a professional gift box
Artfully wrapped in a grosgrain ribbon
A gift card attached with your personalised message inscribed
Delivered to their doorstep for the ultimate surprise
Buying your gourmet hamper online with Australian Gourmet Gifts
Gift shopping doesn't come any easier than purchasing with Australian Gourmet Goods. Simply browse the exquisite collection featured in our online boutique. Select your favourites and head to the checkout for quick and easy payment options. Don't forget to add your special note for the greeting card. Suddenly, last-minute gift shopping is looking easy!
FAQ's:
What are some of the items found in a gourmet hamper?
Gourmet hampers include all the accoutrements you need like: smoked olives, jams and spreads, artisan crackers, melting moments, dried fruits and nuts, handmade chocolates, quality confectionary and plenty more.
Where can you order a gourmet hamper online with free delivery?
All gourmet hampers ordered through our online gift portal come with free delivery Australia wide (except in a small number of very remote regions). Send to family and friends all across Australia.