Chocolate Hampers Gold Coast
Celebrate the season with glorious gourmet gift baskets and boxes – wine, champagne and chocolate hampers designed to spark the festive spirit. Order today for quick and easy delivery throughout the Gold Coast and Australia-wide.
australian brands
AWARD-WINNING FOOD & WINE
environmentally friendly
AUST SUSTAINABLE PACKAGING
Showing all 19 results
Customer Reviews
I highly recommend Australian Gourmet Gifts. We had to purchase a large number of hampers at late notice and Theo provided me with a fantastic level of customer service and with his assistance we were able to get the hampers ordered and delivered with plenty of notice. We will definitely be using Australian Gourmet Gifts again!
CAITLYN BARNETT - SASH (NSW)
I first contacted Theo last year when settlement was due for our latest development. We were sending baskets to each of the 65 owners who had purchased off the plan and were about to settle. As they were settling on different days Theo suggested I sent through a spread sheet which her would work off as I let him know when and to whom the baskets were to be sent.
MARIE - PRIME GROUP AUSTRALASIA (QLD)
CATHY WILLIAMS - LEWIS PRIOR (WA)
I would just like to take this opportunity to thank you for the hampers which we purchased from you for our clients at Christmas time.
The ordering was easy and you help with delivering our hampers to various offices around Australia made the whole process very smooth and stress free.
MICHELLE - FRANKLYN SCHOLAR (VIC)
We would recommend Australian Gourmet Gifts to all. We cannot advertise Australian Gourmet Gifts enough! Theo was extremely helpful and went above and beyond expectations, delivering beautifully presented hampers, full of divine products. Theo was wonderful to deal with and I am sure we will order again in the future.
SHARON - ENI AUSTRALIA LIMITED (WA)
Just a brief note to say a big thank you for the fantastic Xmas hamper we received today. It is without doubt the best we have ever received.
We are all very appreciative and as you would imagine the girls have already started eating the chocolates.
Thanks again
HEATHER - PROSPER WEALTH SOLUTIONS (NSW)
Just a short note to say thank you to you and the team at Australian Gourmet Gifts for the professional hampers you provide to our firm at Christmas. In previous years we have looked to provide a hamper to our valued clients and this has usually meant someone from our office having the task of shopping and putting together an appropriate gift…
BRUCE - PWA FINANCIAL GROUP (QLD)
We were looking online for a Hamper Company and came across Australian Gourmet Gifts. I liked the variety of the different hampers they had on offer and so I contacted them. From the moment of contact, I couldn't have asked for better service, Theo made everything so easy and was able to accommodate what we wanted for the three hundred hampers...
NIMALI - E2O PTY LTD (SA)
Chocolate Hamper gift ideas on the Gold Coast
On the Gold Coast, we know how to enjoy the sweet life. Indulgence is our favourite pastime and we love to treat ourselves and our friends. That's what makes our sumptuous gourmet hampers such a great gift idea for celebrating any occasion. Brimming with top quality beverages, sweet and savoury snacks and, of course, plenty of chocolate indulgences, these generous gift boxes are a beautiful reflection of our fabulous Gold Coast lifestyle:
Penfolds 28 Shiraz Extravagance Hamper – A fine drop of red, paired with sweet and savoury snacks like choc-chip cookies, melting moments and gold flake honey
Penfolds Cab Sauv Easter Hamper – An elegant red wine paired with scorched almonds, melting moments, hot cross buns and Easter eggs
Gourmet Vegan & Gluten-Free Sensations Hamper – Plant-based sweetness including fine hot chocolate, artisan cookies, salted caramel popcorn and handmade nougat
Luxury French Sparkling Easter Hamper – Fresh sweet sparkling wine paired with milk, white and dark chocolate eggs, scorched almonds and more
A range of chocolate hampers to treat the whole family
The great thing about purchasing through our extensive online boutique is that you can take care of the whole family at once. Whether your recipient loves fine wine, craft beer, champagne, alcohol-free options, sweet, savoury or chocolate we have the perfect gift to make them smile. The gourmet hampers Gold Coast residents love to gift include:
Moet Extravagance Hamper – a beautiful champagne gift featuring a selection of artisan chocolates, savoury nibbles, gold flake honey and chocolate cookies
Gourmet Extravagance Hamper – a sweet festive beverage paired with fine chocolates, savoury sweets, fig jam, artisanal honey, and a selection of chocolate biscuits.
Easter Indulgence Hamper – decadent Easter treats by Chocolatier, Ernest Hiller, Charlie's Fine Foods and Random Harvest
James Squire Beer Hamper – refreshing boutique beers and savoury nibbles plus a rich velvety dessert of chocolate melting moments. The ultimate Gold Coast gift!
Penfolds 311 Chardonnay Extravagance Hamper- an elegant wine hamper complemented with exquisite handmade chocolates and a range of sweet and savoury bites
Chocolate hampers designed for all special occasions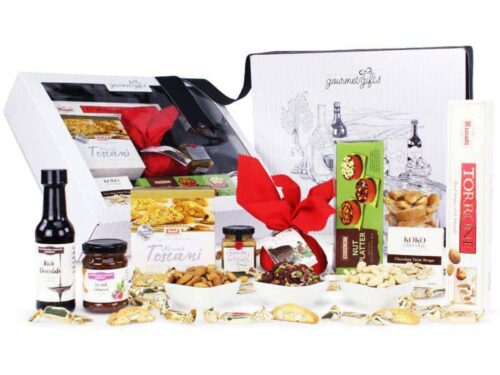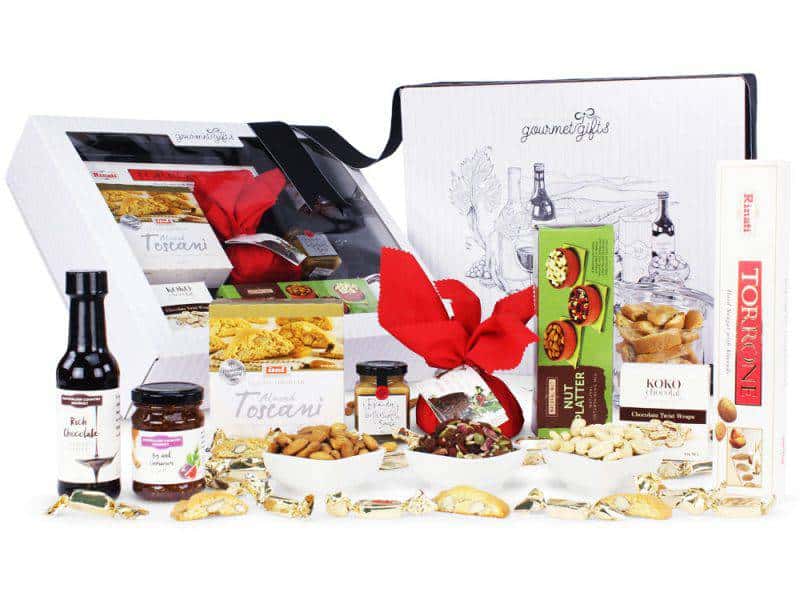 Nothing says celebration quite like chocolate. Paired with a wide selection of premium beverages and gourmet nibbles, there's a chocolate hamper to suit every calendar event. Treat your loved ones on the next special occasion:
Easter gifts
New Years gifts
Father's Day gifts
Luxury chocolate gift boxes featuring Australian made products
Exquisite handmade and local Australian gourmet goods make up the bulk of our hampers. Every product is hand-selected for exceptional quality and flavour. From award-winning producers to renowned chocolatiers, our sumptuous collections represent some of Australia's top offerings. Australian-made gourmet food products you're likely to come across in a luxury hamper include:
Chocolatier Australia – Gold Mixed Selection
Ogilvie Fine Foods – Honey with Gold Flakes
Australian Country Gourmet – Fig & Cinnamon Jam
Charlie's Traditional Australian Choc Chip Bites
Nomad Drinking Chocolate – Bondi Blend
Charlie's Plant-Powered Dark Chocolate Chip Artisan Cookie
Bramble & Hedge Raspberry Vanilla Bean Vegan Nougat
The perfect hamper for that special someone with a sweet tooth
Show your sweet-toothed loved-one how special they are with a memorable and tasty gift. Filled with irresistible goodness our pamper hampers will show them just how much you care. Beautifully wrapped with ribbon and a gift card, your sweet delivery will make an impression:
Valentine's Day gifts
Mother's Day gifts
New Baby gifts
Thank you gifts
Get well soon gifts
Leave an impression with personalised corporate hampers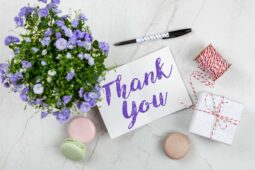 When it comes to gifting, it's the little details that make the difference. That's why at Australian Gourmet Gifts we beautifully wrap your hamper and attach a personalised greeting card to share your sentiments. Corporate gifts make an impression on clients and show your staff and colleagues how appreciated they are. Simply note your message in the dedicated field at the checkout and our team will take care of your beautiful package.
Filled with high-quality treats
Packed in a professional gift box
Wrapped with elegant grosgrain ribbon
Personalised greeting card attached
Delivered to their doorstep or workplace
The perfect way to say thank you
Top five hampers perfect for Christmas
We all know what it's like when the Christmas season begins – stress, panic and trying to decide what to buy everyone. This year, why not save yourself the headache? Order these gorgeous Christmas hampers from our easy online boutique. Packed with all the festive favourites, these boxes epitomise the spirit of Christmas. Discover Queensland's top five:
Premium Wine Christmas Hamper- red and white wine gift paired with sweet festive flavours
Penfolds 28 & French Sparkling Christmas Hamper – a sweet gift of French bubbles, premium Australian wine, pudding, brandy sauce and delicious nibbles
Premium Gourmet Christmas Hamper- pudding, gingerbread, fig & cinnamon jam with a variety of savoury snacks to feed the whole crowd
Moet Champagne Hamper- a fail-proof gift of extravagant champagne and decadent snacks
Glenmorangie Whisky Hamper- a classy Christmas gift of award-winning whisky and Australian gourmet goods
Free delivery Australia wide on all hampers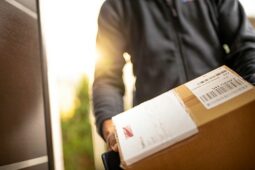 Send your beautiful gift hampers anywhere in Queensland, NSW or Australia-wide completely free of charge. You can gift all your family, friends and family across the country at once with free shipping to almost all locations in Australia:
Brisbane
Sydney
Melbourne
Adelaide
Perth
Regional areas across Australia
(There is a small shipping fee to a handful of remote locations in Australia. Please see the Delivery Information page for details)
Brands we know and trust
To ensure that your online gifting experience is everything you hope for we've partnered with some of the best known and well-trusted gourmet brands. Renowned for flavours, craftsmanship and gourmet expertise, these name brands are synonymous with quality. Enjoy the peace of mind of knowing exactly what you're paying for and that your loved one's celebration surprise is in good hands:
Penfolds Estate
Chocolatier Australia
Moet & Chandon
Charlies Cookies
Little Creatures
Random Harvest
Maggie Beer
Buy your chocolate hamper online at Australian Gourmet Gifts
Just a few minutes of your time is all it takes to get your gift on the way. Select from the fabulous range featured in our online boutique and inscribe your special message to the recipient. Use the easy payment options provided at checkout and your job is done. Our distribution team will quickly pack, wrap and personalise your card. Your package is dispatched the same day or the next day.
Order before 11 am for same-day dispatch
Orders placed after 11 am will be dispatched the following day
Next day delivery is usual in Qld metro areas (regional areas may take a couple of days)
Order a single gift or order in bulk
Free gift delivery Australia-wide
FAQ's:
Where can you buy chocolate hampers on the Gold Coast?
Purchase your next chocolate hamper through our easy online portal. Place an order today for immediate dispatch to recipients on the Gold Coast and throughout Australia. Sending a sweet gift to your loved one has never been easier.
What is the price of a chocolate hamper?
Whether you're on a budget or looking to blow them away, we have luxurious hampers to suit all of your family, friends and colleagues. Starting from well under $100 up to $360 there's a perfect gift available at every price point.