Customer Reviews
I highly recommend Australian Gourmet Gifts. We had to purchase a large number of hampers at late notice and Theo provided me with a fantastic level of customer service and with his assistance we were able to get the hampers ordered and delivered with plenty of notice. We will definitely be using Australian Gourmet Gifts again!
CAITLYN BARNETT - SASH (NSW)
I first contacted Theo last year when settlement was due for our latest development. We were sending baskets to each of the 65 owners who had purchased off the plan and were about to settle. As they were settling on different days Theo suggested I sent through a spread sheet which her would work off as I let him know when and to whom the baskets were to be sent.
MARIE - PRIME GROUP AUSTRALASIA (QLD)
CATHY WILLIAMS - LEWIS PRIOR (WA)
I would just like to take this opportunity to thank you for the hampers which we purchased from you for our clients at Christmas time.
The ordering was easy and you help with delivering our hampers to various offices around Australia made the whole process very smooth and stress free.
MICHELLE - FRANKLYN SCHOLAR (VIC)
We would recommend Australian Gourmet Gifts to all. We cannot advertise Australian Gourmet Gifts enough! Theo was extremely helpful and went above and beyond expectations, delivering beautifully presented hampers, full of divine products. Theo was wonderful to deal with and I am sure we will order again in the future.
SHARON - ENI AUSTRALIA LIMITED (WA)
Just a brief note to say a big thank you for the fantastic Xmas hamper we received today. It is without doubt the best we have ever received.
We are all very appreciative and as you would imagine the girls have already started eating the chocolates.
Thanks again
HEATHER - PROSPER WEALTH SOLUTIONS (NSW)
Just a short note to say thank you to you and the team at Australian Gourmet Gifts for the professional hampers you provide to our firm at Christmas. In previous years we have looked to provide a hamper to our valued clients and this has usually meant someone from our office having the task of shopping and putting together an appropriate gift…
BRUCE - PWA FINANCIAL GROUP (QLD)
We were looking online for a Hamper Company and came across Australian Gourmet Gifts. I liked the variety of the different hampers they had on offer and so I contacted them. From the moment of contact, I couldn't have asked for better service, Theo made everything so easy and was able to accommodate what we wanted for the three hundred hampers...
NIMALI - E2O PTY LTD (SA)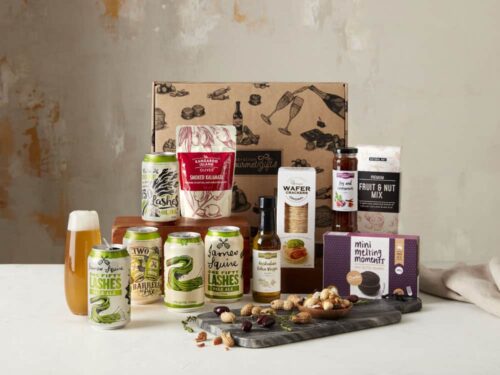 Australian made beer hampers- the perfect gift for someone special
When it comes to quality beer, Australia has a lot to be proud of. Our local brewers are some of the world's best and produce some remarkable varieties. Nowadays, a craft beer gift is something special. It's a gourmet experience, an opportunity to go on a flavour journey. Combined with a delicious selection of sweet and savoury snacks, these beer hampers contain the makings of a great afternoon. Send a gift box to someone special:
Little Creatures Beer Hamper – boutique beers and a basket of sweet and savoury nibbles
James Squire Beer Hamper – five smashing ales with a selection of gourmet snacks
Craft Beer hampers are the perfect gifts for beer lovers
Craft beer hampers are a welcomed addition at any event. Our Gold Coast customers love to purchase these fun-filled packs to take to a birthday, barbeque, Christmas or New Year's party. Perfect for the Queensland weather, our hampers are full of premium beer and all the tasty nibbles you need for a snack board, including:
Selections of James Squires or Little Creatures boutique beers
Smoked olives
Artisan crackers
Craft batch cookies
Premium fruit and nut mix
Gourmet spreads
Make festive season memories with Christmas beer hampers
Why not give your friends and family a top-quality gourmet gift that you know they will love (and put to use!) Craft beer Christmas hampers are festive, fun and destined to go down well with recipients. Australian Gourmet Gifts will beautifully wrap your gift and attach a personalised greeting card. Simply place an order online, and Christmas is taken care of:
Little Creatures Beer & Socks Hamper – the gift Aussie men will be thrilled with
The Gentleman's Hamper – all the best tools to help him kick back
Beer gift baskets are the ideal Father's Day gift
Celebrate your fabulous Dad with a gift that speaks to his heart. A selection of Australian craft beer plus a range of sumptuous snacks is sure to do the trick. Watch the smile grow on his face as he opens a box of his favourite things. Products you're likely to come across in a beer hamper include:
Craft Beer
Melting Moments
Fruit and Nut mix
Crackers & relish
Smoked olives
Wheat bags & socks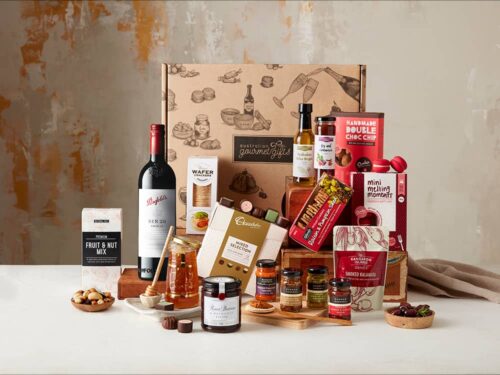 Is Dad more of a red wine man? No problem, Australian Gourmet Gifts has an excellent range of wine gifts, gourmet food gifts, champagne gifts and whiskey gifts. Bestsellers include:
Penfolds 28 Shiraz Extravagance Hamper – perfect for the dad who knows his fine wine
Glenmorangie Whisky Hamper – guaranteed to make him grin
Gourmet Connoisseur Hamper – top quality nibbles to feed the foodie dad
Moet Champagne Hamper – An extravagant gift for the man of distinction
Beer hampers the ideal present for any special occasion
Artfully packed and wrapped, these spectacular beer hampers make the best gifts for any occasion. Once you've experienced how quick, easy and successful these gift ideas are, you'll never go back to the stress of traditional gift shopping. With all kinds of hampers to choose from- like beer, wine, champagne, gourmet food, and pamper gifts- you'll find everything you need for special occasions:
Father's Day gifts
Christmas gifts
New baby gifts
Valentine's Day gifts
Mother's Day gifts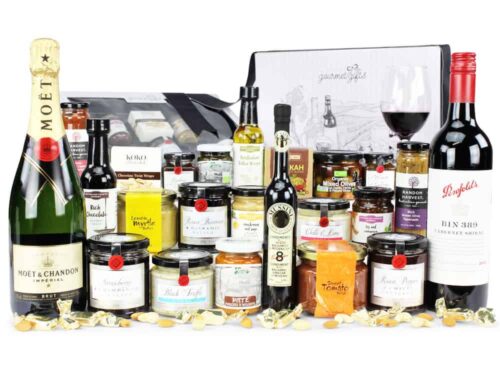 Top beer hampers for home and the office
Treat your loved ones to something special with a generous beer and wine hamper to enjoy at home. Better yet, deliver one to the office to let the team know that you value their work. Break open a beer bundle and watch the energy lift:
Premium Beer & Wine Hamper – a bounty of goodies to please the whole family
7 Star Executive Luxury Hamper – an extravagant selection to satisfy the staff
Types of Australian beers in our Beer Hampers
Australian Gourmet Gifts has partnered with some terrific local brew houses to take you on a delicious beer journey. James Squires creates the refreshing cloudy pale ales that we all know and love. Little Creatures bring us their famous fresh ales that burst with delicious hops flavour.
Beer gift baskets make memorable corporate gifts
Buying presents for your colleagues and staff can be nothing short of stressful. What's more, gift-giving seasons usually coincide with your busiest times of the year. That's why we've assembled an extensive range of corporate gifts designed for easy gifting. Beer, wine, food and champagne hampers are quality gifts that your colleagues will remember.
Personalise your Australian beer hamper with a gift box and gift card
The best part about shopping with Australian Gourmet Gifts is that we do all the work for you. Every beer hamper comes beautifully packaged in a professional gift box and wrapped in grosgrain ribbon. What's more, we will even personalise a greeting card for you. Just leave your message in the dedicated field at checkout, and we will inscribe it on a card.
Free delivery throughout the Gold Coast and Australia wide
At Australian Gourmet Gifts, we want you to spend your money where it counts- on quality craft beer, wine and gourmet snacks. That's why delivery is free throughout the Gold Coast and across Australia.
Order before 11 am for same-day dispatch
Orders placed after 11 am will be dispatched the following day
Next day delivery is typical for Sydney, Brisbane, Melbourne, Perth and Adelaide metro areas
Regional areas may take an extra day or two
*A minimal number of remote areas will incur a $9.90 delivery fee. See the delivery page for details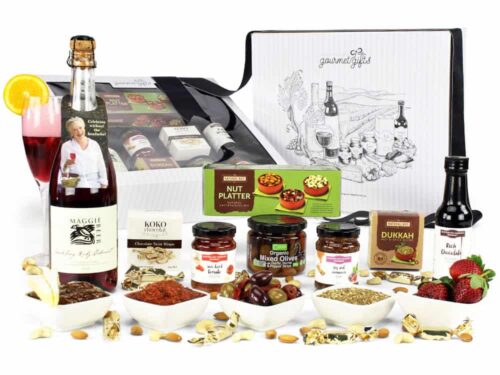 Brands we know and trust
Because we want you to know exactly what you're buying, we've partnered with renowned local and international brands. They're the names you already know and trust for exceptional quality products. Premium brands you're likely to come across in a gift hamper include:
James Squires
Little Creatures
Penfolds Estate
Moet & Chandon
Charlies Cookies
Random Harvest
Maggie Beer
Order your beer hamper online with Australia Gourmet Gifts
Purchasing your beer hamper couldn't be more straightforward. Browse our vast range of gifts in our online boutique. Once you've made your selections head to the checkout for easy payment. Make sure to note your special message for the recipient. Then, leave the rest to us. Our dedicated team will package, wrap and personalise your gift for immediate dispatch. Delivery could be as early as tomorrow!
FAQ
What is the best way to get a beer hamper delivered?
Ordering a beer hamper is as easy as a few clicks of a mouse. Simply view our Australian Hamper range, and we will deliver it right to your recipient's doorstep- to Qld, NSW, or anywhere across Australia.
What is the main type of beer in a beer hamper?
Our beer hampers feature terrific Australian ales. We partner with top local breweries- James Squires and Little Creatures- to bring you some smashing craft brews with all the flavours of Australia.