Customer Reviews
I highly recommend Australian Gourmet Gifts. We had to purchase a large number of hampers at late notice and Theo provided me with a fantastic level of customer service and with his assistance we were able to get the hampers ordered and delivered with plenty of notice. We will definitely be using Australian Gourmet Gifts again!
CAITLYN BARNETT - SASH (NSW)
I first contacted Theo last year when settlement was due for our latest development. We were sending baskets to each of the 65 owners who had purchased off the plan and were about to settle. As they were settling on different days Theo suggested I sent through a spread sheet which her would work off as I let him know when and to whom the baskets were to be sent.
MARIE - PRIME GROUP AUSTRALASIA (QLD)
CATHY WILLIAMS - LEWIS PRIOR (WA)
I would just like to take this opportunity to thank you for the hampers which we purchased from you for our clients at Christmas time.
The ordering was easy and you help with delivering our hampers to various offices around Australia made the whole process very smooth and stress free.
MICHELLE - FRANKLYN SCHOLAR (VIC)
We would recommend Australian Gourmet Gifts to all. We cannot advertise Australian Gourmet Gifts enough! Theo was extremely helpful and went above and beyond expectations, delivering beautifully presented hampers, full of divine products. Theo was wonderful to deal with and I am sure we will order again in the future.
SHARON - ENI AUSTRALIA LIMITED (WA)
Just a brief note to say a big thank you for the fantastic Xmas hamper we received today. It is without doubt the best we have ever received.
We are all very appreciative and as you would imagine the girls have already started eating the chocolates.
Thanks again
HEATHER - PROSPER WEALTH SOLUTIONS (NSW)
Just a short note to say thank you to you and the team at Australian Gourmet Gifts for the professional hampers you provide to our firm at Christmas. In previous years we have looked to provide a hamper to our valued clients and this has usually meant someone from our office having the task of shopping and putting together an appropriate gift…
BRUCE - PWA FINANCIAL GROUP (QLD)
We were looking online for a Hamper Company and came across Australian Gourmet Gifts. I liked the variety of the different hampers they had on offer and so I contacted them. From the moment of contact, I couldn't have asked for better service, Theo made everything so easy and was able to accommodate what we wanted for the three hundred hampers...
NIMALI - E2O PTY LTD (SA)
Housewarming Gifts to Welcome Them Home
Although not always expected, housewarming gifts are a kind gesture. But if you don't think carefully about your choice of gift, that gesture could be received with an awkward smile and half-hearted 'thank you'. That's no fun for anyone! Buying more versatile housewarming gifts, such as food and beverages, can help avoid this issue. A housewarming hamper is a smart way to go – it'll have something for everyone and is sure to be put to good use.
Housewarming Gifts for a New Home
Buying a new house is an exciting milestone event that calls for a celebration to remember the occasion. Whether it's a best friend moving interstate or a young couple embarking on a new chapter of their lives together by buying their first home – food and wine hampers will fill their pantries and their tummies while showing how much you love them.
A hamper can also be a great housewarming gift for a real estate agent to congratulate clients on their purchase and leave a lasting impression that could foster future business.
Housewarming Hamper and Present Ideas
If you're giving to a family or couple, it can be hard to please everybody. While he may be thrilled with cooking utensils, she might be more excited by gardening supplies. That's why we recommend going for something they can share and enjoy together.
The Premium Beer and Wine Hamper always goes down a treat with couples. It's loaded with James Squire craft beer and 2 premium Angove wines to enjoy with a selection of nibbles like smoked olives, jam and melting moments.
For non-drinkers, the Maggie Beer Sparkling Ruby Hamper is pure indulgence with a vibrant Non-Alcoholic Sparkling Ruby Cabernet and a handful of Australia's finest local treats, including Kangaroo Island olives, boutique oil and wafer crackers.
Popular Housewarming Gift Baskets
We've got a housewarming gift to please any new homeowner, from wine drinkers and whisky lovers to vegans and sweet tooths. Whether you have a budget of under $100 or want to splurge on something truly extravagant, there's a housewarming hamper that is right for the occasion. Check out some of our customer's favourites:
Gourmet Sensations Hamper
Luxury French Sparkling Hamper
Premium Beer and Wine Hamper
Gourmet Connoisseur Hamper
Penfolds Cab Saus & French Sparkling Hamper
Unique Gift Ideas for Someone Moving Into a New Home
When buying a housewarming present, personal gifts are always more of a hit because they're more likely to be kept for years to come. Items, such as a doormat, with their family name or a reference to their new suburb or street on it can work a treat when it comes to sentiment.
Popular housewarming party gifts include a set of wine glasses with their initials or a set of personalised coasters with a matching chopping board. If you want to help fill empty space, a couch and a coffee table that matches their home decor is sure to be appreciated.
You can also confine your gifts to one room in the home, such as the kitchen. Gifting items like cookware, decanters, coffee makers, glassware, napkin holders, cocktail shakers, bottle openers and other kitchen essentials are a great idea.
Other popular presents include scented candles or diffusers with their favourite essential oils to make a room feel more like home.
Best Housewarming Gifts to Include in a Housewarming Hamper
Moving into an empty house is an exciting time, but it can also be a daunting one with boxes piled high in the living room and all of those cupboards that need filling! You can lend a helping hand by gifting the new homeowners a gift hamper full of quality food and wine to get their pantry off to a good start.
We think you can't go wrong with these items found across our housewarming hamper range:
Red and white wine, champagne, craft beer and whisky
Melting moments, chocolates, cookies and popcorn
Cheese board favourites with a wooden cutting board, including jam, oil, tapenade, dressing and relish
Olives, wafer crackers, dried fruit and nuts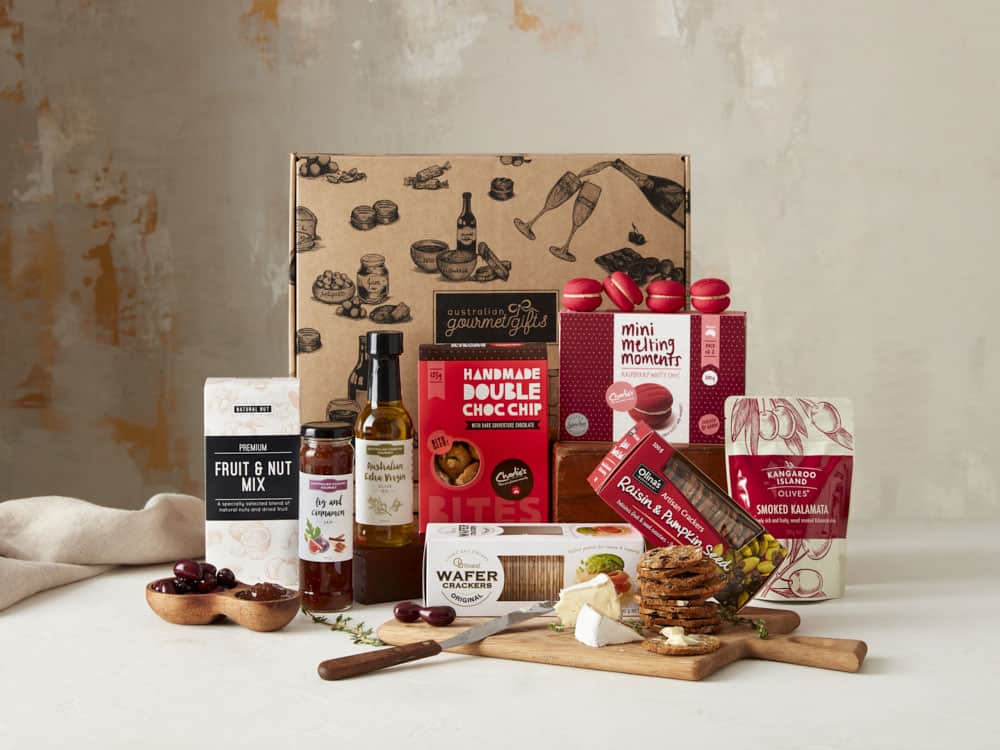 Perfect Gift for Someone Relocating
It can be a little scary moving to a new location where you don't know anyone and chances are, your loved one will be feeling a little lonely at first. Give them a thoughtful housewarming gift that lets them know you're thinking of them. Our Gourmet Extravagance Hamper is chock-full with goodies, including a Random Harvest Entertaining Cheeseboard Pack with serving board and a box of creamy Chocolatier chocolates. It's really the perfect excuse they need to invite the neighbours around for a backyard BBQ and make some new life-long friends over a bottle of fine wine and nibbles!
Australian Products and Australia-Wide Delivery
We believe most of the world's best things are homegrown. So, try to support the locals and grab a gift that's been made in Australia. We're proud to pack our housewarming gifts with a hand-picked selection of the finest wines, beers and artisan treats from Australia's most-loved and esteemed local brands, including Maggie Beer, Penfolds, Charlie's Cookies and James Squire.
We also offer free delivery to most major destinations, including Sydney, Melbourne, Brisbane and Adelaide. If you need your hamper to arrive sooner, you can upgrade to express postage for next day delivery on most orders.
Practical Housewarming Gifts for New Homeowners
We've all been the recipient of random useless gifts and gadgets (we're looking at you, creepy crochet cat). Don't be THAT person. Instead, why not get the new homeowners a practical gift they can get real use out of? Your housewarming gift will be much more appreciated and utilised!
Start by thinking about something relevant to their situation. For example, they're likely to be having friends and family dropping by more than usual, so some nice nibbles would surely come in handy. And you definitely can't go wrong with a decadent bottle of wine.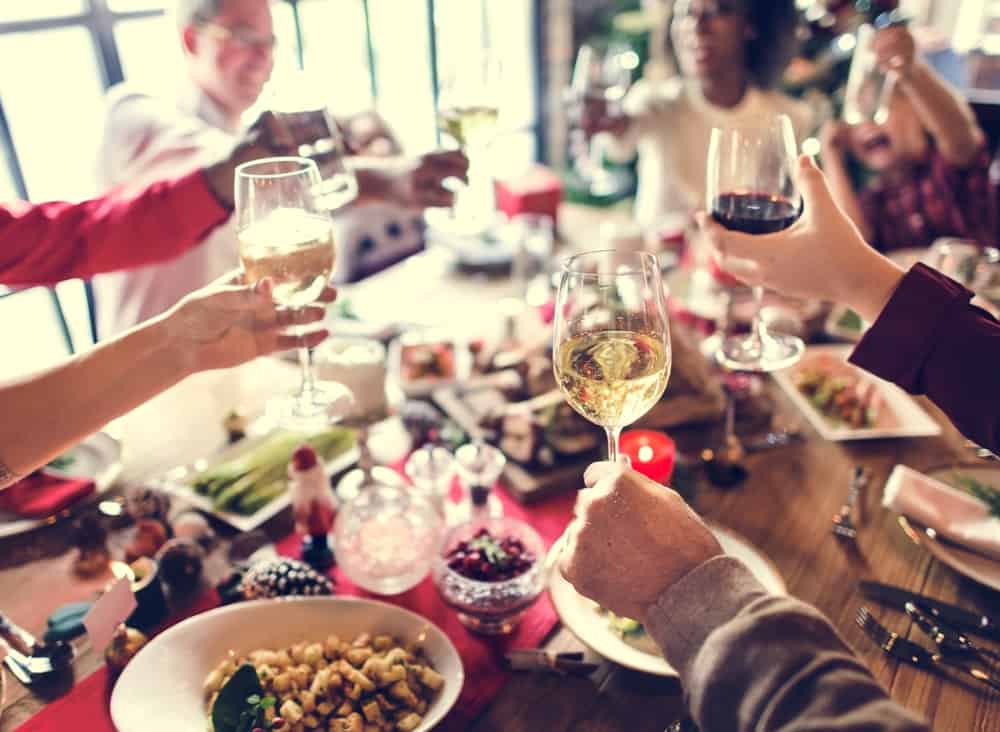 Personalised Luxury Housewarming Gift Baskets
Add a little bit of luxury to an empty house in the form of a top-shelf wine or elegant chocolate box from an artisan chocolate-maker. Our luxury hampers are made to impress no matter what your budget, from under $100 to under $400.
We go the extra mile to ensure your recipient feels special and appreciated. Each gift comes packaged in an environmentally-friendly and locally-made gift box designed to reflect our gourmet theme and a gift card with your heartfelt words on it to add a personal touch.
Home Sweet Home – New Home Hampers
Food and wine hampers make perfect housewarming gifts because they're the gift that keeps on giving. The new homeowners can break out the wine and crackers when they have company and put them back in the pantry until the next time they have friends and family over. Get started by browsing our housewarming hampers today with free delivery Australia-wide to most destinations – they're the best way to make a new house feel like home!
FAQs About Housewarming Gifts
What are Some Good Housewarming Gift Ideas?
Whether you're celebrating a client's home purchase with a corporate hamper or wishing a young couple well with their first home, take some inspiration from our best-selling housewarming hamper range and give them a gift they'll truly love:
Gourmet Sensations Hamper
Wine Indulgence Hamper
Gourmet Connoisseur Hamper
Moet Champagne Hamper
James Squire Beer Hamper
What Do You Give Someone Who Just Moved into a New House?
If someone has just moved into a new house, chances are they'll be stressed enough unpacking without thinking about what they need to fill the pantry. A food and wine hamper is a thoughtful gift that is both practical and delicious. Just browse our hamper range, choose your favourite and purchase using our fast and simple checkout process. With free delivery to most Australian destinations, we'll send your beautiful gift straight to their brand new front door!
What is Included in a Housewarming Hamper?
A good housewarming hamper should have the perfect balance of food and beverages in it while being tailored to the person's individual taste and preferences. We have hampers for wine lovers, foodies, vegans and more. Take a look at some of the goodies we've snuck inside:
James Squire Craft Beer
Moet Champagne
Charlie's Cookies Mini Melting Moments
Kangaroo Island Smoked Kalamata Olives
Olina's Artisan Raisin and Pumpkin Seed Crackers
What are Some Gifts People Might Give at a Housewarming Party?
Like birthday gifts, the best housewarming gifts are stylish, thoughtful and practical. Give your special someone a gift that enhances their new space and makes living in their new home easier and better. Here are some popular gift ideas:
​Candles and candle holders
​Wine glass gift set
Coffee maker
Succulents and other plants
Food and wine hamper