Are Gourmet Gift Hampers Good For Families? You Bet!
Are Our Gourmet Gift Hampers Good For Families? Kid Friendly Finds For Whole Family Happiness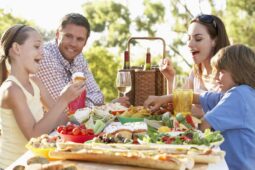 You're after the perfect gift for a special family in your life, but how do you choose something that both parents and kids will love? The growing trend towards kids with sophisticated appetites means delicious gourmet gift hampers are an unexpectedly perfect way to spoil the whole family.
Kids are the new foodies
Remember when kids could be relied upon to turn their noses up at anything gourmet? Well, a survey conducted by online restaurant reservation platform OpenTable noted that 75% of Australian parents said their children preferred to order from the adult menu when dining out! The humble nuggets and chips have gone out of favour, replaced by requests for sushi and macaroons.
This opens a range of possibilities for families when eating out, or for perfect special occasion food treats. What's more, when kids eat a wider variety of foods, they're more likely to get all the nutrients their growing bodies need.
Premium gourmet goodies are a better choice
Sourcing healthy foods that are fresh and of the highest quality is a trend being passed on to youngsters whose discerning palates see them devouring foods normally reserved for adults. But as impressive as this is, there's no denying that overuse of poor quality processed foods is still a problem.
Thankfully health experts aren't demanding a life devoid of indulgence. In fact, they agree that a balanced diet can include yummy 'sometimes foods.' But choose wisely! Eating ice cream is a simple pleasure for children and adults alike. Make the experience extra special with a gourmet chocolate sauce!
Give a family a luxury gift hamper and ensure they enjoy the finest quality goodies.
Sharing food brings families together
Food is a wonderful way to bring people together and parents will delight in seeing their kids savour new flavours and textures as they share a delectable gift hamper together. Simply add one loaf of crusty bread to a fine olive oil and some dukkah for dipping – heaven!
Gift hampers really are a delicious delight for families
Yes, more and more kids are enjoying interesting and international flavours. Platters laid out with gourmet crackers and delicious organic antipasto don't tend to last long with mini gourmands around. And though some parents may resent having to share gift hampers, with divine delicacies like biscotti and nougat, it's nice to know that the bottle of red in your deluxe gift is still for the adults alone!
Looking for a single gift to impress a family? Visit Australian Gourmet Gifts to order decadent and delicious gift hampers, a unique and indulgent gift for any family to share.