Discover Christmas Hamper Ideas for Christmas 2022, perfect for a friend, family member, romantic partner or collegue.

The Best Xmas Hampers in 2022
This Christmas, why waste hours scouring the stores and searching online for perfect presents when you can take care of every family member in one easy location – at Australian Gourmet Gifts online boutique? Our beautiful gift baskets of gourmet excellence make ideal Christmas gift ideas for everyone on the list. Find family gifts, couple gifts and individual gifts in a wide range of assortments to suit both your style and budget. With complimentary professional gift wrapping and a personalised gift card, a Christmas hamper from Australian Gourmet Gifts ticks every gift-giving box.
For Mum and Dad
When it comes to gifting Mum and Dad, you simply can't go past a Christmas gift basket. Find a fantastic basket of champagne and bath salts for Mum and an indulgent gift box of whiskey and savoury snacks for Dad. Or, why not give them a beautiful bundle to share?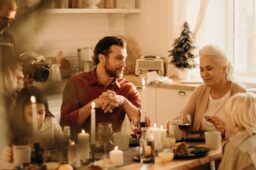 A specially curated selection of gourmet goodies for Mum and Dad to enjoy together is a memorable gift they are sure to appreciate. With a vast collection of fabulous nibbles and quality drinks included, there are plenty of exciting flavours they will both love. Finished off with gorgeous gift wrapping and a personalised card from you, this beautiful gift will no doubt make them feel special.
For Friends
Give them a holiday season gift that's a cause for celebration in itself. Impress your foodie friends, wine-buff friends, or sweet-tooth friends with an indulgent hamper for them to relax and enjoy. Featuring specialties like champagne, fine wine, craft beer, gourmet specialty snacks and sweet artisanal treats, these gorgeous hamper gifts are a party in a gift basket. And if you won't get to see friends in person, it's a perfect way to send your love. With free delivery Australia-wide, you can send your sentiments to friends in every state.
For Business Associates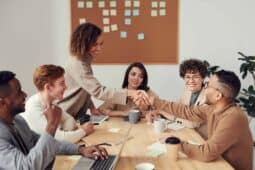 Never underestimate the Christmas gift for staff, colleagues and clients. The holiday gift is perfect for showing your thanks and making your associates feel valued. From individual staff gifts to large luxury gift baskets for clients, Australian Gourmet Gifts offers an exquisite range to suit your staff, corporate brand and budget. Plus, with free gift wrapping, personalisation and delivery, you will appear to have gone the extra mile.
For Neighbours
Show some neighbourly love this year with a Christmas gift hamper for friends in the neighbourhood. Whether it's the next-door neighbours of ten years or the new arrivals on the street, it's the perfect excuse to get to know those around you a little better. A fail-proof food hamper has everything needed to bring people together. With gourmet food, celebratory drinks, and plenty of sweet Christmas treats for the kids, a hamper gift is precisely what's needed for neighbours to get together and bond.
5 of The Best Christmas Hamper Ideas This Year
When choosing a hamper gift for the silly season, you can either go for a Christmas-themed collection or select a gift box suited to your recipient's taste. For group gifting, it's always a good idea to include a little something for everyone, but for individual gifts, you can be as specific as you like. From craft beer collections to vegan and gluten-free specialty packs, the Australian Gourmet Gifts online boutique has great gift ideas for all walks of life. Choose from favourites like:
Relax and Soothe Pamper Hamper – the relaxation gift we all want and need
The Gentleman's Hamper – a great gift designed for the gents
Gourmet Connoisseur Hamper – specialty nibbles for a holiday picnic
Penfolds 311 Chardonnay Extravagance Hamper – everything she wants for summer
Penfolds Baby Grange & Veuve Clicquot Hamper – get the celebrations started
Christmas Basket Ideas You Will Love
Ignite the spirit of Christmas with a festive-themed hamper full of the nostalgic flavours of the season. Break open a Christmas hamper amongst loved ones to enjoy the intoxicating scent of plum pudding steaming, the sweet trickle of brand sauce pouring, and the spicy crunch of gingerbread as its snaps on the tongue. Christmas hampers bring the season alive with celebratory drinks, a mix of old-school and modern treats and a wonderful excuse to celebrate. Get the party started with one of these on Christmas Eve:
Premium Gourmet Christmas Hamper – seasonal favourites you know and love
Premium Wine Christmas Hamper – Christmas goodies with vino to match
Penfolds 28 & French Sparkling Christmas Hamper – celebratory drops and festive delights
Modern Christmas Hampers
Plenty of hamper options feature popular modern foods if your recipient is not a fan of traditional Christmas flavours. If it's not their thing, we say skip the mince pies and Christmas pudding and focus on the gourmet goodies you know they will love. Give the gift you know they want, and let them enjoy the holidays to the fullest. For a contemporary take on Christmas, take a look at some of these suggestions:
Little Creatures Beer & Socks Hamper – for the perfect afternoon of relaxation
Penfolds Baby Grange & Moet Hamper – kick off the season in style
Gourmet Connoisseur Hamper – a foodie's day of delight
Single Malt Whisky Extravagance Hamper – a decadent gift for the distinguished man
Luxury Soothe Pamper Hamper – the gift of pure indulgence
For the sweet tooth
A gift basket of goodies under the Christmas tree is always a delight for someone who loves their sweetness. So why not make their Christmas Day with gifts of gourmet chocolate truffles, quality shortbread, artisanal fudge, and so much more! Selected from the finest gourmet producers across the country, all our sweet treats are Australian-made. Representing excellent quality and showcasing exquisite presentation, these beautiful little boxes make ideal Christmas presents for all your sweet-tooth friends. Products you're likely to come across in a Christmas hamper include;
Charlie's Melting Moments
Chocolatier Australia – Pure Delight Milk and Dark Assortment
Charlie's Traditional Australian Choc Chip Bites
Bramble & Hedge Raspberry Vanilla Bean Vegan Nougat
Crackle Dairy Free Salted Caramel Popcorn
Nomad Hot Chocolate – Bondi Blend
Random Harvest Assorted Fudge
For the wine lover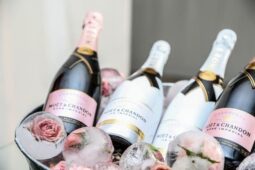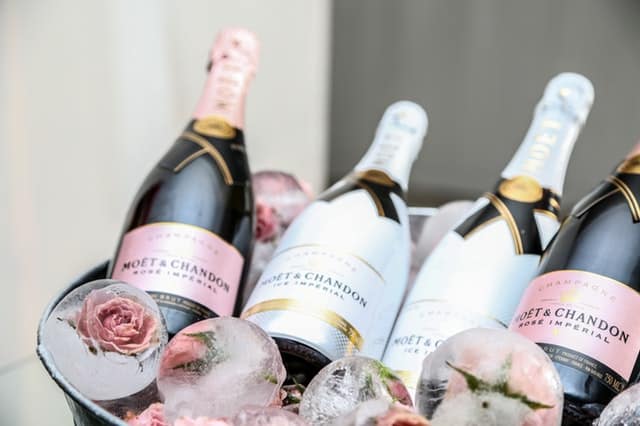 For those who love it, a wine hamper is always a perfect gift. Every drop is slightly different, and enjoying new flavours with loved ones is when you can make special memories together. Many great conversations happen over a bottle of wine and a few tasty nibbles to complement. That's why a wine gift from Australian Gourmet Gits makes the perfect Christmas present for your vino-loving friend.
Your present will surely be a hit with a fantastic collection of premium Australian drops. If you're not confident selecting wines, don't worry, our in-house sommelier has already done the work for you. Find a top-quality drop to suit your recipient's style and your budget.
If your recipient loves bubbles, consider a champagne or sparking-focused hamper. Featuring some of France's finest, a Champagne hamper lets your recipient know they are special. With renowned brands like Moet & Chandon and Veuve Clicquot, the luxury Christmas Hampers are sure to impress. If you need a more budget-friendly option, the sparkling wines from Bordeaux are exceptional.
Corporate hamper favourites
Celebratory hampers make excellent corporate gifts. Christmas time is a great opportunity to show your staff, clients and colleagues how much you value their time and efforts. With a beautiful gift basket full of quality gourmet products and special celebratory beverages, you let the staff know they deserve the best. Whether bringing a gift to break open as a group in the office or sending a gift home for staff to enjoy with their families, you will find perfect Christmas hamper ideas at Australian Gourmet Gifts:
Penfolds Cab Sauv Hamper – a premium quality gift to enjoy over the holidays
Moet Champagne Hamper – let your staff know they're worth it
Premium Beer & Wine Hamper – treasures to please the whole crowd
Penfolds Decadence Luxury Hamper – an office party in a gift box
Moet And Veuve Champagne Decadence Luxury Hamper – make an impression on the clients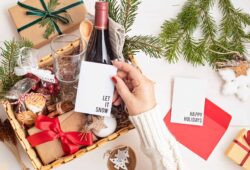 An essential part of corporate gifting is ensuring your gifts are professional and on brand. It's best to forget the homemade Christmas gifts and DIY wrapping and leave it to the gifting experts. Although we traditionally think of hampers in wicker baskets, the modern approach is a purpose-built professional box. Australian Gourmet Gift will beautifully box, wrap and personalise a card for each and every recipient. The sleek presentation and attention to detail will make a good impression on colleagues and clients.
Find the perfect Christmas gifts for all your family, friends and colleagues at Australian Gourmet Gifts. Browse the boutique for great gift ideas and tick off the whole recipient list in one easy transaction. With free gift wrapping, personalisation and delivery, it's the quickest, easiest and most well-received way to approach Christmas gifting this year.