Death by Easter Chocolate?
Can you ever really get tired of chocolate? Some (us included) would argue yes. While chocolate is a delicious easter treat, there are far more delicious goodies to endulge in, as long as you're okay with them not fitting in your easter egg.

There comes the point in life when you need to eat something more than chocolate over the Easter long weekend. Sure, we all love the creamy cocoa-scented delight of chocolate (and there's certainly nothing wrong with a little indulgence over the holidays), but there's more to Easter food than just chocolate bunnies.
That's why Australian Gourmet Gifts have assembled our Easter baskets with a balanced collection of Easter treats, including sweet, savoury, salty and refreshing. Don't worry; there are still plenty of decadent chocolatey treats for our purists – but we've also included savoury options, artisanal non-chocolate sweets, fine wine and bubbles (because let's face it, that's how some of us prefer to indulge!)
Indulge this Easter – but maintain a balance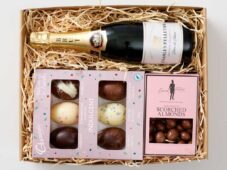 Our well-being is connected to a balanced lifestyle, one that includes a little indulgence now and then. And it certainly includes spending time with our loved ones over the holidays. Easter is the perfect opportunity to celebrate and unwind with your favourite nibbles and a nice beverage. If a sinfully rich Easter egg or hot cross bun is your thing, we say go for it! But if you prefer to spend Easter Sunday nibbling on olives and sipping on sparkling wine, then we say it's a perfect time of year to indulge those cravings. Treat yourself to a high-quality version of your favourite things, and there will be no room for regret.
Quality is everything
When you eat high-quality products, you don't need to eat as much to feel satisfied. And let's face it, most of the product delivered by the Easter Bunny isn't of the finest quality (and often close to expiry). With an Australian Gourmet Gifts hamper, you can feel confident that every product in your gift box has been hand-selected for outstanding quality, exceptional flavour, and exquisite packaging.
Featuring some of the most well-renowned names in Australian gourmet produce, your hamper contains only the best of the best. With names like Random Harvest, Charlie's Cookies, Chocolatier, Maggie Beer and Penfold's Estate, you know precisely the level of quality to expect. And, of course, nothing tastes as satisfying as the real thing.
Top easter hamper picks for this year
A gourmet gift hamper is the perfect collection of drinks and nibbles to take with you to a picnic, Sunday lunch or even the Easter camping trip. On public holidays when the supermarket is closed, you can still celebrate in style with luxurious gift packs, like:
Penfolds Cab Sauv Easter Hamper – a perfect gift for the family featuring premium red wine, gourmet nuts and a selection of sweet Easter treats
Luxury French Sparkling Easter Hamper – celebratory bubbles, nut mix, scorched almonds, fine chocolate eggs and the mandatory hot cross buns
Easter Extravagance Hamper – a deliciously extravagant collection of milk, white and dark chocolate eggs and gourmet Easter treats
Gourmet Extravagance Hamper – a bountiful gourmet hamper jam-packed with savoury products and sweet treats to suit every type of celebration
Gourmet Vegan & Gluten-Free Sensations Hamper – packed with the best quality specialty food products for all walks of life to enjoy
Moet And Veuve Champagne Decadence Luxury Hamper – a decadent corporate gift hamper to celebrate the start of the holidays
For the chocoholics
Whether you are a white chocolate, milk chocolate or dark chocolate fan, our chocolate Easter eggs from Chocolatier give you the perfect assortment of gourmet eggs for this Easter. With flavours that include hazelnut, strawberries & cream, marble, peanut brittle, cookies & cream and honeycomb crunch, you're in for genuine chocolate treat this year. What's more, the assortment of mini-eggs is perfect for an Easter egg hunt for the little ones.
Never underestimate the power of a chocolate gift. Mum will be thrilled with the Ernest Hillier Milk Chocolate Scorched Almonds, and Dad will dig into the Chocolate Melting Moments. Our vegan, dairy and gluten-free friends can indulge in a smooth, luxurious Nomad Drinking Chocolate and a selection of sweet gluten-free gifts. Kids will, of course, love the various cookies and chocolate eggs. And the whole family will enjoy the Chocolatier's individually wrapped Milk and Dark Assortment.
Hampers to make the day a little sweeter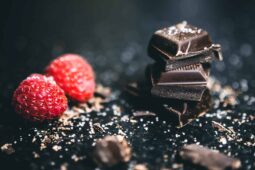 It's not all about chocolate, right? (Well, that might depend on who you ask). But the great thing about a gourmet hamper is there's something to suit all palates. With plenty of other sweet treats available in our various packs – like raspberry melting moments, gold flake honey, salted caramel popcorn, artisan fudge, gourmet jams or raspberry vanilla bean nougat – you can find a hamper with all kinds of sweetness to suit any recipient. You might even choose our chardonnay or champagne hampers to guarantee a little extra sweetness for the occasion.
Why hampers make ideal Easter treats
Easter is a time of renewal, feasting and sharing. But that doesn't mean we have to give in to the endless takeout meals and ice cream that only lead us back to the dietitian's office. Rather than bringing cupcakes or tarts to your Easter brunch, why not bring along some high-quality food options? Enjoy sharing fine food amongst loved ones with all the sweet and savoury treats of the season. Presented in a beautiful gift box, your contribution will be a thoughtful way to celebrate. Bring an Easter-themed hamper, or simply a hamper full of great flavours like:
Artisan crackers and gourmet spreads
Smoked olives and premium fruit & nut mix
Gourmet olive oils and vinegar
Gourmet relish, chutneys and jams
Tapenade, mustards & dips
Barossa wines & French champagnes
Alcohol-free sparkling and mixers
Quality hampers for every occasion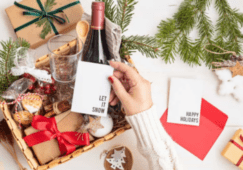 Every special occasion is the perfect excuse for a gorgeous gourmet hamper. Ranging from budget-friendly hampers to ultimate luxury packs, our quality gift hampers make the perfect addition to any celebration. From a housewarming gift to a birthday, Christmas or corporate gift, you can find a host of great ideas in the Australian Gourmet Gifts online boutique. Choose gift boxes that focus on fine wine, gourmet food, craft beer, champagne, relaxation pamper gifts or healthy alternatives and give your friends, family and colleagues something memorable to enjoy together.