Why gift hampers make great gifts for new parents
Celebrate their little bundle of joy with a special delivery of your own. Discover the top ten reasons why gift hampers make excellent gifts for new parents.

'Twas the night before Christmas…
Have you ever noticed how many babies are born in September? It makes you wonder just how much mistletoe must have been strung up last Christmas.
Unfortunately, first-time parents often feel anything but festive once they bring bub home from the hospital. They're overwhelmed, under-slept and over-stimulated by a constant stream of visitors.
So, why not give Mum and Dad the gift they really need? Put down those burp cloths. Return those booties. Hold the teddy bears. What new parents genuinely appreciate is a gourmet gift hamper!
And here's why:
1. Gift hampers are convenient for a new mum and dad
New parents constantly have visitors popping in to see the baby. And, of course, it's not the easiest time to entertain guests. That's when your gourmet gift hamper can play a starring role. Filled with a collection of premium beverages and ready-to-go gourmet nibbles, your hamper is the perfect gift for entertaining and sharing amongst loved ones.
When you deliver new parents a celebratory hamper, you bring not only a gift but also provide the party! Dad won't have to run off to the shops while mum juggles the newborn. Guests can enjoy delicious snacks and toast the new arrival right then and there with a glass of luxurious bubbles straight from your hamper gift.
2. Your gourmet gift offers a special touch
New parents will be incredibly touched to receive your beautiful gift hamper as an unexpected surprise on their doorstep. A high-quality pamper gift from Australian Gourmet Gifts is a hint of luxury offered when parents need it most. The exquisite packaging, beautiful ribbon and personalised card from you are sure to lift their spirits. Each of the gorgeously packaged products inside will feel like a thoughtful gift in itself.
3. You can choose something a little cheeky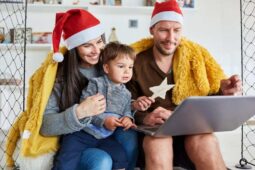 The new parents of a September baby probably indulged in a little Christmas cheer last year. Why not acknowledge their, ahem, gift-giving with a cheeky nod in the form of one of Australian Gourmet Gift's Christmas gift hampers? Put a smile on their face and wish them a belated Joyeux Noel!
4. It's a gift that bub won't grow out of
New parents receive plenty of clothing, toys and nursery gifts for their newborns. As kind as the gesture may be, those clothes will only fit for a brief time. New baby clothes, baby blankets and plush toys will soon become hand-me-downs. A gourmet gift box makes no apologies for being enjoyed right here and now – ideal for celebration and making memories right in the moment!
5. Gourmet Hampers are a gift just for them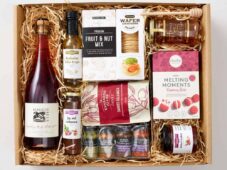 In the first weeks with a new baby, life goes by in a blur. Only after a couple of months, when bubs can finally sleep, Mum and Dad reclaim a little of their precious time. And that might just be the perfect moment for your gourmet gift to appear. As the onesies, bibs and soft toys are packed into the nursery, Mum and Dad will have the pleasure of unwrapping a gift just for them!
Invite them to catch their breath and enjoy some delicious treats to toast the exciting times ahead.
After all, It's worth celebrating the monumental life change the parents have gone through as well. Show them you understand with luxury food and wine goodies packaged in elegant gift hampers!
6. Gender-neutral hampers are perfect gifts
Whilst everyone else is out searching for the perfect baby girl or baby boy gift, keep it easy and bring the ultimate parent gift. A gender-neutral hamper is guaranteed to please the whole family. Mum and Dad will enjoy the wine and artisanal snacks, siblings and toddlers will love the sweet cookies and treats, and bubs will undoubtedly go straight for the ribbon and gift box.
7. New parent gift hampers are memorable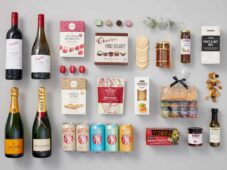 A memorable gift doesn't have to be a keepsake. It can be the memory of a wonderful afternoon had by all. One where you sip on fine wine and champagne gifts and snack on a grazing board of olives, nuts, gourmet spreads, artisanal chocolates and shortbread. Thanks to your great gift, mum and dad can enjoy a shared moment with friends, unwind and take a beautiful snap to remember it.
8. Baby shower gift baskets are unique
Why not bring something unique to the baby shower with a gourmet hamper from Australian Gourmet Gifts? Family members will take care of the little one with new baby gift boxes full of comforters, plush toys, and body wash. So why not take care of Mum and Dad with a gift that they truly deserve, like a celebratory feast fit for royalty?
9. Popular amongst all; our top baby hamper picks
Send your best wishes with a newborn baby gift basket. Select from a gorgeous range of customer favourites, including:
Luxury French Sparkling Hamper – an affordable celebration gift box featuring sparkling wine and sumptuous nibbles
The Opulence Pamper Hamper – a perfect way for Mum and Dad to relax and unwind with Moet champagne, scorched almonds and rose bath salts
Gourmet Extravagance hamper – a spectacular range of gourmet delights and an alcohol-free sparkling beverage (ideal for the baby shower)
Moet Extravagance Hamper – a crowd-pleasing selection fit for a magnificent welcoming
10. Unique gifts are the best gifts
Unique baby gifts are always the best kind. Amongst all the toys, clothes and paraphernalia, your gourmet gift will stand amongst the crowd. Show your love for the new parents with a gorgeous gift basket filled with everything they love most.
And with free delivery Australia-wide, you can send new baby hampers to friends in Sydney, Melbourne, Brisbane and beyond. Not only that, but with our online boutique full of great gift ideas for every occasion, you'll never have to chase after the perfect gift again. Find Christmas gifts, housewarming gifts, corporate gifts, birthday gifts or even a Father's Day gift, all from the comfort and convenience of home.
Browse the full range of deluxe gift hampers today at Australian Gourmet Gifts.