Customer Reviews
I highly recommend Australian Gourmet Gifts. We had to purchase a large number of hampers at late notice and Theo provided me with a fantastic level of customer service and with his assistance we were able to get the hampers ordered and delivered with plenty of notice. We will definitely be using Australian Gourmet Gifts again!
CAITLYN BARNETT - SASH (NSW)
I first contacted Theo last year when settlement was due for our latest development. We were sending baskets to each of the 65 owners who had purchased off the plan and were about to settle. As they were settling on different days Theo suggested I sent through a spread sheet which her would work off as I let him know when and to whom the baskets were to be sent.
MARIE - PRIME GROUP AUSTRALASIA (QLD)
CATHY WILLIAMS - LEWIS PRIOR (WA)
I would just like to take this opportunity to thank you for the hampers which we purchased from you for our clients at Christmas time.
The ordering was easy and you help with delivering our hampers to various offices around Australia made the whole process very smooth and stress free.
MICHELLE - FRANKLYN SCHOLAR (VIC)
We would recommend Australian Gourmet Gifts to all. We cannot advertise Australian Gourmet Gifts enough! Theo was extremely helpful and went above and beyond expectations, delivering beautifully presented hampers, full of divine products. Theo was wonderful to deal with and I am sure we will order again in the future.
SHARON - ENI AUSTRALIA LIMITED (WA)
Just a brief note to say a big thank you for the fantastic Xmas hamper we received today. It is without doubt the best we have ever received.
We are all very appreciative and as you would imagine the girls have already started eating the chocolates.
Thanks again
HEATHER - PROSPER WEALTH SOLUTIONS (NSW)
Just a short note to say thank you to you and the team at Australian Gourmet Gifts for the professional hampers you provide to our firm at Christmas. In previous years we have looked to provide a hamper to our valued clients and this has usually meant someone from our office having the task of shopping and putting together an appropriate gift…
BRUCE - PWA FINANCIAL GROUP (QLD)
We were looking online for a Hamper Company and came across Australian Gourmet Gifts. I liked the variety of the different hampers they had on offer and so I contacted them. From the moment of contact, I couldn't have asked for better service, Theo made everything so easy and was able to accommodate what we wanted for the three hundred hampers...
NIMALI - E2O PTY LTD (SA)
Find the most popular pamper hampers in Sydney
Everyone enjoys being pampered with premium drinks, goodies and gifts. Australian Gourmet Gifts is the go-to online purchasing and delivery service for foodie hampers that are packed full of surprises. Here are some of our most popular gift hamper ideas.
Gourmet Connoisseur Hamper – the foodies choice
Gourmet Sensations Hamper – premium treats for an affordable price
Moet Champagne Hamper – celebrate in style
Penfolds 311 Chardonnay Extravagance Hamper – for gourmet food lovers
7 Star Executive Luxury Hamper – indulge in premium taste sensations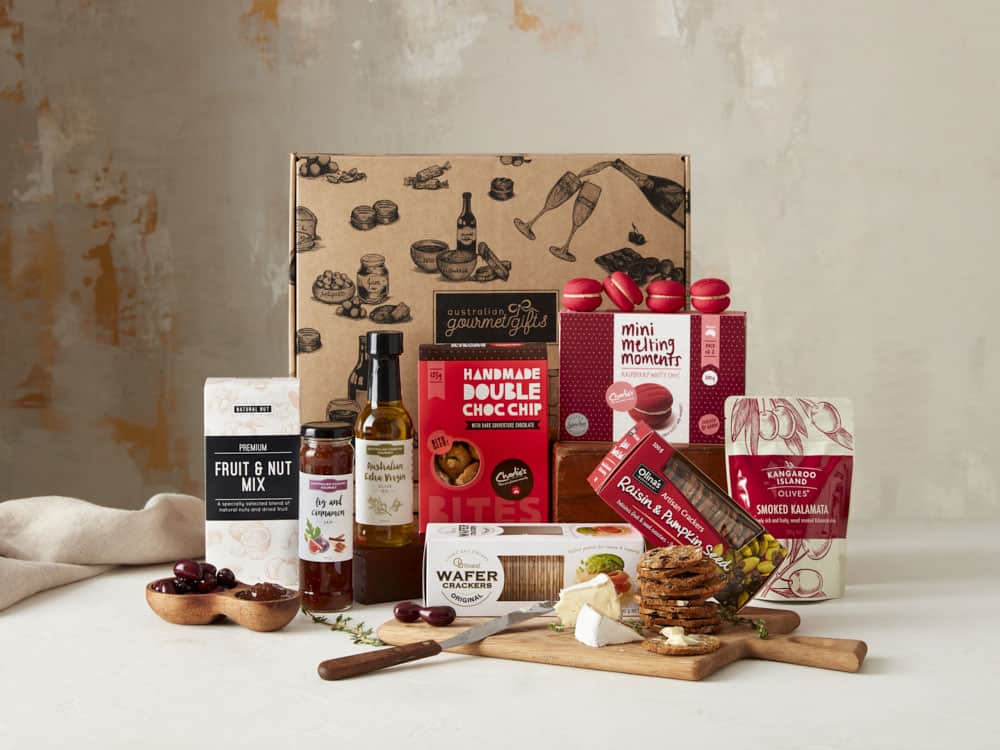 Looking for a gift idea? Browse our large range of pamper hampers
Sydney is a city worth celebrating with pamper hamper gift surprises. We also understand that Australia is a big country and your friends and loved ones may live far away. Australian Gourmet Gifts for her or him include pamper gift hampers for your special someone in Sydney, Melbourne, Brisbane, Adelaide, Perth and all other Australian locations. Explore our specially selected hampers that include dozens of delicious sweets and nibbles and set your taste buds free. Our gift box goodies include:
Serious Food Co Cookies Chewy Choc Chip
Mary's Gone Crackers Real Thins
Charlie's Plant-Powered Fig and Cranberry Artisan Cookie
Kangaroo Island – Smoked Kalamata Olives
Australian Country Gourmet – Extra Virgin Olive Oil
Pamper packs full of luxury and quality products
Gift hampers traditionally include no-name body wash, hand cream and skincare products. Times have changed, and Australian Gourmet Gifts luxury pamper hampers are designed for all kinds of special occasions. Explore our best-selling hampers that include famous brands such as Moet & Chandon, Penfolds, and James Squire, to name a few, all specially packed for next day delivery just for you. Our beautiful gifts include:
Gourmet Extravagance Hamper – a favourite food hamper Australia-wide
James Squire Beer Hamper – for the craft beer aficionado
Penfolds 28 Shiraz Extravagance Hamper – premium shiraz and gourmet food hamper
The perfect Mother's Day gift this year
Nothing beats the delighted expression on mum's face when she opens the door to a special delivery gift box surprise. We take Mother's Day to the next level of enjoyment with a champagne gift, white wine gift or red wine gift that can include chocolates, nibbles, condiments and special gifts.
Actually, why stop at Mother's Day – our beautifully gift wrapped boxes are a great choice for:
Christmas gifts
Birthday gifts
Valentine's Day
Father's Day
Easter
New baby gifts
Corporate gifts
Whatever the occasion, the choices are all yours at Australian Gourmet gifts.
Large range of pamper hampers with Australian made products
Australians are understandably proud of their gourmet food and wine, and Sydney is an international destination city where the finer things in life are celebrated. Along with premium wines, craft beer, spirits and no-alcoholic beverages, we stock our pamper hampers with highest quality Australian made nibbles. Here are a few more mouth-watering surprises and special gifts to discover in your hamper.
Olina's Artisan Raisin & Pumpkin Seed
Charlie's Raspberry Bliss Mini Melting Moments
Ogilvie Fine Foods – Roast Beetroot & Balsamic Relish
Ogilvie Fine Foods – Honey with Gold Flakes with Dipper
The Natural Nut Company – Elite Fruit & Nuts Mix 120g (No Peanuts)
Christmas pamper hampers to help you celebrate the festive season
Sydney showcases summertime Christmas like no other city. The festive season continues for months, with special occasions and festivals worth celebrating in the best way possible. Here are a few of our outstanding Christmas gift ideas.
Premium Gourmet Christmas Hamper – get the festive season started in style
Wine Indulgence Hamper – maximum enjoyment with every sip
Penfolds Baby Grange & Moet Hamper – next level gift basket for Christmas
Relaxation pamper hampers delivered Australia wide
Take the stress out of shopping for the perfect gift with Australian Gourmet Gifts. We do the heavy lifting for you and partner with Australia Post to deliver your special pamper hamper anywhere in Australia, with free delivery included. We dispatch same day for orders taken before 11am EST, making last minute gift ideas a very real possibility.
For some remote and regional locations we charge a small $9.95 delivery fee to cover postal costs. At Australian Gourmet Gifts, we keep costs down so you get maximum value for your spending dollar.
Pamper hamper gifts for mum
Sydney is Australia's glitz and glamour capital. It takes a special gift to impress, and Australian Gourmet Gifts has everything your mum could dream of, all gifts wrapped in a special box delivered directly to the door. Your pamper hamper gift for mum should be super special, such as a chocolate hamper, savoury & chocolate hamper, or our very popular Maggie Beer Sparkling Ruby Hamper. It doesn't get any better than this, with many of our most popular pamper hampers available for under $100.
Quality gift hampers beautifully presented in a gift box
Our Sydney customers love our wine & beer hampers, craft beer hampers, and corporate hampers especially designed to satisfy staff, clients, and colleagues. Gift delivery is a fun way to surprise and delight anyone, particularly if the premium drinks are accompanied by specialty chocolates. That's why we include premium chocolates from iconic Australian brands in our beautifully presented gift boxes. Enjoy the sweet decadent taste sensation of a personalised gift hamper with:
Chocolatier Australia – Gold Mixed Selection
Charlie's Traditional Australian Choc Chip Bites
Charlie's Cookies & Cream Mini Melting Moments
Serious Food Co Cookies Popcorn Dark Chocolate Drizzle
Charlie's Plant-Powered Dark Chocolate Chip Artisan Cookie
Personalise your hamper
Our Sydney and NSW customers love hamper selections that have a real wow-factor. Australian Gourmet Gifts offers you gifts that are too yummy to resist at prices regular Australians can afford. You can even personalise your pamper hamper gift box with a special gift card message at no additional cost.
If you have a lot of pamper hamper gifts to give, we will work with you to organise a spreadsheet and delivery timetable so every one of your gift recipients receives their gift on time and ready to enjoy. It doesn't get any better than that.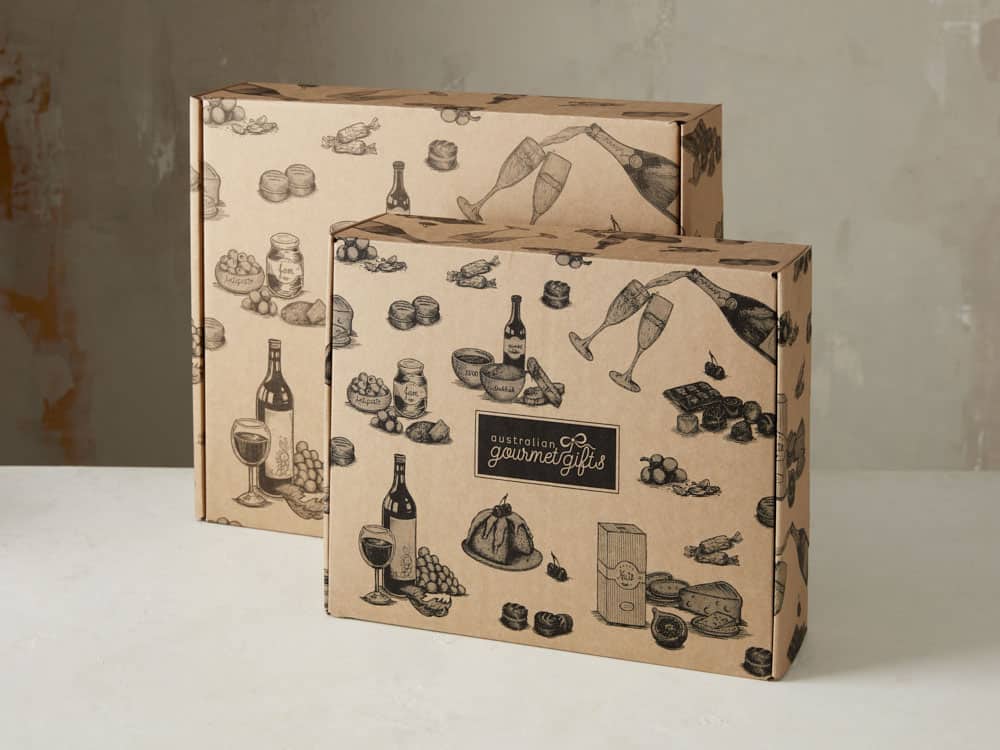 Brands we love and trust
Quality matters when it comes to gift giving in Sydney. That's why Australian Gourmet Gifts partners with highly regarded Australian and international producers. Enjoy luxury hamper gift giving like no other from brands our customers love and trust. If fine wine, craft beer, chocolates and other irresistible treats are what your special someone likes, look no further than gift baskets from Australian Gourmet Gifts.
Buying you pamper hamper online at Australian Gourmet Gifts
We are your one-stop-shop for all pamper hamper ideas, with the entire purchasing and delivery service available online from the comfort of your own home. Simply add favourite hampers to your shopping cart and proceed to checkout for convenient payment options and delivery directly to the door. We have reinvented no-hassle shopping at Australian Gourmet Gifts.
FAQ's
What are some items which are popular to put in a pamper hamper?
Think premium red wine, white wine & champagne hampers for starters. Add delicious nibbles, sweet treats and special gifts to the equation, and your personalised gift basket will become irresistible for any special occasion.
What are the different types of pamper hampers available?
The impressive Australian Gourmet Gifts collection of favourites include:
Christmas Hampers
Birthday Hampers
Corporate Hampers
Housewarming Gift & Hamper
What is the price range for a pamper hamper?
Our prices range from very affordable hampers under $100 to our huge 7 Star Executive Luxury Hamper for a little over $350. Style it your way with Australian Gourmet Gifts.
What are some of the different styles of hampers?
You can choose to focus on premium wines, chocolates, nibbles, gifts, craft beer, spirits and more. Choose a pamper hamper just for you and your loved ones, courtesy of Australian Gourmet Gifts.