Customer Reviews
I highly recommend Australian Gourmet Gifts. We had to purchase a large number of hampers at late notice and Theo provided me with a fantastic level of customer service and with his assistance we were able to get the hampers ordered and delivered with plenty of notice. We will definitely be using Australian Gourmet Gifts again!
CAITLYN BARNETT - SASH (NSW)
I first contacted Theo last year when settlement was due for our latest development. We were sending baskets to each of the 65 owners who had purchased off the plan and were about to settle. As they were settling on different days Theo suggested I sent through a spread sheet which her would work off as I let him know when and to whom the baskets were to be sent.
MARIE - PRIME GROUP AUSTRALASIA (QLD)
CATHY WILLIAMS - LEWIS PRIOR (WA)
I would just like to take this opportunity to thank you for the hampers which we purchased from you for our clients at Christmas time.
The ordering was easy and you help with delivering our hampers to various offices around Australia made the whole process very smooth and stress free.
MICHELLE - FRANKLYN SCHOLAR (VIC)
We would recommend Australian Gourmet Gifts to all. We cannot advertise Australian Gourmet Gifts enough! Theo was extremely helpful and went above and beyond expectations, delivering beautifully presented hampers, full of divine products. Theo was wonderful to deal with and I am sure we will order again in the future.
SHARON - ENI AUSTRALIA LIMITED (WA)
Just a brief note to say a big thank you for the fantastic Xmas hamper we received today. It is without doubt the best we have ever received.
We are all very appreciative and as you would imagine the girls have already started eating the chocolates.
Thanks again
HEATHER - PROSPER WEALTH SOLUTIONS (NSW)
Just a short note to say thank you to you and the team at Australian Gourmet Gifts for the professional hampers you provide to our firm at Christmas. In previous years we have looked to provide a hamper to our valued clients and this has usually meant someone from our office having the task of shopping and putting together an appropriate gift…
BRUCE - PWA FINANCIAL GROUP (QLD)
We were looking online for a Hamper Company and came across Australian Gourmet Gifts. I liked the variety of the different hampers they had on offer and so I contacted them. From the moment of contact, I couldn't have asked for better service, Theo made everything so easy and was able to accommodate what we wanted for the three hundred hampers...
NIMALI - E2O PTY LTD (SA)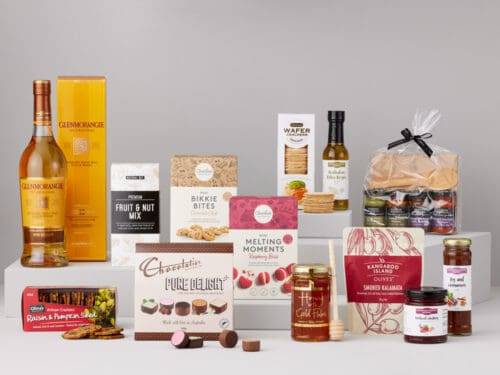 Popular Christmas Hampers in Canberra
Canberra's culinary scene is thriving, and there's nothing we locals love more than good food. Sharing gourmet delicacies amongst family and friends is the best way to make new memories and spend time together. That's why you can't go wrong with a Christmas hamper gift. Filled with the flavours of the festive season, plus a variety of tasty beverages, these fantastic gourmet gift boxes are the best way to bond. Canberran's go wild for these popular selections:
Premium Wine Christmas Hamper – festive delights and fine Barossa wines
Penfolds 28 & French Sparkling Christmas Hamper – Christmas treats, red wine and beautiful bubbles
Maggie Beer Sparkling Ruby Hamper – a festive drink (alcohol-free) and delectable snacks
Moet Extravagance Hamper – classic champagne and exquisite nibbles
Favourite winter warmer hampers
When the mercury drops, we all crave a little extra nourishment. That's when a warming gift pack of delicious winter treats is something truly divine. A red wine, whiskey or chocolate hamper will hit the mark during the frosty months. Or an indulgent pamper gift full of everything you need for a hot bath and relaxing sleep. Popular winter warmer packs include:
Barossa Shiraz Hamper – warm up with a hearty Barossa shiraz
Relax and Soothe Pamper Hamper – take a bath and relax with a wheat bag
Single Malt Whisky Extravagance Hamper – savour the warmth of a top Scottish whiskey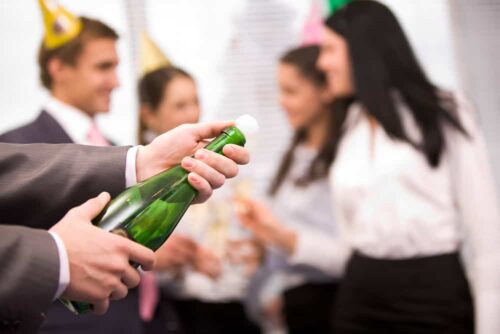 Spread the Christmas Cheer! Free gift delivery in Canberra and Australia wide
Save on expensive shipping fees and shop with Australian Gourmet Gifts this holiday season. With free gift delivery Australia-wide, you can spread the Christmas cheer far and wide. Shop for friends, family and colleagues across the country without worrying about additional fees at checkout.
Free hamper delivery Australia-wide
Order before 11 am for same-day dispatch*
Orders placed after 11 am will be dispatched the following day
Next-day delivery is typical for the ACT, Sydney, Melbourne and other metro areas*
*The busy Christmas period can cause unavoidable delays. Therefore, we urge all customers to order a few days earlier to ensure on-time delivery for Christmas.
Christmas Gift Baskets make the perfect corporate gift for clients and staff
Australia is a nation of foodies, and we love to expand our palates. So, give your colleagues, clients and staff the gift you know they'll appreciate. A gourmet flavour basket is guaranteed to impress. Break out the sparkling, champagne, wine, beer and tasty gourmet nibbles. It's a sure-fire way to kick-start the festivities!
Premium Gourmet Christmas Hamper – an affordable food-focused gift box to thank your staff
Barossa Red & White Wine Hamper – a treat for colleagues to enjoy over summer
7 Star Executive Luxury Hamper – perfect for breaking open and celebrating in the office
Penfolds Baby Grange & Moet Hamper – share your sentiments with important clients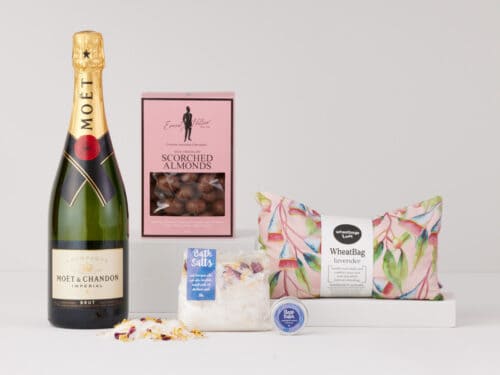 Top Christmas Hamper picks this season
Need some great gift ideas this Christmas? We've got you covered. At Australian Gourmet Gifts, we've done all the brainstorming for you and assembled perfect packs for every recipient (even that notoriously hard-to-buy-for relative). Explore the online boutique for top gifting inspiration:
Little Creatures Beer & Socks Hamper – all he wants for Christmas
Gourmet Sensations Hamper – you can't go wrong with picnic hampers
Opulence Pamper Hamper – everything she needs for a bit of me-time
Gourmet Vegan & Gluten-Free Sensations Hamper – a specialty gift to suit their lifestyle
Moet Champagne Hamper – bouquets are lovely, but champagne is better!
If you have multiple staff to buy for and don't know where to start, we can help you. Place a bulk order with Australian Gourmet Gifts, and we'll send gifts to all your colleagues, clients and staff across Australia. What's more, we can personalise every package with your Christmas message. Enjoy free delivery to homes and offices in ACT, NSW, VIC and across the country.
Hampers with sweet treats that everyone will love
If there's one time of year to give in to sweet cravings, it's Christmas. So treat your sweet-toothed friends to the indulgence they've been waiting for, like pudding, brandy sauce, gingerbread, jams, honey, cookies, melting moments, chocolate truffles, nougat and more.
Full of Australian-made products
With so much great produce right here on our doorstep, there's little reason to look elsewhere. Australian-made is the company's cornerstone, and we're thrilled to load our gift baskets full of the best Australia has to offer. We've scoured the country to bring you some of the best local brands renowned for premium taste, quality and presentation.
Beautifully presented in a gift box with a personalised card
Australian Gourmet Gifts take care of all the finishing touches to make your gift extra special. All gift hampers come artfully packed in a beautiful gift box and wrapped in grosgrain ribbon. To top it off, we attach a quality greeting card with your personalised message.
Brands we know and trust
Australian Gourmet Gifts has partnered with some of the best gourmet food brands in the business so that you know exactly what you're buying. With names like these, you can feel confident knowing what to expect:
Penfold's Estate
Ogilvie Fine Foods
Maggie Beer
Moet & Chandon
Random Harvest
Charlie's Cookies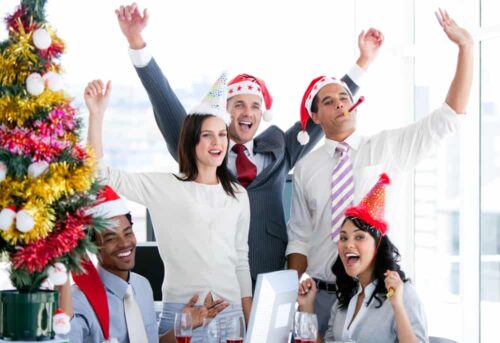 Buying your Christmas Hamper online at Australian Gourmet Gifts
Christmas gift shopping is a breeze with Australian Gourmet Gifts. Choose from an extensive range of perfect gifts crafted with every recipient in mind. Shop for family, friends and all your work associates, and take advantage of nationwide free delivery services to send your gifts direct.
Choose your favourite goodies from a vast collection
Use the convenient payment options
Leave your special message for the recipient at checkout
Relax and enjoy the festivities!
FAQ
What products are included in a Christmas Hamper?
Christmas hampers contain many nostalgic treats like pudding, brandy sauce, gingerbread, and popular gourmet sweet and savoury snacks. Drinks include festive bubbles, red and white wine, beer, whiskey, and more.
Where can you order Christmas Hampers online in Canberra?
Australian Gourmet Gifts has a top selection of Christmas hampers available to purchase online. Send a beautifully packed, wrapped and personalised hamper gift to all your loved ones across Australia with our free delivery offer.