Customer Reviews
I highly recommend Australian Gourmet Gifts. We had to purchase a large number of hampers at late notice and Theo provided me with a fantastic level of customer service and with his assistance we were able to get the hampers ordered and delivered with plenty of notice. We will definitely be using Australian Gourmet Gifts again!
CAITLYN BARNETT - SASH (NSW)
I first contacted Theo last year when settlement was due for our latest development. We were sending baskets to each of the 65 owners who had purchased off the plan and were about to settle. As they were settling on different days Theo suggested I sent through a spread sheet which her would work off as I let him know when and to whom the baskets were to be sent.
MARIE - PRIME GROUP AUSTRALASIA (QLD)
CATHY WILLIAMS - LEWIS PRIOR (WA)
I would just like to take this opportunity to thank you for the hampers which we purchased from you for our clients at Christmas time.
The ordering was easy and you help with delivering our hampers to various offices around Australia made the whole process very smooth and stress free.
MICHELLE - FRANKLYN SCHOLAR (VIC)
We would recommend Australian Gourmet Gifts to all. We cannot advertise Australian Gourmet Gifts enough! Theo was extremely helpful and went above and beyond expectations, delivering beautifully presented hampers, full of divine products. Theo was wonderful to deal with and I am sure we will order again in the future.
SHARON - ENI AUSTRALIA LIMITED (WA)
Just a brief note to say a big thank you for the fantastic Xmas hamper we received today. It is without doubt the best we have ever received.
We are all very appreciative and as you would imagine the girls have already started eating the chocolates.
Thanks again
HEATHER - PROSPER WEALTH SOLUTIONS (NSW)
Just a short note to say thank you to you and the team at Australian Gourmet Gifts for the professional hampers you provide to our firm at Christmas. In previous years we have looked to provide a hamper to our valued clients and this has usually meant someone from our office having the task of shopping and putting together an appropriate gift…
BRUCE - PWA FINANCIAL GROUP (QLD)
We were looking online for a Hamper Company and came across Australian Gourmet Gifts. I liked the variety of the different hampers they had on offer and so I contacted them. From the moment of contact, I couldn't have asked for better service, Theo made everything so easy and was able to accommodate what we wanted for the three hundred hampers...
NIMALI - E2O PTY LTD (SA)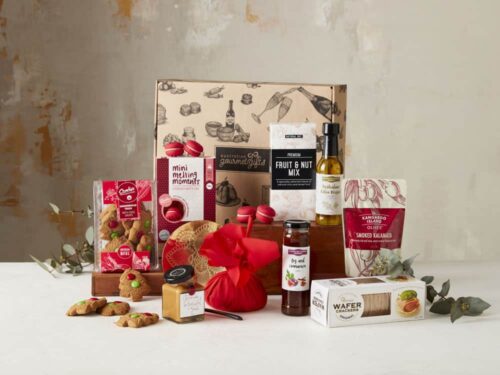 Bring on the Christmas cheer with family Christmas hampers
The festive season is all about spending time with our beloved and splurging on the things we love most. Break open a sumptuous gourmet hamper full of seasonal treats for a moment to be remembered with the family. Better yet, pop one of these Christmas gift hampers beneath the tree and watch their eyes light up with anticipation:
Premium Gourmet Christmas Hamper- Gingerbread, plum pudding, brandy sauce, fig jam and more
Gourmet Sensations Hamper- Melting moments, Choc chip cookies and sumptuous savoury snacks
Penfolds 28 & French Sparkling Christmas Hamper-Pudding & sauce, cookies, mouth-watering Shiraz and French sparkling
Find the perfect family gift hamper for the festive season
The perfect Christmas hamper contains a little bit for everyone; treats for the kids, a selection of gourmet food and maybe a nice beverage for Mum and Dad. Food hampers are a lovely way to celebrate and get into the spirit of things. Indulge in Christmas pudding, gingerbread, sweet and savoury snacks and wine. With a range of Christmas hampers designed to please the whole team, this precious gift is something to enjoy sharing:
Gourmet Extravagance Hamper- A decadent selection of sweet & savoury, perfect for a family of foodies
Gourmet Connoisseur Hamper- A collection of artisanal nibbles for the family of connoisseurs
Premium Wine Christmas Hamper- Plenty of treats for the kids (plus red wine and white wine for adults!)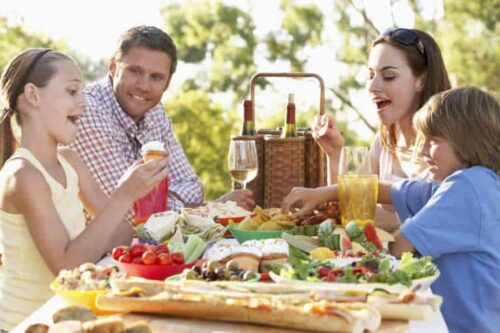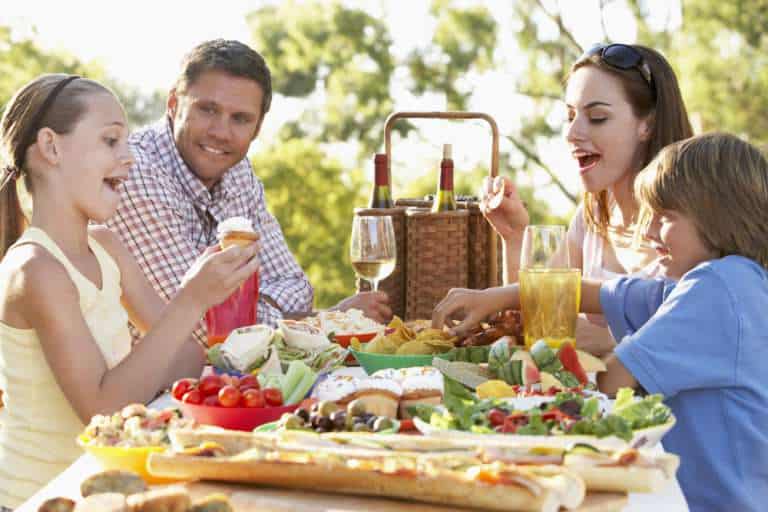 Christmas ideas for your family
Gourmet nibbles and quality beverages are the Christmas gifts we all love to receive. At Australian Gourmet Gifts, you can shop for Christmas presents for everyone on the list. Whether you are purchasing for the whole family or just an individual, we have the perfect gift to make them smile:
The Gentleman's Hamper- Everything Dad wants for Christmas
Relax and Soothe Pamper Hamper- Everything Mum wants for Christmas
Penfolds 28 Shiraz Extravagance Hamper- Loads of treats for the kids and the adults
Gourmet Vegan & Gluten-Free Sensations Hamper- The best specialty products that families will love
Kid-friendly Australian-made treats featured in Xmas hampers
At Australian Gourmet Gifts, we love nothing more than top-quality Australian-made food products. That's why our Christmas hampers are bursting with delicious Aussie-made treats that both you and the kids will love. To impress the little ones, we've selected special sweet nibbles from across the country:
Charlie's Gingerbread Christmas Trees with Choc Drops
Nomad Drinking Chocolate – Bondi Blend
Charlie's Raspberry Bliss Mini Melting Moments
Crackle Dairy-Free Salted Caramel Popcorn
Charlie's Traditional Australian Choc Chip Bites
Family-friendly gift hampers the kids will love
The kids will love tearing off the ribbon and rummaging through a gift box of goodies to choose their favourites. Let them unwrap the pudding, and set up some of the cookies for Santa. Use the savoury nibbles to make a special snack board to enjoy while opening presents.
Chocolate gift hampers for the sweet tooths
Christmas time is the time for chocolate! Please any sweet-toothed family with these high-quality chocolate hampers full of nostalgic Australian flavours. You're chocolate-loving family will have a ball sharing these sweet goodies:
Chocolatier Australia – Gold Mixed Selection
Ernest Hillier Milk Chocolate Scorched Almonds
Nomad Drinking Chocolate
Charlie's Cookies & Cream Mini Melting Moments
Charlie's Plant-Powered Dark Chocolate Chip Artisan Cookie
Australian Christmas hampers for Families
There's never been a better time to support local Australian business. That's why at Australian Gourmet Gifts, we're proud to pack our Christmas gift baskets full of locally sourced gourmet specialties and fine wines. We've selected the best of the best from around the nation to bring you a bundle of gasp-worthy gifts. Aussie favourites you might come across include:
Smoked Kalamata Olives
Australian Country Gourmet – Extra Virgin Olive Oil
Traditional Foods – Steamed Christmas Pudding
Ogilvie Butterscotch & Brandy Sauce
Maggie Beer Sparkling Ruby Cabernet
Penfolds Bin 389 Cabernet Shiraz
Free delivery Australia-wide on all Family Christmas Hampers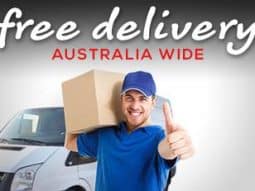 At Christmas time, we all need to stretch our funds as far as possible. At Australian Gourmet Gifts, we want you to spend your hard-earned dollars on your loved ones, not expensive shipping fees. That's why we are thrilled to offer free delivery Australia-wide – so that you can spend your money where it counts:
Free delivery Australia-wide
Delivered to recipient's doorstep in just a few days*
Professionally boxed and wrapped in grosgrain ribbon
Personalised greeting card attached (simply leave your message at the checkout)
Next-day delivery is typical in Melbourne, Perth, Sydney, Brisbane and Adelaide metro*
*Although delivery is usually only a couple of days, we urge customers to order a little earlier during the busy Christmas period as there can be delivery delays that are beyond our control.
Brands we know and trust
Shopping online can often be a guessing game, and we're often not sure what level of quality to expect. That's why we have partnered with some of the top-name award-winning gourmet brands that Australians know and trust. Renowned for quality products, you can feel rest assured knowing that your special gift contains these names:
Penfold's Estate
Ogilvy Fine Foods
Charlie's Cookies
Moet & Chandon
Random Harvest
Australian Country Gourmet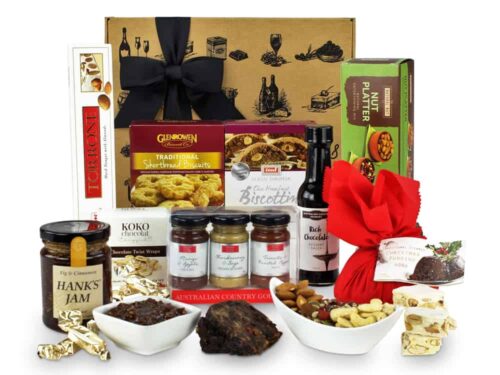 Buy your family Christmas Hamper online at Australian Gourmet Gifts
Christmas shopping just became a whole lot easier thanks to our online shopping portal. You can shop for everyone at once with an extensive range of hamper ideas to suit all your family, friends and colleagues. Not only that, Australian Gourmet Gifts will pack and wrap your gift beautifully, personalise a greeting card and deliver it to each recipient's doorstep.
Family Christmas hampers- packed full of happiness for the whole family
Budget-friendly Christmas hampers – fabulous gifts for under $100
Corporate Christmas hampers- top corporate gifts your colleagues will remember
Luxury Christmas Hampers- deluxe assortments to let them indulge
Once you've tried the online service, you'll never look back. Thankfully, we have an extensive range of gifts for every special occasion. Browse a beautiful collection of gift ideas for:
Mother's Day-make her feel special with a pamper hamper or wine gift
Father's Day- try a luxurious whiskey or red wine hamper
Birthday Gifts- fabulous birthday gifts, from affordable to deluxe
Housewarming Gifts- plenty of packs to get the party started
Host/Hostess gifts- a collection of hampers designed to say thanks
FAQ's:
What makes a good family Christmas Hamper?
A good family Christmas hamper should have a little bit of something for everyone. Each item in the box should feel like a little gift in itself. Enjoy opening, sharing and swapping amongst the family.
Where can you buy a family Christmas Hamper online?
The Australian Gourmet Gifts online boutique is brimming with delightful family Christmas hampers and thoughtful gifts. Browse the best Christmas hampers and get inspired. It's the easiest way to get your Christmas shopping done from the comfort of home.