Customer Reviews
I highly recommend Australian Gourmet Gifts. We had to purchase a large number of hampers at late notice and Theo provided me with a fantastic level of customer service and with his assistance we were able to get the hampers ordered and delivered with plenty of notice. We will definitely be using Australian Gourmet Gifts again!
CAITLYN BARNETT - SASH (NSW)
I first contacted Theo last year when settlement was due for our latest development. We were sending baskets to each of the 65 owners who had purchased off the plan and were about to settle. As they were settling on different days Theo suggested I sent through a spread sheet which her would work off as I let him know when and to whom the baskets were to be sent.
MARIE - PRIME GROUP AUSTRALASIA (QLD)
CATHY WILLIAMS - LEWIS PRIOR (WA)
I would just like to take this opportunity to thank you for the hampers which we purchased from you for our clients at Christmas time.
The ordering was easy and you help with delivering our hampers to various offices around Australia made the whole process very smooth and stress free.
MICHELLE - FRANKLYN SCHOLAR (VIC)
We would recommend Australian Gourmet Gifts to all. We cannot advertise Australian Gourmet Gifts enough! Theo was extremely helpful and went above and beyond expectations, delivering beautifully presented hampers, full of divine products. Theo was wonderful to deal with and I am sure we will order again in the future.
SHARON - ENI AUSTRALIA LIMITED (WA)
Just a brief note to say a big thank you for the fantastic Xmas hamper we received today. It is without doubt the best we have ever received.
We are all very appreciative and as you would imagine the girls have already started eating the chocolates.
Thanks again
HEATHER - PROSPER WEALTH SOLUTIONS (NSW)
Just a short note to say thank you to you and the team at Australian Gourmet Gifts for the professional hampers you provide to our firm at Christmas. In previous years we have looked to provide a hamper to our valued clients and this has usually meant someone from our office having the task of shopping and putting together an appropriate gift…
BRUCE - PWA FINANCIAL GROUP (QLD)
We were looking online for a Hamper Company and came across Australian Gourmet Gifts. I liked the variety of the different hampers they had on offer and so I contacted them. From the moment of contact, I couldn't have asked for better service, Theo made everything so easy and was able to accommodate what we wanted for the three hundred hampers...
NIMALI - E2O PTY LTD (SA)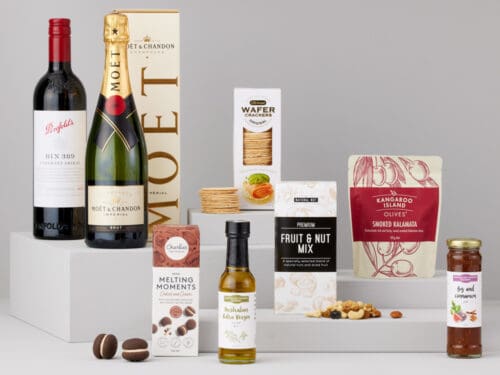 Popular Christmas gift hampers to share with loved ones
Our shared moments together create precious memories. That's what makes Christmas gift hampers so special. Opened amongst loved ones, lavish gifts of festive food, fine beverages and opulent pamper products encourage us to take a moment and enjoy. Share a beautiful gift experience as you toast, nibble and sip together with the help of some festive favourites:
Premium Gourmet Christmas Hamper – pudding & sauce, gingerbread and mouth-watering nibbles
Penfolds 28 & French Sparkling Christmas Hamper – two fine festive drops to enjoy with the Christmas pudding
Penfolds Baby Grange & Moet Hamper – celebrate in style with luxurious drinks and specialty snacks
Top savoury hampers for serious foodies
Foodie friends will love tucking into a gourmet hamper full of savoury snacks. Designed to pair beautifully with beer and wine hampers, these smashing savoury nibbles represent some of Australia's finest gourmet food brands. So pile them up with a cheeseboard and enjoy!
Kangaroo Island – Smoked Kalamata Olives
The Natural Nut Company – Elite Fruit & Nuts Mix
Australian Country Gourmet – Extra Virgin Olive Oil
Olina's Artisan Raisin & Pumpkin Seed Crackers
Drunken Sailor – Smokey Tomato Relish
Random Harvest Gourmet – Entertaining Cheeseboard Pack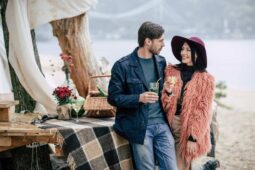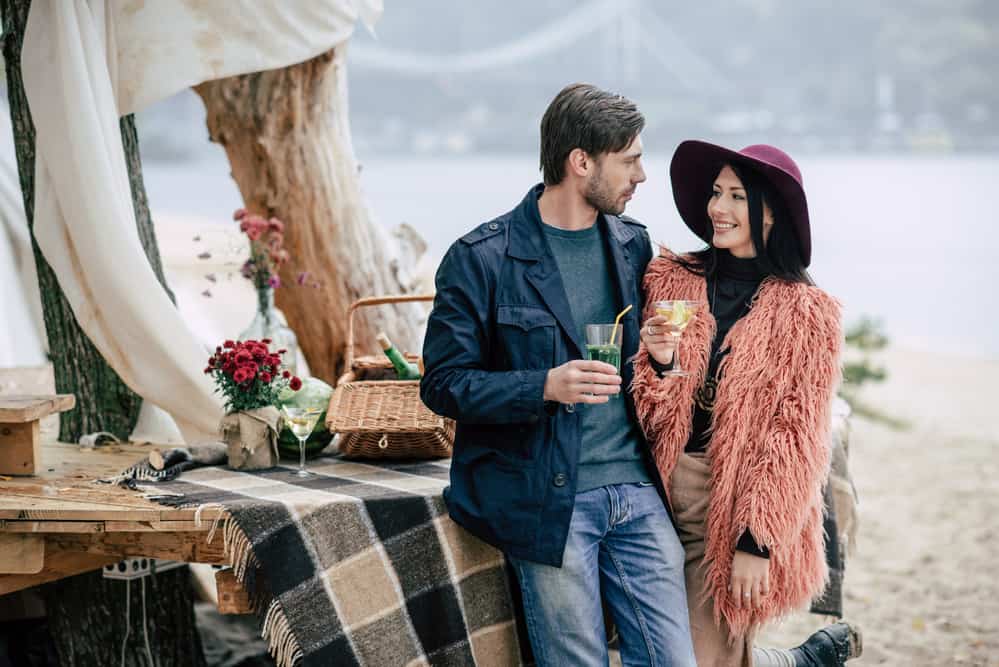 Deluxe gift hampers for couples
What better present to give a couple than a luxury hamper to share? A bottle of champagne, sweet and savoury specialties and indulgent desserts are the makings of a fabulous evening. Select pamper hampers, food hampers or chocolate hampers for a memorable gift they will surely appreciate.
Hampers for couples featuring top gourmet products
At Australian Gourmet Gifts, we've hand-selected every product to feature in our gift box assortments. Hampers for couples are full of exciting products that they will adore opening together. Moet & Chandon champagne, Penfolds red wine and white wine, Charlie's Melting Moments, Chocolatier Gold mix selection, Wheatbags Love Bath Salts, and so much more.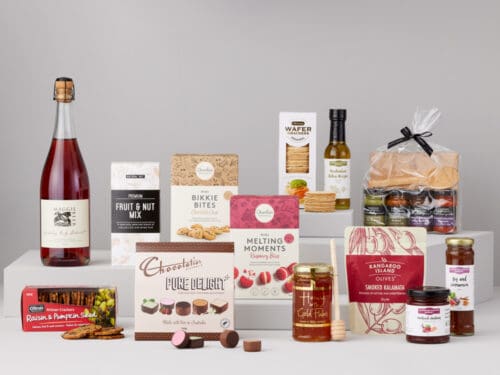 Hampers to share with that special someone
Make the most of your couples hamper and plan an indulgent evening with your special someone. Pop some sparkling wine, make a spectacular cheeseboard and nibble on sensational sweet treats. Consider these popular collections for an evening of letting your hair down:
Moet Champagne Hamper – bring out the bubbles for your special someone
Barossa Shiraz Hamper – award-winning shiraz to share by the fire
Gourmet Extravagance Hamper – mouth-watering snacks for a day of indulgence
Memorable hampers for the festive season
Once a year, we have the perfect excuse to indulge in gourmet pleasure. So splash out with a Christmas Hamper and remember all the things you love about seasonal festivities. Traditional steamed pudding, decadent butterscotch & brandy sauce, and flavoursome gingerbread cookies will have you reminiscing about childhood.
Gift baskets with free Australia-wide delivery
The best thing about these beautiful gift baskets is that you can send them all over the country for free. Send to your parents in Adelaide, your clients in Brisbane and your friends in Sydney and Melbourne- all free of charge!
Choose from best sellers and top-quality products
Quick and easy online orders
Free delivery Australia-wide
Next-day delivery is typical in metro areas*
*Remote areas may take an additional day or two. Order earlier for Christmas to avoid delays.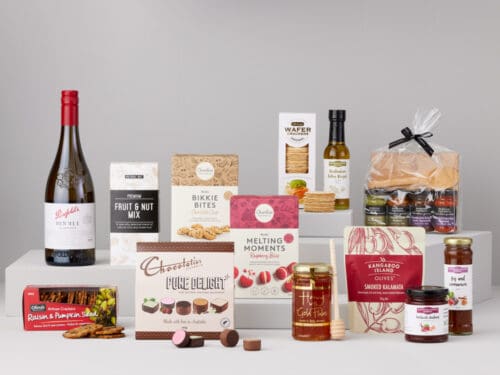 Find gift ideas for foodies
Scorched chocolate almonds, fig & cinnamon jam, gold flake honey, and smoked Kalamata olives are just a few of the specialty items that will impress your foodie friends. With a bounty of sweet and savoury nibbles to choose from, your gourmet food gift will be heartily devoured. Discover our delicious food-focused hampers like:
Gourmet Connoisseur Hamper – everything you need for a day of indulgence
Gourmet Extravagance Hamper – a gourmet extravaganza to beat them all
Wine gift baskets for the connoisseur
Need help finding the perfect gift for your wine buff acquaintance? Look no further than our premium collection of red and white wine, champagne and sparkling wine. Featuring some of the best of France and Australia, these epic wine gifts include names like Moet & Chandon, Charles Pelletier, Penfolds Estate and Angove Estate. But, no matter what kind of drop they like, you can find a gift to make them gasp:
Moet Extravagance Hamper – the name says it all
Penfolds 311 Chardonnay Extravagance Hamper – chardonnay-lovers will rejoice
Penfolds Baby Grange Extravagance Hamper – an iconic Aussie shiraz
Gift baskets featuring Australian made products
Australian Gourmet Gift hampers feature the best of local Australian products. Popular Aussie brands like Maggie Beer, Little Creatures, Penfolds Estate, Random Harvest and Charlie's Cookies ensure that recipients will consume your gift with absolute pleasure. What's more, you are helping support the Australian food industry by purchasing from local brands.
Beautifully presented in a gift box with a personalised card
To make the perfect gift set, we carefully pack your goodies into a custom-made gift box, wrap it with an elegant ribbon and attach a personalised gift card from you. With all the finishing touches taken care of, you'll want to purchase all your birthday gifts, wedding gifts and corporate gifts from our inspiring online boutique.
Brands we know and trust
Australian Gourmet Gifts want you to have confidence in your gift purchase and know exactly what quality to expect. That's why we work with exceptional brands that you know and trust. With names like James Squires, Moet & Chandon and Ogilvey Fine Foods, you know exactly the quality to look forward to in a gift basket.
Buying your Christmas Hamper online at Australian Gourmet Gifts
There's a Christmas hamper waiting for all of your loved ones in the online boutique. With specialty packs created for every kind of recipient (and plenty of budget-friendly options), you can shop for the whole gift list at one- including vegan and gluten-free. Your gift will arrive beautifully boxed, wrapped and personalised to their doorstep. Don't forget to leave your special message in the field at checkout!
With fast and free delivery, complimentary gift wrapping and a personalised touch, you will want to use Australian Gourmet Gifts for all your special occasion gifting. Explore all the beautiful gifts tailored to every occasion:
Mother's Day
Father's Day
Get well soon
Valentine's Day
Easter
Housewarming
FAQ's:
What are the best Christmas Hampers for couples?
Choose from an extensive range of Christmas hampers designed for sharing. Many of our hampers offer several beverage options (to cover all bases) and a selection of both sweet and savoury (to suit all palates.) Because our hampers contain plenty of delicious products, there are always treats to suit everyone.
When are Christmas Hampers delivered?
Typically our hampers are dispatched the same or following day and arrive within a day or two. However, we strongly urge customers to order a few days earlier during the busy Christmas period. There can be delays beyond our control, so get in early to ensure delivery before Christmas Day.