Customer Reviews
I highly recommend Australian Gourmet Gifts. We had to purchase a large number of hampers at late notice and Theo provided me with a fantastic level of customer service and with his assistance we were able to get the hampers ordered and delivered with plenty of notice. We will definitely be using Australian Gourmet Gifts again!
CAITLYN BARNETT - SASH (NSW)
I first contacted Theo last year when settlement was due for our latest development. We were sending baskets to each of the 65 owners who had purchased off the plan and were about to settle. As they were settling on different days Theo suggested I sent through a spread sheet which her would work off as I let him know when and to whom the baskets were to be sent.
MARIE - PRIME GROUP AUSTRALASIA (QLD)
CATHY WILLIAMS - LEWIS PRIOR (WA)
I would just like to take this opportunity to thank you for the hampers which we purchased from you for our clients at Christmas time.
The ordering was easy and you help with delivering our hampers to various offices around Australia made the whole process very smooth and stress free.
MICHELLE - FRANKLYN SCHOLAR (VIC)
We would recommend Australian Gourmet Gifts to all. We cannot advertise Australian Gourmet Gifts enough! Theo was extremely helpful and went above and beyond expectations, delivering beautifully presented hampers, full of divine products. Theo was wonderful to deal with and I am sure we will order again in the future.
SHARON - ENI AUSTRALIA LIMITED (WA)
Just a brief note to say a big thank you for the fantastic Xmas hamper we received today. It is without doubt the best we have ever received.
We are all very appreciative and as you would imagine the girls have already started eating the chocolates.
Thanks again
HEATHER - PROSPER WEALTH SOLUTIONS (NSW)
Just a short note to say thank you to you and the team at Australian Gourmet Gifts for the professional hampers you provide to our firm at Christmas. In previous years we have looked to provide a hamper to our valued clients and this has usually meant someone from our office having the task of shopping and putting together an appropriate gift…
BRUCE - PWA FINANCIAL GROUP (QLD)
We were looking online for a Hamper Company and came across Australian Gourmet Gifts. I liked the variety of the different hampers they had on offer and so I contacted them. From the moment of contact, I couldn't have asked for better service, Theo made everything so easy and was able to accommodate what we wanted for the three hundred hampers...
NIMALI - E2O PTY LTD (SA)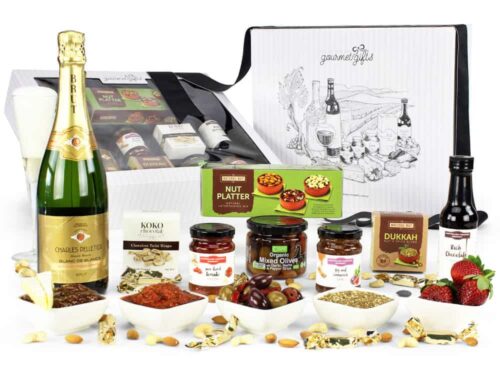 French Christmas hampers- the ultimate gourmet gift
Christmas is a time to bring out the sparkles- think fairy lights, tinsel and champagne. It's time to sip on sensation sparkling, nibble on sweet Christmas pudding, and cover the floor with ribbon. This year, add a sprinkling of sophistication with our French Christmas Hampers- festive treats to ring in the season:
Penfolds 28 & French Sparkling Christmas Hamper- starring acclaimed sparkling chardonnay from Burgundy and a classic selection of Christmas treats
Luxury French Sparkling Hamper – Festive French bubbly and gourmet delights
Corporate gift hampers everyone will love
Make a memorable impression on colleagues and friends with our popular gourmet gift hampers. Designed to suit every palate, lifestyle and budget, these tasty gift boxes are a hit with the crowd. Pamper clients with a surprise gift and watch their eyes light up:
Premium Wine Christmas Hamper – thank the staff with a festive wine hamper
Gourmet Connoisseur Hamper – delight colleagues with fine food hampers
Single Malt Whisky Extravagance Hamper – impress the clients with a great whiskey gift
7 Star Executive Luxury Hamper – celebrate this year's teamwork with a bounty of sparkling, red wine, white wine, beer and snacks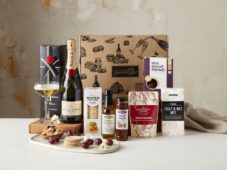 French food and wine gift hampers
Gourmet gift baskets are perfect for the foodie, thanks to the exquisite French and Australian products. Surprise a loved one with a gourmet gift hamper and watch them gasp with delight. A box of French bubbles and relaxation gifts will make for an evening of pure indulgence:
Moet Champagne Hamper – Moet champagne, gourmet jam, premium olive oil, smoked olives, fine crackers, quality nut mix and award-winning melting moments
Luxury Soothe Pamper Hamper – French sparkling, lavender wheat bag, rose bath salt, scorched almonds and sleep balm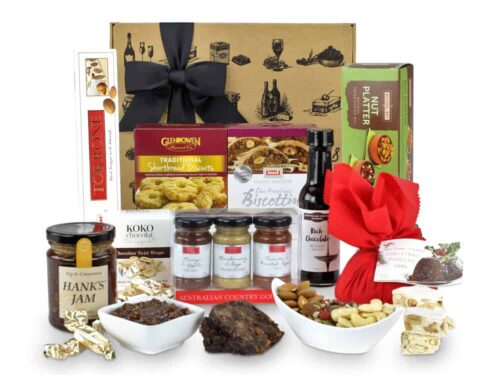 Christmas gift ideas
At Australian Gourmet Gifts, you'll find the perfect gift for everyone on the list. So whether they love hearty red wine, succulent white wine or crisp craft beer, we have a gourmet gift with their name on it.
Plus, we have an excellent selection of alcohol-free, gluten-free, and food-only gifts. Explore the online boutique to discover the ones you know they will love:
Opulence Pamper Hamper – a glorious French gift that Mum will adore
The Gentleman's Hamper – the fail-proof gift to make him smile
Gourmet Vegan & Gluten-Free Sensations Hamper – high-quality treats for a health-conscious friend
Premium Gourmet Christmas Hamper – a festival of food fit for a family
Luxury French hampers to celebrate the festive season
There's nothing like a toast with French bubbly to kick off the silly season. Say 'cheers' to your colleagues or 'Happy New Year' to your circle of friends. Celebrate the holidays with elegant aperitifs and a stylish gourmet experience:
Penfolds Cab Sauv & French Sparkling Hamper – fine wine, fine sparkles & fabulous treats
Penfolds Baby Grange & Moet Hamper- the best of Australian shiraz meets the best of French champagne for an experience that's sure to be epic
Moet Champagne Hamper – classic Moet and premium nibbles for an elegant evening of grazing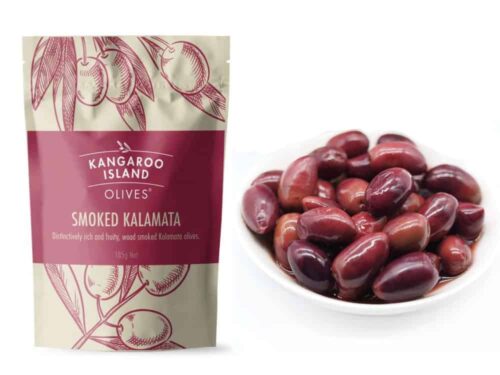 Gourmet baskets to pair with French specialities
Transport your loved ones to the gastronomic centre of the world with a deluxe gift of champagne and the trimmings to make a French feast. Toast with Moet & Chandon and make a French Style cheeseboard with the savoury nibbles. Enjoy indulging with items like:
A flute of France's finest champagne
The cheeseboard pack- all the spreads to pair with your favourite fromage
Smoked olives from Kangaroo Island
Artisan crackers- perfect for dipping and layering
Quality Olive Oil – to lather on a fresh baguette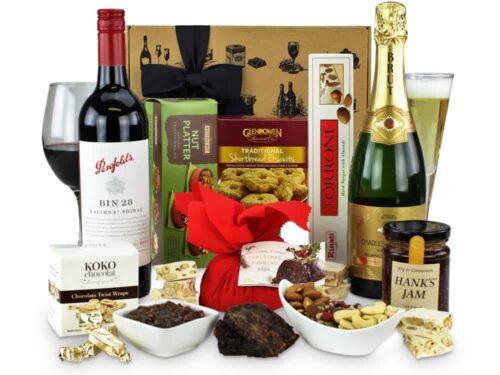 Feel like you are in France with our French Christmas Hampers
Feel like you are picnicking on the French Riviera thanks to these lavish Christmas gift sets. Prepare a lovely grazing board and head outdoors. On a wooden platter, serve:
your favourite French cheeses- like Roquefort, Compte or Camembert with truffles
a selection of gourmet chutney, tapenade, honey and jam
slices of foie gras sprinkled with salt
rows of artisan crackers
sliced baguette with a dish of olive oil
smoked olives piled in a dish
Put the champagne in an ice bucket and head out to the garden. Spread a rug on the grass and pop the Moet & Chandon. Et voila! The flavours will transport you straight to the south of France.
Brands we know and trust
To make your gift buying easy, we have partnered with top Australian and French brands you already know and trust. With names like Moet & Chandon, Charles Pelletier, Penfolds, Maggie Beer and Ogilvy Fine Foods, you can be confident that your gift will be exceptional.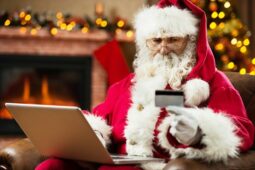 Free delivery Australia wide
We want you to spend your money on fabulous French gifts and fine gourmet food- not expensive shipping fees. That's why all our gourmet gift hampers come with free Australia-wide delivery. So you only pay for the gorgeous products.
Order before 11 am for same-day dispatch*
Next-day delivery is typical in metro areas*
Express delivery options are available
*Please order a few days early during the busy Christmas period as there can be unavoidable delays
Buy your Christmas Hamper online at Australian Gourmet Gifts
Excellent gift shopping has never been easier. Purchase for all your acquaintances at once through the handy online boutique. Simply select your favourite gift baskets and head to the checkout for quick and easy payment options. Don't forget to leave a special message for the greeting card!
FAQ:
What do you put in a French hamper?
A delicious French hamper includes things like sparkling wine or champagne, gourmet condiments, accoutrements for a cheeseboard and a selection of sweet delicacies.
What is the best Christmas French hamper?
The best Christmas hampers include champagne or high-quality wine, plus a selection of gourmet foods that suit the palette of your recipient- sweet, savoury, or both!