Customer Reviews
I highly recommend Australian Gourmet Gifts. We had to purchase a large number of hampers at late notice and Theo provided me with a fantastic level of customer service and with his assistance we were able to get the hampers ordered and delivered with plenty of notice. We will definitely be using Australian Gourmet Gifts again!
CAITLYN BARNETT - SASH (NSW)
I first contacted Theo last year when settlement was due for our latest development. We were sending baskets to each of the 65 owners who had purchased off the plan and were about to settle. As they were settling on different days Theo suggested I sent through a spread sheet which her would work off as I let him know when and to whom the baskets were to be sent.
MARIE - PRIME GROUP AUSTRALASIA (QLD)
CATHY WILLIAMS - LEWIS PRIOR (WA)
I would just like to take this opportunity to thank you for the hampers which we purchased from you for our clients at Christmas time.
The ordering was easy and you help with delivering our hampers to various offices around Australia made the whole process very smooth and stress free.
MICHELLE - FRANKLYN SCHOLAR (VIC)
We would recommend Australian Gourmet Gifts to all. We cannot advertise Australian Gourmet Gifts enough! Theo was extremely helpful and went above and beyond expectations, delivering beautifully presented hampers, full of divine products. Theo was wonderful to deal with and I am sure we will order again in the future.
SHARON - ENI AUSTRALIA LIMITED (WA)
Just a brief note to say a big thank you for the fantastic Xmas hamper we received today. It is without doubt the best we have ever received.
We are all very appreciative and as you would imagine the girls have already started eating the chocolates.
Thanks again
HEATHER - PROSPER WEALTH SOLUTIONS (NSW)
Just a short note to say thank you to you and the team at Australian Gourmet Gifts for the professional hampers you provide to our firm at Christmas. In previous years we have looked to provide a hamper to our valued clients and this has usually meant someone from our office having the task of shopping and putting together an appropriate gift…
BRUCE - PWA FINANCIAL GROUP (QLD)
We were looking online for a Hamper Company and came across Australian Gourmet Gifts. I liked the variety of the different hampers they had on offer and so I contacted them. From the moment of contact, I couldn't have asked for better service, Theo made everything so easy and was able to accommodate what we wanted for the three hundred hampers...
NIMALI - E2O PTY LTD (SA)
'Tis the Season for Christmas Hampers in Brisbane!
We want to help you celebrate a very Brisbane Christmas in the best way we know how – with gourmet food and wine hampers! We've got everything you need to show your loved ones, employees or clients in Queensland how much you appreciate them in 2022 with the finest award-winning wines, champagnes and beer paired with artisan treats by local favourites.
Most Popular Christmas Hampers
At Australian Gourmet Gifts, we believe the proof is in the Christmas pudding! We have customers all over the world who come back year after year to purchase their favourite Christmas hamper for their loved one in Queensland. Check out our most reviewed hampers on the website and you'll see why:
– Gourmet Sensations Hamper
– Luxury French Sparkling Hamper
– Premium Beer and Wine Hamper
​- Gourmet Connoisseur Hamper
Free Delivery with all Gift Baskets Brisbane-Wide
We want to make buying Christmas presents for your nearest and dearest as easy and affordable as possible. That's why we offer free delivery for all Christmas gift baskets Brisbane-wide to any doorstep in the city. You can also upgrade for a small fee and choose express postage for next-day delivery to most addresses.
Bestselling Christmas Corporate Hampers in Brisbane
A corporate gift is the perfect way to thank employees and clients for their hard work and business. Each year, companies turn to us for thoughtful corporate hampers and reliable delivery they can trust. The Gourmet Sensations hamper is an excellent choice for staff, packed with crackers, jam, oil, melting moments, smoked olives and more. For the ultimate Christmas hamper, the 7 Star Executive Luxury Hamper is truly a showstopper and sure to wow any valued client.
Our corporate hampers can be sent out to as many recipients as you need, from 10 to 1000, using our Bulk Order form. Simply choose your hampers and fill in their delivery information – we'll make sure it arrives safe and sound in time for Christmas!
​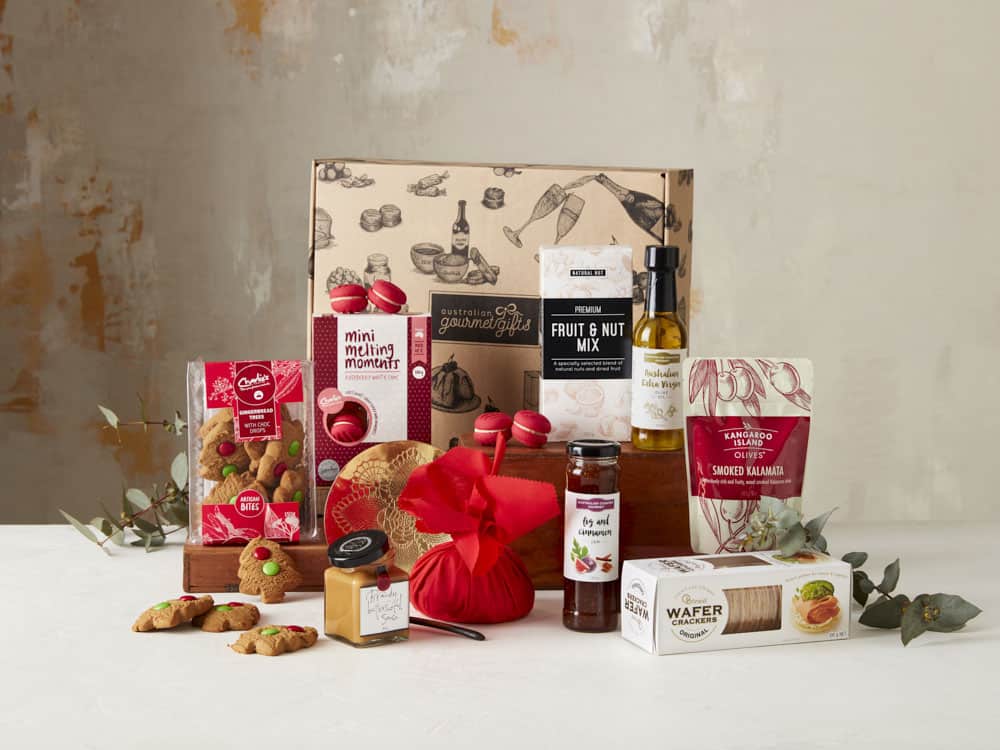 Gourmet Food and Wine Christmas Hampers
Food and wine form the basis of any good Christmas table. We've hand-picked the most delectable treats and award-winning beverages to make this special day one to remember with your closest friends and family. From a bold red, white, rosé or sparkling, choosing your recipient's favourite will show how well you know them. We've also got non-alcoholic wines, premium craft beer and a world champion single malt whisky to satisfy any taste.
To really impress, we've done our research and discovered the foods and flavours that pair well with each wine selection. Discover a scintillating selection of sweet and savoury goodies to tickle the tastebuds and go down a treat with whichever wine you choose!
Brisbane's Best Food Hampers This Christmas
A gourmet hamper stuffed with award-winning nibbles by local brands is sure to please any foodie this Christmas. We've got Christmas hampers devoted solely to gourmet food, like the Premium Gourmet Christmas Hamper and the Gourmet Connoisseur Hamper.
Discover savoury favourites to kickstart an amazing cheese platter, such as smoked olives, relish and wafer crackers. For sweet tooths, indulge in mini melting moments, artisan chocolates, popcorn, cookies, jams and gold-flaked honey. Go traditional with Charlie's Gingerbread Christmas Trees with Choc Drops and Traditional Foods Steamed Christmas Pudding – all this from well-known and loved brands like Australian Country Gourmet, Kangaroo Island, Charlie's Cookies and Ogilvie Fine Foods.
Chocolate Christmas Hampers Available
Who doesn't love a chocolate gift? From those with a sweet tooth to people who just enjoy the occasional treat, you can't go wrong by adding chocolate to a hamper. Don't just go for any old chocolate though. You won't get the same quality with the supermarket brands as you will at a chocolatiers or an artisan chocolate store. Some of our favourites include Chocolatier Australia, Serious Food Co and Charlie's Cookies. The Gourmet Vegan & Gluten-Free Sensations Hamper is chock-full of chocolate treats that are all plant-based.
Chocolates pair beautifully with a wine gift. The Penfolds Baby Grange & Moet Chandon Hamper contains a top-shelf Shiraz and French Champagne with some decadent Charlie's Cookies and Cream Mini Melting Moments – a match made in heaven!
New Luxury Christmas Hampers
We have luxury hampers to pamper loved ones and thank hardworking staff at the end of the year. We make it possible to buy luxury on any budget with hampers filled with deluxe goodies starting at just $79.95 with the popular Gourmet Sensations Hamper and Luxury French Sparkling Hamper for $89.95. For a hamper with all the bells and whistles, you can't go past the Gourmet Extravagance Hamper, complete with Random Harvest Cheeseboard Pack, Ogilvie gold-flaked honey and Maggie Beer non-alcoholic Ruby Cabernet.
Unique Christmas Gift Ideas
So, you've left things until the last minute and now you need to think of a unique Christmas gift idea fast? We've all been there! We take the hard work out of Christmas shopping with a food and wine gift hamper to treat the whole family. Choose a hamper that shows your recipient how well you know them – we've got Christmas classics like steamed pudding, plant-based goodies for vegans and multi-award winning wines for wine connoisseurs. Our hampers also make the perfect gifts for any special occasion, including Easter, baby gifts, settlement gifts and Valentine's Day gifts.
Family-Friendly Christmas Gift Hampers
For many Australian, Christmas is a time to spend with your family and loved ones. Our hampers are carefully chosen to appeal to everyone, no matter what their age. Adults will love our top-shelf red and white wines, craft beers and world-champion whisky. Our selection of cookies, melting moments, popcorn, crackers, jams and gingerbread biscuits will also go down a treat with the kids (and big kids) alike – just don't expect them to last for long!
Beautifully Presented Christmas Hampers and an Extensive Range
We believe a gorgeous hamper gift should look as appealing on the outside as it does on the inside. Your items will be safely encased in an elegant and environmentally-friendly gift box made from local sustainable materials and topped off with a stylish grosgrain ribbon. Each hamper includes a thoughtful gift card with your personal message on it that you can enter during checkout.
Free Hamper Delivery for all Christmas Gift Hampers Australia-Wide
Our Christmas hampers in Brisbane can be delivered free across the city or any other state you need, from NSW to VIC to WA. We can deliver free to most major Australian destinations, including:
Adelaide
Perth
Melbourne
Sydney
​
FAQs About Christmas Hampers in Brisbane
Where Can I Buy a Christmas Hamper in Brisbane?
Australian Gourmet Gifts are the go-to experts in affordable and luxury Christmas hampers in Brisbane. We stuff our boxes with mouth-watering treats and fine wines by leading brands, including Moet and Penfolds. Our hampers are made to suit any budget, from under $100 to under $400 options. You'll also receive free delivery to most destinations in Australia!
Who Does the Best Christmas Hampers?
We may be a bit biased, but we think Australian Gourmet Gifts do! Check out our online reviews and you'll see that the rest of Australia thinks so, too. We've got affordable gourmet hampers to celebrate any special occasion, including:
Father's Day hampers
Mother's Day hampers
Valentine's Day hampers
New baby hampers
What is in a Christmas Hamper?
While you can put anything into a Christmas hamper, there are some items that are total no-brainers! Here are our top recommendations:
Wine – Whether it's red wine, white wine, rosé or a French sparkling, wine is a staple in Xmas hampers and makes an ideal centrepiece
Chocolates – Skip the supermarket brands and go for high-quality artisan chocolates, like Chocolatier Australia
Gingerbread – These spiced favourites are a must in any festive gift basket
Christmas Pudding – Noting says Christmas like a traditional cloth-wrapped steamed pudding to share with friends and family!
Can I Order a Hamper Online With Free Delivery in Brisbane?
Yes, you certainly can. We make buying from the comfort of your couch super easy and affordable. Simply follow these easy steps to purchase:
Browse our extensive Christmas selection
Choose your favourite and add it to the shopping cart
Follow the steps through checkout and add a personal message when prompted if you like
Make payment with flexible payment options like AfterPay
Enjoy free standard delivery to most destinations across Brisbane and Australia-wide! You can also upgrade to express postage for next day delivery on most orders