Stuck for Ideas? Gift Hampers for Men With Taste!
While there are a million ways to make a woman's day, shopping for the men in your life is always tough. They're always the last Christmas gifts you choose and more often than not, it's socks, jocks and ties that end up wrapped up. If the way to a man's heart is through his stomach, the best men in your life deserve the best quality of gourmet gifts. When you combine good food with a superb wine or premium Aussie beers, you have one divinely inspired gift hamper that solves the age-old problem of what do you buy when you need a gift for a man.
Not all men's gift hampers are created equal
There's nothing worse than a generic gift hamper. Don't settle for dull. Gourmet hampers filled with goodies like wine, beer, single malt scotch, premium choc chip cookies, truffles and other mouth-watering and delectable nibbles take impressive gifts to a whole new level. It tells a man that you understand he loves the finer things in life. That you believe he deserves the best. It shows him you appreciate his style.
There's no better way to tell a colleague or boss that he's respected. There's no better way to tell a father, son or brother that he deserves the best or a husband that you love him to bits!
7 times when a gift hamper makes the best gift for men
There are certain times when giving the right gift really counts. Whether you need to impress a client or score brownie points with your father-in-law, here are 7 occasions when a gift hamper for men makes the best gift:
A gift for your boss or manager
Melbourne Christmas Hampers as Christmas present for a valued client or employee
A farewell present for a top bloke who'll be missed at work
A 40th, 50th or other special birthday celebration
 A foolproof gift for a fussy father-in-law
When you need to buy a gift for the man who already has everything
Father's Day
Present ideas for boys who love beers
"Beer is proof that God loves us and wants us to be happy."
– Benjamin Franklin (OK, so we haven't got a credible source for this quote)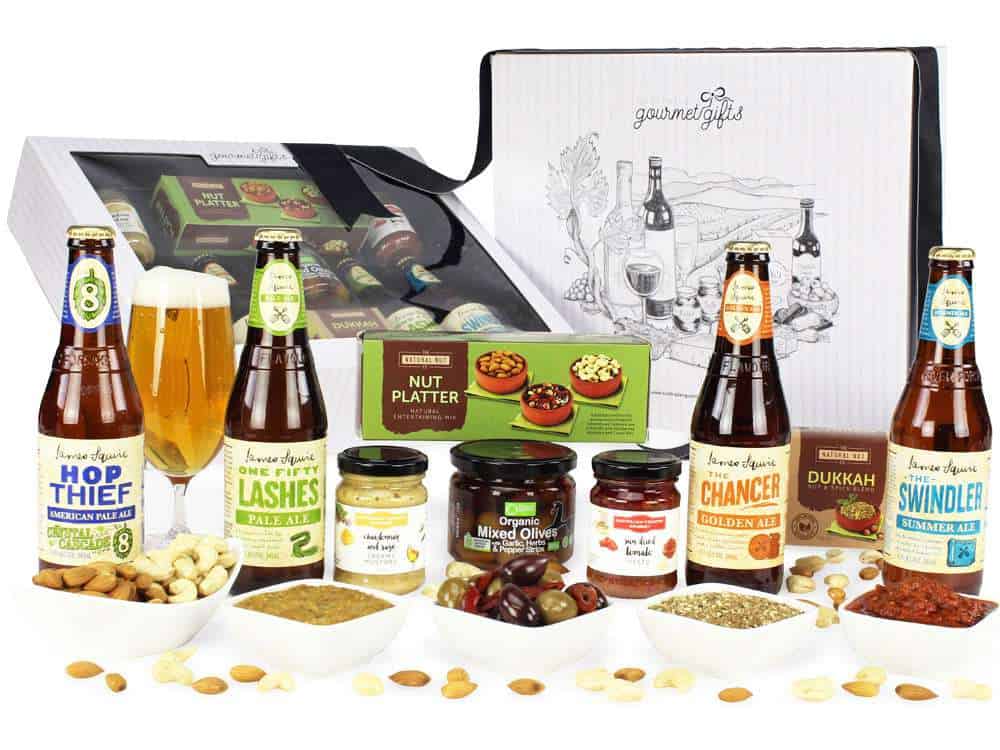 While always appreciated, giving a "slab" isn't always the classiest way to go. That's OK, we've ditched the grubby carton and popped some premium Aussie beer into a lovely hamper. We've added some extremely moorish treats designed to appeal specifically to blokes who love beer AND good food and you've got yourself a winning gift. Better still, find someone else to do all the hard work for you, like this Premium Aussie Beer Hamper.
Order online and have it delivered straight to the lucky guy while you sit back and relax, looking like a champion after a few painless clicks. Did someone say buying gifts for men was hard? Learn more about how simple it is to get your hamper delivered here.
Gift hampers for wine connoisseurs
"Drinking good wine with good food in good company is one of life's most civilised pleasures."
Sure, you could give him a nice bottle of red or white wine, but why not team it with premium nuts, crackers and other nibbles that go hand in hand with a glass of great wine? A gift hamper of gourmet treats PLUS a bottle of great wine creates a far greater impression than a bottle of wine alone. Just don't let on that you didn't spend ages hand selecting all the tasty treats and the lucky recipient will be even more impressed by your good taste and thoughtfulness. Australian Gourmet Gifts has done all the hard work for you and has gift hampers for men who love red wine, white wine, Penfolds Pure Indulgence hamper.
Not sure if he's a beer or a wine man?
Not sure whether he drinks beer or wine? Why not give a hamper that includes both a selection of premium Australian beer plus a red AND white wine like this one at Australian Gourmet Gifts. Cover all your bases with this ultimate gift hamper for men.
The tastiest gift hampers for men – alcohol-free!
For a variety of reasons, not every man drinks alcohol. In fact, you really don't need booze to make an impression with a foodie gift hamper filled with hand-picked sweet and savoury mouth-watering treats. If you need more convincing, check out the Ultimate Gourmet Food Hamper and Gourmet Sensations Hamper, both priced at well under $100. You'll be dropping hints to ensure you get your very own hamper of gourmet goodies once you see what's in them.
Packed for maximum impact
There are times in life and business when you need to pull out all the stops and give a gift that says, "you are one extremely top bloke so thanks a whole heap mate, job well done".
These kinds of sentiments are best conveyed with a glass of Moet, Penfolds Bin 28 Shiraz or even a wee dram of Glenfarcia single malt scotch. Better yet convey them with an entire bottle rather than just a glass. There's simply no better way to celebrate and congratulate a great guy than with a selection of the finer things in life.
Every time he pours himself a glass of scotch, pops a Belgian truffle in his mouth, cracks open the chocolate chip cookies or puts his feet up at the end of a hard day's work to enjoy some crackers and antipasto, he'll be thinking of that almighty impressive gift hamper that you put so much time and effort into choosing just for him. If you don't have the time or inclination to design your own super-premium gift hamper, don't worry, the guys at Australian Gourmet Gifts have once again thought of everything that a top-notch gift hamper for men should include with their 7 Star Executive Hamper and Premium Single Malt Scotch.
These kinds of hampers are the perfect way to:
Say congratulations when your best mate has his first baby
Thank a valuable client
Give a great big pat on the back to a partner, associate or employee who pulls off the deal of the decade
Hampers make gift-giving for men easy
Whoever said that men are difficult to buy for has obviously never seen the range of gift hampers for men available at Australian Gourmet Gifts.
They did a fantastic job with their market research when they put together their gift hampers for men. They obviously took a bunch of men to the pub and asked them what their ultimate gift hamper would include. As a result, they have every man covered with hampers that feature wine, beer, single malt scotch and plenty of scrumptious food. Some hampers even include all the above for an extra special man or occasion.
No matter what the occasion or your budget, let Australian Gourmet Gifts do all the hard work with their range of gift hampers for men while you take all the credit.
With gift hampers priced from under $60 through to $300, you will find the perfect gift hamper for any man. Find the perfect gift idea for your man now.