Customer Reviews
I highly recommend Australian Gourmet Gifts. We had to purchase a large number of hampers at late notice and Theo provided me with a fantastic level of customer service and with his assistance we were able to get the hampers ordered and delivered with plenty of notice. We will definitely be using Australian Gourmet Gifts again!
CAITLYN BARNETT - SASH (NSW)
I first contacted Theo last year when settlement was due for our latest development. We were sending baskets to each of the 65 owners who had purchased off the plan and were about to settle. As they were settling on different days Theo suggested I sent through a spread sheet which her would work off as I let him know when and to whom the baskets were to be sent.
MARIE - PRIME GROUP AUSTRALASIA (QLD)
CATHY WILLIAMS - LEWIS PRIOR (WA)
I would just like to take this opportunity to thank you for the hampers which we purchased from you for our clients at Christmas time.
The ordering was easy and you help with delivering our hampers to various offices around Australia made the whole process very smooth and stress free.
MICHELLE - FRANKLYN SCHOLAR (VIC)
We would recommend Australian Gourmet Gifts to all. We cannot advertise Australian Gourmet Gifts enough! Theo was extremely helpful and went above and beyond expectations, delivering beautifully presented hampers, full of divine products. Theo was wonderful to deal with and I am sure we will order again in the future.
SHARON - ENI AUSTRALIA LIMITED (WA)
Just a brief note to say a big thank you for the fantastic Xmas hamper we received today. It is without doubt the best we have ever received.
We are all very appreciative and as you would imagine the girls have already started eating the chocolates.
Thanks again
HEATHER - PROSPER WEALTH SOLUTIONS (NSW)
Just a short note to say thank you to you and the team at Australian Gourmet Gifts for the professional hampers you provide to our firm at Christmas. In previous years we have looked to provide a hamper to our valued clients and this has usually meant someone from our office having the task of shopping and putting together an appropriate gift…
BRUCE - PWA FINANCIAL GROUP (QLD)
We were looking online for a Hamper Company and came across Australian Gourmet Gifts. I liked the variety of the different hampers they had on offer and so I contacted them. From the moment of contact, I couldn't have asked for better service, Theo made everything so easy and was able to accommodate what we wanted for the three hundred hampers...
NIMALI - E2O PTY LTD (SA)
Embrace the Festive Spirit with Our Christmas Gift Hampers in Sydney
When it comes to the best online gifts this Christmas, we think hampers take the cake. With a diverse selection of award-winning wines and beer, savoury goodies, sweet nibbles and Christmas classics – our vast range won't disappoint! With so much choice, it's not always easy to know what your recipient will like best. Could it be the Wine Indulgence hamper or perhaps the Gourmet Extravagance? Let this guide help you determine the best Christmas gift hampers in Sydney in 2022.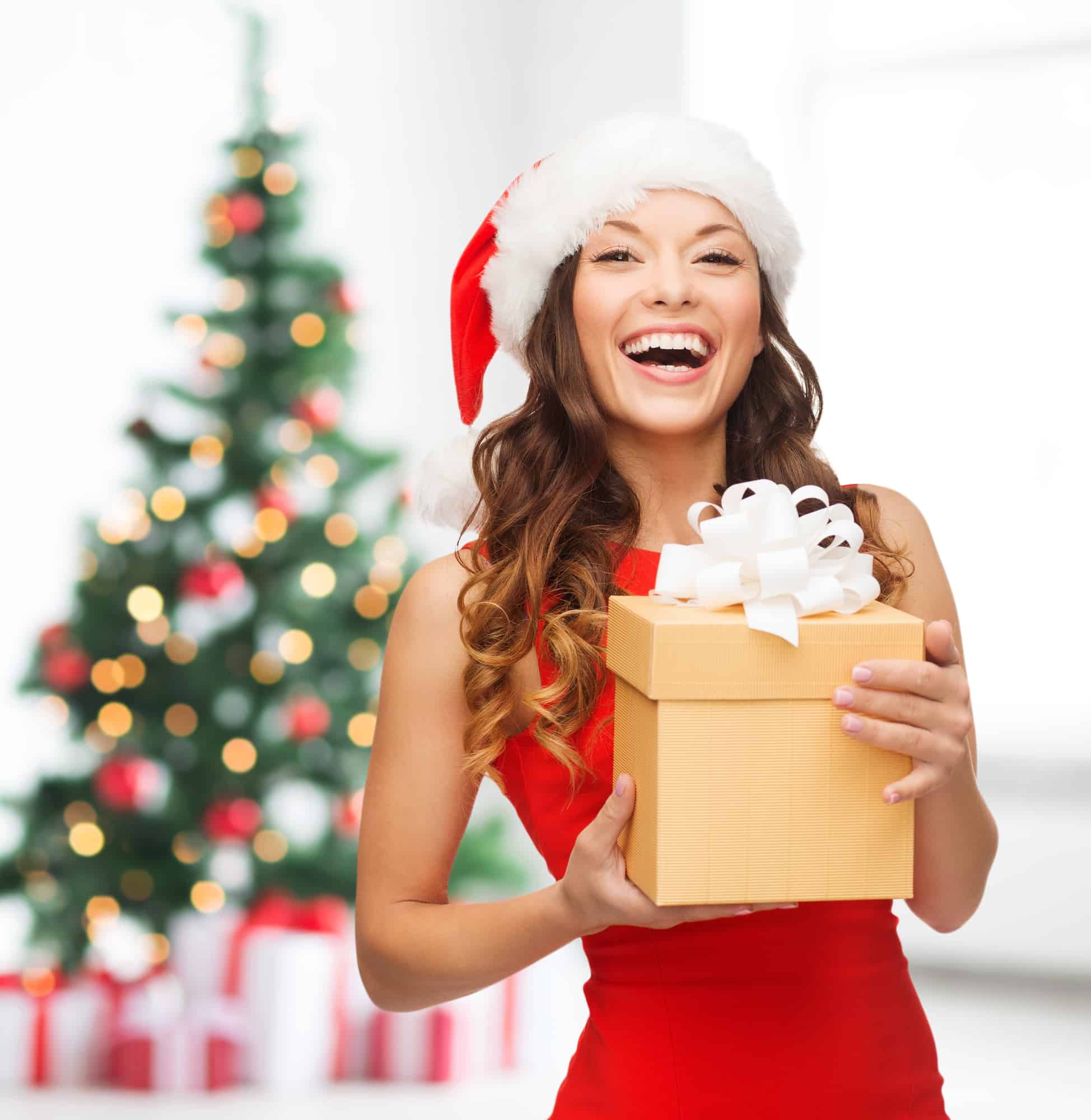 Free-Delivery of all Gift Baskets Sydney-Wide
We offer free gift delivery across Sydney, NSW, and every other state and major city in Australia. If you're stuck in lockdown and can't be with loved ones this year, our stunning Christmas hampers are the next best thing! We take care to wrap your chosen gift in a beautifully designed box with ribbon and personalised gift card with your special words on it and send it straight to the recipient's doorstep. If you upgrade to Premium Express or Express Courier, most hampers will arrive in 1-2 business days in major metropolitan areas.
Best-Selling Christmas Corporate Hampers
If you're looking for a corporate gift this Christmas for staff and clients, you might want to opt for non-alcoholic gifts. If that's the case, head straight to our selection of gourmet food hampers.
The extremely popular Gourmet Connoisseur Hamper is our pièce de résistance – and the treats inside can only be found in the most exclusive stores and kitchens. What better way to make your staff and clients feel special?
Another popular choice is the Premium Gourmet Christmas Hamper – ideal if you're looking for a gift expressly geared towards the silly season.
And we simply can't neglect to mention our Gourmet Extravagance Hamper. All in the name, this hamper is jam-packed with decadent goodies hand-selected from artisan food makers across the country. It's the one to choose when you want to really impress!
If you need to send out multiple hampers, simply fill in our online Bulk Order Form with all of the recipients' details. You can select different hampers for different people or order the same for everyone with a personalised message from you on it. Whether you need 10 or 1000 – Australian Gourmet gifts have you covered!
Gourmet Food and Wine Christmas Hampers Available
Gifting friends, family and employees a food and wine gift this Christmas has never been easier. We have a fantastic selection of hampers to choose from – some are Christmas-themed, all of them are amazing! Whether they're a foodie or a lover of fine wine and craft beer, we have something to suit every taste and budget:
– Moet & Chandon Champagne Hamper
– Premium Gourmet Christmas Hamper
– Premium Wine Christmas Hamper
– Gourmet Sensations Hamper
– Glenmorangie Whisky Hamper
​Sydney's Best Festive Food Hampers this Christmas
Delight a foodie this Christmas with our gourmet hampers filled with award-winning biscuits, crackers, jams, sauces, nibbles and more by local artisan brands. Celebrate with old favourites like cloth-wrapped steamed pudding, butterscotch and brandy sauce, and gingerbread Christmas tree cookies. Or create the ultimate grazing platter with the Gourmet Extravagance Hamper that includes Random Harvest Cheeseboard pack with relish, mustard, and tapenade paired with crackers, melting moments, gold-flaked honey, smoked olives and much more.
Did you know that we don't just do Christmas hampers?
Our food and wine hampers make the best gifts for any special occasion. You can find corporate gift hampers, birthday hampers, housewarming and settlement gift hampers, and new baby hampers for baby showers.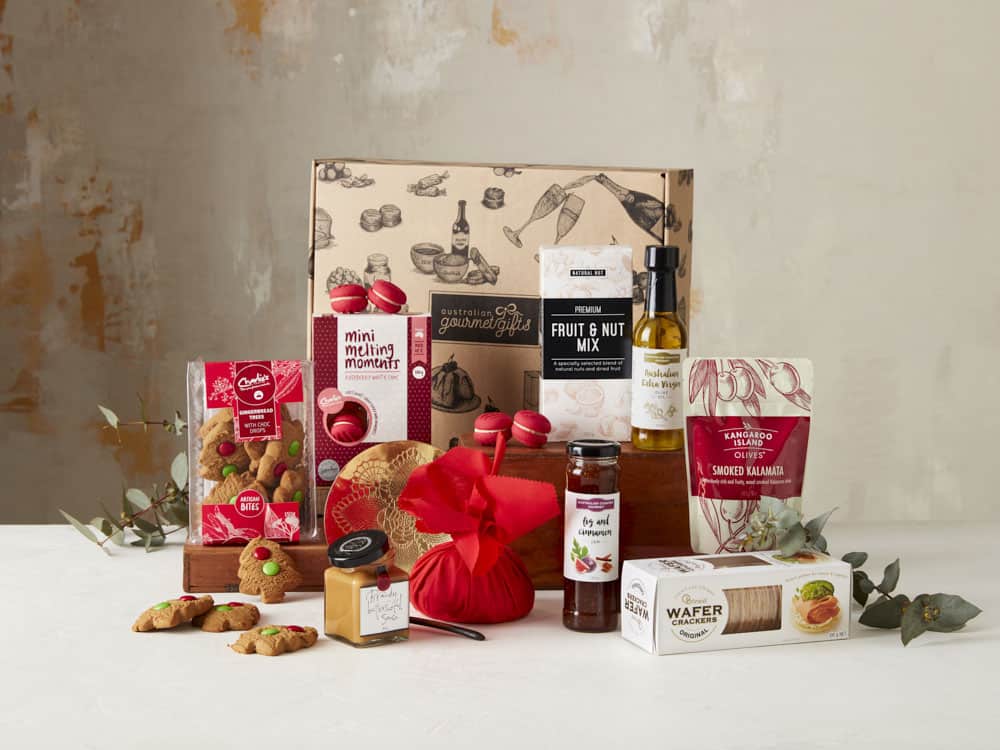 Christmas Hampers with Bubbles, Chocolates and So Much More!
What better way to celebrate the end of the year than with a glass of bubbly and some melt-in-your-mouth artisan chocolate? Our Penfolds 28 & French Sparkling Christmas Hamper is packed with elegant Charles Pelletier Blanc de Blancs and Penfolds Bin 28 Kalimna Shiraz. We also have the Moet Champagne Hamper, Premium Beer and Wine Hamper and the Wine Indulgence Hamper for just $79.95. Indulge in a plant-based chocolate gift with our Vegan & Gluten-Free Sensations Hamper with choc chip cookies and chocolate-drizzled popcorn or spoil a loved one with a box of Chocolatier Australia.
Best Options for Christmas Hampers for Loved Ones
Even the most hard-to-buy-for family members will be impressed when you present them with a Christmas hamper overflowing with top-shelf wine, craft beers, and sweet and savoury nibbles. The Maggie Beer Sparkling Ruby Hamper is a great option for non-alcoholics, the James Squire Beer Hamper is a hit with Dads and Mums will be spoiled with our Luxury French Sparkling Hamper for only $89.95.
New Luxury Christmas Hampers
Pamper your loved ones and valued employees this Christmas with a luxury gift that makes them feel super special and appreciated. We have Christmas gift hampers in Sydney to impress corporate clients and leave a lasting impression that reflects your corporate branding. Spoil on a budget with the Wine Indulgence Hamper, Penfolds Cab Sauv Hamper, and Premium Gourmet Christmas Hamper all for under $100. Or pull out all the stops with the Gourmet Extravagance Hamper, Penfolds Baby Grange & Moet Hamper and the 7 Star Executive Luxury Hamper to truly wow them!
​Best-Selling Christmas Gift Boxes Sydney
Gift giving online this Xmas doesn't need to be impersonal. We go to great lengths to make each hamper look as good as they taste. Your hamper will come packaged in an elegant environmentally-friendly gift box that's been locally made and topped off with a stylish grosgrain ribbon. You also have the option of adding a special message during checkout that we'll pop onto our handcrafted greeting card for that extra personal touch.
Your Go-To Christmas Hampers When Catering for Multiple Tastes
Our huge range of hampers make gifting for multiple people this Christmas a breeze.
If your recipient appreciates fine wine as much as they do fine food, you can't go past the Barossa Shiraz Hamper as a 2020 Christmas gift. Including a Schild Estate Barossa Valley Shiraz (which scored a 95-point grading from James Halliday Wine Companion) and mouth-watering gourmet products, this hamper is sophisticated without breaking the bank.
What if you need a unique Christmas present that can be shared around? Check out our Premium Beer & Wine Hamper. Its combination of red wine, white wine, pale ale and gourmet snacks makes this a top seller for many occasions – not just Christmas!
Free Hamper Delivery for all Christmas Gift Hampers
When you purchase your Christmas hamper from us, you'll also enjoy a free Australia-wide delivery service to most main destinations. If you place your order before 11am, we are usually able to send it off the same day. If you need your gift to arrive quickly, you can upgrade to express postage for a small fee.
​​Family-Friendly Christmas Hampers
Give a Christmas hamper the whole family will love! We have top-shelf wines, craft beers, French Champagnes and multi-award-winning whisky for the grownups, while kids will love our selection of sweet treats, including Charlie's Mini Melting Moments, and Serious Food Co Cookies & Popcorn. In all of our Christmas hampers, you'll also find an assortment of jams, oils, relishes, crackers, olives, and more to start off a family cheese platter – just add your meats and cheese for a festive feast to remember for years to come.
We've Saved the Best 'Til Last: So 'Bestselling', it SOLD OUT!
This year, we've introduced an all-new, 7-Star Executive Hamper. If you're on the hunt for the absolute best Christmas hampers online in 2022, this little baby is a showstopper. This is the hamper with everything; it's an amalgamation of our bestsellers. We worked out which combinations our customers were most fond of – and included them in one mind-blowing package.
In hindsight, maybe we did too well…the 7-Star Executive Hamper has been known to sell out only a month after we release it! But fear not, we've got plenty in stock. Just make sure you get in quickly, as these are undoubtedly a crowd favourite.
DID YOU KNOW?
With Australian Gourmet Gifts, you can pre-order hampers that are out of stock. It usually only takes us a week to replenish stock – that way, you can still give your recipient exactly what you want!
What Do Our Customers Love Most Of All?
When a close friend recommends something to you – you know it must be good. They've put their name and word to it, after all.
So, why not take the advice of our happiest customers? While the hampers we've mentioned often yield the best reviews, there are a few more beauties that our customers just can't get enough of:
– Our Gourmet Sensations Hamper has a whopping 36 reviews and an impressive average of 5-stars! Many of our customers ordered it as a Christmas gift, noting that "it made Christmas a breeze" and that we'll "hear from [them] again next Christmas"!
Read the reviews.
– Our Luxury French Sparkling Hamper is also a hit when it comes to Christmas gifts online. We've received many reviews mentioning, "the receiver loved the hamper" and even a customer in Singapore stating, "I've sent this hamper to my mum in Australia for the past three Christmases and it's always received with delight".
Read the reviews.
– Many customers also choose the Penfolds Cab Sauv & French Sparkling Hamper as a unique Christmas present idea. Described as, "the perfect gift for Christmas" as well as, "excellent value – and perfect timing for Christmas", this hamper does not disappoint!
Read the reviews.
Before You Go, Let Us Share a Secret…
Did you know that some of our Christmas bestsellers are not actually Christmas hampers?
Why? Well, people celebrate Christmas in different ways. And because a hamper contains a diverse range of treats, it's the perfect gift for anyone – regardless of whether they celebrate on 25 December or not.
So, when it comes to selecting a gift hamper this Christmas, you don't necessarily need to choose something with 'Christmas' in the name.
Sometimes, it's just as meaningful to say 'thanks for a great year' with a gourmet hamper!
FAQs About Christmas Hampers in Sydney
Where Can I Buy a Christmas Gift Hamper in Sydney?
Sydney-siders can trust Australian Gourmet Gifts with all of their Christmas hampers in 2022. We make buying personalised gifts easy with a beautifully presented gift basket overflowing with local treats and award-winning beverages. We also offer free delivery across Sydney and Australia-wide! Check out these hampers:
Corporate Christmas Hampers
​Luxury Christmas Hampers
​Gourmet Food Hampers
Wine Hampers
Who Does the Best Christmas Hampers?
Australian Gourmet Gifts are a top choice when it comes to ordering unique Christmas Hampers set to impress. We have a beautiful selection of Christmas-themed hampers, as well as gourmet food and wine hampers, stuffed with award-winning local products. Our hampers also make excellent gift ideas for any special occasion, such as:
​Father's Day gifts
Mother's Day gifts
Baby gifts
Valentine's Day gifts
What is in a Christmas Hamper?
We hand-pick each item that goes into our Christmas hampers to guarantee maximum quality and deliciousness. You can find traditional Christmas favourites, as well as new ones, with a fantastic selection of gourmet food and wine hamper options. Take a peek inside:
Penfolds Bin 28 Kalimna Shiraz
Charlie's Gingerbread Christmas Trees
Traditional Foods Christmas Steamed Pudding
Kangaroo Smoked Kalamata Olives
OB Finest Wafer Crackers
Can I Order a Hamper with Free Delivery in Sydney?
Yes, you certainly can! In fact, we offer free hamper delivery to most destinations across Australia. Our only exception is certain remote rural areas where the costs are too high for us to absorb. You can also upgrade for a small fee and receive same day or next day delivery. We send free to all major destinations, including:
Sydney
Melbourne
​Adelaide
​Perth
Brisbane