Give Them More Than Just A Gift – Anniversary Hampers
Sometimes, it feels impossible to pick a gift for the one you love. What could possibly be enough to show them how much you truly care? Well, maybe a delicious gift hamper with all their favourites is a good start.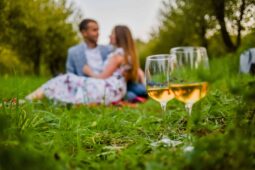 Your anniversary is coming up. How will you celebrate this year? Why not choose something original and order an anniversary hamper from Australian Gourmet Gifts to be delivered to the door? It's the ultimate 'takeaway' to enjoy in a romantic location. If you live in Australia, chances are you live close to a beautiful picnic spot. So why not pop open a bottle of Moet & Chandon and feast on a selection of gourmet nibbles – by the beach or under the stars? Equally as enjoyable as an expensive restaurant, a gourmet gift hamper is an experience to remember.
Why an anniversary hamper?
We all love to dive into a festive Christmas hamper, a corporate gift box or a gourmet housewarming gift, but have you tried an anniversary hamper? If you think about it, anniversary hampers tick a lot of boxes! A gourmet gift hamper can include everything from delicious artisan nibbles to fine beverages and beautiful relaxation gifts. You only need to source a special location to enjoy it.
Anniversary hampers from Australian Gourmet Gifts include a premium selection of red, white or sparkling wine, champagne, craft beer, or quality alcohol-free options. Couple that with some of the finest Australian gourmet goodies, and you're in for a real treat. You might even choose a pamper hamper that includes bath salts and wheat bags for a relaxing evening of unwinding.
Take your anniversary hamper anywhere you wish
Think outside the box this year and skip the usual restaurant booking. Equally luxurious, the anniversary gift basket lets you take your celebration to a unique location that's meaningful to both of you. Perhaps you can introduce your special person to a favourite place and ignite a new string of memories. Take a picnic blanket and your beautiful gift box of treats to the headland, the park, the beach or your balcony. Sip, nibble and enjoy a lazy afternoon or evening of indulgence.
Anniversary hampers for all budgets
Anniversary hampers are carefully crafted to suit all appetites and budgets. With Australian Gourmet Gifts, you can try a special selection of luxury treats such as a Gourmet Sensations Hamper (for under $100) or splash out on the full range with a 7-Star Executive Hamper. With a range of perfect gifts at varying sizes and price points, you're guaranteed to find a great gift idea for your special occasion within budget.
Anniversary hampers from Australian Gourmet Gifts
With an Australian Gourmet Gifts hamper, you're giving more than just a gift. You and your loved one will create memories as you share a special moment. Indulging in gourmet food delights on your special day is the perfect way to spend time with your beloved. Presented in an elegant box, tied with grosgrain ribbon, and a greeting card with your personalised message, luxury hampers make the ideal wedding anniversary gifts. Discover our full range of anniversary hampers here.
Anniversary gift Ideas
There are all kinds of anniversaries to celebrate each year – from relationships to marriage, to birthdays and work anniversaries. Thankfully, they all offer an excellent excuse for a gourmet celebration. A shared moment of delight is the perfect way to commemorate whether you open a red wine gift, a boutique beer box, or a chocolate gift hamper. Plus, with free, fast delivery to Brisbane, Adelaide, Perth, Melbourne, Sydney and beyond, it's the easiest way to send your love long-distance.
Creating the perfect anniversary gift hamper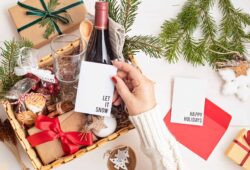 To select the perfect gift hamper, consider your recipient and their specific lifestyle. Are they a foodie, a wine buff, a beer connoisseur, or do they live a vegan lifestyle? Would they prefer a food-focused gift or pamper hamper full of gifts for relaxation? Australian Gourmet Gifts have it all catered for in our online hamper boutique.
To make your gifting experience even easier, we will beautifully pack your hamper in a gift box, wrap it in grosgrain ribbon and attach a personalised greeting card from you.
Simply leave your loving message in the dedicated field at checkout, and we will take care of the rest.
Romantic anniversary gift hamper ideas to spoil your spouse
Spoil your loved one with a bottle of Veuve Clicquot, a drop of Bin 28 Penfolds Shiraz or a boutique beer experience from Little Creatures. Pack a mouth-watering picnic of artisanal crackers, smoked olives, delectable chutneys and spreads, buttery shortbread and decadent chocolates to take to your favourite spot. Now that's how to say 'I love you.'
Our most popular anniversary gift hampers
Discover all the best gift ideas for your upcoming anniversary at Australian Gourmet Gifts. For an elegant evening of champagne and red wine, try the Penfolds Baby Grange & Moet Hamper. To create a foodie extravaganza, you'll cherish the Gourmet Connoisseur Hamper. Or, for a relaxing summer picnic, pick up the Penfolds 311 Chardonnay Extravagance Hamper to slowly graze and sip in the sun.
Top picks for this year
A beautiful anniversary or Mother's Day gift, the Opulence Pamper Hamper is the gift of pure indulgence. Moet & Chandon, rose bath salts, sleep balm, and decadent scorched almonds are undoubtedly the best way to spoil the woman in your life. We also recommend The Gentleman's Hamper for a spectacular anniversary or Father's Day gift. Filled with boutique beer, smokey relish, crackers, nuts and a wheat bag, it's ideal for an afternoon of kicking back.
Romantic hampers for any anniversary
Specialty hampers are romantic gifts filled with loving intentions. Select the treats your partner loves most in life, and deliver them right to the doorstep. Watch their face light up as they open the exquisite wrapping and read your loving note. Enjoy heading to your favourite spot for an afternoon of sipping your favourite drops and nibbling on Australia's finest gourmet delights.
Looking for a unique way to celebrate your love? Browse the range of deluxe anniversary hampers at Australian Gourmet Gifts today!