How To Thank Mum For Everything – Luxury Mother's Day Hamper
Because remember what you put her through as a teen?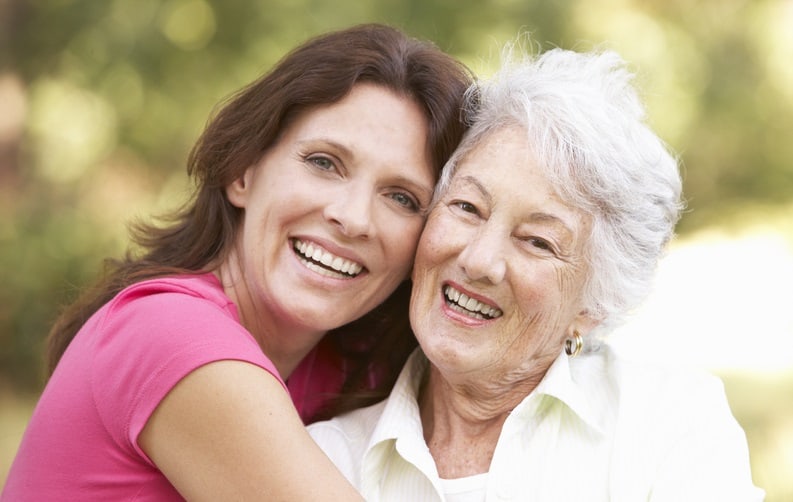 Now you're grown up, you know exactly what mum went through for you. Got kids of your own? It's time to show mum you appreciate the late nights, the lost Saturdays and even the brussel sprouts!
Mothers Day is a once-a-year chance (no pressure!) to thank your mum for everything she has done for you. She gave you life, put up with your angsty teen phase and helped shape you into the awesome person you are today. There's no better way to celebrate your mum this Mother's Day than with a Mother's Day hamper filled with premium wine or champagne and fine foods.
Celebrate your amazing mum
You've heard the story a million times. Your mum went through serious PAIN to bring you into the world. Thirteen hours of labour until you made an entrance and melted her heart. She didn't sleep for years and her back will never be the same, but she tells you she'd do it all again. Don't you just love her? Show your mum how amazing she is with one of our divinely packaged Mother's Day gift baskets full of delectable treats. She'll get a smooth and creamy chocolate sauce, marinated olives, gourmet pesto and jams, and your choice of a bottle of Moet or Chardonnay. A premium Mother's Day gift basket is the perfect gift for your special mum.
Put mum first this Mothers Day
From the moment your mum cradled your tiny body in her arms, she has put you first. She placed her career on hold, cheered you on at sporting carnivals when she'd rather poke a stick in her eye, and always gave you the biggest piece of cake. It's time to return the favour. Make mum feel like a queen for the day with mouth-watering delicacies handpicked for her. A unique treat for the busiest woman you know, it's time your mum was made number one with a Mother's Day gift basket.
Become the favourite child with a thoughtful Mother's Day gift
Show your siblings how it's done with a carefully selected gift hamper sure to skyrocket you to number one child status. Carefully packaged with a personalised message straight from the heart, Mother's Day gift hampers are guaranteed to win over your precious mum (as if you haven't already!)
A gift for the mum you can't live without
If there's anyone who deserves the title of Super Gran, it's your mum. She's the first person you can call on when the kids are sick and you're stuck in a jam. Give back some of the joy your mum gives your family. Indulge your mum with a Mother's Day gift basket she'll enjoy one tasty treat after another. We're sure she'll drink to that!
Hampers to suit every mum and budget
When it comes to Mother's Day, gift baskets are a gift that wraps practicality and luxury into one. Nothing says 'I love you' more than a bottle of Moet & Chandon partnered with decadent chocolate sauce, gourmet olives, pesto, tasty treats and rich jams. A gift straight from the heart, your mum will cherish the chance to put herself first for a change. Affordable and delivered free, you'll receive a premium packaged hamper your darling mum will love. There's no smarter choice for your mum this Mother's Day.
Let Australian Gourmet Gifts do the hard work for you
Choose one of our luxury hampers, tell us what heartfelt message you want on the card, and we'll do the rest, ensuring a beautifully packaged hamper is delivered to your mum on time.
We guarantee:
Free and fast delivery – straight to mum, or you, you choose!
A card personalised with your special message to your mum
Beautiful packaging
Only fresh premium products she'll adore.
Free and FAST Mother's Day deliveries
Left your Mother's Day shopping to the last minute? No problem. We will dispatch your hamper, the same day you order, or the next business day. We offer FREE DELIVERY on all orders – check out our delivery details here.
Our hamper picks for mums!
Moet Champagne Hamper for Mum
Elegant and extravagant, our Moet Champagne Hamper is the ultimate way to toast your mum this Mother's Day. This indulgent hamper filled with decadent chocolate sauce, organic olives, jam, pesto and premium nuts is a top choice among our customers.
Pure Indulgence Maggie Beer Hamper
If your mum prefers a non-alcoholic bubbly, she'll love this beautifully packaged hamper with the delicious Maggie Beer Sparkling Ruby Cabernet and a divine selection of gourmet foods and chocolate. Rich chocolate sauce, fig and cinnamon jam, marinated olives, gourmet nuts and more – this hamper will make your mum's day.
"Feedback on Australian Gourmet Gifts hamper I bought for my aunt:
Fantastic selection of amazing products. Really felt like a special, abundant gift."
Simone Eclair, Brisbane.
A Mother's Day hamper is the ultimate choice for your mum!
The only way to celebrate your mum this Mother's Day is with an Australian Gourmet Gifts hamper. Browse our website now for the perfect present for your mum this Mother's Day.