Wine Hampers – WOW Factor Gifts For All Occasions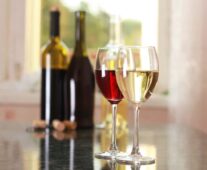 Finding it hard to buy the perfect gift? Want something they will love but don't know where to start? Read this, it will save you time and money!
When it comes to unique gifts, hampers are always well received. They look beautiful, they're packed with luxury treats and they're practical, too. Why add another 'dust collector' to the shelves when you can shout your gift recipient a fine wine instead? Wine hampers come with quality wines and delicious accompaniments, perfect for mum or dad, teachers or colleagues. Here are cheers for your next gift-giving occasion!
Wine hampers – a gift for every day
The best gifts are those that can be personalised, offer variety and can be ordered at a moment's notice when a special occasion is announced. Show someone you care by giving a gift with a 'wow factor'!
White wine hampers
White wine brings to mind sunny afternoons and seafood feasts. A quality white wine hamper includes a well thought out combination of Sauvignon Blanc, gourmet chutneys, Belgian chocolates, nuts and crackers. All you need to bring along is the cheese!
Suitable occasions – Afternoon treats, romantic picnics, Christmas, birthdays and anniversaries.
Red wine hampers
Whether you want to show appreciation or celebrate, a red wine hamper is the perfect gift! If the weather is cool, a nice bottle of Cabernet will warm the soul. Combine a full-bodied wine with chocolate, nuts or dried fruits and you have yourself a gift that won't be forgotten. Your grateful gift recipient can enjoy their treats on the day they arrive, or cellar their wine for a while. Either way, they'll think of you when they enjoy that indulgent glass of red.
Suitable occasions – Dinner parties, housewarming, birthdays and Christmas.
Champagne hampers
Bring on the bubbles! Celebrate in style by giving the recipient an extravagant champagne hamper with all the bells and whistles. Amaze your loved one or dearest friend with a bottle of Moët, decadent chocolates, gourmet selections and so much more! Pop the cork and toast to the occasion!
Suitable occasions – promotions, engagements, birthdays and anniversaries.
Make a lasting impression among your family, friends and colleagues without the stress that goes along with gift-giving. At Australian Gourmet Gifts, we present each hamper with attention to detail and elegance.
Don't just give a gift that 'will do', give a gift that WOW's! Wine hampers are not only a meaningful and luxurious gift, they are also an easy and cost-effective option for all occasions.
If you need wine hampers that impress, call Australian Gourmet Gifts and arrange delivery of your lavish gift today!