It's Baby Season! Why Gift Hampers Make GREAT Choices For New Parents!
September Is Baby Season! Why Gift Hampers Make GREAT Choices For New Parents!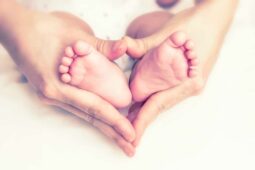 Celebrate their little bundle of joy with a special delivery of your own! Here are five reasons gift hampers are the best choice for new mums and dads.
'Twas the night before Christmas…
Ever noticed how there seem to be a LOT of babies born in September? Makes you wonder just how much mistletoe must have been strung up around the place last Christmas!
But first-time parents are often feeling anything but festive once they bring bub home from the hospital. They're overwhelmed, under-slept and over-stimulated by a constant stream of visitors.
Put down those burp cloths. Return those booties. Hold the teddy bears. What new parents REALLY wish you'd buy for them is a gift hamper!
Here's why.
1. Convenience
New parents constantly have visitors popping in to see the baby. Why not lend a helping hand by ensuring they have plenty of gourmet nibbles for entertaining?
Sending a celebratory hamper to new parents means you are giving a gift, but you're also providing the party! Dad won't have to duck to the shops while mum juggles the newborn – luxury snacks and even a bottle of bubbles will be there, waiting, ready to serve!
2. A special touch
The new parents will open the door to see your beautiful gift hamper, professionally put together and presented, shining up at them like a little ray of sunshine on their doorstep. They'll be gobsmacked by your thoughtfulness and awestruck by the incredible quality of the gift hampers Australia products. Help them enjoy a touch of luxury when they need it most rather than a droopy bouquet of flowers!
3. Something a little cheeky
The brand new parents of a September baby probably indulged in a little Christmas cheer last year. Why not acknowledge their, ahem, gift-giving with a cheeky nod in the form of one of Australian Gourmet Gift's Christmas gift hampers or Melbourne Christmas Hampers? Put a smile on their face and wish them a belated Joyeux Noel!
4. The gift they can't grow out of
New parents tend to receive a lot of clothes and toys for their newborn baby. As nice as these gestures may be, the sad truth is that those clothes will only fit for a brief time! New baby clothes, rattles and board books will soon become hand-me-downs. A gourmet hamper makes no apologies for being enjoyed right here and now!
5. A gift just for them
In the first weeks with a new baby, life goes by in a blur. It's only a couple of months down the track that a family tends to settle into a routine and parents can reclaim a little bit of time together while bub sleeps. As the onesies and stuffed toys are packed into the nursery, your lucky gift recipients can unwrap a gift just for them! Invite them to catch their breath and enjoy some delicious treats to toast the exciting times ahead.
When babies arrive, the gifts are often all about them. It's worth celebrating the monumental life change the parents have gone through as well. Show them you understand with luxury food and wine in elegant gift hampers!
Browse the full range of delicious, deluxe gift hampers today at Australian Gourmet Gifts.