Customer Reviews
I highly recommend Australian Gourmet Gifts. We had to purchase a large number of hampers at late notice and Theo provided me with a fantastic level of customer service and with his assistance we were able to get the hampers ordered and delivered with plenty of notice. We will definitely be using Australian Gourmet Gifts again!
CAITLYN BARNETT - SASH (NSW)
I first contacted Theo last year when settlement was due for our latest development. We were sending baskets to each of the 65 owners who had purchased off the plan and were about to settle. As they were settling on different days Theo suggested I sent through a spread sheet which her would work off as I let him know when and to whom the baskets were to be sent.
MARIE - PRIME GROUP AUSTRALASIA (QLD)
CATHY WILLIAMS - LEWIS PRIOR (WA)
I would just like to take this opportunity to thank you for the hampers which we purchased from you for our clients at Christmas time.
The ordering was easy and you help with delivering our hampers to various offices around Australia made the whole process very smooth and stress free.
MICHELLE - FRANKLYN SCHOLAR (VIC)
We would recommend Australian Gourmet Gifts to all. We cannot advertise Australian Gourmet Gifts enough! Theo was extremely helpful and went above and beyond expectations, delivering beautifully presented hampers, full of divine products. Theo was wonderful to deal with and I am sure we will order again in the future.
SHARON - ENI AUSTRALIA LIMITED (WA)
Just a brief note to say a big thank you for the fantastic Xmas hamper we received today. It is without doubt the best we have ever received.
We are all very appreciative and as you would imagine the girls have already started eating the chocolates.
Thanks again
HEATHER - PROSPER WEALTH SOLUTIONS (NSW)
Just a short note to say thank you to you and the team at Australian Gourmet Gifts for the professional hampers you provide to our firm at Christmas. In previous years we have looked to provide a hamper to our valued clients and this has usually meant someone from our office having the task of shopping and putting together an appropriate gift…
BRUCE - PWA FINANCIAL GROUP (QLD)
We were looking online for a Hamper Company and came across Australian Gourmet Gifts. I liked the variety of the different hampers they had on offer and so I contacted them. From the moment of contact, I couldn't have asked for better service, Theo made everything so easy and was able to accommodate what we wanted for the three hundred hampers...
NIMALI - E2O PTY LTD (SA)
Jingle All the Way with Our Christmas Hampers on the Gold Coast!
We're almost at the end of 2022 and you know what that means…time to get your Christmas gifts sorted. But with lockdowns still a part of many Australian's daily lives, how can you show your love and appreciation to your nearest and dearest even if you can't be there? With a gourmet gift hamper from Australian Gourmet Gifts. Our hampers can be ordered online from home and make unique and delicious gifts for family, friends, employees and clients that they can enjoy into the New Year – if they last that long!
Most Popular Christmas Hampers on the Gold Coast
Send some Christmas cheer from afar or join them in person with our bestselling Christmas hampers. Whether it's a red wine and a box of artisan chocolates or a glass of French bubbly with smoked olives, we've got a food and wine hamper to suit everyone. Check out these popular choices:
Gourmet Connoissuer Hamper
Premium Wine Christmas Hamper
Premium Beer & Wine Hamper
​Luxury French Sparkling Hamper
Free Delivery of all Gift Baskets
We want to make Christmas shopping for your Gold Coast loved ones, employees and clients as affordable as possible, so we've absorbed the costs for delivery across Australia. You can enjoy free standard gift delivery Australia-wide or upgrade to express postage for a small fee for next day delivery to most major destinations.
​
Best-Selling Christmas Corporate Hampers on the Gold Coast
Businesses struggle with the same issue, year after year: how do we give our staff gifts that are as unique as they are – without spending hours trying to find something different for everyone?
We have your solution: a gourmet Christmas gift hamper!
Corporate hampers allow you to purchase all the presents from the same store, while still mixing them up to suit different tastes and budgets. Yes, everyone receives a hamper. However, staff will love that theirs isn't exactly the same as their colleague's.
When you shop at Australian Gourmet Gifts, buying in bulk is super easy – whether you've got a team of three or 3,000. Simply fill out our online Bulk Order Form with each recipient's delivery details and we'll take care of everything else!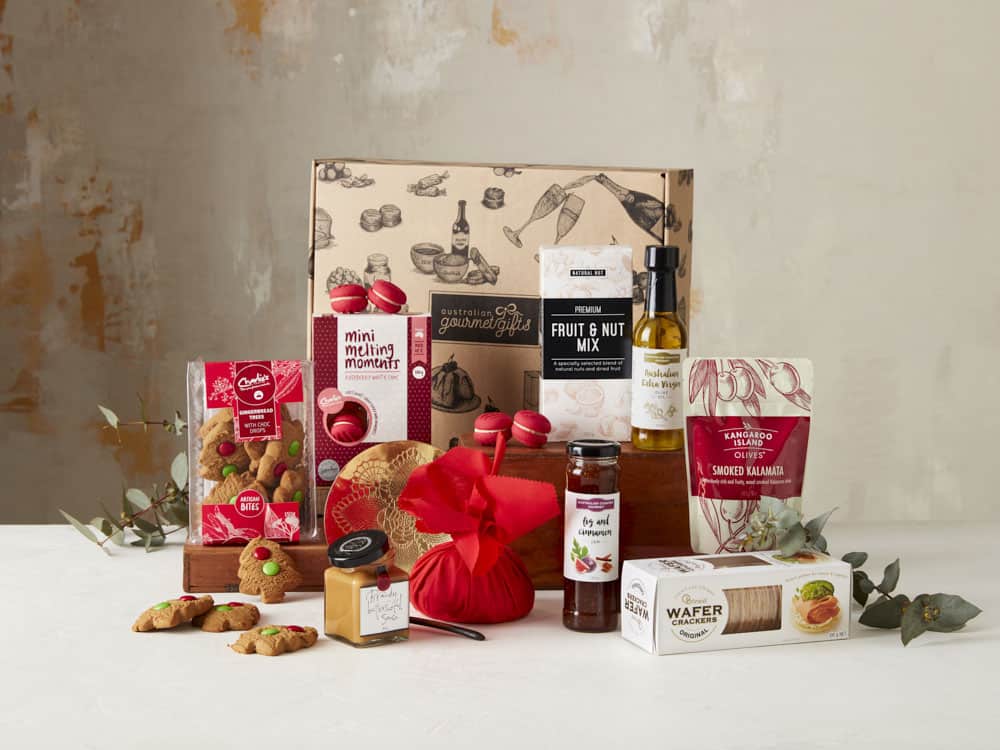 Gourmet Food and Wine Christmas Hampers Available
Celebrate Christmas your way with wine-themed hampers, food-themed hampers and Christmas-themed hampers at Australian Gourmet Gifts. We've packed each hamper with sweet and savoury nibbles from award-winning brands like Charlie's Cookies and Kangaroo Island. Gift a wine hamper to someone special and wow them with a bottle of Australia's finest, from Schild Estate Shiraz to Angove Sauvignon Blanc.
Gold Coast Food Hampers This Christmas for Sharing
Got a foodie in your life who knows a quality handcrafted cookie from a supermarket-bought one? Show them just how well you know they're fine taste in food with one of our gourmet food hampers. We've got Christmas-themed delights like traditional steamed pudding and gingerbread trees, as well as smoked olives, wafer crackers, melting moments, jams, oils, honey, and cheeseboard platters to share with friends and family.
Indulgent Chocolate Christmas Hampers
You can't go wrong with a chocolate gift this Christmas! Our generous selection of melt-in-your-mouth chocolate treats crafted by master local chocolatiers is sure to satisfy even the sweetest tooth. Discover Charlie's Cookies and Cream Mini Melting Moments, Chocolatier Australia Gold Mixed chocolates, Simply Food Co cookies and popcorn, and Charlie's Plant-Powered Artisan Cookies with choc chips.
New Luxury Christmas Hampers
A pamper hamper can really put the cheer into Christmas this year for a special someone. Spoil them with an affordable wine gift, like the Wine Indulgence Hamper for $79.95 with 2 drops from Angove. Step it up with the Penfolds 28 & French Sparkling Christmas Hamper with steamed pudding, gingerbread biscuits and a bottle of Charles Pelletier Chardonnay and Penfolds Shiraz. Or send an important client the ultimate Christmas present with the 7 Star Executive Luxury Hamper with wine, beer, and an abundance of indulgent treats.
Christmas Gift Ideas That are Unique and Thoughtful
Our extensive range of hampers allows you to purchase a unique Christmas gift that is both thoughtful and completely tailored to your recipient's tastes and preferences. You can personalise your Christmas hamper even further with a special message that will be included on our beautifully crafted gift card and placed into the hamper so that they will feel really valued and loved.
Family-Friendly Christmas Hampers
We guarantee that the whole family will love and enjoy our gourmet food and wine Christmas hampers on the Gold Coast – from the kids to the grandparents! We've got multi-award-winning wine, beer and whisky for the grownups and chocolate nibbles like popcorn and cookies for the little ones. Use the smoked olives, crackers, jams and dressings as the foundation for an incredible cheese platter to share with the whole family – just add a Brie or Camembert!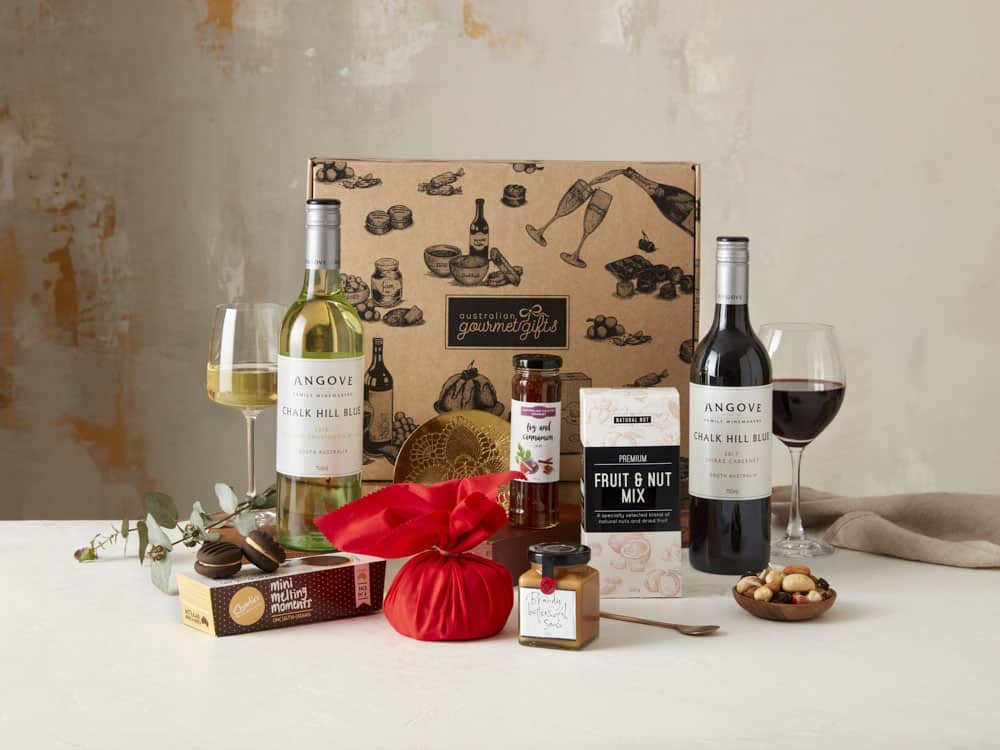 Beautifully Presented Christmas Hampers with Gift Box
We've gone the extra mile to ensure your Christmas hampers on the Gold Coast look as incredible as they taste. Each hamper comes wrapped in an elegant environmentally-friendly box crafted from local materials with a big grosgrain ribbon for added flair. You can even add a personal message during checkout which will be popped onto a gift card and attached to your special gift.
How Australian Gourmet Gifts Can Help
We provide elegant and affordable hampers packed with gourmet food and wine to celebrate Christmas and any other special occasion. Forget the bouquet next Mother's Day and give Mum a champagne gift paired with delectable goodies. Spoil Dad with a James Squire Beer Hamper on Father's Day, give a birthday gift to celebrate a milestone birthday or shower new parents with baby gifts they'll really appreciate. With a simple online ordering process and free delivery Australia-wide – it's the easiest and most unique way to show someone you care in 2022.
Free Hamper Delivery for all Christmas Gift Baskets Australia-Wide
At Australian Gourmet Gifts, we use the country's most popular and trusted postage service: Australia Post. They've taken stringent measures to ensure they follow COVID Safe protocol which means your recipient won't have to sign when their hamper arrives, helping to avoid contact with another person. (Flattening the curve and giving joy? Double win!!)
And because AusPost is a reliable operator, it also means that you don't have to stress about your Christmas hamper not arriving in one piece. Their hamper (and its contents) will arrive intact, just as it should. We offer free delivery to most major destinations from QLD to NSW and every other state, including:
Gold Coast
Brisbane
Sydney
Melbourne
Perth
Adelaide
Darwin
​
FAQs About Christmas Hampers on the Gold Coast
What is the Range of Prices for a Christmas Gift Hamper?
We've got amazing Christmas gift baskets to suit any budget, from our popular hampers under $100 to show-stoppers under $400 to truly impress. Check out some of our favourites from the lowest to the highest-priced:
Gourmet Sensations for $79.95
Luxury French Sparkling for $89.95
Moet & Chandon Champagne for $149.95
Gourmet Extravagance for $199.95
7 Star Executive Luxury for $359.95
How Many Items are in the Christmas Gift Hamper Gold Coast?
Whether it's a corporate hamper for staff, a luxury hamper for her or a whisky hamper for him – we make sure your gift hamper is packed to the brim with the most delicious goodies from local and award-winning brands. We begin with 8 items for our $79.95 Gourmet Sensations Hamper and go up to an impressive 17 items crammed into our 7 Star Executive Luxury Hamper!
What are the Items That are Included in a Christmas Hamper?
Your lucky recipient can expect a dazzling selection of perfectly paired top-shelf wines and sweet and savoury treats in their Christmas hamper. There's something for everyone with Christmas classics and handcrafted goodies from Australian brands, including:
Steamed pudding
Brandy and butterscotch sauce
Red wine, white wine and champagne
Dried fruit, nuts and smoked olives
Jams, relish, oil, honey and tapenade
Melting moments, cookies, popcorn and wafer crackers
What are the Benefits of a Christmas Hamper?
From our Christmas hampers to our birthday hampers, everyone loves to receive a gift box full of gourmet food and wine! Here's why we think hampers make the best gifts for your loved ones this Christmas:
They're a delight to receive and unwrap
They're affordable
There's something in there for everyone
They're perfect for any special occasion
They're thoughtful and can be personalised
They're a gift that keeps on giving!