Say NO To Corporate Gift Panic! Book Delicious Christmas Hampers With Free Delivery NOW!
Corporate Gifts – 5 Reasons To Book Christmas Hampers Early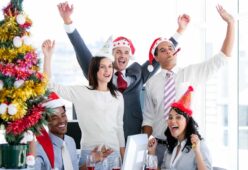 Christmas comes but once a year, and yet, somehow, you can still find yourself in a mad rush to source corporate gifts. Don't let Christmas sneak up on your business this year. Lock in delicious and decadent Christmas hampers for your valued clients NOW and beat that last minute panic. Here are 5 reasons why booking Christmas hampers well in advance makes good business sense.
1. Shorten your to-do list in one easy step
It seems puzzling that Christmas can sneak up each year but it's hardly surprising when you consider the never-ending list of items to action for a thriving business. And as the year closes out, those demands just keep ramping up. Cross off a major task by organising corporate gifts well ahead of time. Premium Christmas hampers overflowing with fine wines and delectable nibbles make an impressive gift and the free delivery adds a level of invaluable convenience.
2. Set and forget
Christmas might seem like a low priority in August but don't fall into that trap that catches so many businesses and individuals out every year. Avoid the masses scrambling for gifts in December by selecting Christmas hampers to be delivered during the festive season. Browse the extensive range of gourmet hampers online, order as many as you need, provide delivery addresses and then BREATHE. There's nothing more for you to do! Corporate Christmas gifts with wow factor – done and dusted.
3. Last minute additions are a breeze
Forgotten a client or colleague or gained some new ones you'd like to send gifts to? It's just so simple to order additional Christmas hampers. When you've locked in the bulk of gifts early, adding a handful more later in the year is a straightforward task.
4. Valued clients and colleagues should never be an afterthought
Last-minute Christmas gifts are pretty easy to spot. The success of your business relies on clients and colleagues. Let them know you could not do it without them by planning early for a gift that reflects their contribution. Christmas hampers using the finest and freshest ingredients are an indulgent gift for anyone. And what better time to enjoy the finer things in life than during the festive season?
5. Stress-free gift-giving
Life is busy and never more so than at the end of the year. Ordering Christmas hampers early means you can concentrate on your business knowing that in December, almost like magic, gorgeous gourmet hampers will be heading out to your clients and colleagues with your sincere thanks. It's a simple and effective way to strengthen those business relationships.
Don't let chaos reign this silly season! Simplify corporate gift-giving by booking your Australian Gourmet Gifts Christmas hampers now.