5 Most-Loved Valentine's Day Hampers!
So, you've realised that you can't buy the same box of Roses or bottle of aftershave every Valentine's Day … but what do you replace it with? At Australian Gourmet Gifts, we have a handy selection of hampers that are just right for Valentine's Day, and you can see them all in our Valentine's Day Hamper category. Today we are looking at the most popular of those Valentine's Day hampers – the ones that sell out and create happy couples year after year!
Penfolds Baby Grange Hamper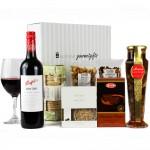 Penfolds Bin 389 is a beautiful Valentine's Day indulgence for red wine lovers – one of the truly superb cabernet shiraz blends, matured in oak barrels that were used as the previous vintage for this wine's big brother, Penfold's Grange.
The hamper includes a gourmet selection of treats specially matched to the star wine, including Talinga Grove dukkah pack, Nuts About Life snacks, and Grans's Chocolate Fudge.
[hr]
Johnnie Green Whiskey Hamper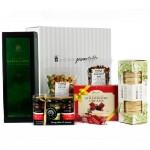 It's Valentine's Day… and what better excuse to stay up all night until the stars start to fade than a bottle of Johnnie Green whiskey?!
This world-renowned malt whiskey is accompanied by a Random Harvest Gourmet Salsa pack and other sweet and savoury gourmet treats… so once you get comfy in that swinging chair next to each other, you won't have to get up.
[hr]
Boutique White or Red Wine Hamper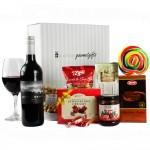 These hampers are among our best-selling and most affordable at any time of year! Each has the same ingredients, save for the type of wine – either a semillon sav blanc or a pure shiraz.
Both these hampers have a focus on sweet foods and are perfect for an after-dinner treat.
[hr]
Antipasto Magnifique Hamper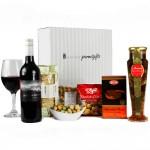 This hamper features a Prominence Shariz, as in the Boutique Red Wine Hamper, plus a neat afternoon selection.
The star of the hamper is the Ogilvie Antipasto Jar – bring your own crackers or fresh crusty bread for best enjoyment!
[hr]
Pure Indulgence Hamper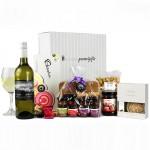 Think you can't afford a hamper called 'Pure Indulgence'? Think again! This hamper has a stellar 15% discount currently and contains several keepsakes that will remind you of your special Valentine's Day over and over again.
These include a premium wooden cheeseboard, wooden-handled cheese knife, and dukkah dipping bowl to go with your selection of tapenade, pesto, salsa and dukkah. Plus a few finger foods to finish off with full bellies… and full hearts!
Satisfy all your senses this Valentine's Day, with an Australian Gourmet Gifts Hamper, and the best ingredient of all – your loved one!