Planning Ahead For Christmas – How To Make Bulk Buying Client Christmas Hampers A Breeze
Planning Ahead For Christmas – How To Make Bulk Buying Client Christmas Hampers A Breeze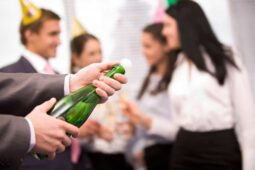 As a successful business, you know how integral your clients are to that success. Ensuring they know you appreciate them is key to maintaining great corporate relationships. This holiday season, knock the gift-giving out of the park by choosing the ease and indulgence of a Christmas hamper.
Cement client relationships with the perfect Christmas gift
Thoughtful gifts send an important message to your clients. Extending corporate Christmas gifts "..allows businesses to wrap up the year on a nice note and start the new year off on a high one," says Forbes Magazine.
Striking the right balance can be tricky, though. Another fancy pen? So overdone! But you don't want to risk embarrassing your client with something too extravagant or overly personal. That's why a hamper overflowing with a selection of fine tipples and scrumptious gourmet snacks is a versatile crowd-pleaser. From boutique beer hampers to those filled with Maggie Beer delicacies, you can easily find a Christmas hamper to suit every taste.
Christmas hamper? But it's only July!
Let's be honest, it's easy to find yourself in a last-minute panic to arrange those all-important client gifts. But a
little forward thinking ensures seamless gift-giving for your business. Mouth-watering hampers are the perfect way to impress without the stress. And who wouldn't want to receive an elegantly boxed Christmas hamper filled with decadent premium quality goodies? It's the perfect accompaniment to any silly season celebration!
Bulk buying client gifts made easy
Organising the perfect gift for a long list of clients can be overwhelming. Eliminate the fuss and keep your focus where it needs to be – on your business – by selecting the perfect Christmas hampers online. Whether ordering 1 or 1000, free delivery to anywhere in Australia and the option of including a personalised note means maximum impact with the minimum of hassle.
Want to spoil each of your staff members with their own delicious hamper? At Australian Gourmet Gifts, orders over $1000 going to a single destination attract a 10% discount. Gift-giving made easy AND budget-friendly!
A gourmet Christmas hamper really is a gift that businesses can rely on to strike the perfect festive note with valued clients and colleagues.
Looking to delight your clients with the ideal corporate gift this festive season?
Visit Australian Gourmet Gifts for a deluxe, affordable Christmas hamper range that's sure to please.