Have a Cheap and Cheery Christmas with 6 Hampers Under $60
The beginning of the silly season is almost officially here – when December 1 hits, we'll all be humming along to 'Rudolph the Red-Nosed Reindeer' as we wander round the shops, wearing white fur-trimmed red floppy hats to work, and some of us (not me!) will drag our flashing reindeer earrings out of the back of the jewellery box.
It's time to start thinking about gifts, and if you've got someone who's difficult to buy for, hampers are the perfect option. Today we check out 6 hampers that are perfect for any tricky recipient, and highly affordable at under $60!
Gourmet Treats Hamper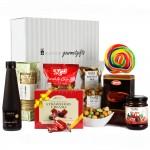 A mouth-watering accompaniment to either a full picnic lunch or just some great energy for an afternoon of kicking a ball around a park, the Gourmet Treats Gift Hamper is currently sporting around 15% off!
Boutique Red Wine Hamper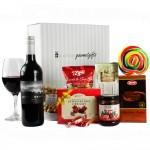 The star of the Boutique Red Wine Hamper is the Prominence Shiraz, matched by our resident wine experts to the most suitable products in our hamper range. A great choice for a sweet tooth, and under $60!
Boutique White Wine Hamper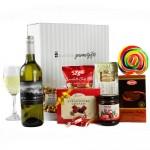 This is a real summer hamper, and a great Xmas Hamper for a Christmas gift or even New Year's Day sustenance. The white is a Prominence Semillon Sauvignon Blanc, and every spare millimetre of that bottle is filled with the atmosphere of summer.
Christmas Delights Hamper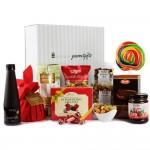 Traditional Christmas pudding can be difficult to find nowadays, but it will make a fan of the 'good old days' thrilled! The pudding is accompanied by plenty of delicious friends, too.
Premium Beer Hamper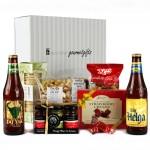 Most of our lower priced hampers have a definite sugary slant, but the Premium Beer Hamper is a hit with the savoury crowd. Two delicious Matilda Bay premium beers to try (one ale, one lager), plus the perfect gourmet salsa selection to set off the malty flavours.
Organic Cider Gift Hamper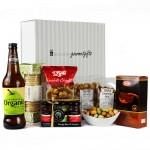 Thought that nobody in the world likes cider? There are more people that go insane for cider than you might think, but low availability means that you won't always know. The Westons Premium Organic Pear Cider is a large 500ml size, and with the accompanying salsa, crackers and snacks, will be enough to keep someone busy all afternoon!
Some of these hampers are available at special pricing, so don't wait to order. Remember, too, that Christmas is the silly season at Australian Gourmet Hampers as well – order early so that your Christmas hamper can be made and delivered in time to enjoy on Christmas or Boxing Day!